Need some inspiration for your next seafood dish? Explore delicious mackerel recipes that are sure to tantalize your taste buds. Whether you prefer pan-searing, grilling, or baking, we have the perfect recipe for you! Try it today!
More collections: Shrimp Soup Recipes, Orange Roughy Recipes, Tuna Steak Recipes, Indian Fish Recipes, Summer Mahi Mahi Recipes, Flounder Recipes, Thai Shrimp Recipes, Sea Bass Recipes, Trout Recipes, Snapper Recipes, Salmon Salad Recipes, Hake Fish Recipes, Shrimp Curry Recipes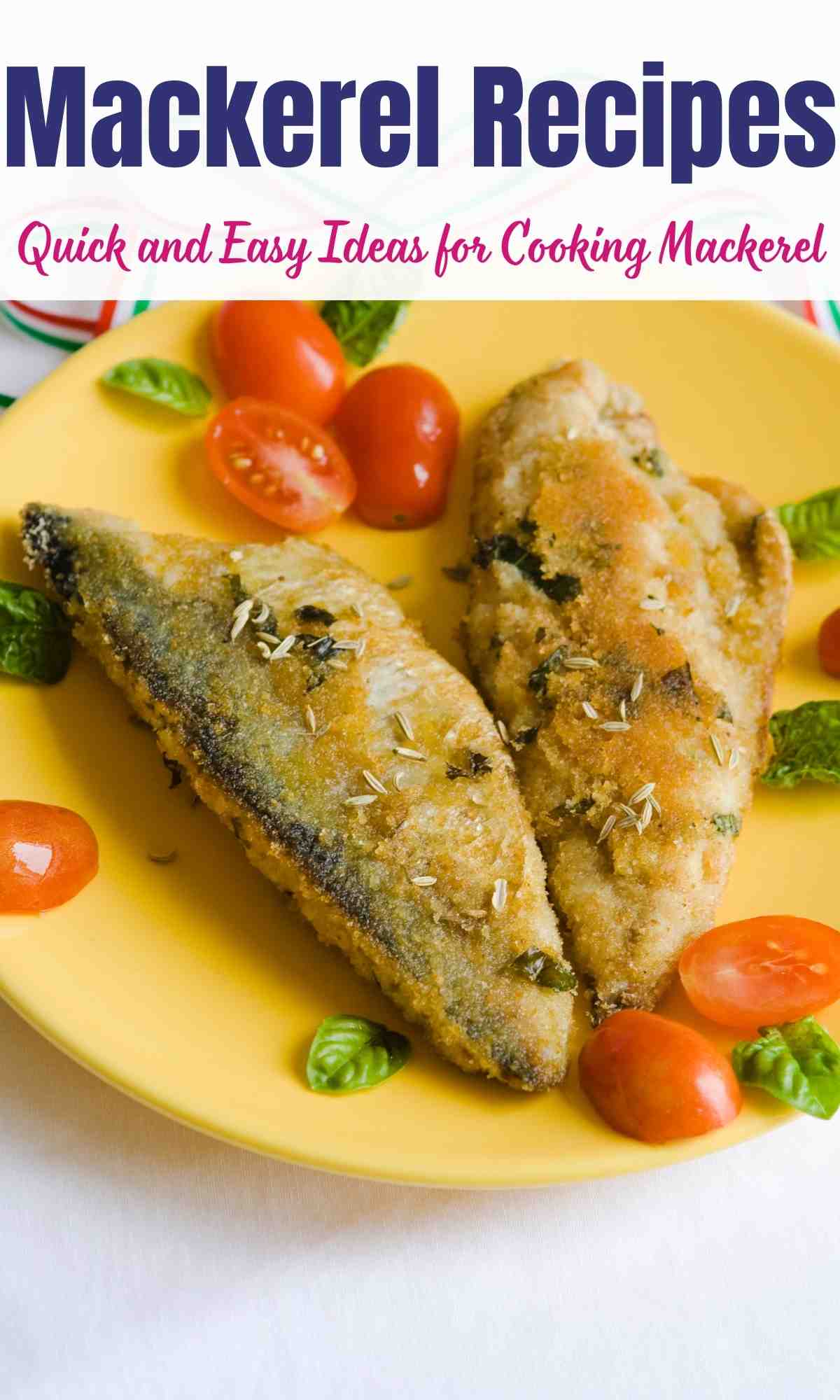 Well, there are several benefits of seafood, to be honest! In fact, if you are on a diet like keto or so on and need low-carb food then fishes are your best solution. And if you are already a fan of seafood then you will definitely know what we are talking about. Also, the ones who are new to the cuisine of seafood will surely find it fascinating to explore this delicacy.
Today we are going to discuss mackerel! That is right! The methods of cooking them are right and ideal techniques to prepare them before they start to cook. Read on to find out more.
Table of Contents
What is mackerel?
If you are coming across this term for the first time in your life as you visit the fish section in the supermarket then here is what you need to know! All swift-moving seawater fishes are called mackerel because there is no particular fish that is called mackerel. Most of them belong to the Scombridae family although some come from Gempylidae, Hexagrammidae, and Carangidae, and so on.
They can be very closely associated with tuna and bonito. These fishes have long slender bodies and sharp fork-like tails. They have colored, luminous skin with distinct irregular stripes. But when compared to tuna, they are smaller in size and way slimmer than the former. Found in tropical and temperate waters, these fishes are common in the states of Denmark, the Netherlands, Japan, China, Norway, and so on.
How does mackerel taste?
Initially, the mackerel smells fresh but as they grow old and are left even for a single day, the mackerel shall start to acquire a stench. Hence the best thing to do is eat them within 24 hours from catch. Every mackerel has a distinct flavor and is distinguished from the rest of the fish!
They are soft, flaky, and tender with a hint of slightly sweet and sour to accompany us. This is to be noted that mackerel flow in schools and migrate to different regions of the water although most of them prefer to stay in their particular geographic region.
What are some of the nutrients found in mackerel?
This is to be noted that mackerel is rich in proteins and packed with nutrients like vitamins B2, B3, B6, and B12, and vitamin D, and so on. Copper, selenium, and iodine are some of the fishes that you will surely be thrilled to consume for their flavors while at the same time enriching yourself with the required nutrients.
These are oil fishes and are rich in omega-3 fatty acids. This is good fat and essential for proper cell functioning, brain development, and heart health.
How to cook mackerel?
Now, if you have never cooked mackerel and are wondering how to do so then we can certainly help you out with that. You must know that the freshest mackerel tastes the best after which it acquires a distinct fishy stench and the flavors seem to deteriorate slightly. Smoking your mackerel can help you to indulge in its great taste or you can marinate it with some salt and pepper.
The shelf life of the mackerel will be increased considerably if you follow these techniques. Canned mackerel are also available in the market and you can eat them separately or with the help of filling in your sandwiches. Salads, fish cake, and so on, the options are simply endless when it comes to cooking mackerel at home.
Here are some delicious mackerel recipes that you should try out!
Delicious Mackerel Recipes - Get Cooking Now!
If you are fond of mackerel then this one with an infusion of bold garlic hint and zesty lemon essence makes this dish taste so divine.
Flooded with great taste, you ought to give it a try!
Here is something of Spanish origin that you should try out! Flooded with a dose of seasoning and fresh herbs, this one turns out to be the best!
Delicious and rich, this one is the best for the season.
Delicious and succulent, this fish is cooked in a foil and oozing with great taste!
Served with an infusion of cilantro and lime, we cannot deny the bold essence of garlic. So what are you waiting for?
If you are fond of mackerel then these stuffed mackerel patties are gorgeous and flooded with great taste.
Topped with creamy barbecue dip, you will surely find yourself hogging down the entire plate in no time.
No wonder this recipe highlights the lights of the week.
If you are fond of mackerel then this recipe is the best choice for you!
Delectable and crunchy, you will surely find yourself craving for more! Serve this as a hearty and healthy appetizer to the main course and see how quickly it disappears from the table.
The combination of mackerel with rice is an extraordinary creation and you ought to give it a try!
Flooded with great flavors, this one is such a brilliant treat! Brought from authentic Caribbean origin, this recipe is one of its kind!
Flavorful and succulent, the canned mackerel fish stir-fry is lovely and loaded with great taste!
Enriching and juicy, you will surely come back thanking us for the idea. So quickly go through the recipe and make yourself a delicious fish meal.
Here is something that we are sure you will enjoy! Gorgeous and flavorful, this recipe is indeed so easy to emulate!
Perfect as a side dish, you can enjoy it with rice and call it a hearty meal.
If you are in the mood for something nice and fishy then the baked mackerel Greek-style fish curry is exactly what you need!
Delectable and creamy, this one is the ultimate treat of the season. No wonder you will be compelled to make it again and again.
Gorgeous and gooey, the Spanish mackerel recipe is fascinating and flooded with rich saucy essence.
Topped with chickpeas and tomatoes, this one is the ultimate treat of the season. The lemony zest is palpable in every bite. Shall we then?
If you find yourself unable to resist fish then we have found you the right one! Make this one a lazy Sunday as you find it hard to make it to the kitchen for too long and yet crave something comforting at the same time.
It is super easy to make this Korean grilled mackerel! That is right!
So if you want something unique and cozy, you must indulge in the delicious flavors of this fish right away. Let's go!
For all the fish lovers, here is something nice and juicy for you! Drizzled with lemon and served with veggies, this is an excellent treat for the weekends!
So enjoy this baked mackerel with rice or toast on the side.
Ah, here is a delightful recipe for the fish lovers! If you are craving something nice and cosy then we know what you need exactly!
Savory and succulent, you ought to try out this one.
Delicious, cozy, and rich, the pan-seared mackerel is the ultimate treat of the season!
Topped with sweet pepper and thyme, the dish is ready in no time. So what are you waiting for? Make it right away.
If you have been to the supermarket and came across some fresh mackerel fillets then we can suggest the right dish to make yourself a lovely fish fry dish.
Drizzled with herbs and seasoned well, you ought to give it a try!
Ah, here is something that we are sure you would love to ravish for dinner!
The roasted mackerel with rosemary lemon is a brilliant idea, to be honest!
If you haven't tried mackerel yet, try out this dish first.
Mackerel in olive oil is lovely and oozing with great taste! Savory and succulent, this one is fascinating and healthy!
Packed with carrots, olives, and so on, you are definitely going to relish this one for a meal.
For all the fish lovers, here is some good news for you! If you want to enjoy something healthy and flavorful then we can suggest a recipe that won't fail you!
This aromatic mackerel curry is wonderful and one of a kind.
Flooded with greens and mackerel, here is a recipe that you should try out! Make your pasta extra special with this one right here.
Succulent and savory, the canned mackerel pasta is one of its kind. Shall we make it then? 
Other recipes you should check out: Kohlrabi Recipes, Chowder Recipes, Thanksgiving Appetizers, Christmas Cheese Appetizer Recipes, Christmas Snack Mix Recipes, Christmas Dips & Spreads Recipes