Try out these delicious Indian fish recipes! Perfect for seafood lovers! Learn how to make the best Indian fish recipes with detailed instructions. Get started now and unlock these mouth-watering recipes!
More collections: Salmon And Rice Recipes, Spinach And Scallop Recipes, Fish And Rice Recipes, Dipping Sauces For Shrimp, Lingcod Recipes, Classic Fish Sauces, Kingfish Recipes, Shrimp Pasta Recipes, Best Sauces For Salmon, Simple Monkfish Recipes, Shrimp Soup Recipes, Orange Roughy Recipes, Tuna Steak Recipes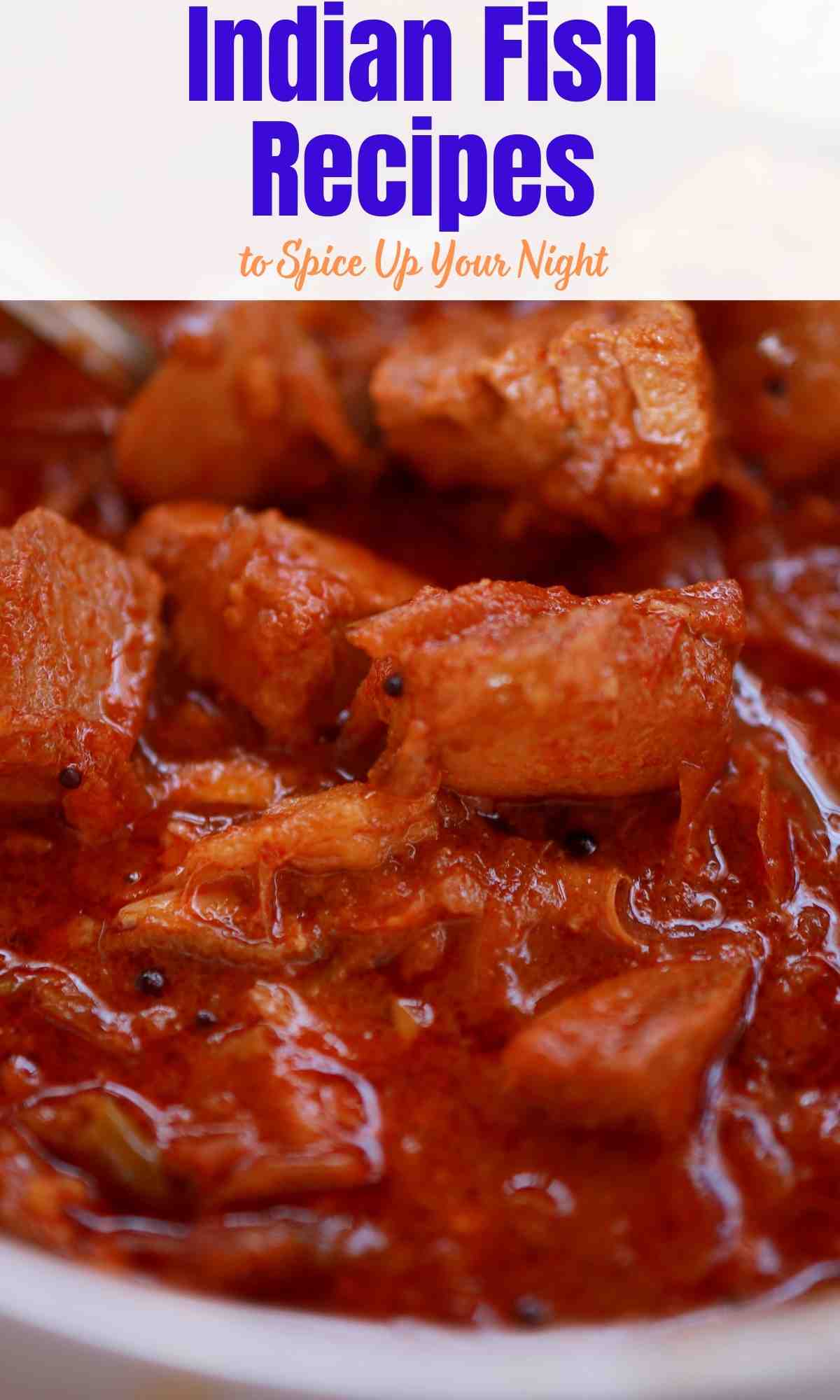 As we know, India is the land of spices and fish! When you can combine two the results are always unbelievable! In one word, it is very hard to defeat Indians when fish recipes are concerned. If you wish to explore the flavors of the East then you are exactly in the right place.
However, before you begin to cook fish, there are a couple of things that you should learn! Some preparations are needed before you begin heating the skillets! Let's talk about those first.
Table of Contents
How to determine that the fish you bought is fresh?
Now let's begin with the most common thing first! To choose the right fish! Well, how would you determine that the fish you bought is fine? You simply need to trust your nose. It is likely that most fishes will have a fishy odor but once it feels like a stench there is something to worry about.
Fresh fish will never smell like that, it won't have a distinct stench but rather the odor of saltwater. In case you find the fishy smell unusual, it is probably because it is too old.
Why should you pat dry the fish before?
It is always recommended to never skip the process of pat drying the skin of the fish! After all, you do not want the skin to accumulate excess moisture and then taste flabby!
Especially, if you are pan-searing then pat drying the skin becomes extremely essential. You can use a paper towel to accomplish the task! Just dab it on the surface a few times and you are good to go! The results will be crispy, sizzling, and delicious skin as you sear.
How to season your fish right?
The pan as well as the cooking oil should be preheated before the fish goes into the pan! The drastic rise and transition of temperature can affect the texture of your fish and make it hard. Fish often get overcooked if something like that happens.
Now you know how to avoid the same. A cold pan is a big no-no! In the case of the latter, only the exterior gets overcooked while the interior remains raw! Make sure you do not forget to preheat the pan and the oil first. Seasoning can be done based on the recipe that you are following
How to ideally place the fish in the pan?
Now there is a small but vital pointer to keep in mind! When it comes to cooking fish, even the placement of the fillets on the pan matters! Whether you are using a pan, skillet, or baking sheet, the skin should be placed downwards touching the hot oil! This helps the skin to get cooked properly and acquire a crispy texture.
It might scare you when the skin sticks to the pan initially! But there is nothing to worry about! You can later observe that as it sizzles and cooks, the skin separates from the pan eventually. This is a good indicator that your fish is ready to be flipped.
How much heat is ideal for cooking fish?
This is to be noted that seafood cooks much faster than any other protein! Hence if the heat is too high then they are prone to getting overcooked, stiff, dry, and hard.
Not the ideal adjectives you would use to describe the quality of your fish! Hence you are advised to keep the heat always low or at medium. If you are grilling the fish then you can choose to wrap it in foil as well for extra protection.
Delicious Indian Fish Recipes | Best Indian Fish Recipes
All the way from the beaches of Goa, this recipe is going to make you drool even at the sight of the dish!
Smooth red gravy marinating your fish tastes so good and divine we must admit.
If you enjoy having salmon then this Indian pan-fried recipe for salmon is the best to indulge in!
Delectable and gorgeous, this one turns out to be the best rather. Shall we make it then?
Experience the coastal aura with the fish curry recipe that we have here!
Infused with the sweet and smooth flavors of coconut milk, you will crave more after the first bite. So what are you waiting for?
It is so easy to come up with a gorgeous Thai fish curry! The recipe, although it looks elaborate, is quite simple and comforting for a warm afternoon meal.
Bursting with flavors, the recipe is ready in less than twenty minutes. Good luck!
If you like it spicy, then we will do our best to make your fish taste so! Infused with enriching flavors of authentic seasonings and herbs, this recipe is indeed the best to try out for the season! Thank us later for the idea.
If you are fond of salmon and wish to have it in a different style then we are sure you will love this Indian salmon curry!
Smooth, milky, and enriching in taste, you ought to give it a try!
Here is another delightful dish with fish and Indian spices that can make it to the table for Sunday brunch!
Delicious and loaded with great flavor, you should make this one right away. So what are you waiting for? Do give this a try for sure.
Spicy, red, and sizzling, we know the right way to satiate your taste buds especially if you are fond of spices!
The classic Machli ka salad is delicious and delightful making you crave more in every bite.
Here is another gorgeous recipe that we are sure you would love to indulge in! Flooded with great taste and spicy seasonings, this dish is a must-have!
So let's get started with the preps, shall we? What a wonderful idea to be honest!
Did you try out pan-seared Halibut before? Because if you haven't then you should with the smooth lemon butter sauce recipe that is right here!
Delicious, smooth, and succulent, the tender fish is going to make you drool.
The gorgeous Indian salmon curry is another Indian delicacy that you should not miss out on!
Rich in omega-3 fatty acids, this is a keto salmon curry recipe that you can make any time you are craving fish. Let's get it done then.
Drizzled with herbs and fish soaked in smooth and juicy gravy, the fish stew is the ultimate treat for seafood lovers!
The presence of tomatoes gives it a tangy hint as well. Shall we then?
Make your brunch a little more special with the recipe that is right here! Packed with the right dose of seasoning and tender fillets, your fish curry with turmeric rice is ready to hit your taste buds.
We can hardly wait for you to try out this one.
Well, if you wish to experience the true flavors of Indian fish curry then this is the exact recipe that you need!
Packed with rich seasonings and bursting with flavors so divine, we are sure you will be compelled to make it again.
Make tandoori fish which bears a smoky essence and the capacity to leave everyone smitten at the first bite!
Marinated in rich spices and then infused with lemon, this is the perfect appetizer!
If you want something for an appetizer then this fishy fritter is the best choice you have got!
Serve this crispy and tender treat with fritters and see how delighted everyone shall be! Do not forget to couple it with a cup of warm tea.
Are you in the mood for something nice and succulent? Well, the pan-fried masala fish is the best thing to indulge in.
Drizzled with herbs and cherry tomatoes, the fish curry is the best to try out this weekend.
Well, here is good news for the fish lovers! The classic Tandoori fish tikka is something worthy of drooling!
Make enough so there are lots to binge eat upon. And the best part is that it is so easy to prepare.
If you like coconut milk with your fish then here is another recipe for you! The Jamaican coconut curry is delicious and flooded with great taste!
Ready in no time, you ought to give it a try! Let's go!
Well, are you in the mood for something enriching and gorgeous again? Then you should go ahead with the fish, sure it will certainly be a refreshing experience for seafood lovers.
So what are you waiting for? Make this one right away.