Satisfy your craving for seafood with these amazing flounder recipes. Discover the best way to cook flounder with these easy-to-follow instructions and flavorful ingredients. Try them today and enjoy a delicious meal!
More collections: Fish And Rice Recipes, Dipping Sauces For Shrimp, Lingcod Recipes, Classic Fish Sauces, Kingfish Recipes, Shrimp Pasta Recipes, Best Sauces For Salmon, Simple Monkfish Recipes, Shrimp Soup Recipes, Orange Roughy Recipes, Tuna Steak Recipes, Indian Fish Recipes, Summer Mahi Mahi Recipes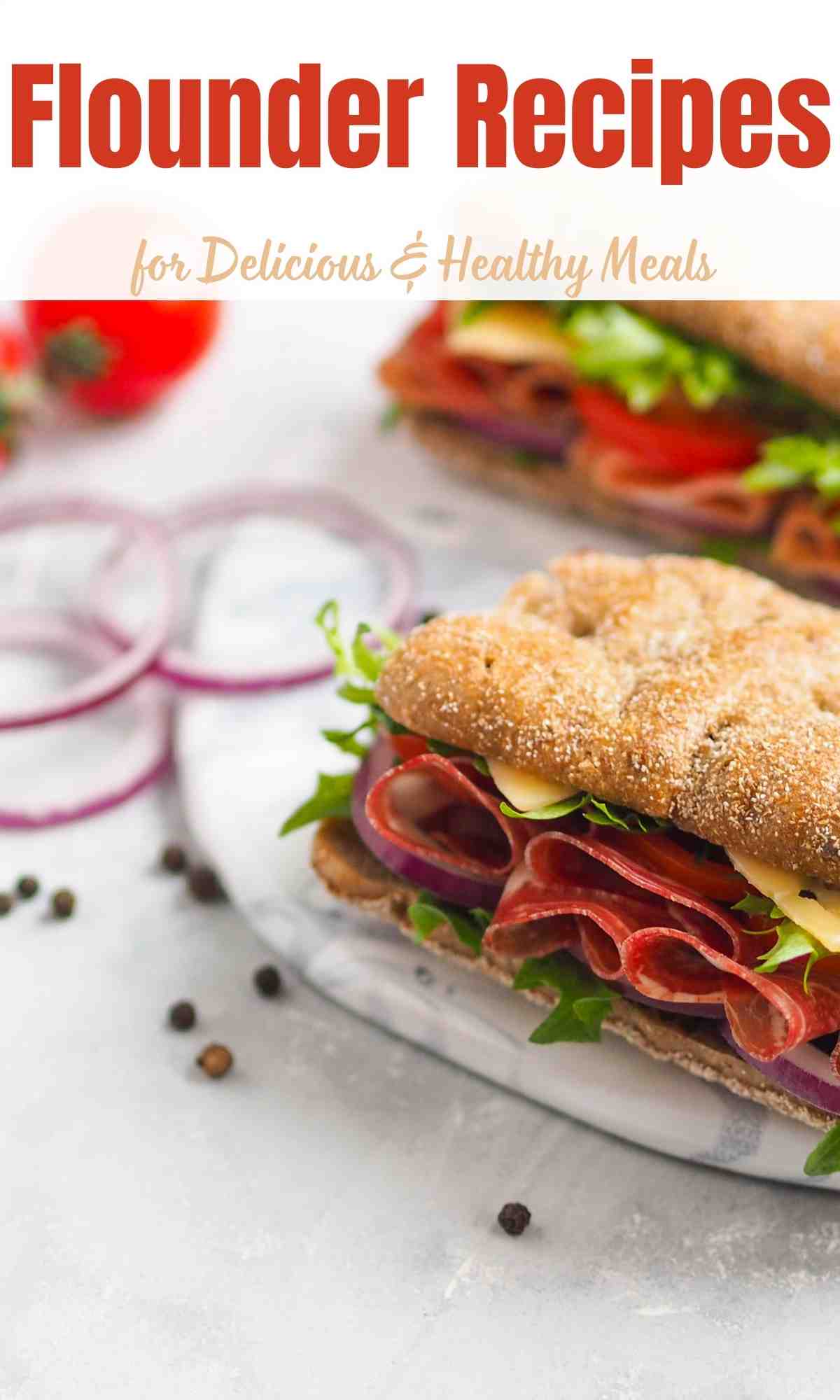 When you are in the mood for fish then do not deprive yourself of the pleasure of seafood! Every day and season is good enough for fish! Today we are going to discuss flounder fish! That is right! Fishes like these restore our faith in seafood again and again! It is fine if you are bored with the same common salmon or shrimp! That is because we can help you to explore the wonderful taste of flounder! But before that let us learn some tips to cook your fish right.
Table of Contents
How to choose the right flounder in the store?
If you want your fish to taste good then of course you have to choose the right quality first! Well, you need to trust your experience, instincts, and senses when it comes to choosing the right fillet from the stores. Does your fish fillet glisten or does it look too pale and unappealing?
The general smell of fish includes a saltwater essence but in case it has an unusual stench then you should better steer away from it. The ammonia-like odor is not something that you should go ahead with.
What is the right way to store flounder fillets?
When you have some extra flounder fillets in the refrigerator then here are a couple of things that you must understand. Unless you make it on the very same day then you need some ice to keep them fresh. You can make use of a cooling rack inside the container.
When you are thawing the fish, you need to remove the package and place it under running water. Once washed your fish, it is time to dry them with a paper towel! Patting dry with a paper towel is essential so that the skin then out to be crispy once you cook it.
How can you thaw the frozen flounder fish?
If you decide to use the flounder after a few days then there are a couple of measures that you need to make. This is a more convenient and pocket-friendly option to buy when you need it in bulk.
You can choose to defrost the fish in the refrigerator overnight which is the ideal technique to do so. However, in case you forget and now lack some time, we can help you then as well. Place under running tap water with the package still intact.
How to cook flounder at home?
There are several ways to cook flounder at home! Whether fish tacos, sandwiches, or so on, the options are simply endless when it comes to cooking flounder at home. You are hardly going to need an hour to come up with these recipes.
To check for doneness you need to check with the help of a knife to gently lift and see. Once the fish is fully baked the fillets will turn flaky and easily break. The fish will turn out to be opaque as it slowly gets cooked.
What do you mean by flounder?
If you are not quite aware of flounder then let us share some insights with you! By flounder, we wish to describe American flatfish species like gray, petrale, lemon sole, dab, fluke, and so on. These are mostly bottom dwellers and have fillets that are flat and are even more fleshy and look attractive when cooked.
They swim on their sides and have both eyes on one side of their heads. Flat fishes are either sold as whole or even as fillets in local markets! Depending on your preferences you can choose to buy whichever you want. When you buy whole flounders, they are baked or smoked. You can use a coating of breadcrumbs to make it crispy.
Discover the Best Flounder Recipes for Delicious & Healthy Meals
If you are looking for something nice and tender, you should go ahead with the baked flounder recipe!
Delicious and succulent, this recipe is one of its kind! So easy to cook!
Well, for all the flounder lovers, the delicious green spinach stuffed flounder is one of a kind. Flaky and scrumptious in every bite.
If you wish to engage in something smooth and scrumptious then the baked flounder recipe is of its kind.
Drizzled with lemon garlic butter sauce, this recipe turns out to be gorgeous in every bite.
This recipe is for the fishy flounder fanatic! Delectable and packed with herbs, this recipe is one of a kind.
Savory and succulent, this side dish is ready in less than ten minutes! Yup, you heard it right. Shall we try it then?
Delicious and drizzled with gorgeous herbs, you ought to make this one right away!
The tangy flavor of tomato enhances the taste of the dish even further! If you are craving fish that is both sweet and spicy then this is the best.
The gorgeous garlic parmesan flounder is delectable and such an incredible treat for fish lovers!
So if you want some parmesan cheese with your rice, you ought to make this one right away. Trust us you will not be disappointed. 
All you need is about twenty minutes to come up with this wonderful recipe! Savory, tender, and loaded with great taste, this idea is fantastic and leaves you tempted for more.
So what are you waiting for? Shall we then?
The zesty and detectable flounder lemon butter sauce is fascinating and packed with the rich essence of herbs!
Gooey and gorgeous, this is an incredible choice that you should not miss out on. Thank us later for the idea.
The classic flounder francese recipe is not only easy to make but also flooded with divine essence.
The egg marination gives it a marvelous crust! So if you have been craving fish for a while, make this one right away. Shall we?
The crunchy walnut-crusted flounder is a fascinating recipe flooded with great taste!
Gorgeous and flooded with the rich taste of pistachio, the flounder fish is one of a kind. Adorned with parsley and Dijon mustard, the recipe is one of its kind.
If are looking for something easy to make as a beginner then you should go ahead with the recipe for broiled flounder right away!
Drizzled with lemon cream sauce, the dish tastes simply so good and comforting in every bite.
Make your flounder extra special with the recipe that is right here! Stuffed with shrimp and seasoned with herbs, the fish tastes so marvelous that nothing may be left on the plates.
We can guarantee this will make you drool.
This is a unique choice of dish that you must indulge in! Flooded with a luxurious sauce, the Milanese fish is a distinguished curry that gives you a jaw-dropping experience.
Once you make it, you will be compelled to try it again and again.
Want something spicy and flavorful with your rice? Well, you can make this cajun flounder to satiate your taste buds!
But the tangy flavor is palpable as well. Do give it a try for sure. Will you?
It is possible for you to enjoy crispy fried flounder now with the recipe right here!
Delectable and chewy, this will simply bring water to your mouth. Served with dips, you must indulge in its blissful taste. Let's get started with the preps then.
Making flounder francaise is a dream come true for seafood lovers! Drizzled with herbs and seasonings, this is an incredible idea that is indeed so easy to pull across with ease.
No wonder it is such a popular option for the Sunday table.
Well, here is some good news for taco lovers! The blackened flounder tacos are lovely and packed with great taste!
Savory and rich, this is a smokey rich flounder which you should not miss out on. Let's get started then?
Well, how can you miss out on blackened flounder when it tastes so good? Make this weekend brunch special with the recipe that is right here.
What an incredible treat for the fish lovers! Make this one and let us know how it turns out to be!
Gorgeous, tender, and refreshing, the blackened flounder with sweet pineapple avocado salsa is one of its kind.
Savory, refreshing, and rich, we can hardly wait for you to make this one. So shall we then?
Did we see you going weak down your knees? Well, we will not be surprised if you do.
Something to have on repeat, the fish recipe with greens is the ultimate duo. So what are you waiting for? Make it this weekend.
Other recipes you should check out: Kohlrabi Recipes, Chowder Recipes, Thanksgiving Appetizers, Christmas Cheese Appetizer Recipes, Christmas Snack Mix Recipes, Christmas Dips & Spreads Recipes