Cookies are something that speak aloud to every heart! Whether you are sad or happy, there is a cookie for every mood! And the best part is that if you take an interest in baking, getting them done at home is not a big deal! So today if you feel suddenly low or you have a long holiday and are wondering how to spend it well, here is a solution to your query! Engage yourself in baking! Yup, you heard that right! Today we are going to learn to make sour cream cookies!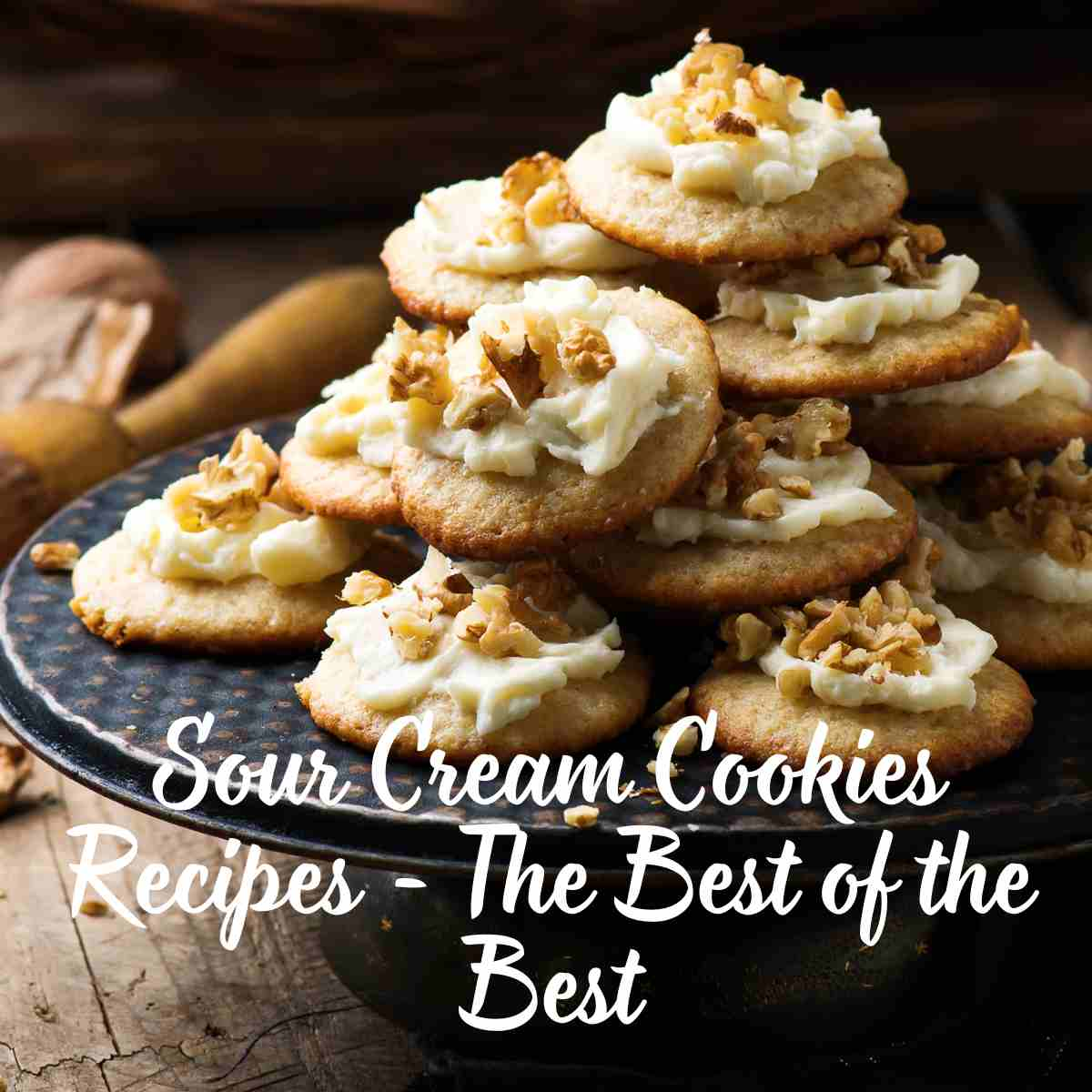 Table of Contents
Tips for baking cookies at home
Not everyone's an expert in baking cookies and not that you have to learn in a day! With practice and patience, it is possible for you to get it done with perfection! And here are some tips in the meanwhile that you can follow!
1. Allow the butter to be softened a bit-
The first and prime most reason to make cookies are with the aid of butter which has a soft texture! There is no way you will be able to find ease with a hard and lumpy butter that is so difficult to blend. Hence the butter must be softened by bringing it to room temperature!
This way the butter will be tender and easier to cream! If you do not know what the technique of creaming the butter is then here is what you need to know! Whisk the butter with sugar and that is exactly what we mean by creaming! This traps a lot of air bubbles inside and helps the cookies to rise when they are baked.
2. Make sure that the eggs are present at room temperature -
When you are baking cookies, eggs are a vital part of making the cookies right! Eggs are used as a levitating agent however when they are cold and not present at room temperature then the eggs will turn out to be of no use. You must at least bring out the eggs an hour before from the refrigerator and then leave them to rest in the room.
In case you have forgotten, there is a fix as well! Place the eggs in a bowl of lukewarm water for a couple of minutes! Taddah, the eggs which you brought out of the refrigerator five minutes ago will reach room temperature readily.
3. Seasoning is essential for making cookies-
If you assumed that seasoning is only for savory items and dishes then you were absolutely wrong here! One needs to take into account that cookies taste wonderful with some salt in them! Yup, you heard it right! A pinch of salt is all that you need to make the batch of cookies taste simply divine. So the next time someone says, why do you have a salt container outside while making cookies, show them the proof! You must have tasted salted caramel, they are so amazing, isn't it?
4. Non-stick baking mats are the new replacement-
How many times did it happen that you were looking for parchment paper to line the baking tray and found that the paper roll got over? Well, that is no longer going to be the situation! With baking mats, you do not have to run to the store every other day.
Plus, parchment paper is not completely non-stick! In the case of baking sheets, we can guarantee that they are an upgraded version of the liner for baking trays. And guess what, these are renewable too! So you practically cannot get over them.
5. Upgrade from chocolate chips to chunky pieces and so on-
If you are making cookies then toppings and additional items are essential to jazz up the look and the taste of the cookies at the same time. If you only have chocolate chips in the house, it is perhaps time for you to visit the bakery! Get some colorful sprinkles, chunky chocolate pieces, white chocolate chips, M&Ms, and so on.
6. Prevent your cookies from spreading too much-
When you are making cookies, they need to be baked well and when you bake if you observe that the cookie dough is spreading too much then that can be due to excess liquid content in the cookie dough! If such a thing occurs then we know how to fix the situation. All you need to do is place the dough inside the refrigerator for an hour!
This will enable the mixture to blend well with each other and the ingredients to mingle for a while! And soon you will observe that the dough has become firm and tightened up! Now if you bake another batch, this time you will be saved from dough spreading on the surface of the baking tray!
7. But what if the cookies are not spreading at all?
If the cookies are spreading too much then that is not good but if it is not spreading at all then that can be a big crisis. How can you deal with the situation then? Once you observe that the cookies are too tight you need to bring out the tray from the oven and beat it against the kitchen counter. This needs to be done a couple of times through the process of baking.
8. You need to experiment with different sorts of flour-
We usually make use of all-purpose flour to make cookies but you should be ready to work with all sorts of flour. From almond flour to so on, the options are simply endless. Experimenting with different kinds also gives you the opportunity to pick which one you prefer the most! It not only changes the taste of the cookies but also adds nutritive value to them. 
9. Always set the timer to five minutes less than what is mentioned in the cookbook-
If you are following a particular recipe for making a cookie, it might happen that the instructions may not be aligned with your oven! This is to be noted that every oven has a different configuration and system of working! To be on the safe side you need to set the timer five minutes earlier than what is mentioned in the instructions column. This way you can check whether the cookies are done or not! If ready, good for you, if not you can pop it in the oven for another couple of minutes. But the cookies will be saved from being overcooked!
Hence, now that you know the basic steps to make cookies, let's explore some sour cream cookies recipes!
Delicious Sour Cream Cookie Recipes: A Comprehensive Collection of Recipes
The sour cream cookies are an old-time classic that never goes out of fashion! The recipe is right here so you can enjoy something nice and crispy with tea in the evening. Follow the recipe to learn how to bake them well!
The sour cream cookies are ready in no time! These cookies are wonderful and work well when paired with milk on the sides. You can serve this for breakfast to the little ones.
If you simply can't stay away from chocolate cookies then you should go ahead with the sour cream chocolate cookies which are indeed the best that you can think of! Ready in no time, you can nibble on them any time of the day!
The sour cream sugar cookies are super rich in flavors and if you are fond of such cookies then go ahead with this recipe during the weekend! We are sure the kids will be smitten by the choice of it.
Well, you must have tried these cookies as kids at home! Grandma's sour cream sugar cookies are indeed the best. So once we came across this recipe, we knew that it had to make it to the list.
Yup, we are here to see whether the chocolate chip sour cream cookies live up to our expectations or not! The recipe is super easy and you must give it a try! Don't forget to let us know how they turned out to be!
The classic chocolate sour cream cookies are perfect to celebrate the wonders of the season! Delectable and fancy, the crackle cookies are outstanding and leave one craving for more. So what are you waiting for?
If you are looking for a fresh take on something classic then the sour cream cookies are what you need! Infused with olive and thyme, there is no way you should miss out on this treat! What a great idea!
Well, we are talking about the awesome sour cream sugar cookies! These are rich in flavors and crumble down in your mouth to leave a delightful aftertaste upon the taste buds. So let's get them done for the season! Shall we?
If you are planning to bake during the weekend and haven't yet decided what to make then we have the zesty lemon crinkle cookies to do the job for you! Make them and serve them with tea in the evening when the guests come over.
Well, cookies are something that should taste comforting and tasteful on the taste buds, and if you are bored with the same chocolate options again and again then here is something from the days of your childhood! The classic sour cream cookies are also packed with a pinch of nostalgia!
The combination of sour cream and coffee cake in the cookie version is a creation that was decided in heaven! We are not even exaggerating a bit! You must try out this recipe and let us know how they are and don't forget to leave some for us too!
The soft and cakey sour cream cookies are another brilliant creation that we are sure you will love to explore! Sweet and savory, go for it right away!
The cut-out cookies are extremely adorable and if you are fond of baking then this idea is meant for you. Topped with colorful sprinkles, the recipe is simply the best to opt for! Shall we then?
All of us like to have cookies now and then and if we could say that you can prepare jars and jars of them then there is no better news than this one. What a brilliant idea indeed!
The subtle cinnamon essence in the sugar cookies is simply brilliant! Packed with wonderful flavors, you are definitely going to fall in love with the treat! The combination of cinnamon and sour cream would turn out to be so good, we hardly knew!
Topped with gooey icing, the soft sour cream cookies are simply the best that we can think of! Delectable and rich, you ought to fall in love with this one. So what are you waiting for? Make it today!
The zesty essence of the sour cream cookies simply renders you speechless! Well, you have to try it out on your own to find out about its blissful taste! We will not reveal the entire secret yet! Shall we then?
The delectable rose sour cream sugar cookies are exactly what you need to feel content and delighted all in one bite! Fabulous and topped with icing, this idea is excellent and renders one completely speechless. Shall we go for it then?
Drizzled with sugar dust, the soft sour cream cookies are wonderful! And did we mention the jam filling in the centre! Well, that was the secret! Get ready to indulge in the blissful essence of these cookies!
Frequently asked questions associated with making cookies
1. What is the secret to making tender cookies?
If you want your cookies to be soft and tender then you should not overwork the dough as you knead the flour well. Once the gluten begins to develop, the cookies are no longer going to be soft!
2. How can you prevent the dough from spreading on the baking tray?
If you wish to prevent the cookie dough from spreading on the tray you must refrigerate the dough at least for an hour before the cookies are formed and the process of baking begins. In case the fluid or the watery content of the dough is high, the cold temperature will allow the dough to tighten up and acquire a firm texture as all the ingredients blend well with each other.
3. Why is it necessary to add eggs to the cookies?
Eggs are the levitating agents in a cookie! They help the dough to rise and the cookies to turn fluffy as you bake them! However, eggs should always be present at room temperature otherwise cold eggs are of no use.
4. Why is it essential to cream the butter?
If you are wondering why every baking expert recommends you to cream the butter well then here is the answer to your question. Whisking butter with stage enables to trap lots of air bubbles into it which are needed for a flaky and fluffy texture of the cookies.
5. Why is salt used for seasoning cookies?
Usually one makes use of Kosher salt to season the cookies well.
Bottom Line
In conclusion, the best sour cream cookies recipes offer an indulgent sweet treat with a unique texture. We've explored the variety of recipes available and found that time-tested tricks such as adding sour cream help to enhance flavor and create a soft, tender cookie that melt in your mouth. Additionally, including unique flavors like spices, chocolate chips, and nuts can help to elevate a recipe to the next level.
The next time you're looking for an unforgettable cookie experience, try a sour cream cookie recipe. As the French poet Paul Valéry once said, "A cookie is tenderness in the heart and strength in the spirit." Push beyond the ordinary and explore this delicious classic that has withstood the test of time. Bon Appétit!