Get ready to savor the flavor of Thai shrimp recipes! Each dish is crafted with the freshest ingredients to preserve the authentic taste. Discover the best recipes here and enjoy the deliciousness of Thai shrimp today!
More collections: Dipping Sauces For Shrimp, Lingcod Recipes, Classic Fish Sauces, Kingfish Recipes, Shrimp Pasta Recipes, Best Sauces For Salmon, Simple Monkfish Recipes, Shrimp Soup Recipes, Orange Roughy Recipes, Tuna Steak Recipes, Indian Fish Recipes, Summer Mahi Mahi Recipes, Flounder Recipes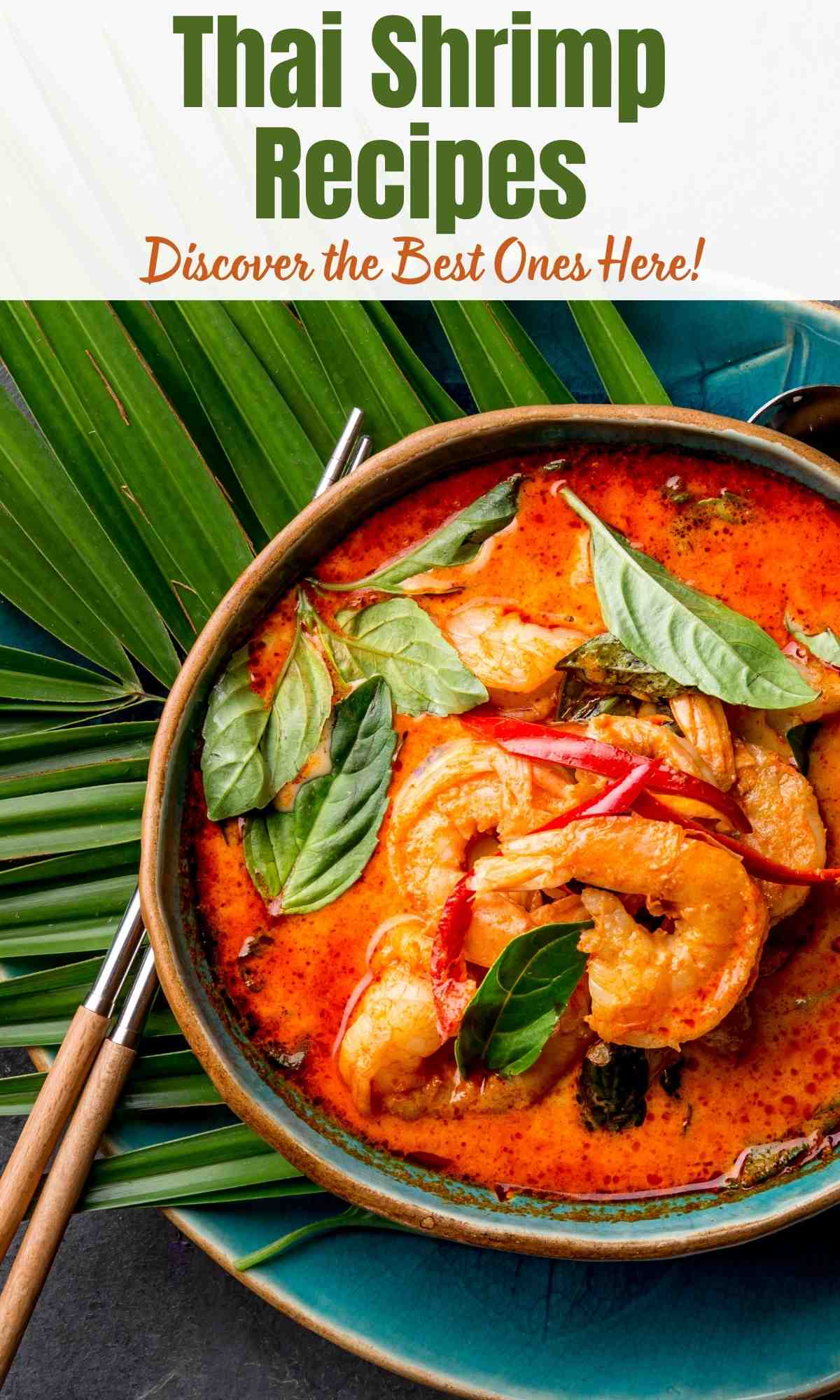 Cooking shrimp can seem overwhelming the first time or a few couple of times! After all, there are some preparations and things that one needs to do in order to ensure that your seafood tastes good. Today we are going to discuss shrimp! That is right! If you are not quite aware of the right techniques then you are looking at the right place.
Thai shrimps will introduce you to an all-new flavor of bliss and joy! Of course, you will find yourself surrounded with so many ideas that it will only seem fair that you engage in all!
Table of Contents
How can you peel and devein the shrimps?
Well, unless you want your shrimp to turn out crispy, you can get help from this column to peel it! There is also a need for you to devein the shrimps! This is a black color thread-like structure that runs parallel to the shoulder. It is the digestive tract that often contains grits and impurities! There is technically no health hazard of consuming shrimp veins but the experience of tender flesh can be destroyed if it is too grainy.
You can open the shell lengthwise and all you need to know about peeling it is to pull the shell and it will easily come off! In order to devein the shrimp, you need to make an incision with a knife on the top and then pull it out.
How to cook your shrimp ideally in the oven?
Cooking Shrimp is super easy once you are done with the job of removing the veins, shells, and so on! In fact, it is tender meat and gets cooked so quickly! This is one of the best things about working with seafood! The process is very fast as tender protein hardly consumes any time.
Broiling is the ideal method when you are cooking shrimp in the oven! This further makes the process simpler for beginners. Broiling is a faster technique than baking! So if you are running short of time you can always opt for the former. Three to five minutes is all that you need to get the job done.
How to cook the shrimp on the stove?
When you are cooking on the stove, there are several methods that can be deployed. You can opt for boiling your shrimp right? This will take about two to five minutes! You need to put the seafood in water and simmer to tenderize the flesh and turn it opaque.
How to cook shrimp in a skillet?
Use medium heat for preheating the skillet first! This is essential so that the tender shrimp does not stick to the bottom. You can use butter or oil whichever you want for pan-searing. Two to six minutes are more than enough to accomplish the task! And your smoky and crispy shrimps are ready in no time.
What is the method of cooking grilled shrimp?
 You need skewers to cook the shrimp right? Make sure that the shrimps are all attached to the skewers so that it is easier for you to flip them! Making shrimp is super easy and being so tender, they get grilled in no time! Flipping them one by one can lead to overcooking! Once anchored to the skewers you can easily flip them all at once and ensure each side gets smoky and cooked properly.
That brings us to the end of the first segment! Now you more or less know the techniques of cooking your shrimp right! Let's find out about some recipes now!
Delicious Thai Shrimp Recipes for Your Enjoyment
Delicious, creamy, and rich in coconut gravy, making the Thai shrimp curry is indeed so easy!
Savory and loaded with great taste, you ought to give it a try!
Making shrimp curry is super easy! Flooded with the right dose of seasoning this grilled shrimp with a zesty essence will surely make you drool for more.
Served with fried rice, you can call it a meal.
Making Thai garlic fried shrimp is so simple and indeed so easy! Rich and succulent, you ought to give it a try.
Crispy and juicy, all at once, no wonder this turns out to be so good.
The classic Drunken Thai shrimp noodles are gorgeous and flooded with great taste!
Savory and packed with herbs, this recipe is one of a kind. You can use some meat in it as well.
So shall we get started with the preps then?
Want some spicy as well as sweet with shrimp then you should go ahead with the recipe that is right here!
Flooded with great taste, the dish tastes so gorgeous! You can enjoy this one as a side dish with herbed rice or so.
Are you in the mood for something nice and creamy? Well, then you have to try out this gorgeous Thai coconut shrimp curry right away!
Flooded with a lemony essence, the shrimp tastes so good! There is no need to thank us though! Your joy, our pleasure.
Making shrimp Thai curry is very easy as long as you are aware of the right tricks!
With this recipe, you can get this dish ready in no time! Your dinner for tonight is ready to adorn the table.
Make yourself a bowl of Thai Basil shrimp with the recipe that is right here! Gorgeous and creamy, this dish is so easy to make!
If you want to experience the best of seafood flavors then you ought to give it a try!
Cooking Thai spicy basil shrimp is very easy and if you like it hot and sizzling then you are looking exactly at the right place.
Cozy and delectable, this will surely bring water to your mouth.
The combination of garlic and shrimp always stood out for us! Delicious and flooded with great taste, there is no way you can miss out on this dish!
Drizzled with seasonings so rich, you can hardly content yourself and stop craving for more.
Making Thai shrimp cake is another gorgeous dish that we are sure you would love to indulge in!
Flooded with great taste and a creamy dip like aoili chili, do give it a try for sure.
Asian chili garlic prawns are flooded with great taste! Drizzled with seasonings so rich and cosy, that you will be rendered simply speechless!
There is no need to thank us for the idea. Let's quickly get started with the preps, shall we?
Making shrimp cake as an appetizer is very easy and when you are having guests over then this is the best trick to use to impress them!
Serve with sauces and or sweet chili mayo and enjoy to your heart's content.
Delectable, creamy, and savory, you ought to give it a try! Flooded with a rich choice of gravy, the dish is every seafood lover's dream come true.
Ready in no time, enjoy with some buttered rice on the side.
Served with peanut butter dipping, the Thai shrimp curry is the ultimate treat of the season.
Succulent, rich, and flavorful, you ought to give it a try! Don't forget to share your feedback with us.
Cooking the warm and cozy coconut shrimp soup is very easy to make!
Healthy, savory, and rich, this dish is super easy and such a delightful one for you to try out! Thank us later for the idea!
Make yourself a refreshing bowl of salad with the spicy Thai shrimp recipe that is right here.
Drizzled with greens and so on, the recipe is super easy to create in a jiffy! So what are you waiting for? Make it today.
Are you in the mood for something comforting and cozy? Well then the Thai green curry is all that you have got!
Delectable and rich, this recipe is one of the best to try out this season!
Making the shrimp stir fry is now possible with the recipe that is right here! Sweet and spicy, this dish is wonderful and leaves you tempted for more.
Toss with some veggies and you are good to go. Let's try it then?
If you are in the mood for salad then this Thai shrimp salad is the ultimate treat of the season!
Packed with refreshing veggies and dressing, the dish tastes divine. Are you ready to experience its blissful taste?
Other recipes you should check out: Kohlrabi Recipes, Chowder Recipes, Thanksgiving Appetizers, Christmas Cheese Appetizer Recipes, Christmas Snack Mix Recipes, Christmas Dips & Spreads Recipes