Are you hosting a party this weekend? Well, with Christmas around the corner, fun, and celebrations are all that we can think of. Cheese is an integral part of our lives as you can already see! There is no party where cheese is not served as an appetizer unless you are an Asian. Even then we have learned to grow our tolerance towards dairy products. Here we have some gorgeous Christmas cheese appetizers that you can try out if you are looking for cheesy treats. And some useful tips to aid you as well. Let's find out.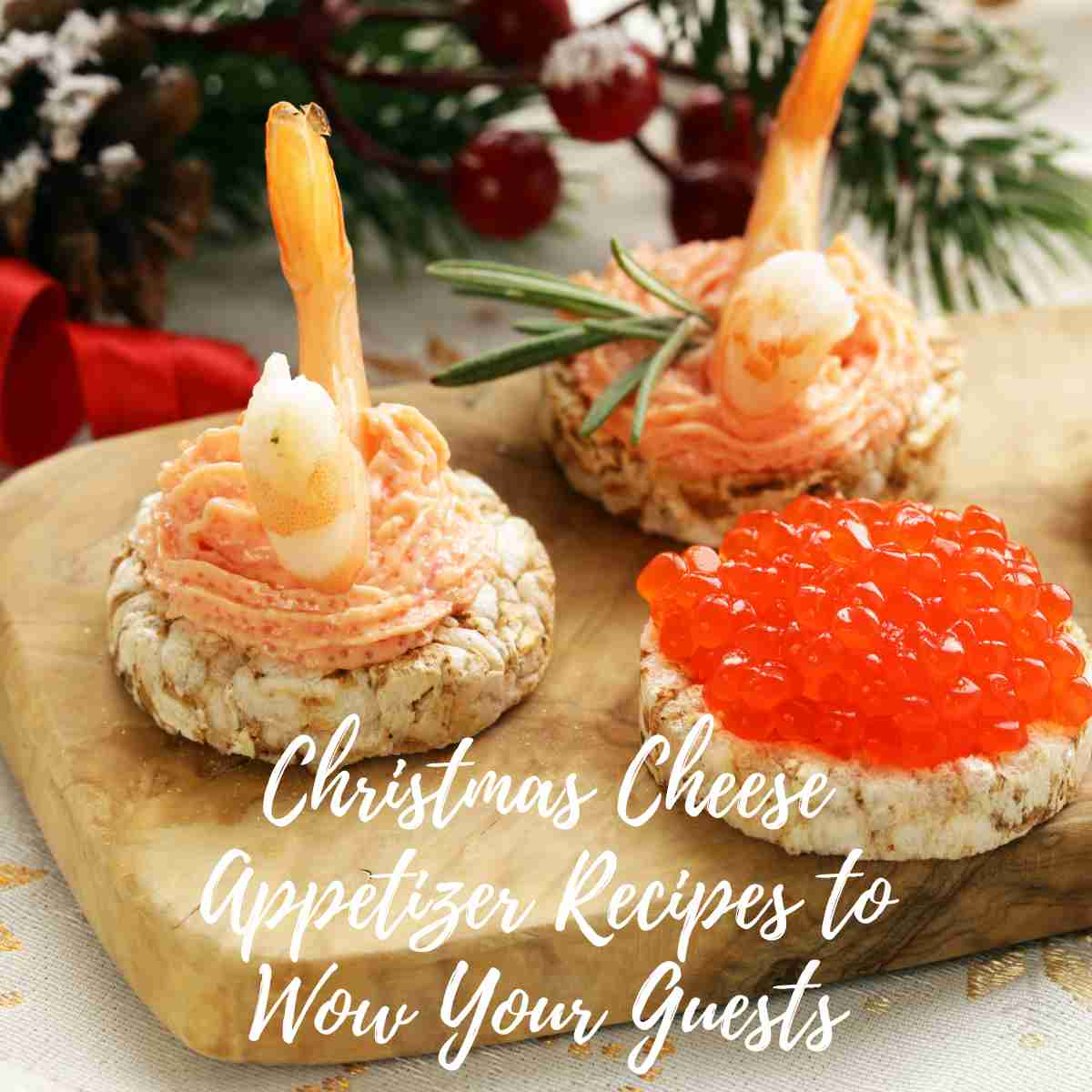 Table of Contents
What are some of how you can serve cheese as an appetizer?
1. Begin with choosing the right kind of cheese
Depending on the kind of cheese you would like to consume during the party and what is your preference, you may choose the kind that you want.
I. Choose the cheese that is light before an early dinner
You probably do not wish to stuff yourself up right before the grand meal! But it is natural to feel hungry at the party and especially during the evening! Then what can be done about it? Mozzarella and goat cheese are some of the common options that you can indulge in. If you are opting for Mediterranean or Middle Eastern snacks then the light cheese like goat cheese is great to go with. Remember that you do not wish to fill your guests with just snacks so serve them something light so they have an appetite for the elaborate meal later.
II. Opt for a variety of cheese so there are different options to indulge in
If you can't let your guests truly enjoy the distinct flavor of cheese then it is best you serve them a couple of options at the same time. The myriad tastes of each cheese will make sure that each of them is felt precisely by the taste buds. You can opt for soft and hard cheese as well!
Texture plays a key role in introducing the best qualities of cheese as well. Three to four types are more than enough. If you add too many varieties then the flavors might turn too overwhelming for the guests filling them up so much that there is no space left for the meal later.
III. Develop a taste for regional cheese
Depending on the geographic region you reside, the flavor of cheese might vary! This is an acquired taste and slowly you will begin to love the taste of cheese of your region. However, if you wish to explore more options during the holidays then you can set your aim for a particular region like Italy or France and indulge in the varieties present in these regions.
IV. Serve milk cheese from different kinds of milk
Depending on the kind of milk you are using, the variety of cheese will also vary! You can easily ferment them at home and find out about the myriad flavors. Instead of buying them from the store, you can opt for using the extra time that you have during the holidays and ferment them all at your place.
V. There are different sorts of cheese in one family
A single family of cheese can contain several varieties and if you wish to find out about their authentic flavors then you have to begin with exploring all the varieties within the single clan and then move on to the next. A similar concept applies to serving cheese to the guests as well.
2. Always look for the right pairing
Whether you are pairing the cheese cubes with meat or veggies in the skewer, it is highly essential to look for the right pair so each of them can complement one another.
I. Serve something savory with your cheese
Simple cheese can taste too tedious and effortless at the party! If you want to leave an impression on the guests with minimal effort then you should go for something that can be paired with cheese. Bacon and pepperoni are perfect to combine with cheese. We can guarantee that. So next time you are preparing a platter or a skewer keep this advice in mind. Avoid too much of spices as that can mask the real flavors of cheese.
Prosciutto, salami, nuts, and bell pepper are all so great to go with cheese. You may even opt for caramelized onions, artichoke hearts, and so on. Olives and nuts are considered great to go with aged-old Gauda cheese. Once you have mastered the pairing of cheese with savory items, your party appetizers will be the best. Mustard and dressings are something we almost missed out on. These are simply wonderful to enhance the taste of the cheese cubes and grab their special attention.
II. Crackers and bread with cheese should be simple
You again do not wish to mask the flavor of the cheese but simply enhance it! Hence a cracker or a bread slice that is served with cheese should not have any overpowering flavors. These are some of the minute details that you need to be careful about. You should probably skip the bread items that have some garlic or herbs infused in them.
III. Some of the raw veggies must also be skipped
If you are not a fan of greens then you will probably be happy to hear this statement. Carrots, broccoli, and cauliflower are great to go with cheese but if you see that some veggies have a strong flavor then it is better to avoid them.
IV. Opt for fruits that are not very acidic
The presence of acid will ruin the taste of cheese at the very instant and that is something you have to avoid. Pears, grapes, apples, and figs form a great combination with cheese and the guests will certainly praise your efforts too. Orange, pineapple, grapefruit, or kiwi must be avoided because of their acidic content and bold flavors.
V. Pair the cheese with wine
There is nothing as good as cheese with wine! In fact, you are about to host a great party with this duo present on the appetizer counter. You are expected to strike a balance between the two flavors. If the wine is mild, the flavor of the cheese should be bold, and vice versa. It is observed that goat cheese from the Loire pairs well with a Loire Sancerre.
The same concept applies to the pair between cheese and beer! If you wish to learn more then you should speak to someone who has a knack for drinking beer and will be able to choose the best combination.
Delicious Christmas Cheese Appetizer Recipes For Holiday Entertaining
Resembling a Christmas tree crystal ball, the ornamented cheese balls are the fanciest appetizers that we have come across and they should top the chart.
Adorned with pomegranates all over the surface of the cheeseballs, the recipe for an ornate version of the cheeseballs simply tastes so good.
You will definitely come back to thank us for this brilliant idea later on. Shall we try it then?
Yes, we are talking about the platter with three different kinds of cheese balls served on the table.
Vibrant and pretty, these are assured to bring water to your mouth at first glance. Make it for sure.
Rich and luxurious, the taste of the baked olive cheese balls is lovely and you must give it a try!
Packed with the sharp essence of olives, the crispy coating outside is commendable as well. So what are you waiting for?
A great combination of gooey and spicy hints, you must try out the red pepper jelly and cream cheese with crackers on the side.
Perfect to satiate your craving during the evenings of your holidays. Let's get it done, shall we?
Sweet, savory, and tangy, all combined into one, we have this recipe for cranberry goat cheese balls.
The presence of pecan makes them even more crumbly and crunchy in every bite. Have a great time at the party!
Yes, you heard it right! It is the winter season and the customized appetizers are greatly appreciated by the guests.
The wonderful snowman cheese balls are lovely and draw one's attention instantly toward the counter. So are you ready to prepare this treat?
So, we came across the butter finger cheeseballs and we knew, this had to be it.
Delectable and rich in flavors, you can enjoy it with crackers! Serve with tea as guests pour over during the holidays. Let's get it done then!
Coated in crispiness, the cranberry brie bites are gorgeous and you must try it out for sure!
Delectable and smooth, the appetizers are great and such an excellent to indulge in. What a delightful idea to relish this season.
The smooth and savory cranberry puff pastry is loaded with brie and tastes divine.
If you haven't tried it yet, then all we can say is that you should not miss out on this holiday season as Christmas knocks at the door.
The authentic cheeseburger Hawaiian sliders are wonderful and loaded with delicious cheesy filling in the center and succulent meat too!
You can make these small sliders as appetizers during the holidays and enjoy them to your heart's content. Let's get started then!
We are talking about the outstanding cream cheese spread that is simply loaded with flavors so good!
The chunky cranberry bits in the spread give them a distinguished taste that anyone can hardly resist.
So let us not waste a minute and get started with the holiday preps.
What a lovely creation to make your seasonal celebrations even more outstanding!
Drizzled with crunchy pecan, you can enjoy these cheeseballs with crackers on the sides.
Chunky and smooth, there is nothing as good as this one.
Yes, we came across the marvelous cheese truffles and knew that you would surely like this idea and hence we added it to the list.
Easy to prepare and super rich in flavors, make your holidays even more happening and yummy with this recipe right here.
If you are wondering what to make for the guests with some cheese in it then there is nothing as good as the pimento cheese fritters that are simply delicious.
Crispy outside and tender inside, the pimento cheese fritters are served with spreads on the side.
The smooth and creamy dip prepared with pimento cheese is the ultimate source of delight for the taste buds.
Enriched with herbs, there is no way you should miss out on this one.
Yes, we are talking about the cheese cream-rich dip served with pepper jelly is awesome indeed.
Sumptuous and creamy, the combination of creamy and tangy essence tastes so good indeed. So what are you waiting for?
Sweet and savory, the Christmas chocolate chips are loaded with delightful flavors!
The cheesy balls are so easy to make and delightful to indulge in. The kids will be so jubilant as they find the Christmas chocolate chip balls on display.
The mini cheeseballs holiday platter is exotic and you should give it a try for sure. Packed with flavors, these are the ultimate treat that you can think of.
Make your holiday platter even more exciting and irresistible with this idea right here.
The juicy and flavorful cranberry dip is packed with gorgeous tastes! Loaded with a smooth cheddar dip, the recipe turns out to be so good.
Let's give it a try then. You will definitely be smitten by its taste.
Frequently asked questions associated with cheese appetizers for Christmas
1. What to serve as an appetizer with cheese during the holidays?
You can serve cheese with veggies or meat! Dips are a great way where you hardly need to put in much effort. You can enjoy it with crackers and nachos.
2. What are some of the tips that you should keep in mind while making appetizers?
While you make an appetizer the look of the appetizer should be taken care of! Before one tastes the appetizer, one needs to focus on the appeal of the starters as they adorn the table.
3. How can you make a good cheese platter?
There is certainly a way to make your cheese platters more attractive! You shall need some meat and veggies to accompany the side. These are lovely as long as you know the right way to adorn your platter well.
4. What is the best way to serve cheese?
When you serve cheese make sure that the temperature of the cheese is present at normal condition which is room temperature. Do not use any other bold flavors with cheese as this can ruin the authentic taste of your cheese. Simple bread toast or crackers can accompany the sides.
5. What are the two tips that you must keep in mind as you serve cheese?
You must serve cheese crackers with meat and veggies on the side. Do not blend in many herbs so your dish might not taste great.
Bottom Line
There's nothing quite like a Christmas gathering with family and friends, and what better way to show your appreciation than with a festive cheese appetizer? From a creamy Brie in Phyllo pastries to a classic cheese ball, these recipes will dazzle your guests' tastebuds and make your holiday season even more special. So, choose your favorite, get creative, and enjoy the savory cheese dishes this holiday season. As Julia Child once said, "People who love to eat are always the best people!"
Let's get the conversation going - what's your go-to cheese dish for the holidays?