Looking for the perfect sea bass recipes? Try these easy-to-follow recipes that will make any meal special. Quick, flavorful, and delicious – the perfect combination for any home cook! With our recipes, you'll be cooking like a pro in no time.
More collections: Lingcod Recipes, Classic Fish Sauces, Kingfish Recipes, Shrimp Pasta Recipes, Best Sauces For Salmon, Simple Monkfish Recipes, Shrimp Soup Recipes, Orange Roughy Recipes, Tuna Steak Recipes, Indian Fish Recipes, Summer Mahi Mahi Recipes, Flounder Recipes, Thai Shrimp Recipes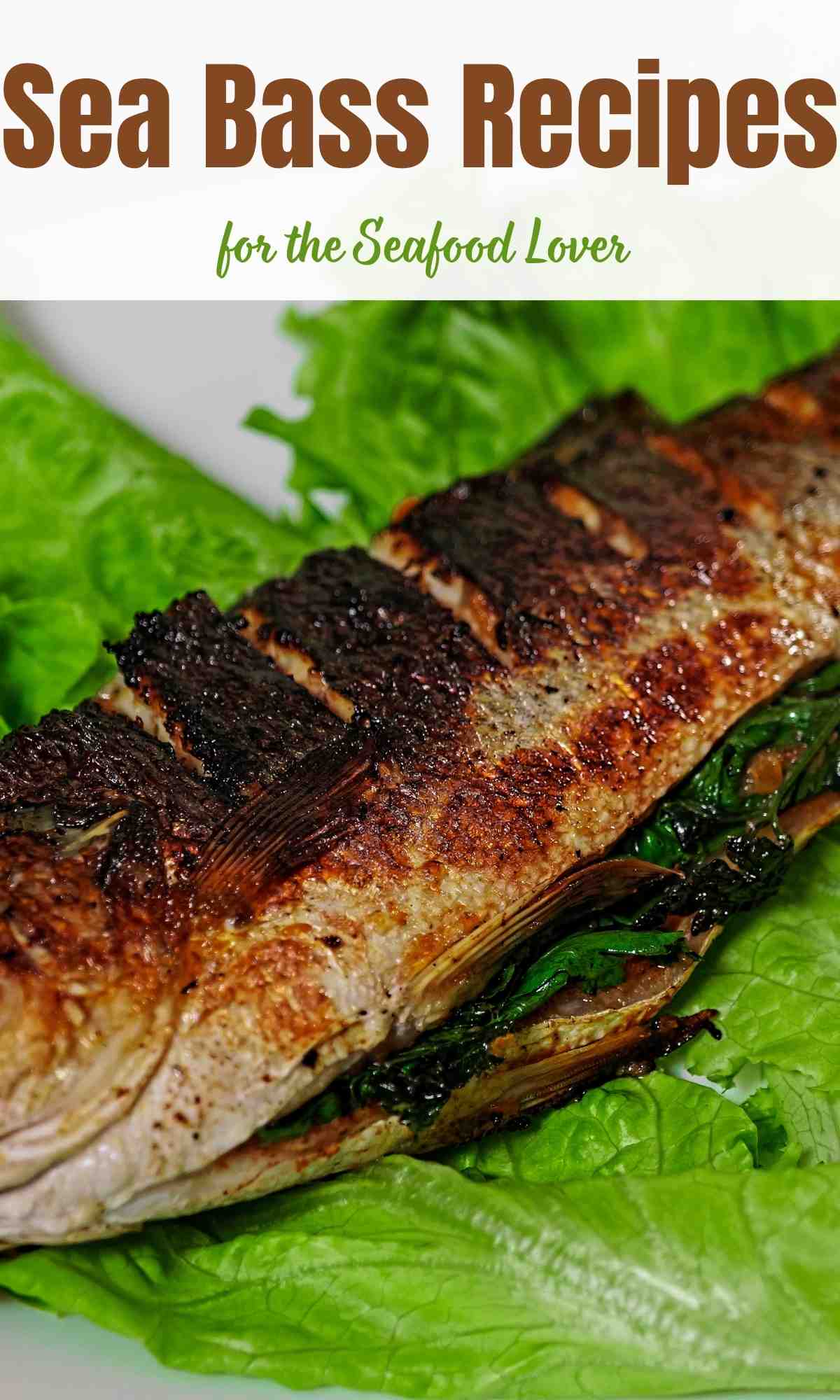 Well, for a seafood lover, this section is truly going to be interesting! If you are fond of seafood too then let's learn to make bass together. The good thing about bass is that, with a few easy steps and a couple of measures in mind, the dish will turn out to be perfect.
Sometimes cooking fish can be an overwhelming task if you are not quite used to it or this is your first time! However, we can help you in every aspect! Fasten your seatbelts and join us on this ride to learn to make bass dishes at home.
How do you know whether the bass is fresh?
You head to the store and you can not pick up the first thing that you come across! There is always a way to choose the bass and we will soon discuss that with you. Unless you live near the coastal region, you have to rely on the supermarket to get you a fresh catch. The fishes which are caught freshly are firm and the meat is relatively easier to cook as they do not fall apart. You can also opt for frozen or prepackaged fish if you want.
Of course, they are a few days old but you can still get them fresh depending on the way they are packaged. If you are buying whole fish then you have to look for the ones with bright eyes. They should be shiny and the skin should be smooth and plump. The fish can have a saltwater odor but no unusual or unpleasant stench should accompany the same.
The best thing about bass is that you can easily make out if the fish is stale. First of all, the eyes will seem dull and the skin will no longer remain firm but rather feel flabby and tender. Once they turn out to fall apart, it is an indication that the meat is no longer fresh anymore and the decay process has begun.
Which is better to buy a whole fish or fillets?
Depending on your preference, you can choose either! Fillets are comparatively much easier to tackle. However buying a whole unprepped fish is cheaper than the fillets which are preprocessed, raising the charges.
If the pin bone is present on the fillet, then you can get it removed before you marinate the fillets. If a whole fish seems messier but you wish to grill or roast it that way, you can ask the fishmonger to help you out with the cleaning, processing, and so on.
How can beginners cook bass fish?
For beginners who have never tried their hands at bass fish, here is a fuss-free method to do the same. Steaming can be done in an enclosed parcel. It is a foolproof method for any kind of fish to be honest. Especially if you are a beginner, this will come to great use. In the parcel, the steam is entrapped and if you tend to overcook even then the fish will remain tender and juicy.
Isn't it fascinating? You can either use parchment paper or aluminum foil to accomplish the task. Infuse it with some aromatic essence or seasoning which can in due course of time be absorbed by the fish in the parcel. You can even top it with a few cubes of butter so that the taste of the fish is further enhanced.
From here onwards we will move on to the second half of the article where we have listed exclusive bass fish recipes for you.
Easy Sea Bass Recipes - Delicious Dishes for All Occasions
Here is a way to impress your seafood-fanatic family on a Sunday brunch!
The flaky and tender fish fillets cooked in an air fryer are the easiest thing to do. Drizzled with honey, the fish tastes so good.
Light, crunchy, and flavorful, we can help you to make the sea bass recipe right away!
Drizzled with avocado salsa, the recipe is so easy to make.
Adorned with slices of lime, the oven-baked basa fillets are gorgeous and loaded with great taste.
Flaky, smokey, and zestful, the dish is one of a kind. Thank us later for the mind-blowing idea. Shall we then? 
If you enjoy sea bass then you should give this dish a try! Making it with mango salsa is such an enriching experience that you should not miss out on it. So what is the delay all about?
Make your fish taste divine with the cheesy parmesan crusting on it! Perfect to serve as a side dish with rice or enjoy simply as an appetizer, make your Sunday feel extraordinary, comforting, and exciting all at once. So shall we?
Zesty rich and cosy, you ought to give this a try to this idea! Flooded with the essence of caper and the smoothness of butter, no wonder you will fall in love with the dish.
Savory and succulent in every bite.
Indulge in something authentic and nice with the miso-glazed sea bass recipe right here.
Delicious and succulent, you ought to give it a try! This dish is super easy to make! Drizzled with chopped garlic, the recipe is simply the best!
Making the white fish with lemon butter sauce is the best decision of your life!
Smooth, comforting, and cozy, this is the perfect dish to go with a bowl of rice on the side.
Here is another delightful recipe for the fish lovers! Crunchy, delicious, and rich, you ought to give it a try!
Flaky and flavorful, this dish is super rich in flavor and will render you simply speechless in every bite.
Cooking sea bass is no longer a big deal with the recipe that is right here! Drizzled with enriching seasoning, the recipe is outstanding and leaves you tempted for more.
So shall we make it then? Let's go! You will not be disappointed!
The garlicky essence in your sea bass recipe gives it a distinguished taste!
Combined with butter and the mild seasoning, the gravy is subtle so the flavor of basa fish fillets can dominate the dish.
Coming up with the roasted chili lime fish is now possible with this recipe at your fingertip!
Delicious, smooth, and flaky, the recipe will simply steal your heart.
Drizzled with herbs like parsley, lime, and the right dose of seasoning, you ought to make it today.
Try out the baked fish with lemon cream sauce and see how delightful it turns out to be for the taste buds!
Smooth, enriching, and creamy, the dish is one of a kind. Enjoy it for brunch.
Cooking your sea bass recipe is no longer just a dream or something you only have at the restaurant.
Served with spinach and mushrooms, the dish tastes so good and gorgeous. Shall we then?
Make yourself a platter of grilled sea bass and see how quickly this one disappears from the table!
Delicious, smokey, and tender, the grilled fish is literally the show stopper, the highlight of your meal every time.
Make the process of cooking seafood interesting and yummy with the recipe that is right here!
Flooded with a parmesan cheesy crust, your baker bass fish seafood tastes divine.
So what are you waiting for? Make this one today and indulge.
The name of the recipe speaks for itself! All we can say is that you will find this to be a wholesome platter with all that you find fascinating about seafood.
If you wish to enjoy the whole fish then you have to try out this recipe!
Delicious, tender, and juicy, you shall be smitten at the very first bite.
Ready in no time, you ought to give it a try! So shall we then?
Fish with salsa is a match made in heaven! Served with tomato and fresh basil salsa, the bass fish is simply one of a kind!
Delectable, rich, and succulent, no wonder it is so popular.
Cooking grilled sea bass is so much easier with the recipe that is right here!
Flooded with wonderful essence, the recipe is one of a kind. So what are you waiting for? Make this one right away.
Other recipes you should check out: Kohlrabi Recipes, Chowder Recipes, Thanksgiving Appetizers, Christmas Cheese Appetizer Recipes, Christmas Snack Mix Recipes, Christmas Dips & Spreads Recipes