Try something new with these delicious orange roughy recipes! Quick, easy, and versatile – find the perfect recipe for your next meal. Enjoy the best of this flavorful fish with a variety of cooking methods and seasonings. Discover ingredients, cooking times, and more.
More collections: Redfish Recipes, Yellowfin Tuna Recipes, Spicy Shrimp Recipes, Bluefish Recipes, Salmon And Rice Recipes, Spinach And Scallop Recipes, Fish And Rice Recipes, Dipping Sauces For Shrimp, Lingcod Recipes, Classic Fish Sauces, Kingfish Recipes, Shrimp Pasta Recipes, Best Sauces For Salmon, Simple Monkfish Recipes, Shrimp Soup Recipes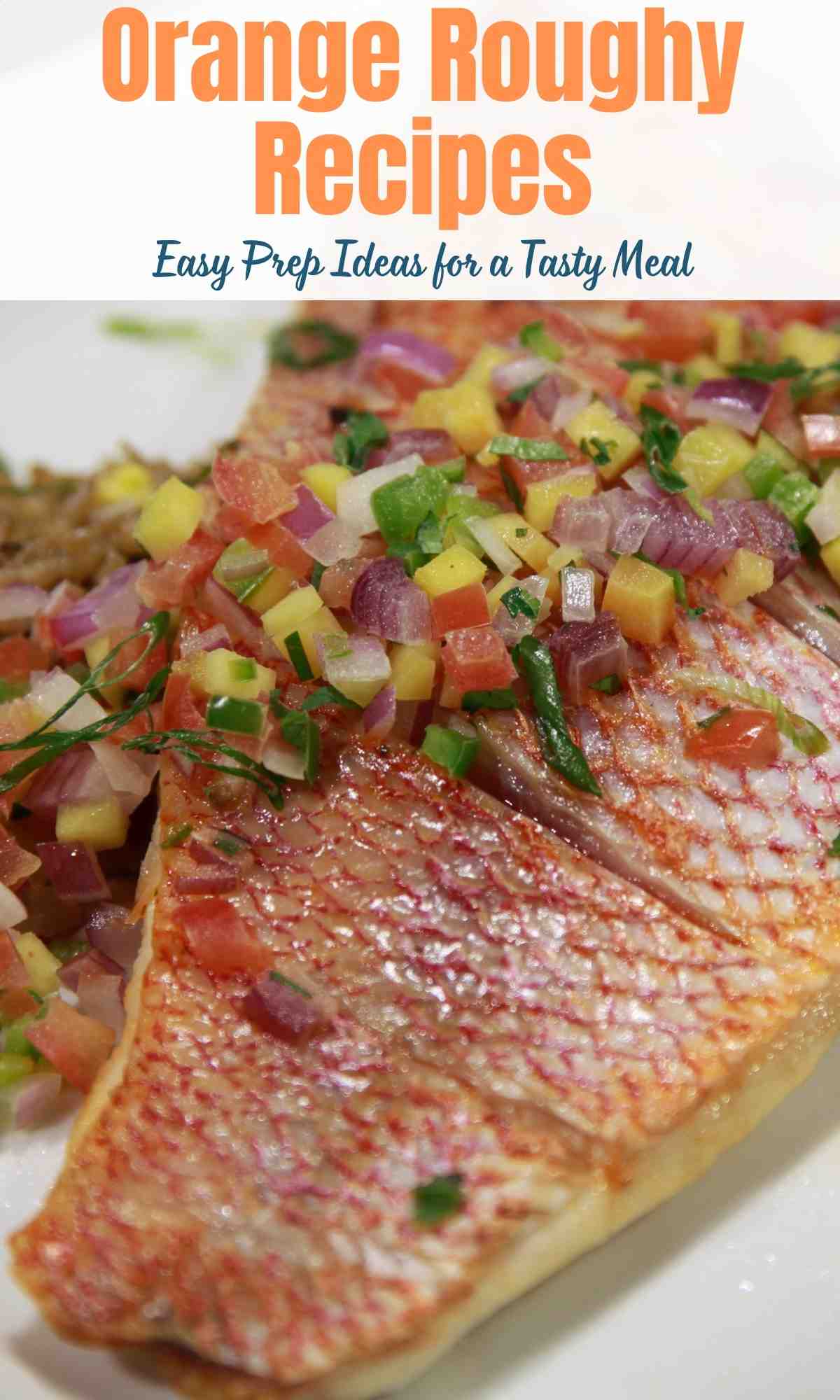 When it comes to seafood, the options are myriad! From fishes to squids, crustaceans like shrimps, and so on, the ideas are more than enough to keep you hooked on this delicacy for a lifetime.
For example, today in this article we are going to talk about Orange roughy fish! These are pretty easy to cook as long as you are aware of the right techniques. Cooking fish is no longer a tough job with ideas and hacks at your fingertips! So let's get started then.
Table of Contents
What is an orange roughy?
This is a deep sea-dwelling fish that is found in the waters of New Zealand around Australia. Orange roughy is also referred to as Hoplostethus atlanticus which has a bright reddish skin and more or less a round feature. The texture of the flesh is firm and the flavors are very mild and subtle so you can pair them with any sort of sauce. You can buy them both frozen as well as fresh, whichever you prefer to consume. These fishes are slow-growing and long-living fish that belong to the family of Trachichthyidae. They are often found at a depth of 800m-1600m below the water surface.
What are some of the lesser-known facts about orange roughy?
You will be amazed to find out that orange roughy fisheries are as high as 80% in the waters of New Zealand. That is where all your orange roughy in the local markets comes from. This is to be noted that these kinds of fishes can grow up to 75 cm, although the usual catch size is between 35 and 45cm. Bottom trawls are usually used for catching oranges.
It is surprising that these fishes can live up to 150 years in the wild waters! Hence when you catch an orange roughy, usually younger ones are targeted and sold in the market. This has a significant reason. The longer they live, the more they are exposed to the level of mercury in the water, making the older ones unsuitable for consumption.
Can you bake orange roughy?
One of the most common and popular ways of consuming orange roughy includes baking! This complements the mild flavor of the fish. The flesh turns out to be tender, moist, and extremely flaky, making it hard for fish lovers to resist themselves. Often, butter, smoked paprika, garlic salt, and lemon pepper, and so on are used as dressing for the fish.
Due to their non-fishy smell and flavor, it becomes easier for one to consume them with different sauces and seasonings, even ones that are mild and light. Only a few spices and you are good to go! In fact, even non-fish consumers will have no problem when orange roughy is on the table. If you are bored with the same old baked salmon every time this weekend when you head to the supermarket make sure you buy some orange roughy fillets instead.
What are the common measures that must be taken before you bake orange roughy?
Do not forget that you have to preheat the oven first! A lining of aluminum foil is placed over the baking sheet so that the tender fish fillets do not stick to it and break in the process. Further measures can be taken by spraying some cooking spray like olive oil on it. The fish fillets should always be pat-dried before you brush them with melted butter and other seasonings.
Delicious Orange Roughy Recipes - Simple & Tasty Ideas
As we started, the recipe for orange roughy is extremely yummy when you are trying to bake the fish.
Tender, flaky, and marinated in rich spices, you will simply fall hard for your fish platter at the very first bite.
If you wish to add a sense of crispness to your fish then this breaded orange roughy recipe is a wonderful idea to cherish.
Make yourself a fish platter like this one with the recipe that is right here to your rescue.
Of course! When it is orange roughy or any fish for that matter, the parmesan and garlic duo never fails to establish their charm.
Crispy, tender, and juicy, all at once, you ought to give it a try for sure.
Now make yourself another wonderful dish with orange roughy and provide your taste buds with the ultimate sensation of delight.
Served with boiled veggies and herbed rice on the side, you can call it a complete platter for brunch this time.
Here is another delightful recipe that we are sure you will be fascinated by! Crispy, crumbly, and rich in taste, this pan-seared roughy is so easy to make!
If you are looking for something simple as a beginner then this fish recipe is the best.
Make your fish even more delightful and tastier with the crunchy walnut crust on top!
Drizzled with herbs like parsley does its job well. So what are you waiting for? Make this one for brunch and enjoy it to your fullest.
Smokey and delicious, this orange roughy recipe is going to make every fish lover drool for it!
A delightful treat for the eyes and the taste buds, the orange roughy recipe is gorgeous and packed with great taste. You must make it today.
Adorned with capers on top, this fish recipe is another innovative creation that we are sure you would hate to miss out on.
Cooked in wine butter sauce, the taste of your dish is simply divine, we can totally vouch for it.
Indulge in this authentic Mediterranean baked orange roughy which tastes so divine and gorgeous!
Flooded with smooth essence and mild season, this recipe is wonderful and you should give it a try. Let's make it then?
Creamy and zesty in every bite, here is something that we are sure you can hardly resist!
Delectable and flooded with rich gravy, you can enjoy this fish dish with rice on the sides. So get started then?
The combination of rice and fish is a match made in heaven! So this time if the theme of Sunday brunch is seafood then you should prepare this gorgeous recipe and see how delighted everyone shall be.
We can hardly wait for you to make this one.
Do you like orange roughy? Because if you do then your love for this fish will be doubled with the recipe that is right here!
Zesty and enriching, the presence of cheese makes it even more delightful and delicious in every bite.
Did you try out the orange roughy recipe with lemon butter sauce before? You are up for a surprise with this dish right here!
Delicious and adorned with capers, this is an extraordinary treat that you should not miss out on.
It is now possible to make yourself the delectable and tender orange roughy with the spicy searing!
Smooth, savory, and wonderful, this dish is lovely and the best choice when eaten with rice on a warm summer afternoon.
Here it comes! Another wonderful recipe for the season! The baked orange roughy is delightful and delicious!
Loaded with great taste and topped with herbs, this idea is so easy to emulate even for beginners.
Well, if you wish to try something authentic and traditional with orange roughy then we know which is the exact dish for you!
Here we have the Asian citrus soy fish which simply tastes divine in every bite.
Are you in the mood for fish but in a unique style? Well, then the Italian-style baked fish is such an incredible treat for the season!
Loaded with cheese, seasoning, and herbs, you must give it a try.
Are you ready to be smitten by yet another dish? Well, here we have the broiled orange roughy which tastes delightful!
Served with the zesty essence of lemon and herbs, you ought to give it a try.
Make yourself a platter of smoked fish with the blackened orange roughy that is right here.
Delectable and packed with the right dose of seasoning, you must make this one. Thank us later for the idea! Now indulge in its divine presence.
If you haven't tried grilled orange roughy before then you should with the recipe that is right here!
After all, it is the seafood Sunday and you must make something nice and unique for the table. Shall we get started with the preps?
Other recipes you should check out: Kohlrabi Recipes, Chowder Recipes, Traditional Mexican Soup Recipes, Greek Lemon Chicken Soup, Pumpkin Soup Recipes, Tasty Crockpot Taco Soup Recipes, Creamy Corn Casserole Recipes