Those of us who find their inclination toward seafood will surely agree that they are incomplete without salmon recipes. Making salmon can be tricky if you are doing it for the first time! So are you planning to serve grilled salmon to the guests but apprehensive about how they will turn out to be? It is alright to know nothing about seafood and make it for the first time! Everyone has their first! Here is what you need to learn.
Now we shall learn how to make the perfect grilled salmon in less than an hour! To be precise, just thirty minutes is all that you need. Packed with proteins, these are amazing for all age groups! So let's find out how to grill salmon.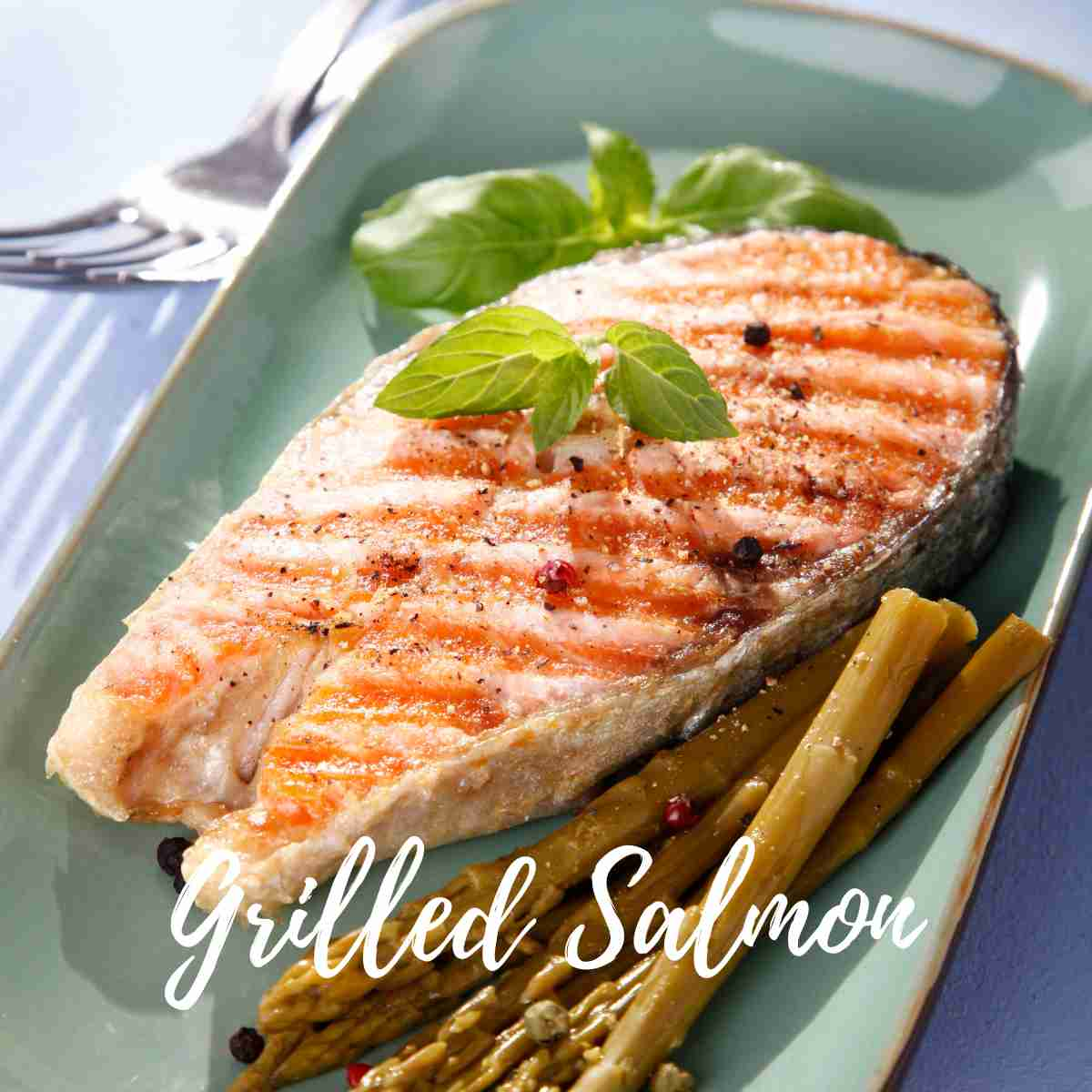 What are the advantages of grilling salmon-
Most of us like to make grilled salmon because they are one of the easiest to create. Let's find out the advantages of grilling salmon, shall we?
Quick and easy- you will be surprised to find out if you are trying out salmon for the first time, they are super easy to make and get done in a jiffy.
Delicious- there is no doubt that the grilled salmon is the best! They are super delicious and juicy! So if you are craving something meaty and enriching, give it a try!
Packed with nutrients- if you are wondering whether salmon is safe for you or not as a healthy diet then let us tell you that it contains proteins, healthy fats, and omega 3S. So go ahead and make it today!
What are the types of salmon that you can choose from
Which is the best to make, farmed or wild salmon?
Both the farm and the wild salmon are equally good to taste! While the farmed ones have a more succulent and juicy flavor, the wild salmon is rich in minerals like zinc and iron giving them a distinct taste to identify whether they are farmed or wild!
Should the skin be on or off? You should always go for salmon with the skin on it as they help you to maintain the real taste of it when you grill them! Plus the process of grilling also becomes easier with the presence of the skin.
The different types of salmon in the market include the King and Chinook! The other farmed varieties like Coho and Silver salmon are widely found in the market as well.
How to marinate salmon before cooking
There are different ways in which you can marinate the salmon before you cook it. This ensures that the taste of the dish is enhanced and the salmon gets more time to imbibe the spices as well.
They acquire fat from yogurt or buttermilk.
If you are marinating in vinegar or citrus fruit then salmon derives acid from those
And seasonings are done with other herbs and spices.
How hot should the grill be before you start making salmon
A medium heat of 375-400°F is enough to grill the salmon at its required temperature! They come out quite charred and smoky too! Don't put on the heat higher than that or you will damage the dish and end up with burnt salmon that you can't even eat.
Here are two simple methods to grill salmon! Let's have a look at them -
Method 1- Directly on the grill.
This is the most common method! We marinate the salmon and then cook it directly on the grill! Flip the sides after a while and then grill again.
Marinate the salmon with spices and seasoning in a bowl and then place it on the grill. You can brush some oil beforehand so they do not stick while cooking.
Then preheat the oven at 375°F and brush the grills with oil again! Now place the salmon on them to allow you to cook for a while.
Give it about six to eight minutes and then you can flip it over.
When the temperature of the salmon reaches 140°F, the salmon is officially cooked. It is better to leave it slightly undercooked than overcook it.
After taking it off the grill, you can allow it to rest for about two to three minutes before you serve them warm and fresh! This allows the spices to rest on the surface of the salmon and be absorbed to enhance the taste.
Method 2- grilling in a foil packet
The method of grilling in the foil packet is the same and you also have to maintain the same temperature as classical grilling. To reduce the job of cleaning up after cooking, we often go for this method of grilling in foil packets so that the juices don't dirty up the grills. We wish you happy cooking!
If you are trying salmon for the first time at home then there is nothing better than the salmon marinade recipe that we have brought exclusively for you!
Here is an easy way to learn to make salmon without any hassle.
If you are not in the mood to engage in something massive when the guests are coming over on Sunday but you also want to make a good impression then here is a recipe that you can put to use!
The perfect grilled salmon recipe is wonderful at such times.
If you are looking for the right tips to make the best grilled Salmon this is the recipe that you should refer to!
Enriched with an infusion of herbs and spices, this is a great dish indeed.
If you have a fondness for salmon then the olive garden grilled salmon are the best to indulge in!
This copycat recipe is so easy for you to emulate and get it done in a jiffy!
Perfectly cooked in soy sauce and brown sugar, the grilled salmon recipe is perfect and you should not miss out on this one!
So if you are wondering what to make for brunch then the easy-peasy soy sauce and brown sugar grilled salmon dish waits for you!
Sprinkled with herbs, the cajun grilled salmon is the best idea for salmon lovers!
Flavored with the sweetness of honey and the smooth essence of butter, you are going to fall head over heels for this dish!
All it takes is thirty minutes to come up with this recipe! Infused with herbs and delectable spices, you are about to embark on a journey of divine flavors!
So shall we make it then?
All it takes is only five ingredients to prepare this dish! The grilled salmon is so easy to make with this recipe that you will be compelled to try them out here and there every other day!
Couple it with rice!
Just when you thought salmon was enough, we came up with avocado salsa to make it even more wonderful.
The succulent and juicy seafood dish is only possible with the presence of this recipe at your fingertips.
Let us help you to make something like the restaurant at home with orange glazed salmon!
Enriching and flavorful, the perfect blend of spices and the visual appeal makes it such an irresistible dish!
So make a lot of orange-glazed salmon for lunch and dig in.
There is nothing as nourishing and yummy as this simple salmon recipe that we have brought for you.
The perfect smoky essence is felt in every bite as you allow your taste buds to savor the flavor.
Salmon is best complimented by the flavor of herbs like parsley combined with Italian seasoning!
If you wish to try out something amazing and yet comforting as brunch then you should make the herbed salmon with rice for the afternoon.
The combination of garlic, parsley, honey, and lemon renders this dish with a simple yet outstanding taste!
And you do not have to believe in our words, make it for yourself and find out.
Here we have found another recipe to grill salmon with dill and butter! The dish is so good that you will not even find the time to talk at the table but will be focused on your plates until the whole salmon is gone.
That's how amazing it is!
You have tried teriyaki chicken before but did you try teriyaki salmon? Well, if you didn't then you have to do it now!
What an excellent choice of dish to prepare and enjoy as a side to the meal.
Here is another exquisite dish with salmon that we are sure you wouldn't like to miss out on if salmon is your favorite seafood.
The combination of cilantro and lime always rules the world and you have to agree with us on this.
The combination of bright flavors and the smooth essence of herbs gives this dish an exotic taste!
The wonderful salmon marinade is cooked in the Mediterranean style and is so easy to cook for a quick meal!
Let'act a side dish to your Sunday brunch.
There is something so special and comforting about grilled salmon! Flavored with garlic essence and a mild infusion of herbs, it is guaranteed to provide you with a great treat!
This recipe is so easy for beginners.
Tender, moist and buttery, the grilled salmon is ready in just a couple of minutes!
That's how easy and quick it is!
Have a couple of unexpected guests for lunch at home, do not worry as long as you have some salmon in the house.
The sweet and savory pineapple salmon is so enriching indeed! This is a unique form of recipe that you can give a try to impress everyone in your family!
They are soon up for a surprise.
If you wish to indulge in something unique and smooth then the browned butter salmon is best to carry for potlucks or when you have guests at home.
Let's not waste a moment and prepare this universal salmon recipe which is good for kids as well as the elderly.
Enriched with the goodness of cherry tomatoes, the honey soy glazed salmon is the best for you to try out!
The sweetness of honey is imbibed well by the veggies accompanying the salmon.
We have come up with a recipe for salmon that you will surely find so delicious in every bite!
Cooked with cherry tomatoes and asparagus, this is an exotic recipe that you should not miss out on.
Shall we try then?
Here is another recipe that we are sure you will regret not trying out for so long.
Flavored with garlicky essence and lime zest, this is a brilliant choice to give a try with the smoothness of butter.
Don't worry if you are making salmon for the first time! This recipe is absolutely a blessing for the beginner who wishes to learn about making salmon at home!
You no longer have to dig a hole in your pocket with the perfect grilled Salmon recipe here.
You do not have to eat salmon all by itself as we have brought you the exclusive recipe for the salmon burger at your disposal!
If you are tired of chicken and ham patties then a salmon burger is a great idea!
This is a unique recipe that we are sure you will find fascinating in every bite!
The pesto Italian grilled salmon is juicy and succulent, so don't tell us if this is the first to vanish from the table at lunch.
The delicious salmon bulgogi certainly deserves your attention and effort! If you have tried almost everything with salmon then you have to give a try to the classic bulgogi salmon a too!
There is juicy broth and veggies to keep you company.
The cedar plank grilled salmon is a gorgeous idea that you can explore on a lazy Sunday morning!
The smoking grilled essence is what we prefer and you will find it tempting too!
Shall we make it then?
Just like how fancy the dish sounds it lives up to the reputation of its title as well!
Indulge in the richness of the barbeque hot smoked red snapper and tell us later how much you liked it.
If you wish to avoid the mess of dirtying the kitchen while marinating and so on, then we have a solution for you.
Check out this recipe of baked salmon in a foil which is outstanding to describe in a word or two!
Bottom Line- Here is what you should do on a lazy holiday when you have absolutely nothing to do and craving something nice and flavorful! Prepare these dishes that can make your holidays so much more special and mind-blowing! Let's not waste a second and start, shall we?