Christmas is the season when we are looking for delightful treats throughout the day! From breakfast to dinner, everything has a special touch of warmth and adoration. Snack mixes are the best when the kids are craving something lovely and are wondering what exactly to make for them! Crispy and filled with all sorts of candies, pretzels, and other treats, you can easily compile them at home. In fact, even the adults will not be able to resist themselves! After all, snack mixes bring back the memory of one's childhood! So without much adieu let us find out about the Christmas snack mix recipes, shall we?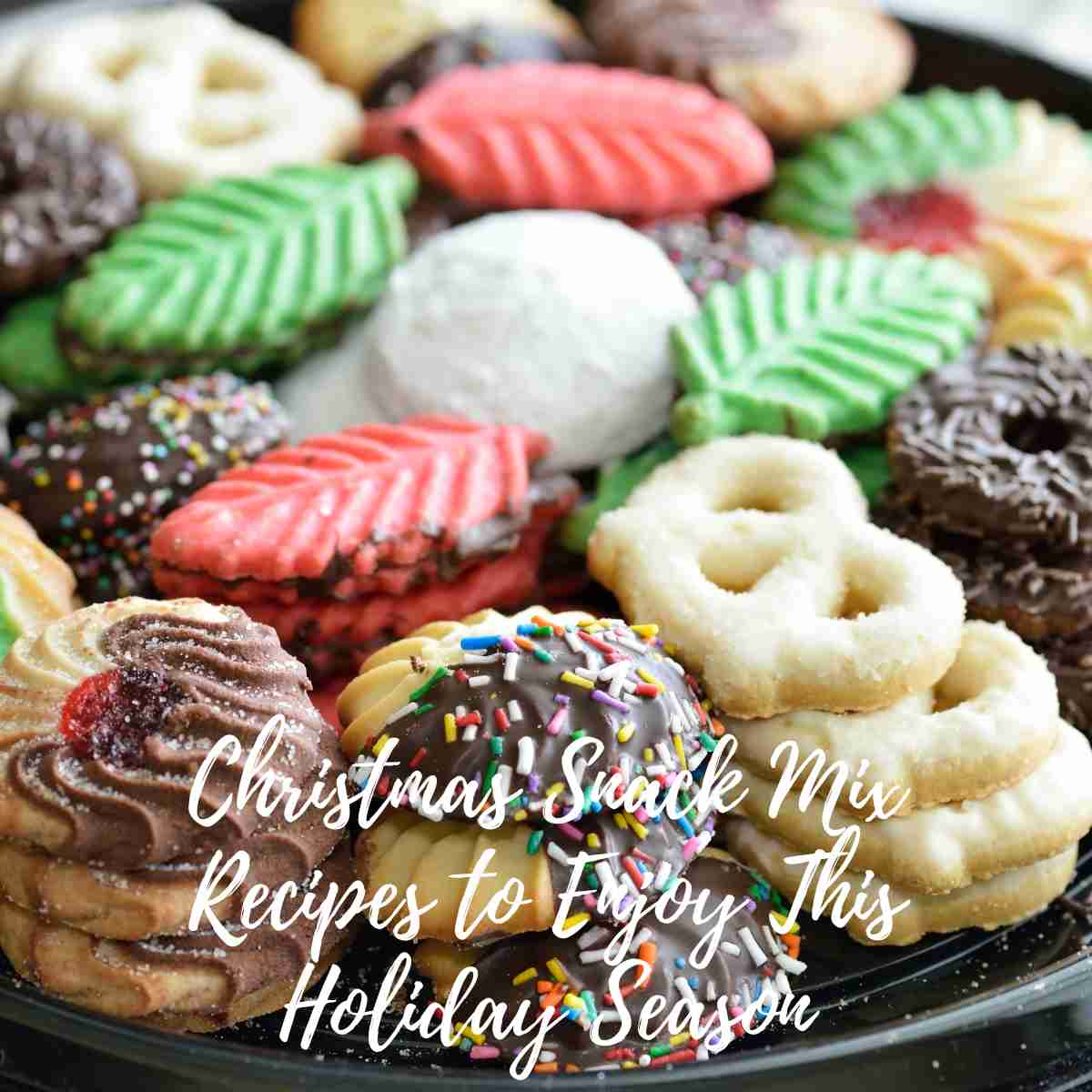 So, what is a snack mix in the first place?
Basically, a snack mix contains it all! From small treats to pretzels and chocolate chunks, the snack mixes are lovely and filled with only the best for the little ones. If you wish to feel nostalgic during the holidays then you should go for the snack mixes. So let's learn about the different types of snack mixes that are available during the festive season.
Bridge mixes- these contain mostly all sorts of nuts and raisins, along with all the dry fruits that you can think of! All of them are dipped in chocolate and packed in chunks.
Chex mix- these are mainly rice or wheat-based. There are peanuts and pretzels as well! Filled with bagel chips, these are quite a popular option.
Gardettos- the main constituents of this snack mix include bread sticks, rye chips, and pretzels.
Munchies and trail mix- munchies are prepared with pretzels, Doritos, and chips! These are perfect for a wonderful snack in the evening as you gather with your family to watch a Christmas classic. Trial mixes include nuts, chocolate chips, and raisins. M&Ms, granola, and raisins are added to the trail mixes as well.
These are perfect to satiate your craving during the day as you wish to munch on something nice and easy.
Origin of trail mix and the history behind it
It intrigues us to learn about trail mix and their origin because of how good they taste. Trial mixes date back to the Native Americans! Yes, that is right! Snack mix as old as that, you wouldn't have expected that! Thousands of years ago, the Native Americans used to consume a mixture of nuts and dried fruits which resembles the modern-day snack mixes or trail mixes.
There are several ideas that suggest the appearance and popularity of trail mixes. One such idea dates back to the time of 1910. A camping guide was penned down by Horace Kephart. Here he wrote about a snack mix that one could carry with them as a handy snack to keep one filled during the trips. It consisted of raisins, chocolates, and nuts which are indicative of the first appearance of the concept of trail mix.
Another idea dates back to 1969, describing the origin of trail mixes. There were two surfers who would combine raisins with nuts to increase and give a boost to their energy during the rides. And thus came into being the snack mixes. It is to be noted that it was mentioned in a novel by Jack Kerouac in 1958.
Now let's talk about homemade trail mixes- during the holidays you might end up with loads of nuts or dry fruits in the pantry and you can put them to good use with some trail mix or other snack mixes made at home. These are pretty easy to make and you can monitor the content so you can definitely make them more yummy and healthy at the same time.
Next comes the energizing mixes- there are some snack mixes that you can consume before or after working out. If you feel hungry amidst all the preparation, these snack mixes are a great idea to boost your spirits and energy in the middle of the day. These are also called mountain trail mixes which were originally taken along with one during a hiking or trekking tour. You can even opt for a spicy trail mix if you want. These are wonderful to give a boost to your energy and make you feel excited about the event.
What are specialty mixes- so if you haven't heard of specialty mixes before then here is what we mean by it. These are snack mixes one can consume for weight loss. You can also try out the low-carb or low-fat versions of snack mixes. These are ways to define specialty snack mixes that have a definite set of purposes and benefit the body somehow. Weight control trail mixes are high in their fibrous content. A keto trail mix contains more dietary fibers and low-carb ingredients in the recipe.
Then comes the healthy trail mixes- there are several trail and snack mixes which are available in the stores and you can choose your favorite type. However, the best thing to do is make it at your home. This way like we said, you will be able to monitor the ingredients which go into the dish.
So how do you think these snack mixes acquired their name?
Well, it is rather intriguing to learn whether these snack mixes got their name randomly or whether there was a long and interesting story behind them. Well, to answer your questions, we do know from where the name of the snack mixes arrived from. In some cases, the names are pretty random for the snack mixes sold in the market! While some are named after a song, some are simply derived depending on the region where they originated.
The history behind the origin of Chex mixes or party mixes
These are mostly like a tradition now every year during Christmas or any other festive season. These party mixes have been there for as long as you can imagine. The main ingredients of the snack mixes consist of nuts, bagel chips, pretzels, and tossed in butter seasoned with garlic and onion powder. Not to forget the Worcestershire sauce too. These are then allowed to bake for an hour in the large pan and then stirred for about fifteen to twenty minutes and your delicious snack mixes are ready. It is believed that the recipe was created sometime around the 1950s though nobody can be quite sure of its origin.
Well, that is a lot of discussion about snack mixes to already turn us hungry! If you are fond of snacks then these are the ideal recipes for the holiday season. Read on to find out more about the recipes.
Delicious Christmas Snack Mix Recipes: 20 Ideas for the Holidays
This snack mix has got it all! From delicious pretzels to crackers, chocolate, and nuts. You can make a bowl full of these snack mixes and serve them at the party.
Yes, we are talking about the grand winter snack mixes. Packed with treats, these are the best to indulge in! You shall be delighted with every bite. Do give this one a try for sure.
Yes, we are talking about the classic party snacks! Delectable and crunchy, you are definitely going to love this treat! From kids to adults, everyone will grab their share. So shall we prepare it this holiday season then? Let us know how they turn out to be!
With these brilliant snack options waiting for you, there is no doubt you are going to love this one. Packed with flavors so enriching, this is indeed a brilliant treat and you must give it a try for sure.
Shaped like reindeer, the chow snack mix is perfect to make your holidays even more special and mind-blowing! Crunchy and crumbly, you are surely going to love this treat with a Christmas movie and the company of your family on the Eve of Santa's arrival.
Here is the idea for another snack mix for you! Delicious and crumbly, there are colorful M&Ms too! Sweet and rich in flavors, you must give it a try. Shall we then?
You will be delighted to find out so many wonderful snack options waiting for you during the holidays. Here we have the recipe for the Polar Express hot chocolate Chex Mix which indeed tastes so good we have to admit.
Yes, we are talking about the lovely Chex Mix! Delectable and fabulous to make one feel utterly tempted for more, you must indulge in making these treats during the holiday season. So are you ready to give it a try then?
Ah, finally the time to enjoy the Jolly Holiday snack mix has arrived. We simply cannot wait to try them out! You won't be either once you learn about its brilliant taste. There is no need to thank us for this wonderful idea.
The caramelized popcorn drizzled with colorful sprinkles is called the best for a reason. Rich and delicious, this turns out to be an exciting option indeed. If you are in the mood for something sweet snack then give this one a try for sure.
Of course, we can not leave you clueless and wanting something sweet and savory during the evening and so we found this recipe for Frito snack mix which is a combination of both sweet and savory at the same time.
What a lovely treat to indulge in during the holidays! Loaded with liquid chocolate, you are absolutely going to fall in love with the treat! Delectable and crumbly, do give it a try for sure. So let's try them out this season.
Yes, you read it right! Reese's snack mix requires only about five minutes. So in case you haven't planned for the holidays, and have nothing prepared for the evenings then the Reese's snacks are best to opt for.
The most satisfying snacks that you can think of! The Crockpot Chex mix recipe is lovely and loaded with all that you can crave! Delectable and crumbly, thank us later for the idea, enjoy it now! Shall we try it out then?
The gorgeous candy-coated Crispix snacks are wonderful and flooded with candies and sweet treats. Delicious and lovely, make your seasonal celebration even more special with the candy-coated Crispix snacks by your side. Let us know how much you liked this one.
The combination of sweet and salty with a crumbly texture is all presented by the wonderful Christmas Chex mix. Gooey and perfect to indulge in as you catch up with your little ones over a movie during the holidays.
Yes, indeed! Just five minutes to come up with the flavorful and yummy Christmas snack mix that leaves you simply smitten at the very first bite. You are surely going to make it again after the first attempt. That is how addictive this is!
Lovely and crunchy in every bite, you should try out the Praline crunch snack mix during the holidays. Crumbly and perfect as a light snack during the evening, you can serve it to the guests with tea as they come over too.
If you are fond of snack mixes then the reindeer food Christmas puppy chow is the ideal for you to indulge in! Packed with amazing treats, you must give it a try for sure.
Well, last for this list but certainly not the least, the Christmas Chex snack mix is a showstopper. A classic snack mix treat that will always be denoted as the best. What a brilliant creation which leaves you craving it so much!
Frequently asked questions associated with making snack mix during the Christmas holidays
1. When did Party Mix originate?
It is observed that the party snack mix must have originated during the time of 1954.
2. What is a snack mix called?
Snack mixes are also called party mixes and are very popular during the holidays. These are loaded with pretzels, chocolate chunks, cookie bits, nuts, dry fruits, and so on.
3. What do you mean by a bar snack mix?
Nuts, sesame seeds, and roasted pumpkin seeds are the main constituents of bar snack mixes. These are commonly consumed with a cocktail or alcoholic beverage on the sides and hence the name.
4. How much snack mix should you arrange for the party?
Have about one to two ounces of party mixes for every person at the party! Since you are aware of the number of guests you have invited, make your party mixes accordingly.
5. Why is a trail mix called so?
The trail mixes are also snack mixes but healthy versions of the latter. These have derived their name from the fact that trail mixes are carried along and consumed during a hiking or trekking trip.
6. Is it allowed to consume two snacks during the day?
Health experts and doctors suggest that every snack meal contains about 150-200 calories and hence you can jolly well consume two to three healthy snacks every day to keep yourself full and energized between the bigger meals.
7. Are trail mixes junk food?
Not all trail mixes are unhealthy but if you choose to make them with pretzels, candies, and so on, the sugar content of the dish will be more which you must preferably avoid.
Bottom Line-
To conclude, Christmas snack mix recipes are the perfect treats to bring some holiday cheer to your festivities! Not only are they easy to make, but they're also a great way to get creative in the kitchen. Plus, they make for delicious gifts that anyone would be thrilled to receive. Let this festive season be filled with festive recipes that your friends and family can't resist. So, don't forget to make a batch of your favorite snack mix to spread some holiday cheer. As the holidays come around, let us take the time to enjoy the little things, like the smell of delicious snack mix baking in the oven.
This holiday season, let us all rise to the challenge and add a unique spin to Christmas snack mix recipes that will leave us merry and bright.
Let's get creative and full of cheer - never underestimate the power of a delicious Christmas snack mix!