Try something new for your next meal with our delicious Alaskan pollock recipes! These easy and quick ideas are perfect for any day of the week and will become your favorite go-to meals. Grab your ingredients now and start cooking!
More collections: Shrimp Soup Recipes, Orange Roughy Recipes, Tuna Steak Recipes, Indian Fish Recipes, Summer Mahi Mahi Recipes, Flounder Recipes, Thai Shrimp Recipes, Sea Bass Recipes, Trout Recipes, Snapper Recipes, Salmon Salad Recipes, Hake Fish Recipes, Shrimp Curry Recipes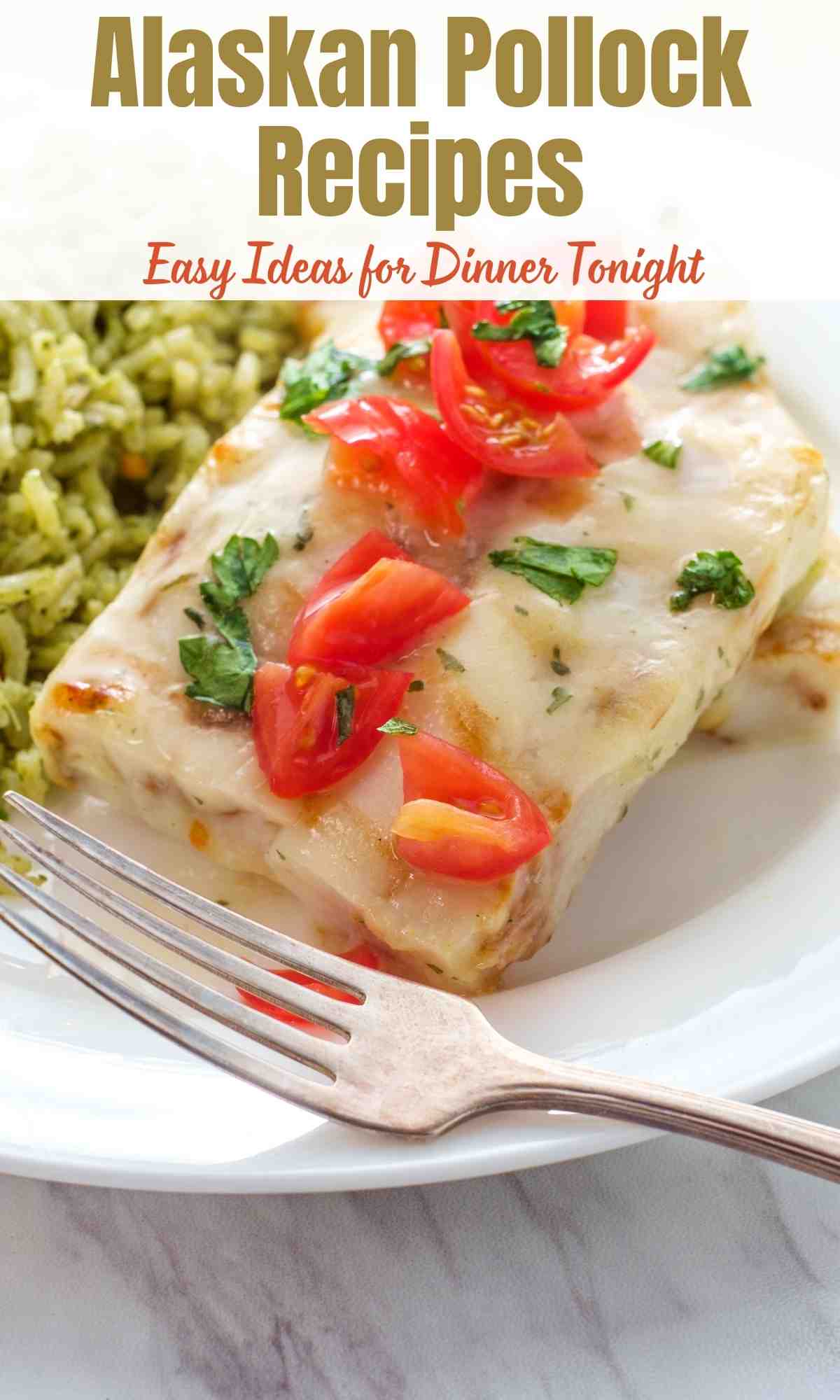 If you are a seafood lover then you will strongly relate to us! Making Asian pollock is very easy as long as you are aware of the right techniques! Sometimes even an entire fish gets destroyed when you do not cook the right way.
Today we will learn all the ways in which you can make Alaskan Pollocks! There are several recipes and tips that you can follow! We can assure you that after reading this article you will certainly find out more about cooking Alaskan Pollocks and its kin! Let's get started then?
Table of Contents
Why should you avoid broiling and microwaving?
If you are planning to broil your pollock then we have to ask you to steer away from this method completely! Broiling can dry out the fish and its flesh completely! None of us like dry meat so it is better you avoid that at all costs. This renders a dry and rubbery texture to the fish which can totally destroy your experience of pollock!
Because of the high heat, the pollock can actually taste pungent and acquire a chewy texture when you plan to microwave it! Hence it is wise to say that you should avoid both methods. Broiling and microwaving are two methods that are absolutely a no-no!
Is it good to have Alaskan Pollocks?
Well, if you have never tried out Alaskan Pollocks and are wondering whether they are good for you then here is something that you should know. The wild Alaskan pollock has a lower carbon impact than chicken, beef, or pork! That is right! It is even five times lower than plant-based meat. Hence if you are a fan of pollock it is safe to say that you are consuming a protein that is not only healthy for you but also for the environment! Double brownie points for that!
It is a delicious and tender fish with a flaky texture. Nutritious and flavorful, these fishes are so versatile that there are so many dishes that can be cooked with Alaskan Pollocks! And soon you will find out more about that. Being low in calories and high in protein, the pollock fish is great to engage in.
What is wild Alaskan pollock?
If you have been to the fish market recently and came across the Alaskan pollock and have been inquisitive about it then we will help you to learn about it some more. Cod and Alaskan Pollocks are close kins! These have rather been confused with codes for a long time until recently everyone came to know about it far and wide. These fishes are also called Walleye Pollock, Pacific Pollock, or Pacific Tomcod.
Found in the Alaskan waters, these fishes are flaky and have mild flavors that can pick up any seasoning added to them well. The common method includes grilled, pan-fried, or deep-fried, although you will come across several other recipes soon. If you can not find cod, you can substitute it with something more flavorful and delicate, Alaskan Pollock!
How to cook pollock fish?
If you are cooking Pollocks for the first time and not quite sure about how to go with the task then here is something to help you out! A little tip! So read on! Pollock has a mild flavor of its own.
You can choose to grill, pan-frying, or bake when it comes to Alaskan Pollocks. Enjoy them as fillets, fish fingers, or sticks, whatever you prefer. Being high in nutritional values, Pollocks are perfect to include in your diet.
Delicious Alaskan Pollock Recipes: Easy and Quick Ideas for Your Meal
Fish with tartar sauce is a brilliant combination and you ought to give it a try!
Flooded with crunchy topping and served with mashed potatoes, the platter is filling and wholesome. A sheer treat for the taste buds.
Here is a recipe that will help you to bake your pollock right! The technique is super easy and leaves you tempted at the end of the session to grab a bite.
After all, a plate full of fish is a dream come true for any seafood lover.
The spicy chili garlic Alaskan Pollock is another brilliant recipe that you should definitely try out if you have never worked with Pollocks before.
Delicious and sizzling, the fish dish is simply marvelous.
Delectable and tender, the Alaskan pollock is the right thing to indulge in!
Being of Mexican origin, this one is a sheer bliss for seafood lovers.
And you will soon find out why we say so. Shall we then?
It is so easy to come up with the cheesy parmesan-crusted pollock! Crunchy outside and tender inside, this is the perfect appetizer to have along with the main course.
Tender and flaky, this one is a delicious fish dish that you should not miss out on.
Topped with cherry tomatoes and drizzled with herbs, the subtle and tangy essence of the a la plancha is going to simply make you drool for more!
Savoury and super easy, you ought to give it a try.
Topped with a crispy layer, here is something that you should make if you have pollock fish in the house.
Simple and ideal for beginners, you will definitely fall in love with the idea. Shall we then?
Well, if you are planning to make tacos then this fish taco with pollock is the best of the lot!
Refreshing and meaty, the dish is super rich in taste and leaves you tempted for more.
Shall we give it a try then? You will regret not making it for so long.
It is so easy to come up with this lovely crispy wild Alaskan pollock! Served with orzo and snow peas you will surely enjoy this dish a lot!
Served with tomato salad, no wonder it will win your heart in the first bite.
The beer-battered Alaskan pollock is ready in no time! Delicious and easy to cook, an air fryer always comes to our rescue.
Serve it with a creamy dip on the side.
If you want fish in your tacos then the dinner fish tacos are perfect to indulge in!
Serve it for dinner and see with awe how quickly they disappear from the table.
Gorgeous and gooey, the Parmesan-crusted pollock fish is the showstopper of the season!
If you have never tried them before then you are about to realize what you have been missing out on. Let's get it cooked!
For the fish lovers, here is a wonderful surprise for you! Indulge in the platter of breaded pollock with the recipe that is right here!
Crispy outside and tender inside, you should indulge in its blissful taste. Do not forget to make it!
Indulge in the blissful taste of the hoisin-glazed Alaskan pollock! Trust us you will be on the verge of drooling with the sesame-infused bok choy and carrots to accompany the same.
The classic pan-seared Alaskan pollock with brown butter sauce turns out to be an incredible treat for the taste buds!
Cozy and comforting, you ought to give it a try for sure. Thank us later for the idea.
The tender and baked fish recipe is subtle and delicious too! Juicy and succulent, the dish is perfect if you do not wish to put in much effort and yet enjoy something nice.
So what are you waiting for?
The combination of Alaskan pollock with red rice is a match made in heaven! Served with broccoli salad on the side, you will definitely enjoy this dish.
Tender and cozy, this one is the best to opt for.
Now it is possible for you to make the classic fish and chips with the Friday fish and chips recipe right here!
Flaky outside and tender inside, this dish is super easy to make. Shall we try it then?
No wonder the pollock recipe will take you in awe! Baked pollock is a delectable creation flooded with cheese.
No wonder this fish dish is so hard to resist. Shall we try it out then? Well, you ought to make it this season.
Succulent and juicy, the Pollock BLT burger is wonderful and served with garden herb cream mayo!
Do not forget to fill it with veggies too and your snacks in the evening are ready to go.
Other recipes you should check out: Kohlrabi Recipes, Chowder Recipes, Thanksgiving Appetizers, Christmas Cheese Appetizer Recipes, Christmas Snack Mix Recipes, Christmas Dips & Spreads Recipes