Get ready to make this Christmas extra special with the best Christmas seafood recipes. From juicy smoked salmon to clam chowder, these recipes are sure to bring the holiday cheer! Spice up your Christmas feast with these delicious seafood dishes.
More collections: Salmon Recipes, Shrimp And Rice Recipes, Smoked Haddock Recipes, Whole30 Salmon Recipes, Whole30 Shrimp Recipes For Dinner, Black Cod Recipes, Arctic Char Recipes, Corvina Recipes, Blue Crab Recipes, Shrimp And Crab Recipes, Shrimp And Lobster Recipes, Shrimp & Scallop Recipes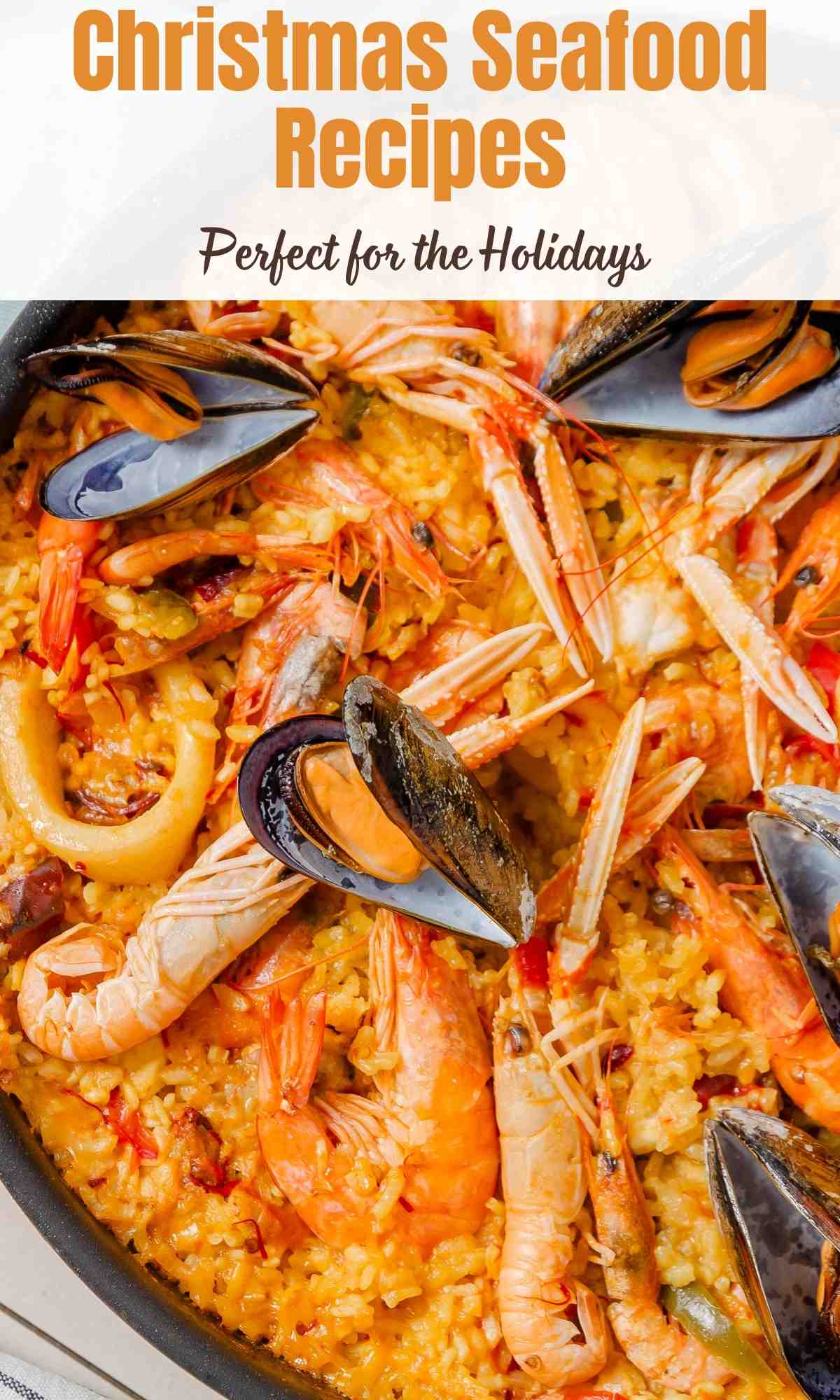 With Christmas around the corner, all of us are excited to mark a fresh start to the end of the great year! Whatever that means, you can understand that our excitement has reached the brim as well! And with that, we also need to consider good food and dishes that will make us the best host in the neighborhood!
Have you ever considered making seafood for brunch or Christmas dinner? Well, then maybe you should because we have here the ultimate seafood recipes to your delight! So let us quickly find out more about Christmas seafood dishes, shall we?
Table of Contents
Everything you need to know about making seafood for Christmas
There are often a couple of questions that leave us wondering what exactly is the right way to work on seafood! Here are some common things that you must keep in mind while making seafood at home.
1. Is readymade seafood a good option?
If you are trying out seafood for the first time at home and apprehensive about how to go about the job then ready-made seafood comes to great aid. These include canned, packaged, smoked, and pre-cooked ones! Here you do not have to worry much about the texture and the flavor of the seafood along with the right amount of seasoning to be used.
All are provided and the instructions are also given in easy language so you end up with a great festive meal in no time. Tuna, salmon, mackerel, and lobsters are the common choices when we talk about canned seafood. You can add them to a casserole or enjoy them as snacks too!
2. What is the right method to store and thaw seafood?
Frozen seafood is the best since the packaged ones are safer to buy as well! It guarantees taste and quality at the same time! The nutritional content is also present intact. However, when you opt for thawing the seafood, you are recommended to keep them away from direct water flow and either use a colander or a plastic ziplock when placed under running cold water.
3. How can you cook seafood?
There are several methods that you can employ to cook seafood! From grilling to pan-searing, broiling, baking, and so on! The options seem to be endless but you need to make a choice depending on how you wish to enjoy the texture, flesh, and flavor of the particular fish.
4. Sear and pat the seafood dry
One is often advised to ensure that the skin of the fish is dry and clear while you begin to grill or roast them! Unless you want them to turn extremely soggy, this is the right way to deal with the situation. You need a paper towel to do the job! It will ensure that the surface of the fish is crispy and juicy when you consume it instead of being flabby and unappealing to the taste buds.
5. Keep the job simple
As a beginner, you can not pull across a recipe that is too complicated! As a result, you will end up with a mess and wasted effort. So you should always begin with something easier and less complicated. This way you can handle the task well! And make sure that the quality of the fish and any sort of seafood that you are buying is fresh to ensure that the texture remains tender and crisp while the flesh inside is tasteful.
To your delight, we have brought twenty Christmas seafood recipes for seafood lovers this Christmas season.
Celebrate the Holidays with the Best Christmas Seafood Recipes
For snacks or a hearty appetizer, if you are looking for something nice and crispy then the crab poppers are the best!
Adorned with sriracha seasoning, you will definitely love this one. So what are you waiting for?
Just don't ask us what is added to the dish, ask what isn't there! Any sort of seafood that you can imagine, well, this checklist them all!
The classic New England seafood casserole is perfect for parties and Christmas gatherings this holiday season!
Coming up with seafood lasagna is no big deal as long as you have these wonderful seafood like lobsters, shrimp, crab, and fish in your refrigerator.
Perfect choice to escalate your mood during the holidays! Isn't it? So shall we try it then?
Making crab cake popper is very easy as long as you are aware of the right techniques with the aid of this recipe!
Succulent, rich, and delicious, you ought to indulge in its blissful taste. Shall we try them then?
Making lobster cargot is very simple with the aid of gorgeous herbs which are infused into the broth!
Creamy and smooth, this recipe is perfect to leave you smitten for more of it!
In fact, we are not sure if you will be able to proceed to the main course after this.
Ready in a jiffy, if you are a true seafood lover then you will surely find yourself relishing the gorgeous flavors of the yummy crab macaroni gratin!
Cheese, creamy and succulent, this recipe will leave you smitten for more! Do give it a try for sure.
Well, if you enjoy seafood then you must try out this recipe for a clam-stuffed dish!
Prepared with a coastal influence, the idea is mesmerizing and to experience its blissful taste, you have to try making it at home.
Ah, you have to prepare this gorgeous seafood recipe at home!
With Christmas around the corner, and if you are a seafood lover, this is the best time to prepare this Cod dish at home.
How can we miss out on the creamy shrimp Newburg? It is the showstopper of the season and when we came across this recipe, we knew you would definitely fall in love with this creation. All the shrimp lovers gather here.
Preparing the creamy seafood au gratin is such a tempting treat for the holidays!
Perfect to go as a side dish, you must indulge in its divine taste! So what are you waiting for? Try out this one today!
Did someone say Lobster? Yes, that is exactly what it is! The creamy lobster sauce with the right dose of seasoning and herbs tastes so gorgeous!
Tempting and cozy, you must give it a try! What an incredible idea to relish during the holidays, we must admit!
The gorgeous Salmon Wellington recipe is right here to make your holidays even more special! All the seafood lovers come here because we have good news to share!
This recipe will make your experience of a coastal dinner during Christmas so much more auspicious and remarkable.
If you are looking for something healthy and cosy for dinner then make the shrimp provencal and see how fast this dish disappears from the table. Shall we then?
Ah, what a lovely idea for the holidays! Creamy and cheesy outside with tender crab meat filling inside, there is no way you can resist this dish after the first bite!
So what are you waiting for? Make this one right away!
If you wish to make your mac and cheese unique and even more delightful then the lobster and mac and cheese is the right idea to explore during Christmas.
Wonderful and cozy, you ought to indulge in its blissful taste.
The combination of parmesan and scallops is delightful and renders you simply speechless!
Cozy and tender, the cheesy delight combined with succulent scallops turn this dish into the ultimate bliss.
With Christmas around the corner, you must give it a try!
The idea of stuffed crab is gorgeous and you will be smitten by just the sight of the dish!
Tender and succulent, the stuffed crab recipe is fantastic and flooded with gorgeous essence.
The infusion of the right seasoning in meat makes it even more delightful.
Did you try the shrimp Oreganata yet? If you haven't then do not miss out on this scope to experience its divine flavors.
For shrimp lovers, this is indeed going to be an incredible dish and perfect to make their holidays even more special and memorable.
We have this gorgeous and creamy seafood lasagna exclusively for you! Delectable, smooth, and savory, this idea turns out to be gorgeous and renders you simply speechless!
So what are you waiting for? Doesn't this make you crave it already?
Experience the coastal aura within the comforts of your home with the healthy Mediterranean shrimp and scallop duo that we have for you here.
Easy-peasy and yummy, you will definitely come back later thanking us for the brilliant idea.
Other recipes you should check out: Kohlrabi Recipes, Chowder Recipes, Traditional Mexican Soup Recipes, Greek Lemon Chicken Soup Recipes, Crockpot Taco Soup Recipes, Pumpkin Soup Recipes, Slider Recipes For Summer, Christmas Cupcake Recipes