Try something different with these tasty and nutritious swai fish recipes! From simple weeknight dinners to elaborate gourmet dishes, you'll be sure to find the perfect recipe for any occasion. With easy-to-follow instructions and tips, you'll have a delicious meal on the table in no time.
More collections: Tuna Steak Recipes, Indian Fish Recipes, Summer Mahi Mahi Recipes, Flounder Recipes, Thai Shrimp Recipes, Sea Bass Recipes, Trout Recipes, Snapper Recipes, Salmon Salad Recipes, Hake Fish Recipes, Shrimp Curry Recipes, Alaskan Pollock Recipes,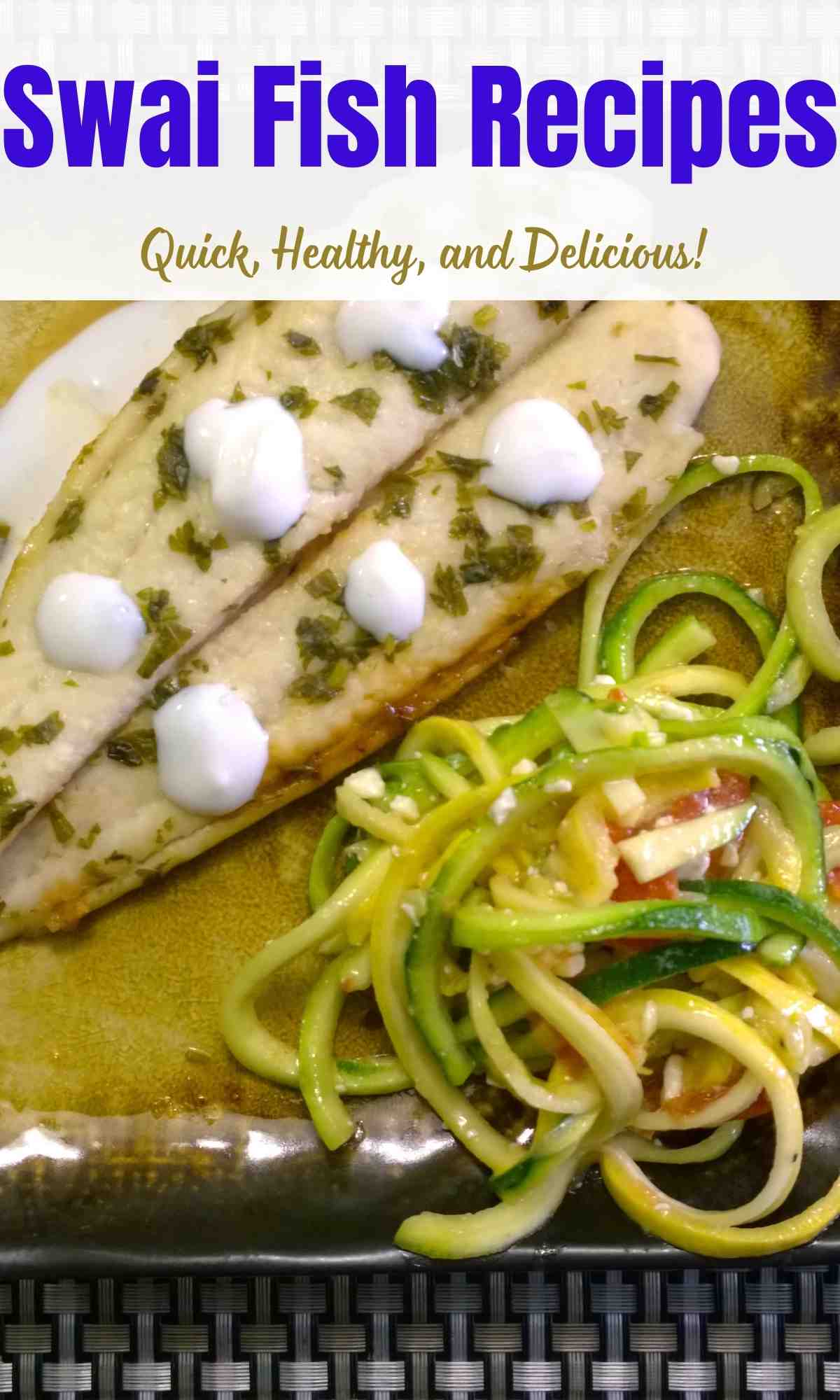 Well as someone who likes seafood, we are always inclined to find out new ways to explore and dwell deeper into the cuisine of seafood! It gets quite easy when a couple of instructions and tips are there to keep us company. Making it is no hard job and the results are always so rewarding.
For example, today we will be talking about Swai fish! And share you with some insights that we have collected so far. So stay hooked to your seats as we narrate the details. 
What is a swai fish?
If you have never eaten Swai fish or even come across it then it is high time you visit the nearest fish market or tank to have a look. Missing out on the delights of Swai is not an option. This is a kind of whitefish that is pretty common in the waters and is often used as a cheaper alternative to tilapia. Although it appears quite similar to tilapia, the former has a taste that is unique to itself. And so is the texture of Swai fish.
Being a good source of protein, potassium, and phosphorus, they are quite a popular choice in the market! Not to forget that Swai fish are low in calories and fats as well! What a healthy choice, isn't it? A catfish native to Southeast Asia, they are also known as iridescent shark, pangasius, basa fish, or tra fish. It is something very popular in Vietnamese cuisine, Cambodia, Thailand, and even in the United States. Typically farmed in ponds, these fishes are rich in omega-3 fatty acids.
What is the origin of Swai fish?
Here we shall discuss a brief history of the Swai fish! It belongs to the family of Pangasiidae and is native to regions like Thailand and Vietnam! These are often sold as basa fish and have a flathead with an elongated body.
They can grow up to 4 feet (1.2 meters) long and weigh up to 44 pounds (20 kilograms). White and flaky, the taste of Swai fish is pretty mild due to which they can pick up the taste of any sauces pretty well. To conclude, it is a healthy and budget-friendly option.
What are the benefits of consuming Swai fish?
Being an affordable choice for many, that is not the only reason why they are so popular in the fish market. Consumption of Swai fish aids in brain and heart health improvement. Like any other fish, it is also rich in omega-3 fatty acids. Being low on mercury, it is rather a safer choice to cite the facts.
Some of the benefits of having Swai fish include heart health, reducing inflammation, boosting brain function, building strong bones, and so on. It also contains vitamin B12, Potassium, and selenium.
What are the ways to cook Swai fish?
This is to be noted that there are several ways to make Swai fish at home! These can be baked, grilled, fried, or steamed. However, there is one thing that you need to be careful about! Cleaning the gut and removing the skin of the fish is absolutely necessary. This is because Swai fish may contain contaminants like arsenic and lead!
However, if you purchase from a reputable store then you can avoid the risk of falling sick. Some areas of Vietnam can pose the trouble of contaminating the fish however, if proper care while cooking is taken, you can enjoy a great dish.
Let's talk about some Swai fish recipes then, shall we?
Delicious Swai Fish Recipes: Easy-to-Make Dishes for Any Meal
Well, if you want something light and smooth then the lemon butter Swai fish is savory and flooded with great taste.
Succulent and a delightful recipe to indulge in. The combination of lime and butter is simply mind-blowing.
It is so easy to come up with this extraordinary recipe of garlic fish with the smooth enriching flavors of butter!
Served with herbs on top, this fish curry is best to go with a bowl of rice on the side.
Succulent and crispy, we have a lovely idea for you right here! Tender inside and flaky outside, this is the best thing you can make as an appetizer!
Served with a creamy dip, it is a dream come true for seafood lovers.
You will be impressed to observe how quickly this recipe of baked Swai fish can be accomplished!
The dish is flooded with herbs and seasoning to give a subtle hint of magnificence to the fish fillets.
It is so simple to come up with this wonderful Swai fish dish! Baked and tender, the presence of white wine makes it taste like a creation of heaven!
Served with lemon garlic sauce, the recipe is one of a kind.
If you want your fish to be flaky and tender at the same time then you should go ahead with the fried Swai fish recipe!
Delectable and rich, this dish is so easy to curate! You will surely come back thanking us for the idea.
Here is something that we are sure will make you drool for more!
Served with lemon cream sauce, this is going to be the showstopper on the table as you prepare the meal for tonight.
It is sad that you didn't get your hands on Swai fish but tilapia can help you to enjoy it with the same dish!
Served with roasted pepper sauce, the recipe is such a gorgeous delight for the taste buds.
If you are fond of fish then this oven-baked Swai fish recipe is the best for you to indulge in!
Delightful and juicy, the gravy is specially curated to complement the flavor of the fish.
Well, for the seafood lovers, here is some good news for you! Delectable and juicy, the garlic-infused fish with the subtle smoothness of butter is a sheer source of bliss for the taste buds.
Ready in no time, you ought to give it a try!
If you like it hot and spicy then the cajun fried fish is the best thing you have got!
Cooked with just two ingredients, you will be surprised how wonderful this turns out to be.
Delicious, enriching, and tasteful, you ought to try out this easy-peasy fried fish recipe at home.
Drizzled with herbs and adorned with some veggies on the side, your fish platter is ready to adorn the table. Shall we then?
Ah, what a delectable and delightful fish for the season! Smokey and blackened, this Swai fish is lovely and loaded with great taste.
Gorgeous and delicious, this one is amazing to serve as a side dish to the main course.
The combination of lemon and butter turns out to be an incredible treat for the taste buds!
Well, if you find this to be an exaggeration then we challenge you to make this home and find out the wonders of this recipe.
The combination of panko and parmesan is always a showstopper! Crunchy outside and tender inside with a cheesy hint will of course win your heart at the first bite.
We can guarantee that you haven't tried something like this before.
Drizzled with tomato caper sauce, the Swai fillets are tender and flooded with great taste!
Rich and gooey, this one is such an incredible dish that has the potential to make you go weak down your knees.
Well, well, well! Here is something that you should indulge in! Served with white wine, this one is an incredible creation with a gorgeous sauce marinating the fish all over!
Serve this for dinner and see how delighted everyone shall be.
It is super easy to make fried Swai fish even if you have never tried it before!
Delicious, tender, and mild, you will definitely enjoy the overall experience of cooking and then ravishing it at the end.
How can we miss out on this phenomenal idea with white wine and Swai fish confined together with lemon garlic sauce?
Perfect to soothe your taste buds with a mild essence! Serve this one with rice and enjoy.
This is indeed a dream come true for any seafood lovers! The recipe helps you to curate the dish with a white fish fillet stuffed with crab meat.
Do not forget to share your feedback with us on how much you loved it.
Other recipes you should check out: Kohlrabi Recipes, Chowder Recipes, Thanksgiving Appetizers, Christmas Cheese Appetizer Recipes, Christmas Snack Mix Recipes, Christmas Dips & Spreads Recipes