We are mostly a fan of sausages because we have to admit how easy it is for you to incorporate them in literally almost all dishes. Today we are going to talk about Italian sausages! Of course, there are some differences that you will note between a regular and an Italian variety! So if you have been to the stores recently and opted for buying sausage and the pack said Italian sausages then here is what you need to know! So read on to find out more about Italian sausages before you make them. Let's go!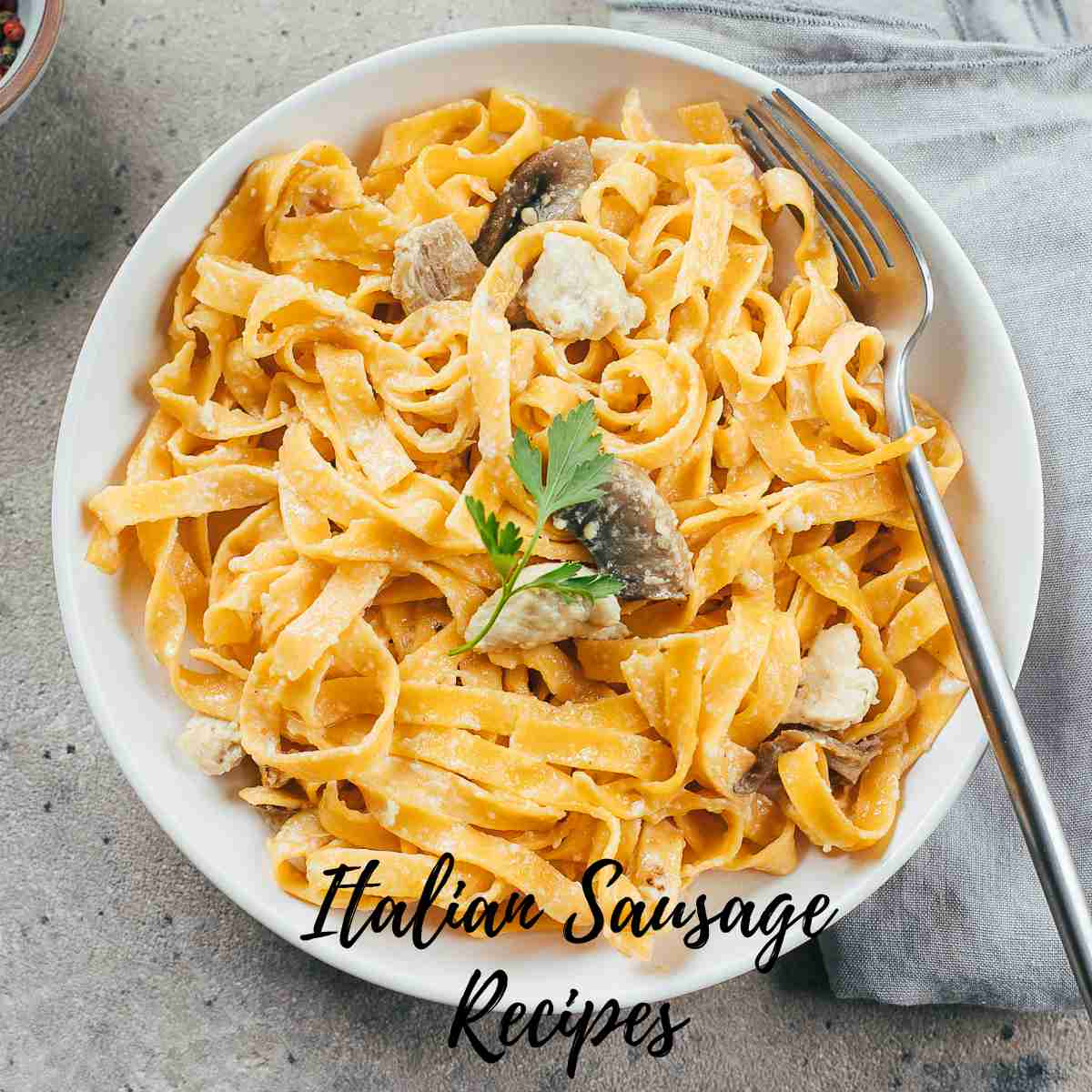 What is the basic line of difference between Italian sausage and a regular one?
The main point of difference which lies between an Italian sausage and a regular one is the kind of seasoning that is being used. Basically, it is fennel that you will find in abundance in an Italian sausage! Fennel is a licorice-scented herb that gives a distinguished flavor and fragrance to Italian sausage. There are several varieties of Italian sausages which are available in the market! Let's find out!
Types of Italian sausage are available in the market!
Salamella- this type of sausage is composed of pork, veal, lard, spices, and wine. They are smoked to prevent a sort of mold or microbes from destroying the meat and entering into a casing.
Mortadella- sausages like mortadella are similar to bologna and large sausages in appearance. They are flooded with pistachios, jalapenos, or olives.
Sopressato- mainly composed of pork or beef, this sausage is quite popular in Italy. These are the uncured version that lies for three to twelve week until dry and then eaten mainly with biscuits and buns.
Nduja- the roasted red pepper gives a distinguished taste to this sort of sausage! You must give it a try!
Salami- literally, everyone is aware of this variety of sausage! For ten years, you can store these sausages at room temperature! Yes, we aren't just kidding! There are many varieties and subdivisions of salami like pepperoni and so on.
What does Italian sausage taste like-
Italian sausages are mainly served with pizzas or coated in pasta sauces! There are both sweet and hot varieties available which can further be seasoned with basil or any sort of herbs that you prefer.
If you are making sausage at home, then of course you are supposed to keep these ideas in your head!
Tips to keep in mind as you make sausages at home
1. Keep it chilled always- the night before you are planning to make the sauce, you can store the ground meat in the refrigerator. This gives a fair consistency to the mixture and you can easily distinguish between the meat and the fat! However, do not freeze it as frozen meat loses its inherent taste completely.
2. Season the meat before you grind- you have a grinder so allow it to do some work for you! Why go through the hassle of blending the spices into the meat when all you need to do is add the seasoning to the meat and allow the whole mixture to grind and blend together in the grinder? However, if you wish to add whole jalapeno and so on, then it is best to add some of the seasonings at the end depending on the recipe.
3. Mix the meat well-
Depending on the kind of sausage that you are planning to make, it is essential for you to find out how each one of them works! While some need smooth blending, in many you do not have to put in so much effort. Hence we prescribe you go through the recipes first and then do the needful! In general terms, you need to blend the meat thoroughly! The extent depends on the instructions of the recipe.
4. Before your case, always check the flavor- before you add casing to the sausage meat, you need to check whether the taste is alright or not! Remember, that you have gone through multiple steps like seasoning, grinding, twisting and smoking and all will go to waste if you aren't going to taste it before casing! Make a pattie, fry it, and taste it to see if the seasoning is fine, and then go for the casing.
5. Allow water to run through the casing- once the casing has been done, you need to do an additional step to ensure everything works fine. Before placing them on the stuffing horn, you should allow water to run through the ends. This will open up the casing and allow proper lubrication on the inner parts to make sure proper threading occurs. There are a few more things to care about! Let's read on!
6. Frequently tap the casing to avoid air pockets-
Some things are completely unavoidable! The air pockets in the casing are one such thing. But of course, there is a way to deal with it! All you need to do is tap on the casing with the help of the blunt end of a knife! Once the casing is done, you can prick with the sharp points in a fork to remove the air pockets as well. This is indeed quite an effective technique.
7. Always clean the stuffer with ice- you can even get the last bits of the sausage out of the stuffer or the grinder with the aid of ice cubes. You can use these extras to make patties and serve burgers for dinner as well. These are fresh meat so you should not discard them.
8. Allow the sausage to rest overnight- to bring out the inherent color and flavors of the sausage you should allow it to rest in the refrigerator for a while. Although overnight is not mandatory, if you have time then do give this a chance. The setting of flavor and color is much more efficient this way.
9. Cook low, slow on indirect heat- if you are hasty with your sausages then one thing is for certain, all the fat that you tried so hard to insert into the casing and meat will be destroyed. The best way to cook sausage is always on low flame for a long time. If the sausages are made with ground pork then you have to slowly and gently cook them until the internal temperature of the meat reaches 160°F.
Now that you are well versed in the techniques and tips of preparation, let us begin with exploring the wonderful Italian sausage recipes
Delicious Italian Sausage Recipes - Quick and Easy to Make
Not just peppers, there are so many exotic things that are included in the recipe to make the Italian sausage even more tasteful.
Diced onions, tomatoes, basil, and sauces, all combine together to create this brilliant dish!
Let's indulge in something healthy and flavorful with the sausage and spinach dish that is right here at your disposal!
To your delight, we have also added Orecchiette and white wine sauce to call it a complete meal!
Let's give it a try!
We have the brilliant creamy sausage rigatoni with spinach that you can enjoy for dinner tonight!
Don't be scared of the elaborate name, all you need are just thirty minutes to make your meal luxurious.
Here is something truly special for you! The creamy sausage Tuscan pasta is the best thing you need after a long and tiring day at work.
Cheer yourself up with something nice for dinner as you explore this recipe.
The sausage-packed gnocchi recipe with loads of creamy and tangy essence, what else can you crave?
The ultimate pasta recipe is ready in a jiffy with the recipe that we have for you. Let's begin.
The recipe combines two of your favorites and comes up with the gooey and creamy potato soup served with Italian sausage.
The infusion of herbs and seasoning is in a perfect balance to give this dish its sense of uniqueness.
Here is another easy-peasy recipe that we are sure you will fall in love with!
The classic oven-roasted potatoes and sausages are perfect to begin your meal with!
So if you are looking for something smoky and gorgeous, then look no further and give this one a try.
If the kids are craving something like a hotdog, then we have got the right recipe for you!
Offer these Italian sausages with mustard sauce in buns to the little ones and see how delighted they shall be!
It is both a healthy and hearty treat.
This is a cozy and comforting soup-like recipe that you can make for dinner this week.
The burst of unique flavors in your mouth will surely be an enriching experience for your taste buds.
The combination of sausage, pepper, and onion never really fails us!
If you want to make something quick and easy for an appetizer then look for the package of Italian sausages and get ready!
The preparation of eggplant and Italian sausage consists of a gooey gravy treat that awaits you at the dinner table.
Au gratin is simply the most amazing creamy treat and if you manage to combine it with sausages then the results are divine.
Prepared with a couple of basic ingredients, the Italian sausage orzo is the most enriching treat for you to relish this season!
Topped with grated cheese, herbs, and meat, you should definitely give it a try. Then what are you waiting for?
Head to the kitchen.
Enriched with seasonings, if the winters are getting out of hand then you know which recipe to look for!
The sausage potato soup is delicious, creamy, and rich so you can comfort yourself on a chilly winter night with just a bowl of soup and a bun.
It is quite filling indeed!
Recipes like this are what we live for! This creamy treat is full of parsley, fennel, parmesan, and sausage renders you with the ultimate sensation of comfort and sheer bliss.
So if you are wondering what to prepare as a healthy and sumptuous treat then do give it a try.
Italian sausage soup with white beans is not only healthy but also a flavorful appetizer to begin your meal with.
The presence of white beans and herbs renders the recipe with a nutrient-rich broth that you can sip and relax after a tiring day!
If you find cabbages boring and simply not compatible with your taste buds then this soup recipe will go to great lengths to make you change your mind.
Packed with Italian sausages, the cabbage soup is a sheer source of bliss and flavors for the taste buds!
And the even more amazing news for you is that it is completely gluten-free!
There is truly something special for you! If you are planning a date night with your partner at home and wish to surprise them, then the creamy sausage and pepper pasta should feature on the table first.
A perfect choice for a romantic dinner.
Well, the taste of the roasted Italian sausage with basil aioli is worth all the words of appreciation and admiration.
You can serve this breakfast on a Sunday morning to make the most of the weekends.
It is recipes like this that make your brunch a lively affair!
Poached eggs served over the creamy and tangy pasta and sausage will ensure that no one leaves even a morsel on their plates.
The cheesy Italian sausage boat made with alf-cut zucchini will draw the attention of the guests to the platter at the party.
If you are fond of cheesy and meaty treats then make sure you try out this recipe even if there is no grand occasion coming up.
Frequently asked questions associated with making Italian sausage dishes
1. What are the few things that you should remember while making sausages?
You must mix the seasoning in the meat before grinding them so that the spices are blended evenly. Care must also be taken that the meat is allowed to rest in the refrigerator overnight before it is ready to turn into sausages.
2. What is so special about Italian sausages?
Italian sausages are distinguished from a regular variety because of the seasoning that is used. It mainly consists of fennel which distinguishes between the two!
3. What is the secret to a good sausage?
A sausage should be made from fresh meat! These are the most basic rules that you can apply to your techniques! The ratio of meat to fat should also be taken care of for good sausage preparation.
4. What is the most important ingredient in a sausage?
It is the seasoning of the sausage that matters the most. Inadequate salt or more than what is required will ruin the entire effort that goes behind the processing.
5. How many varieties of Italian sausages are there?
There are mainly two kinds of Italian sausages which are present in the market, the sweet and the hot ones! Choose according to the preference of your taste buds.
Bottom Line- Being fully replenished with all the sources of information regarding Italian sausages, now it is time for you to make them.