Enjoy amazing flavors with our carefully curated list of the best shrimp soup recipes. From classic to creative, find your perfect bowl today! Try these delicious recipes now and boost your cooking skills!
More collections: Christmas Seafood Recipes, Redfish Recipes, Yellowfin Tuna Recipes, Spicy Shrimp Recipes, Bluefish Recipes, Salmon And Rice Recipes, Spinach And Scallop Recipes, Fish And Rice Recipes, Dipping Sauces For Shrimp, Lingcod Recipes, Classic Fish Sauces, Kingfish Recipes, Shrimp Pasta Recipes, Best Sauces For Salmon, Simple Monkfish Recipes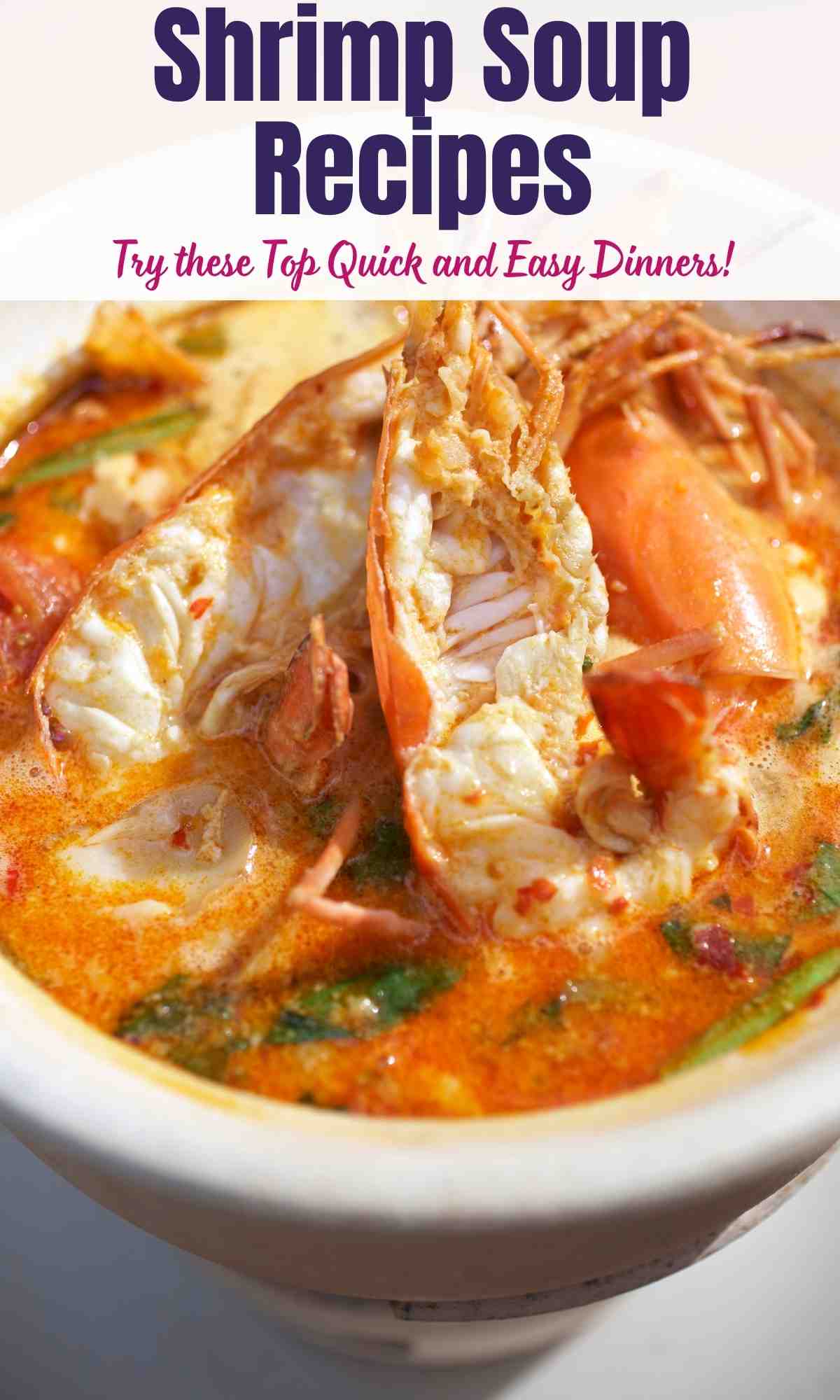 If you are looking for something comforting over the winter or on a warm summer afternoon when you feel absolute solitude, then we have only one thing in mind! A bowl of soup! But no ordinary soup! Of course, if you are a seafood lover then you might have guessed by now what we are trying to explain.
That's right! It is shrimp soup that we are talking about! In this article, we will share some insights about making a warm and cozy bowl of soup with shrimp! So shall we begin then?
Table of Contents
What is a shrimp soup?
Although it sounds simple, it isn't so much! If you are making shrimp soup then it is not just shrimp tossed into your soup! There are several other things that one needs to bring to their notice and that is why we are here to help you out. Of course, you are making a soup so you need finely chopped veggies, onions, chili flakes, and herbs! But that is not all! You also need some noodles if you are opting for the classic Mediterranean shrimp soup variety! Plus noodles make your soup heavy and filling so that it can be called a main course with some bread on the sides.
You can also choose to add some garlic, onions, and chopped green peppers as a taste enhancer of course. If you want to throw in some carbs then why not make your shrimp soup with some orzo pasta? If you want some greens then baby spinach, fresh parsley, and dill is good enough.
How long should you cook shrimp in a soup?
Now coming to what is more vital! How long are you expected to cook shrimp in your soup? You have to be careful that you do not overcook your shrimp or it shall turn out to be extremely chewy and hard! Nobody likes their shrimp this way. When shrimp is added to a large boiling pan of soup, it will hardly take any time to tradition from tender protein to chewy and hard meat which you would hate to munch on.
Hence there is a need for you to be extremely watchful while you prepare the shrimp soup. Even the largest shrimp takes about four to five minutes to get cooked in a soup! Hence you need to follow the instructions that we have here for you! It is advisable that you cook in stages when it comes to a soup or broth.
You can stir fry your shrimp in the pan for two minutes until it turns pink and then set it aside! Work with your soup and its other ingredients until towards the end when almost the soup is ready, you put in the shrimp.
First of all, you need to sear your shrimp slightly! Two minutes is all that you need for this job! This will turn the shrimp pinkish and partially prepared. So you should not fully cook your shrimp completely! Then you can set aside the shrimp and stir fry your veggies along with some seasonings and spices that you need for the respective recipe. Then you can add the broth or the brine and bring it to a bowl for another five minutes! Then the seafood is finally added and herbs are drizzled to call it an end.
Now, that is more or less all you need to learn about making soup at home. Let's get started with the preps then, shall we?
Delicious Shrimp Soup Recipes - Find Your Perfect Bowl Now
Delicious, smooth, and enriching in every spoonful, you ought to give it a try!
Flooded with herbs and the right dose of seasoning, you must make this one. So what are you waiting for?
Here is an authentic soup for you to indulge in! Served with shrimp, if you are craving something warm and cozy for a while then you should give this one a try.
Being of Thai origin, this recipe is one of a kind.
This creole soup with shrimp, bacon, and cheddar is a lovely combination! Flooded with great taste and smooth essence, you ought to give it a try!
Do not forget to add some dumplings to your broth as well.
Well, a few minutes is all that you need to brew the Killer shrimp soup! Savory, rich, and warm, you ought to give it a try!
Served with a dose of seasoning, your soup is ready in no time.
If you wish to try out something sweet and hearty with your shrimp then this soup recipe is the ideal to indulge in this season!
Warm, cozy, and rich, you ought to give it a try! Drizzled with herbs, make this one right away.
Smooth, comforting, and rich, your seafood stew is the ultimate treat of the season.
Savory and flavorful, this one is gorgeous and packed with shrimp, veggies, and so on! This is a delightful treat for the seafood lovers! Make this one!
Cozy and comforting, the Caldo De Cameron is lovely and oozing with great taste!
Drizzled with herbs, veggies, and seasonings, this one turns out to be a wonderful treat for the taste buds.
Set the mood of your meal with this one at the beginning.
Have you tried the bacon shrimp soup before? Because if you haven't you will thank us for the idea!
Flooded with all that you find tempting and rich, this chowder is so easy to make.
The Thai shrimp soup is lovely and loaded with great taste! Savory, smooth, and enriching, this is a brilliant dish that you should not miss out on!
Authentic and pleasing to the taste buds, you can hardly resist yourself anymore.
If you are looking for something nice and smooth then this Chinese soup with shrimp is the ideal option for a warm starter to your main course.
Packed with herbs, veggies, and seasonings, this is a gorgeous one, to be honest.
Topped with croutons, the shrimp bisque is lovely and a wonderful idea for beginners!
It is alright if you are making this soup for the first time, with the easy-peasy recipe that we have for you, it isn't a big deal.
Ah, here is an authentic Brazilian delicacy that we are sure you would hate to miss out on!
Packed with all sorts of seafood, this recipe turns out to be a gorgeous experience for the taste buds. Make this one right away.
If you are wondering what to make for tonight's starters then we can help you to make something really good!
The tangy tomato soup with shrimp is the ultimate treat for soup lovers! So make it quickly.
Making your shrimp soup extra special is now possible with the recipe that we have for you right here!
Flooded with greens like spinach, veggies, and tomatoes, your soup is ready in no time. So what are you waiting for?
Packed with white beans along with your shrimp, this is loaded with proteins!
Delectable and packed with orzo, this is an incredible treat for the taste buds.
Savory and smooth, you should indulge in its blissful taste. Shall we then?
Comforting, rich, and healthy, your homemade Mexican soup is gorgeous and loaded with the warmth and affection of the curator.
Enriching and smooth, this dish is so easy to make! Ready in less than forty minutes, you hardly need to invest in much time.
Making Peruvian shrimp soup is super easy if you are craving something warm and comforting but do not wish to invest much time.
Delicious and delightful, this recipe is very easy to emulate and you ought to give it a try!
It is the color and the subtle flavor of your shrimp soup that makes you drool for more.
Tangy, rich, and cozy, you ought to make this one. Drizzled with herbs and spices, this one is ready.
Ah, what a traditional dose of warmth for a seafood lover! Served with shrimp, veggies, and herbs, your thick broth is filling and rich in taste.
Did you know that this is completely keto-friendly too? Let's make it then?
We would like to end the list with the creamy shrimp Newburg recipe right here.
Smooth, savory, and enriching, you ought to make this one! We are sure you will come back thanking us for the idea. Good luck!
Other recipes you should check out: Kohlrabi Recipes, Chowder Recipes, Traditional Mexican Soup Recipes, Greek Lemon Chicken Soup, Pumpkin Soup Recipes, Tasty Crockpot Taco Soup Recipes, Creamy Corn Casserole Recipes