Cooking dinner doesn't have to be a chore! Try these quick and easy shrimp pasta recipes for busy nights. Get creative and customize each recipe with your favorite vegetables - all the while utilizing shrimp as the star ingredient! Try it today!
More collections: Shrimp And Lobster Recipes, Shrimp & Scallop Recipes, Christmas Seafood Recipes, Redfish Recipes, Yellowfin Tuna Recipes, Spicy Shrimp Recipes, Bluefish Recipes, Salmon And Rice Recipes, Spinach And Scallop Recipes, Fish And Rice Recipes, Dipping Sauces For Shrimp, Lingcod Recipes, Classic Fish Sauces, Kingfish Recipes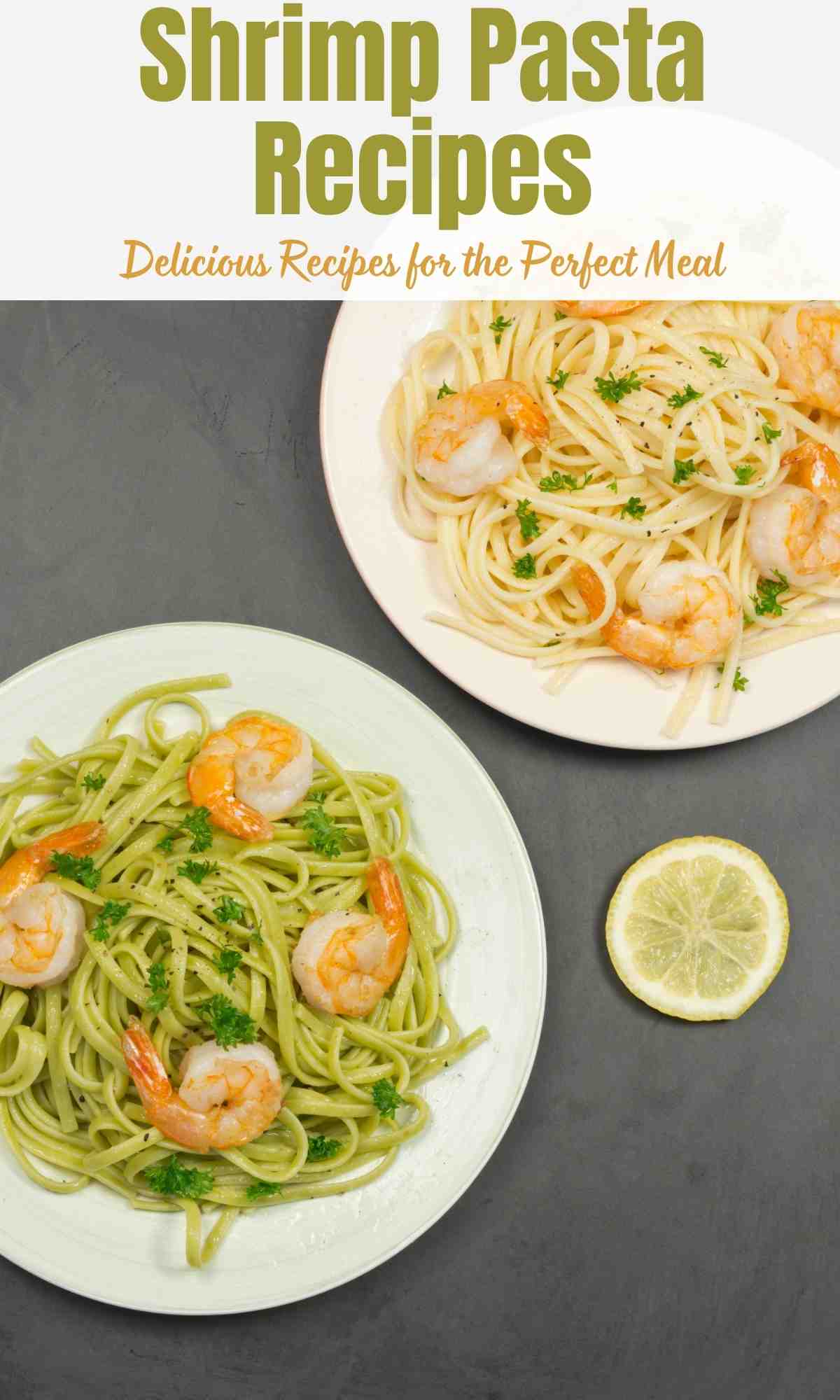 Table of Contents
Well, if you are a fan of seafood then it is natural that you will be on the lookout to incorporate them in everything you eat! For example, you are cooking shrimp! Of course, you need some meat or fish to make it even more wholesome, delicious, and healthy! Adding shrimp is a good idea! However,  there are a couple of things that you need to do before you make your seafood pasta! So you make no blunders, we have listed some common tips and ideas that you should have before you make yourself this pasta bowl.
Why is pasta good to go with seafood?
This is a good question! Why pasta? Well, why not? If you can cook noodles, rice, and meefoon with seafood then why not pasta? In fact, you will be delighted to find out that the combination of pasta, seasoning, and seafood is the best light meal for summer. Nothing too elaborate and yet so comforting at the same time.
Honestly, it is so cheap, easy to cook, convenient to find, and loaded with nutrients and great taste! So why not choose pasta and pair it with your favorite seafood? Yup, that is exactly what we are trying to do this time. Dress it up or you can leave it simple and yet your pasta will taste so good and gorgeous. And do you know what, combining them together gives you the opportunity to derive some extra protein and omega-3 fatty acids at the same time.
What is the best seafood for cooking pasta?
Well, you can pick any seafood to go with your pasta! All crustaceans shall do! You may choose to pick the fresh one from the store or frozen will do as well. However, for the latter, you just need to make sure that it is completely thawed before it is used.
After proper cleaning, you need to salt your sauce minimally because seafood carries extra salt and you do not want your pasta to be laden with loads and loads of it. You should also be careful that your pasta and seafood are not overcooked because all seafood are tender protein and unless you are watchful they can easily be overcooked.
Which is the best pasta for your seafood?
Now you must be wondering which is the best pasta shape to go with seafood! Although you can choose any, whatever is available in the house, there are a few exceptional ones that top the list. Linguine is stated as the best kind of pasta that can be paired with seafood.
With 350 varieties available around the world, this choice was hard but we made it. The pasta sauce used for seafood pasta is fresh and somewhat thin, long pasta is great to soak up the liquid. Linguine traces their origin back to the Italian coastal regions of Linguria; it is only likely that they are mostly paired with seafood.
Should you peel your shrimp before adding them to your pasta?
Now it depends completely upon your preference whether you want your shrimp to be without or without shell when it goes into the pasta! If they are too small then you can let the shells remain. This way you can skip the hassles of creating a mess in the kitchen and tedious cleanups. And to be honest, the best part of shrimps and crustaceans is their shells. However, as we said, if you want to enjoy only the tender bits then of course, shrimps should be deshelled.
Simple Shrimp Pasta Recipes for Quick & Delicious Meals
Delicious, smooth, and savory, you shall be smitten by the wonderful taste of the rich and spicy sauce marinating your pasta with shrimp!
No wonder, the shrimp Fra Diavolo tops the chart of your seafood menu.
Are you looking for something nice and creamy? Well, then the shrimp scampi pasta is the ideal thing to relish for dinner.
If you have some shrimp in the refrigerator then toss it in your pasta and enjoy it to your fullest.
Spicy, creamy, and loaded with great flavors, your cajun shrimp pasta is the right thing to indulge in this season!
Smooth, savory, and wholesome, this one will totally make you drool for more. Shall we then?
The zesty essence of the sauce is what makes them the highlights of the meal!
Creamy, gooey, and smooth, the butter sauce does its magic too! You should definitely try out this lovely pasta treat right away.
Here is another delightful treat of the season! The gorgeous Tuscan delicacy with the luxurious cream makes your shrimp pasta taste divine.
Ready in no time, your meal for tonight is decided! So what are you waiting for? Let's get started with the preps.
Are you looking for something creamy and meaty with your pasta? Then we have to suggest to you this garlic-infused shrimp pasta!
Delicious and rich in taste, the recipe is lovely and for kids to adults, nobody can resist themselves when served.
Yup, all you need are fifteen minutes to come up with this extraordinary treat for dinner!
If you have been craving pasta for a while but it is a busy weeknight then this fifteen-minute recipe is all that you need.
The garlicky shrimp pasta duo is the best seafood pasta in the world!
Served with sun-dried tomatoes and creamy sauce, you ought to make this one and indulge in its blissful taste.
The ones who like shrimp in their pasta but wish to keep it simple should go ahead with this recipe right here.
Delicious and packed with the right dose of seasoning, you shall be smitten with every bite! Let's make it then?
The combination of tomato with zucchini in your shrimp pasta makes it something to drool for!
Rich and cosy, if you haven't tried this before then you are certainly going to regret it! So what are you waiting for?
We are totally a fan of mushrooms so when we came across this shrimp and mushroom pasta, we knew this recipe was going to make it to the list.
Creamy and delicious, you should give it a try. Let's make it then?
Well, if you want some spices to go with your shrimp pasta then this is the best way to do it!
Served with a tangy tomato sauce, this is one of the best pasta you would have ravished in a while.
Well for pasta lovers, here is some good news for you! The delicious and savory shrimp alfredo is a dream come true!
Make your weekend brunch special with a bowl of pasta in front of everyone.
Well, well, well! There is no way you can miss out on your zesty bowl of shrimp pasta!
Served with an infusion of wine and butter, this is an incredible treat for the taste buds to admit the truth.
The rich sauce marinating your pasta and shrunk infuses a heavenly flavor into your pasta!
Rich and smooth, there are sun-dried tomatoes in your summer pasta making it a wonderful treat for the taste buds.
All you need is twenty minutes to come up with this gorgeous bowl of Mediterranean shrimp pasta!
Authentic and cozy, if you haven't indulged in pasta for a while, you know exactly where to look for inspiration. So shall we begin then?
Well, a combination of sweet and spicy always works the best! This recipe for creamy cajun shrimp pasta is what you have been looking for!
And guess what? There are sausages to make this recipe more yummy and delightful.
How can we miss out on the creamy shrimp linguine? The recipe is lovely and loaded with a rich essence of gravy that is guaranteed to make anyone drool.
Luxurious and smooth, you should indulge in this wonderful idea right away.
If you haven't made this before then all we can say is that you are truly missing out on something too good and gorgeous!
This pasta recipe is lovely and packed with great taste! Make it to find out for yourself.
We have to end the list with Italian shrimp pasta! Simple and an all-time classic, this shrimp pasta is the best of the lot given how quickly this can be cooked.
So what are you waiting for? Make it today. Let's go!
Other recipes you should check out: Kohlrabi Recipes, Chowder Recipes, Traditional Mexican Soup Recipes, Greek Lemon Chicken Soup, Pumpkin Soup Recipes, Tasty Crockpot Taco Soup Recipes, Creamy Corn Casserole Recipes