Are you craving something gooey and creamy today? You have dinner to prepare but are absolutely clueless about the dish? Here is where you will find the answer to all your questions. Making saucy and creamy corn casserole is not a Herculean task that you are getting scared about! But of course, if you haven't made it for a long time or are doing it for the first time then some tips can certainly help you to reach perfection with the same. Let's find out some tips about making these budget-friendly casseroles for the end of the month, shall we?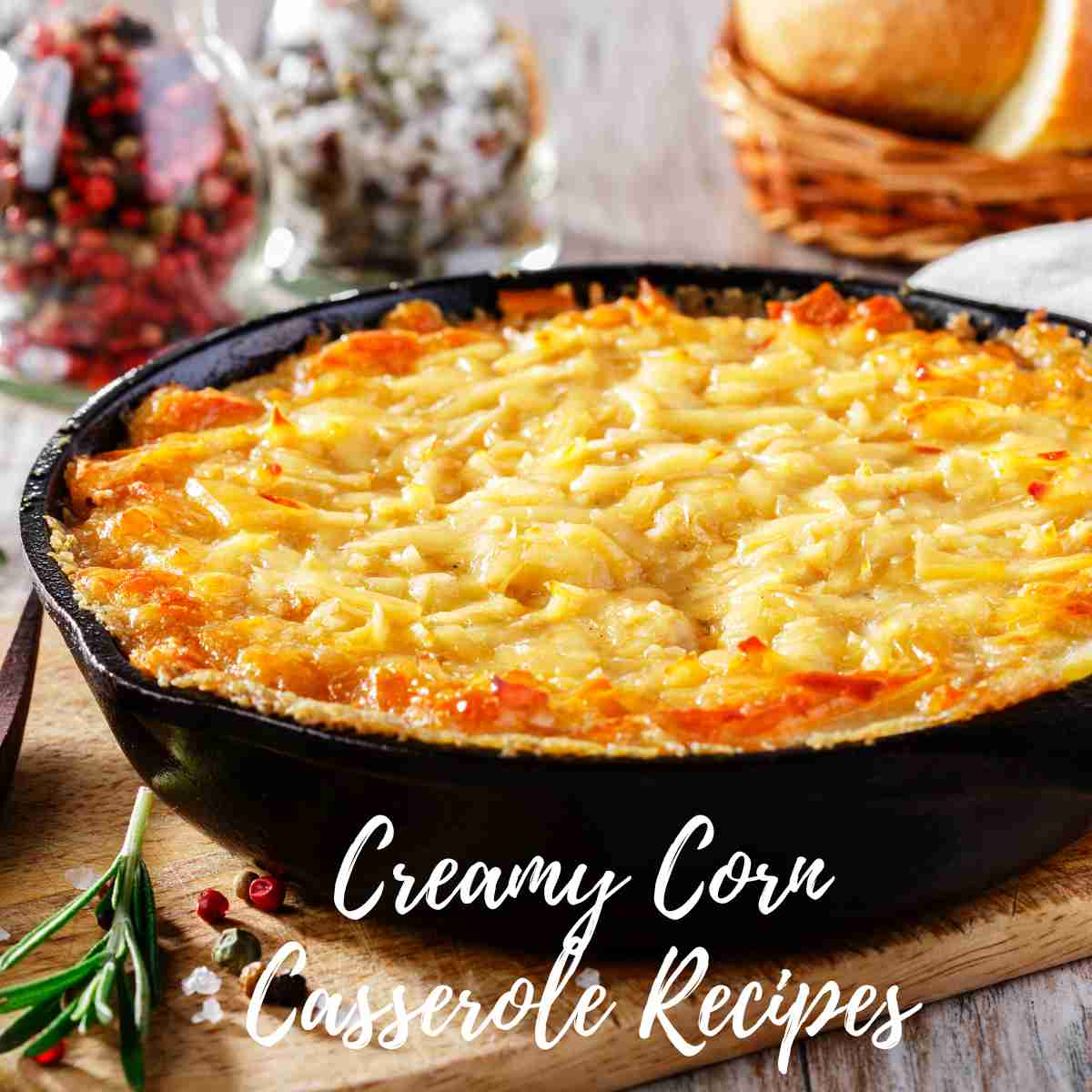 General overview of the recipe -
So corn casseroles are generally just the easiest of the lot, that's all we can say! All you need are five minutes exactly to prepare them! Yes, you heard it right! We are talking about corn casserole which is a quick companion for a busy weeknight dinner. Whether it is Thanksgiving, Christmas, or just a usual day of the week, the corn casseroles never fail to satiate your tummy and heart. Call it sweet, creamy, buttery, or whatever, all these adjectives are fair to describe the taste of the casserole! No wonder that has been a part of Thanksgiving brunch for so long.
What is the texture of the corn casserole supposed to be like?
Corn casserole is supposed to be creamy and delicious. When it is lightly brown on top then the casserole is more or less done. The pudding consistency of the casserole is what distinguishes a corn casserole from the rest however it will not jiggle as a standard pudding. Once you observe the brownish crust, open the door of the oven and allow it to rest for a while so that the crust sinks in a bit.
What are some of the variations that you can introduce in a corn casserole?
If you wish to modify the standard recipe of corn casserole then here are some tips for you to follow-
You may add some more sugar, about half a cup if you wish to make the casserole more sweet and gooey.
If you would like to have a fluffy texture for the corn casserole then the best idea is to use eggs in it.
Half to one cup of cheddar cheese will surely escalate the taste of the dish and make your corn casserole the best.
Add some chopped bacon to the casserole to enhance its taste.
You may also chop some chiles and add them to the dish if you prefer your meal hot and spicy.
Can you make corn casserole ahead of time?
This is a good question to bother yourself about! However, while some experts suggest making it right away, many think that you can make it two days prior and then store it in the refrigerator. Now, we would suggest you cover it with foil and store it in the fridge! If you have to bake it later the time required for that will be slightly more as the content of the casserole remains cold. Reheating can be done at 300°F for ten to twenty minutes.
What are some of the major ingredients that you will need for making a corn casserole-
The common ingredients that you will need for a standard creamy corn casserole recipe are as follows-
Canned corn- if you can not find fresh corn then the canned corn jars are good too!
Cornstarch mix and sour cream- these are two of the most important ingredients that you will need to give consistency to the dish.
Butter and eggs- butter gives a sense of richness and smooth consistency to the casserole, eggs are needed to make them fluffy and moist at the same time.
How to make corn casserole- there is nothing easier than making a corn casserole! Mix all the ingredients in a bowl until it reaches a smooth consistency and then you can pour it into a baking pan and insert it into the oven! Use a toothpick after five to ten minutes to see whether it is done or not! If the toothpick comes out clean then your dish is ready.
Is it possible to freeze corn casserole?
You will be surprised to know that corn casserole can be frozen for up to three months and it will remain as fresh as ever. Use a storage wrap and aluminum foil to cover the surface. Thaw it in the refrigerator and then at room temperature when you wish to consume it.
Is it possible to double the recipe of the casserole to feed a bigger crowd?
If you have more people coming over for brunch this Thanksgiving then all you need to do is use double the ingredients and bake in a 9x13-inch baking dish at the same time.
Creamy Corn Casserole Recipes - Easy to Make!
Okay, so you have a cozy and comfortable brunch on Sunday! Do not worry for we have got you the best casserole of all time.
Flavored with cheddar cheese, this is an excellent choice of dish to indulge in this season.
The recipes for corn casserole are delicious and taste divine in every bite!
Loads of cream and corn are what we can assure you about this dish so it certainly has to be a wonderful idea.
A perfect source of indulgence, the jalapeno corn casserole is the best if you are looking for something slightly spicy!
This recipe allows you to learn to make casserole so easily without much hassle! It is alright if you haven't prepared anything for tonight's dinner!
Enjoy the corn casserole with toasted garlic bread.
There is something so comforting and cozy about the corn casserole which is flooded with the mouth-watering presence of cream cheese!
What can you ask for at the end of the day if not a bowl of cheesy treats?
Do not have to knock your brain too hard for a quick side dish choice with the creamed corn casserole which is right here to your delight!
Flavored with enriching essence, this is a great choice.
The Nantucket corn pudding is so fascinating and out of the world! Enriched with gooey cream, this is an excellent choice for a festival brunch or meal!
Buttery and topped with a cracker crust, do not miss out on this dish!
Sprinkled with a gorgeous crust, this is an extraordinary recipe flavored with cream and cheddar cheese!
Sprinkled with bacon slices and garlic, you should surely give it a try!
Let's not waste a minute and get it done today for dinner.
There is something so gorgeous about this exciting recipe for the sour cream-filled casserole!
Chive, corn, and cheese are always the best pal and leave a wonderful aftertaste on the taste buds!
If you want to experience it too, then try it out for sure.
We have brought you the exclusive choice of the dish with cheddar and cream cheese!
Lovely to enjoy with toasted bread, we are absolutely in love with this recipe and you will find it tempting too!
If you are looking for something new and authentic then the Mexican street corn is what you can enjoy as a hearty snack!
Corn is always appealing when combined with cheese and there is no doubt about that!
You have to try for yourself and find out.
Here is the best-ever corn gratin recipe that you can indulge in! Rich and flavorful, you will surely fall in love with this dish at the first bite!
Easy to create, all you need are a couple of minutes in the kitchen.
Tell us how much you fell in love with the wonders of the dish!
Sprinkled with herbs, these are cooked with veggies so one can derive more nourishment from the dish.
If you haven't made corn pudding casserole yet then there is no better time than Thanksgiving to indulge in its true taste!
The guests will surely appreciate your effort as this dish turns out to be the best.
Make it this weekend for sure!
We have brought you the extraordinary scalloped corn casserole that you simply cannot resist yourself enjoying!
The very first sight of the dish will make you crave it again and again.
So are you ready to dive deep into the world of scalloped corn then?
If you are looking for something exotic and creamy then there is no better option than bacon and corn in a casserole!
So if you have a gathering at home or just a cozy family dinner on Sunday then make this dish right away!
Here we have the recipe for corn casserole which is prepared with not one but three cheeses!
Yes, you heard that right! So what are you waiting for?
Do not resist your temptations now!
With pepper, bacon, onion, and corn, the loaded casserole is delicious and you should give it a try!
Flavored with spring onions, the gooey cheese tastes so amazing and out of the world.
So do not waste a minute and prepare it during the weekend.
All you need are fifteen minutes to prepare the gorgeous and sweet honey butter corn!
Prepared with loads of cream cheese and tastes so divine! This is an excellent idea that you should not miss out on!
Shall we prepare for it this holiday season?
There is turkey and dressing so what else do you need?
We have brought you the exclusive recipe for green chili corn casserole which is divine and you should give it a try!
Easy to make, what an excellent idea it is!
Here is what is so fascinating about corn casserole! There are myriad flavors that you may experiment with!
Feeling lazy and not in the mood to cook, you can still enjoy a hearty side with the corn casserole.
The creamy corn casserole has been modified to a new version with an infusion of lime, chiles, and cilantro!
Gorgeous and enriching, the ancho chiles essence is outstanding and you should surely give it a try!
All you need are ten minutes to work on the recipe for cheese fiesta corn casserole!
Delicious and gooey, this is a wonderful idea especially if you are tired of making the traditional version every year on Thanksgiving.
The tex-mex twist to the classic corn casserole is right here!
We would love to introduce you to the gorgeous essence of cream and loads of corn which is healthy for both kids as well as adults!
Infused with the Mexican essence, this is simply extraordinary!
The vibrant and refreshing corn casserole is simply bursting with flavors!
Baked with pepper, the taste of the dish is enhanced manifold!
What an excellent choice of dish to leave you smitten completely!
There is something so delectable and heartwarming about the creamed corn casserole! You have to agree with us!
This recipe is super easy for you to follow and splendid to indulge in when you are nearing the Thanksgiving holidays.
Try it out for sure!
If you prefer to enjoy your corn casserole both cheesy and spicy then you should follow this recipe for sure!
These are so easy for you to make that you can prepare them anytime you want to eat something gooey.
This is something truly amazing that you are going to prefer!
The yummy jalapeno cheddar casserole is right here to sway you off your feet!
Gooey and rich, this is an extraordinary idea that you would hate to miss out on!
The summer calls for you to indulge in something light and easy with the corn souffle recipe that we have here!
Gorgeous and easy to make, this is an excellent choice of dish that you should indulge in!
Try out this recipe of skillet pancetta corn casserole that simply tastes heavenly!
And the best part about this authentic Italian recipe is that you do not have to waste a second preparing them!
So get it done right away!
In the holidays when you do not feel like baking, this creamy cheese corn casserole comes to your rescue!
Easy to make, healthy and hearty, you should definitely try out this one!
So if you are looking for some easy-peasy dishes, try out this recipe.
There is not much to talk about the comforting presence of cheddar corn casserole on the table during the holidays!
Whether you are celebrating Thanksgiving brunch or not, this is an extraordinary idea that you should try out!
Bottom Line- After much discussion about cheddar cheese and corn recipes, we leave you to select the best dish for yourself! So if you are in the mood to cook, we will not bother you as you can explore the myriad options in the list of recipes! So get started quickly.