Get your shrimp party started with the best dipping sauces! We've got delicious recipes to try that will take your shrimp game to the next level. Try them now and impress your guests with flavors they'll love!
More collections: Arctic Char Recipes, Corvina Recipes, Blue Crab Recipes, Shrimp And Crab Recipes, Shrimp And Lobster Recipes, Shrimp & Scallop Recipes, Christmas Seafood Recipes, Redfish Recipes, Yellowfin Tuna Recipes, Spicy Shrimp Recipes, Bluefish Recipes, Salmon And Rice Recipes, Spinach And Scallop Recipes, Fish And Rice Recipes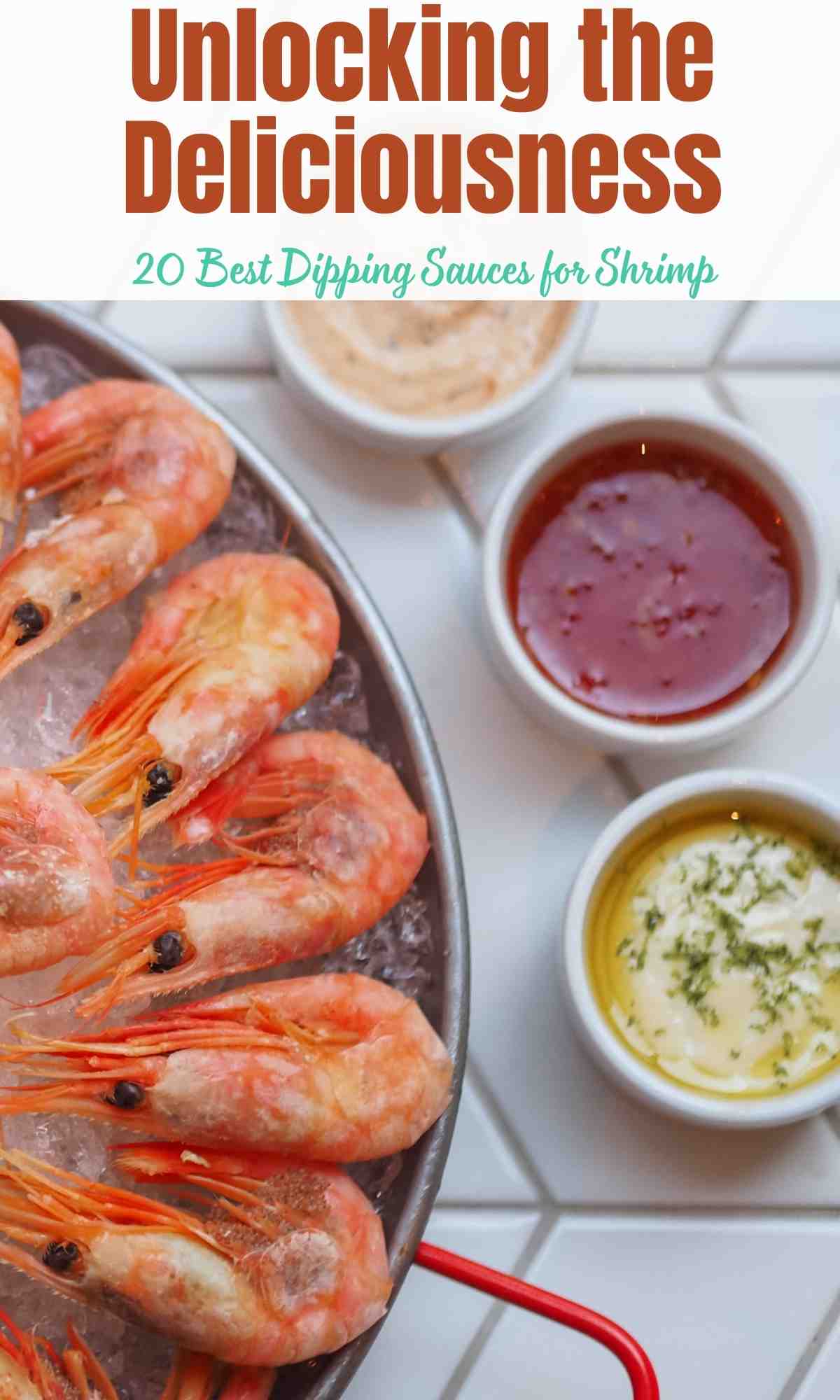 Well, whether it is a snack or an appetizer, we can't think of a side dish without some dipping sauce on the sides! After all, no matter how elaborate your snack is, it is simply incomplete without the presence of some dip or sauce on the sides.
This is a mutual love for sauce and dips we understand! Hence today we will discuss everything that you must know about making dipping sauce at home. And soon we will also share with you twenty exclusive dipping sauce recipes that you can even enjoy with shrimp.
What is a dipping sauce?
If you are wondering what is the difference between any normal sauce available in the market and dipping sauce then here is what you need to know! Learn the definition of dipping sauce first! And we will help you with that. This is basically a simple condiment that is served with fries, appetizers, and so on.
You can even enjoy these dipping sauces with your veggies and salads too! Made with mayonnaise, ketchup, and many other simple spices, condiments like these are perfect to be served with appetizers and starters to the main course.
How to make a general dipping sauce?
Of course, you need to follow a particular recipe when you are making this dipping sauce! There are numerous options and flavors that you can indulge in! However, the general steps more or less remain the same. You need to follow a particular ratio for making the sauce of the respective ingredients. You can adjust the components to make sure that the flavor of your dipping sauce can be altered.
All you need to do is whisk all the ingredients in a bowl and then add some salt to taste! Make sure you taste your sauce before adding salt because some of the ingredients will already contain salt and more can ruin its taste completely. You can choose to place your dipping sauce in the refrigerator for thirty minutes so that you can enjoy cold dips with hot fries and freshly baked appetizers.
What are the common dishes with which you can serve dipping sauce?
Of course, the most obvious thing that comes to our head is french fries but apart from that, there are several other options as well. You may serve your homemade dipping sauce with hamburgers, shrimp, turkey burgers, potato wedges, and so on. If you go on to make a list then that will simply turn out to be endless.
What is the right way to store your dipping sauce?
Now it might happen that you made more dipping sauce than you need! What to do with the extra sauce? Of course, you would want to store them away! But how exactly? Such sour and tangy sauces have a good shelf life of one week and so on. In case, you have a surplus there is no need for you to worry that the entire will go to waste. But make sure you separate the portions before you dip your fries into it otherwise the unwanted crumbs will remain in the rest of the dip and give it an ugly appearance.
Well, that is all you need to learn about making sauces at home! Now that you are aware of the right things to do, we will soon share a list of recipes with you! We can hardly wait for you to go through the list and pick your best choice. Let's get started with the preps! Shall we?
Discover the Tastiest Dipping Sauces for Shrimp!
Serve your shrimp with cilantro dipping sauce delectable and flooded with great taste.
Rich and cozy, this recipe is gorgeous and flooded with great taste! So what are you waiting for? Make this one right away.
Served with shrimp, onion rings, and french fries, this homemade dipping sauce is lovely and loaded with great taste!
So what are you waiting for? If you are looking for something nice and creamy with your appetizers, go for this one right away!
Serve with crunchy shrimp on the side, the bowl of fresh aioli sauce is lovely and loaded with great taste!
Delicious and smooth, you must indulge in its blissful taste right away. Shall we then?
This is a fantastic appetizer that you should not miss out on! Served with remoulade sauce, you ought to give it a try!
Drizzled with herbs, this idea is one of a kind! Go for this one right away.
If you want to experience the coastal influence within the walls of your house then you should go ahead with this simple shrimp coconut recipe served with a delicious and smooth dipping sauce.
Ready in no time, make this one right away.
Experience the Southern influence with the comeback sauce recipe that we have for you right here!
Delicious, rich, and smooth, this one turns out to be the best option. You will surely thank us later for the idea! Go for it today!
If you are fond of seafood then we have to admit that you will hate to miss out on the classic seafood cocktail sauce.
The recipe is gorgeous and leaves you tempted for more and more. Shall we then?
If you have prepared a dish of shrimp with too much of spices and seasonings then it is best for you to try out this sweet mango dipping sauce to contrast its taste.
Don't worry! The recipe is super easy to emulate.
For all the spice lovers, here is a recipe that we are sure you would find hard to resist!
The Bonefish grill bang bang sauce is simply outstanding and leaves you tempted for more. Shall we try out this one?
Ah, the cozy and comforting cajun sauce is lovely and loaded with great taste! Whether you are having shrimp or fries, this one is good to go with any appetizer you want.
Make this one right away. Let us know how much you liked it!
The sweet and spicy combination is well expressed in this recipe so well! If you are fond of neither two extremes then this is a great dipping sauce idea to indulge in!
Make it at home and find out about its blissful taste.
Have you tried coconut shrimp before? But wait, that is not the only surprise that we have for you here!
Served with a dipping sauce that tastes so divine that we can guarantee none will be left behind.
Are you looking for something authentic and spicy at the same time?
Well, then this creole cream sauce is the best thing to go with fish on the sides! Ready in a jiffy, you hardly need to put in much effort.
The name itself speaks for the brilliance of the sauce! This dipping sauce is lovely, smooth, and creamy!
Perfect to go with shrimp, you will surely be smitten by this extraordinary choice of sides. Shall we?
Here is another delightful treat for you so you can make the best of your platter of shrimp!
This recipe is gorgeous and you ought to indulge in its blissful taste! Savory and packed with a smooth consistency, do not miss out on this one.
Well, if you are looking for some classic dipping with your fish then without a second thought go for this gorgeous cajun garlic butter sauce right away.
Smooth, savory, and rich, this is one of its kind.
You will definitely thank us for this idea! Here is a recipe that will certainly make you drool for more!
The savory Bloves sauce is incredibly yummy and you must indulge in its blissful presence right away. Shall we get started then?
If you haven't heard or tried this sauce before then you are certainly up for a surprise!
This recipe for delicious and smooth dipping to accompany your plate full of shrimp is indeed easy to emulate. Let's get started with the preps then.
You will come back thanking us for saving you at the end moment as you made tempura at home but almost forgot to come up with a sauce.
The recipe is right here to save you the next time you encounter such a situation.
We have to end the list with the classic orange chili dipping sauce! The perfect combination of sweet and spicy makes this quite an attraction among seafood lovers.
So what are you waiting for? Make this one today.
Other recipes you should check out: Kohlrabi Recipes, Chowder Recipes, Traditional Mexican Soup Recipes, Greek Lemon Chicken Soup, Pumpkin Soup Recipes, Tasty Crockpot Taco Soup Recipes, Creamy Corn Casserole Recipes