Are you looking for the best redfish recipes? Try our tasty & easy recipes today! We'll show you the perfect ingredients, cooking techniques, and more to master the art of redfish. Get cooking with these delicious recipes now!
More collections: Salmon Recipes, Shrimp And Rice Recipes, Smoked Haddock Recipes, Whole30 Salmon Recipes, Whole30 Shrimp Recipes For Dinner, Black Cod Recipes, Arctic Char Recipes, Corvina Recipes, Blue Crab Recipes, Shrimp And Crab Recipes, Shrimp And Lobster Recipes, Shrimp & Scallop Recipes, Christmas Seafood Recipes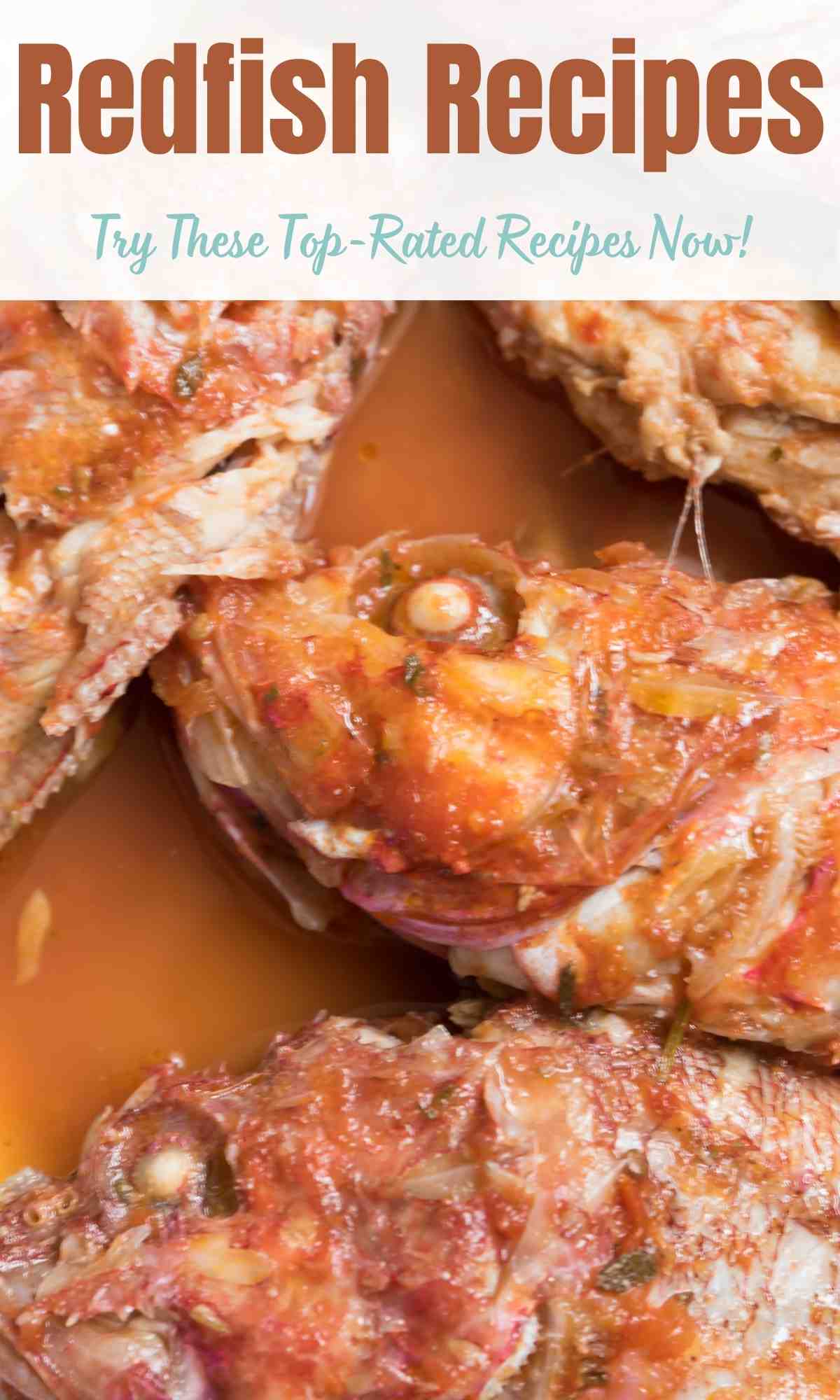 Redfish it is! We always get excited when it comes to seafood! After all, no one can help themselves when it comes to making seafood! And if you share a similar feeling then you must be tempted to cook these recipes as well! Redfish is fascinating when it comes to indulging in seafood!
There are so many versatile seafood dishes that you can try out! Today we will find out different ways to make Redfish so you can enjoy your brunch and dinner well! Let's get started with the discussion then, shall we?
Table of Contents
Ways to make your seafood redfish recipes right
1. When you are making simply sauteed redfish
When you are making simply sauteed redfish, you must season the flesh well! Usually, a dash of olive oil and herbs like salt, pepper, basil, thyme, and so on are put to use. The oil is allowed to get heated up on medium flame and then the fish is gently laid on the pan. It takes about three to five minutes for the redfish fillet to turn golden brown!
You can pick up the edges to check for the doneness of the fillet. After four minutes or so, the fish fillet is flipped so that the opposite side gets cooked equally well. You can use a spatula to gently lift and flip the fillets as rough handling can break it! Once it is done, you can serve the fish fillet with rice or gravy on the side.
2. When you are making grilled fish
First, you need to wash the fillet properly but make sure you do not expose it to direct water or it will become flabby. After rinsing under cold water, you can pat it dry with a paper towel. Moisture will prevent the skin from becoming crispy and turn extremely soggy!
That is something you do not want while grilling your fish. It depends upon you whether you wish to let the skin on or get it removed. Oil is brushed on both sides so grilling can be done effectively.
Seasoning must be done subtly so that there are not too many bold flavors to mask the taste of the fillet but enough to complement it.
Temperature 350-375°F is declared ideal for making the fish on medium flame. You also need to make sure that the grills are clean while you lay down the fish or they will stick to the surface of the grill and will be hard to remove. Five to six minutes are considered enough for every side. Once the skin is crisp, wait for another two minutes and then flip the fish over.
After both sides are done, you are expected to allow the fillets to rest on the grill for another five minutes till the sizzling subsides and then you can serve the fillet fresh and warm with a dash of lemon juice. Adding some seasoning on top, according to the recipe, is not a bad idea.
3.  Blackening your redfish
Blackening the redfish is another method that is used for making your redfish fillet! You need seasoning, medium flames, a microwave, and butter to accomplish the job! You can learn more about that later in the recipes as we share some with you!
So without any more delay, let us get started with the preparation of making redfish at home. With twenty redfish recipes at your fingertip, you will have ample choices to explore! Let's get started then!
Delicious Redfish Recipes for Great Results
Although the name sounds pretty elaborate, the task is relatively easier to come up with the blackened red snapper recipe!
Cozy and creamy, you ought to try it out! Shall we get started with the preps then?
All you need are fifteen minutes to come up with this red snapper recipe!
Pan-seared and crispy, the recipe is so easy to emulate that you will be tempted for more. So what are you waiting for?
The gorgeous and gooey red snapper drizzled with lemon juice tastes so gorgeous!
Packed with wine and butter sauce, we can only call this recipe divine.
Tempting and delectable, this is a must-have option. Oh, we are already drooling!
Well, the idea for Creole redfish is truly amazing! If you wish to try out something spicy and bold then this Creole redfish is the right choice for you!
Cozy, tender, and rich, you must try it out! Wish you luck!
What an incredible idea if you were looking for something nice and comforting to accompany you for the meal!
Tender and succulent, this cheesy-crusted redfish is wonderful and loaded with great flavors. The baked redfish is one of a kind.
The blackened redfish is a gorgeous recipe and leaves you tempted for more!
Smokey and delightful, the recipe is wonderful and fascinating and packed with great flavors.
Comforting and cozy, you must try it out! With holidays around the corner, do try it out!
The gorgeous founder shrimp and stuffing are delectable and flooded with a gorgeous seasoning.
The combination of celery, chives, and parsley makes it an extraordinary creation that you can even serve to the guests.
So shall we get started already?
Marinated in rich spices, the blackened redfish is lovely and loaded with a smokey essence that makes them so much more delicious and cozy!
Tender and smooth, this is perfect for a weekend when you are craving fish. Shall we get started then?
Adorned with lemon caper sauce, the red snapper tastes so exclusive and yummy!
Satiating for the taste buds as well as your heart, this one will make you drool at every bite!
If you are fond of fish then do not miss out on this one.
If you are looking for something nice and cozy for brunch this afternoon then we know exactly what you must try out!
The fish fillet is-ups are perfect for lazy Sunday brunches.
The spicy and rich grilled red snapper is the ultimate delight for seafood lovers.
Chewy and succulent, this recipe is fantastic and leaves you with a craving for more.
So if you are in the mood for a hearty brunch, let's get started then?
Here is a unique recipe that we are sure you will find the best when it comes to making redfish!
Creamy and zestful, the idea is so easy to emulate even for beginners as well.
The blackened redfish is a classic choice if you are making them for the first time!
Simple and uncomplicated, the idea is fabulous and perfectly suited to your mood if you do not feel like putting in much effort. Shall we?
Spicy and tangy, the red snapper and mango salsa are lovely and loaded with great flavors.
Gorgeous and succulent, the recipe is wonderful and flooded with loads of mango salsa.
You can enjoy this with rice on the side.
Thirty minutes is all that you need to come up with this authentic Thai fish curry!
Infused with herbs and rich gravy, this red fish curry is an absolute showstopper.
With weekends almost nearing up, do give it a try!
The gorgeous Mediterranean red snapper is lovely and loaded with sauces and seasonings so rich and exclusive!
Creamy and spicy, this foil-packed snapper is one of its kind.
Flavorful and luxurious, this one is fantastic and renders you simply speechless. Shall we?
When we came across this Caribbean fish stew, we knew you would absolutely love this dish!
The recipe is amazing and leaves you simply tempted for you. This is a traditional Caribbean recipe and leaves you tempted for more. Go for it today!
Here is a way to eat your fish whole! The oven-baked whole red snapper is gorgeous and packed with a smokey essence!
Delicious and smooth, this one is lovely and loaded with the richness of seasoning! Go for it today!
Baked in the oven, the fillet turns out to be succulent and meaty so much so that you cannot leave the table until the whole plate is empty.
This snapper is one of a kind and perfect for the holidays.
The baked red snapper with garlicky essence tastes so exclusive and extraordinary!
Drizzled with herbs, this idea is wonderful and leaves you tempted for more.
Gorgeous and graceful, you can enjoy this as a side with warm steamed rice.
Other recipes you should check out: Kohlrabi Recipes, Chowder Recipes, Traditional Mexican Soup Recipes, Greek Lemon Chicken Soup Recipes, Crockpot Taco Soup Recipes, Pumpkin Soup Recipes, Slider Recipes For Summer, Christmas Cupcake Recipes