Try these delicious shrimp and scallop recipes for a unique seafood dish. With easy-to-follow instructions and the right ingredients, you'll be able to make delicious seafood dishes in no time. Get cooking now!
More collections: Grilled Shrimp Recipes, Salmon Recipes, Shrimp And Rice Recipes, Smoked Haddock Recipes, Whole30 Salmon Recipes, Whole30 Shrimp Recipes For Dinner, Black Cod Recipes, Arctic Char Recipes, Corvina Recipes, Blue Crab Recipes, Shrimp And Crab Recipes, Shrimp And Lobster Recipes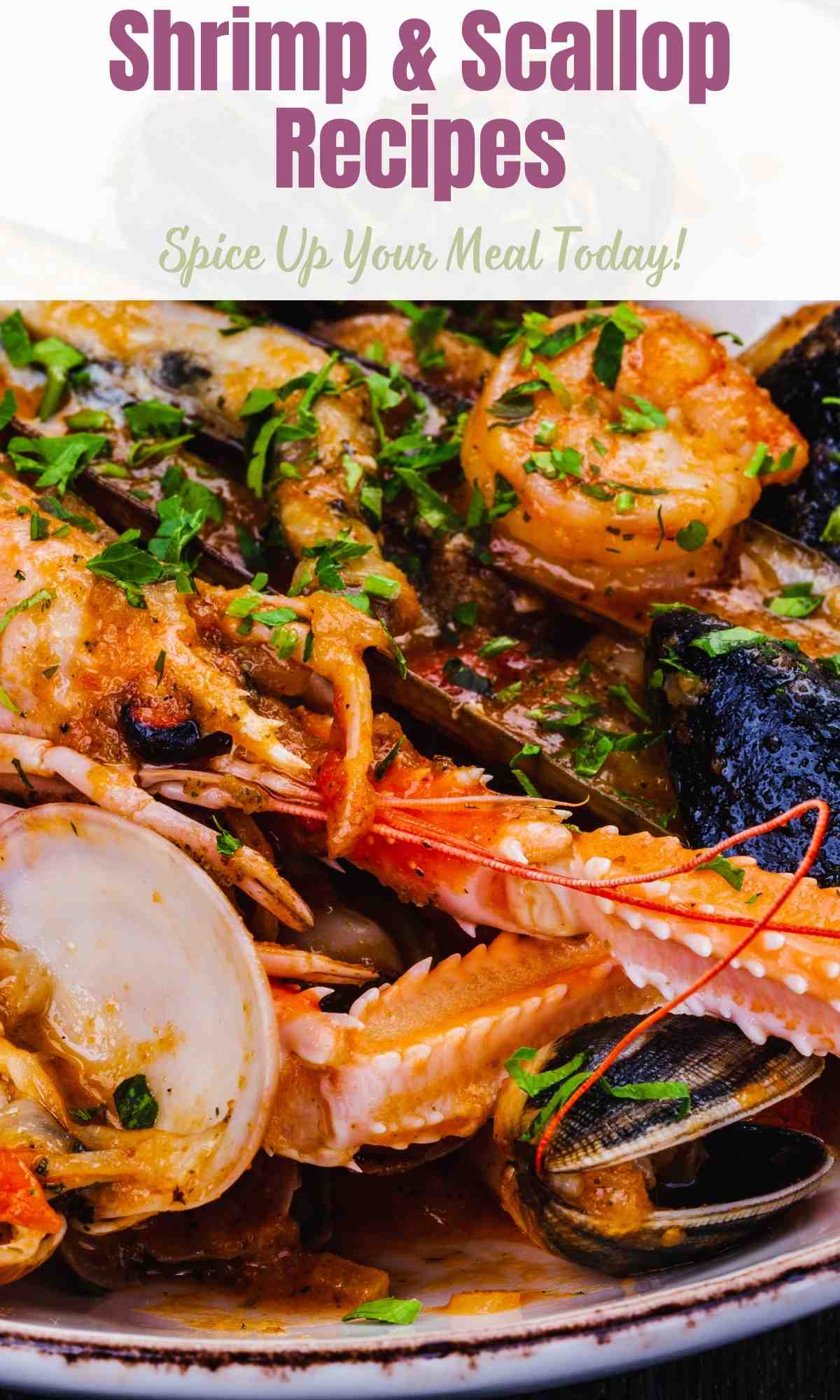 If you are a true lover of seafood then you will have the best bonding with shrimp! Cooking shrimp at home is not a Herculean task but if you wish to excel at it then always keep these tips in mind. There are definitely some measures and rules which ensure that your shrimp and scallop will turn out to be fine. And right after that, we are going to share with you some extraordinary recipes that you can try out this season.
Table of Contents
Some of the common mistakes and blunders to skip while cooking shrimp
1. Always be careful of the kind of shrimp that you buy
When you purchase shrimp at the stores there is one thing that you need to keep in mind! Choose the right shrimp and make sure they are fresh! For example, if a heap of shrimp is displayed in the fish market and the shopkeeper vouches for it to be fresh, it might not be the case.
On the other hand, these might have been frozen and thawed several times before reaching you! It is likely that the taste of the shrimp will be degraded and the texture not so good. Purchase shrimp that is packaged so that your shrimp recipes turn out to taste well and freshness is guaranteed in case of the packed frozen ones.
2. There is a technique to thaw the shrimp
You should never leave the shrimp naked under running water! Their skin will soak in water and become flabby! You must allow the shrimp to thaw inside the refrigerator with a colander overnight or seal them all in an airtight ziplock packet! Place this packet under running cold water and do not warm it as you thaw your fish.
3. Why do you think a skewer is needed for roasting or grilling shrimp
This is to be noted that shrimps are tender protein and if you wish to ensure that you do not end up overcooking them, which is highly likely if they are exposed to flames on a grill, there are a couple of precautions that need to be taken.
You need to roast and grill the shrimp on a skewer! This makes it easier for you to flip so that you do not waste your time in the process of turning every individual piece which ends up getting burnt or overcooked eventually.
4. What is the way of cleaning shrimp
You need to clean the shrimp properly so that they do not contain any dirt or sand particles. Removing the vein or the digestive tract of the shrimp is called deveining! In this process, you need a knife to give an incision on the back and then swiftly pull out the black strand!
Although there is no clinical harm from consuming the vein, it might contain grits and sand particles which will appear grainy as you consume the shrimp. That is an unpleasant experience that you definitely wish to avoid.
5. Then what to do with the shells
This is quite a subjective topic! It completely depends upon you whether you prefer to let them remain or get them off. In the presence of the shell, the texture of shrimp turns out to be crispy during roasting or grilling while getting them removed has its perks as well! The seasonings are better imbibed and the meat also tastes very good.
So, that was all about how to prepare shrimp! Once we are done with that, it is time to combine shrimp with scallops! So let's check out the recipes first.
Amazing shrimp and scallop recipes to indulge in this season
The presence of cherry tomatoes and spinach makes this recipe so special!
A combination of shrimp and scallops in the creamy sauce works wonders for the taste buds.
If you want something mild and comforting for summer dinners then we know what you should try out exactly.
The seafood pasta is truly tempting and renders you speechless with every bite. Go for it already!
If you want something nice and cosy then we know you will surely find this recipe to be an extraordinary treat to the taste buds.
The luxurious mozzarella-based gravy makes it even more tempting and hard to resist.
An infusion of saffron, bay, tomatoes, and herbs makes this authentic Venetian shrimp with scallop a great idea to relish this season.
Packed with rich gravy, you will definitely fall in love with its blissful taste. Shall we try it then?
When we came across this brilliant seafood delicacy we knew this one will impress you!
Hence we decided to add it to the list! It is time for you to enjoy the delectable lobster, scallops, and shrimp dipped in garlic butter sauce!
If you do not wish to spend much time in the kitchen and yet try out something crispy and succulent then the sauteed shrimp and scallop is lovely and flooded with great taste. Go for it already!
Did you try out the pasta with shrimp and scallops yet? If you haven't then the zesty lemon and sharp garlicky essenced recipe is truly one of its kind.
Delectable and comforting in every bite. So shall we?
The classic scalloped shrimp pasta is what you need after a tiring day at work! Imagine a bowl of this creamy and saucy pasta waiting just for you at the table.
Yup, that is the vibe with which you should end your day.
If you did not try grilled garlic shrimp and scallops yet then you should with the wonderful recipe that we have for you right here.
Packed with the smoothness of butter, the recipe is lovely and leaves you craving for more.
The authentic Mediterranean recipe for shrimp and scallops has the potential to blow your mind!
No, we aren't exaggerating even a bit! If you wish to find out for yourself, try out this recipe today!
You will not believe in your taste buds until you try out this scallop and shrimp pasta on your own!
That something can taste so good and get ready all at once. Adorned with cherry tomatoes, this is the best.
Preparing the recipe for garlic spinach with scallops is so easy with the recipe that we have for you right here.
Delicious and healthy, you must indulge in this dish for dinner on a weeknight.
Well, there is no escaping the fact that nothing is more gorgeous and tempting than a plate of shrimp for any seafood lover.
With this pan-seared recipe, you just need ten minutes on the clock to go.
An all-time classic, the creamy Tuscan recipe with shrimp and scallops is simply the best and leaves you with a craving for more.
Savory and smooth, what a comforting dish to greet you at the table at the end of a hectic day.
Perfect and savory, the Mediterranean shrimp and scallops are the best!
Packed with great taste, this idea is wonderful and loaded with sauces and gravy so rich!
Let's not waste a single second and get started already!
We have brought you the lemon butter scallop which is blended with the enriching essence of sauce and the spices so divine.
Parmesan risotto is amazing and topped with lemon and butter, we have no words to describe them.
Here is another wonderful recipe that you should try out! Packed with a cozy essence, the shrimp and spinach gravy is lovely and loaded with what you prefer.
What an incredible idea rendering you simply speechless with every bite!
This is something new and unique for you to try out with shrimp and scallops!
Healthy and yummy, the New Orlean pan battle BBQ shrimp can be prepared in a jiffy and leaves an everlasting impact on the taste buds.
The combination of shrimp and scallops is always a showstopper and with the recipe that we have for you right here, this one turns out to be brilliant indeed.
The bold flavors of garlic are palpable in every spoonful.
Have you tried Calabrian pepper before? Then you should try it out with shrimp and scallops this time.
Comforting and spicy at the same time, you ought to indulge in its gorgeous taste. Good luck!
Other recipes you should check out: Kohlrabi Recipes, Chowder Recipes, Traditional Mexican Soup Recipes, Greek Lemon Chicken Soup Recipes, Crockpot Taco Soup Recipes, Pumpkin Soup Recipes, Slider Recipes For Summer, Christmas Cupcake Recipes