Caramel cakes are delicious and simply a delightful idea whether for birthdays, anniversaries, or simply for a mere source of sweet indulgence. However, there has to be some trick to make it perfect, don't you think so? Well, here is a guide for you! Read on to learn the best homemade caramel cake all by yourself. Shall we go on then?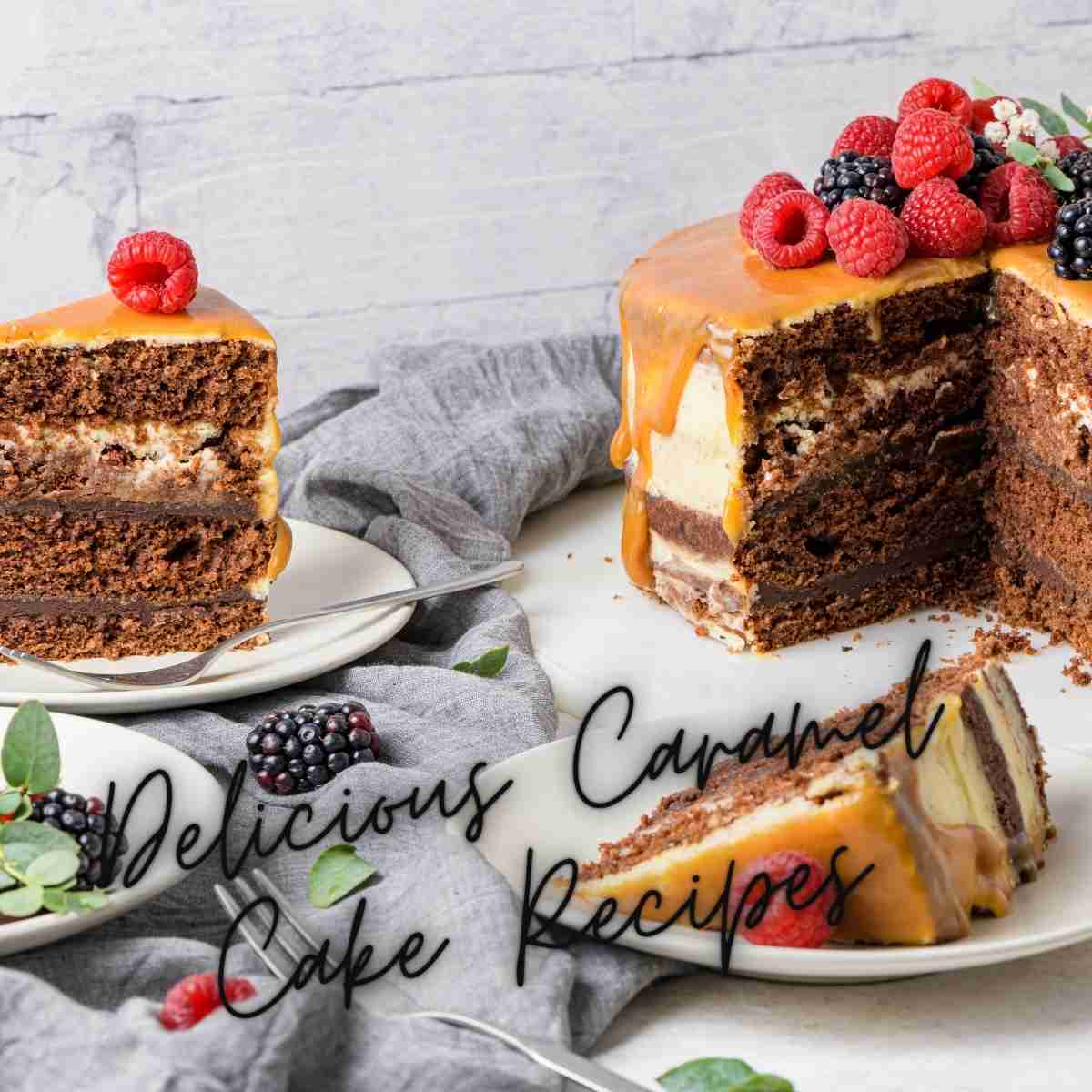 What are some of the essential ingredients that you will need to make the caramel cake?
1. Flour- All-purpose flour is what you need to prepare the dish!
2. Baking powder- You need some baking powder to give density and thickness to the cake! Make sure the pack hasn't crossed its expiry date.
3. Butter- We recommend you use unsalted butter because this way you can monitor the amount of salt that goes inside the recipe. Make sure that the butter is soft so you find it easy to grind them into a fine paste! Bring it to room temperature before you mix it with the rest of the ingredients! It is always very tough for you to beat hard and cold butter!
4. Sugar- You will need granulated and brown sugar for a basic caramel cake recipe! The granulated sugar gives a wonderful essence and crumbly texture while the brown sugar helps you to make the rich caramel sauce.
5. Eggs- They are needed to give consistency and texture to the cakes. Eggs are also ideal for the richness of flavor along with a thickening to the same.
6. Milk- When you are buying milk, whole milk is the best for this recipe! Whole milk is what you shall need to ensure that the caramel cake tastes better.
7. Powdered sugar- Do not forget to buy powdered sugar! They are sometimes called the 10X or confectioner's sugar which makes the caramel sauce smooth to drizzle over the cake. In case you cannot find powdered sugar, you can make them at home as well.
Simple steps to make the caramel cake-
First, beat the butter in a bowl with a standard mixer, and then add the sugar to create a fluffy essence. Add eggs and vanilla to the bowl which goes next. The flour, baking powder, and salt come after that.
Half a cup of whole milk is added to the mixer. Now more flour is added and mixed well into a smooth dough.
Divide the flour content into separate pans and then bake for about thirty to thirty-five minutes! Once baked you can cool it down for twenty minutes before you serve it fresh.
Combine brown sugar, butter, milk, and cream in a medium saucepan and heat on a medium flame. Bring the mixture to a boil and stir for about ten minutes. When the mixture reaches at 235°F after five to ten minutes, the caramel sauce is ready. Cool for twenty minutes so that the mixture now thickens up.
Beat the dough mixture on a medium flame for ten minutes. Spread the caramel sauce on the cake and dig in.
Follow these recipes for easy baking-
If you want the caramel to acquire a dark color then add some darker brown sugar.
When you are boiling the caramel sauce, the froth may bubble up quite a bit high so ensure that the pan you are using is deep enough.
If you observe that even after adding confectioner's sugar, the caramel sauce is still runny then probably you haven't added enough or the temperature wasn't optimal! Do not worry if such a situation occurs, simply add more and more confectioner's sugar until the required consistency is reached.
When you are applying frosting to the cake one thing must be kept in mind you are not working with thick icing and it is likely to drip! Use a knife to continuously smoother the surface.
If the icing is too tough then dip the spatula in hot water and continue working on the layering. You can place the cake in the refrigerator for about ten minutes to ensure proper thickening.
While adding flour you should make use of a scale to measure the amount of flour you are adding! It is essential for you to be precise about the quantity of flour or else the cake will turn out to be stiff.
Never overmix the batter as it will lead to toughening of the cake again.
Allow the layers of the cake to cool down one at a time. They are easier to decorate and assemble when cool and the caramel sauce will not run off.
You should be careful while making the caramel sauce because there is a risk if you look away it might get burnt.
Let us now find out about some of the flavorful and yummy caramel cake recipes that you can try out this holiday season.
The pecan-filled crust with buttermilk and vanilla essence tastes so amazing! You don't have to believe in our words! Try it out for yourself!
Topped with hazelnut and whipped cream, what a wonderful caramel cake this turns out to be!
The sweet and salty treat of the banana caramel cake will sway you off your feet!
The combination of banana and nuts along with the rich caramel smoothness makes this recipe such a delightful idea for birthday parties.
If you are a fan of caramel then you will simply not be able to look past this recipe for a double-decker cake like this one!
Oozing with caramel in every bite, the beautiful frosting recipe is what is ideal to celebrate the wonders of the spring season.
The combination of hazelnut and caramel along with Dulce De Leche is perfect to render you with a sense of sheer temptation!
Celebrating your first anniversary with your partner, surprise them with this homemade golden key cake.
The salted caramel cake is the classic idea and there is hardly anyone at the party who will not ask for another piece!
Marinated in rich and creamy caramel sauce with a hint of salt, give this a try.
If you are in love with caramel then here is something as a surprise for you!
The dreamy Samoa cake is filled with chocolate and coconut in every bite. Cut up and dig in!
Present a cake like this during the holidays to your little ones and see how delighted they shall be.
The salted banana caramel combination has always ruled the market! This toffee cake only strengthens that concept!
If you are trying out making caramel cake for the first time at home then give this a try for sure.
The more we say about the salted caramel cake the less it turns out to be!
The gorgeous essence of butterscotch in every bite makes it a must-have post-dinnertime.
Shall we make it then?
If you are a fan of macaroons and wish to enjoy them for desserts then here is good news for you!
We have combined the macarons with caramel cake and can you guess the outcomes?
Yes, exactly! Simply outstanding in every bite.
The classic coffee caramel cake topped with macarons is the best recipe that we could think of!
If you don't believe us, then try this one for yourself and find out how heavenly caramel cakes can taste!
And it is super easy to follow this recipe too!
The treats during the holidays get even better and bigger with the toffee pecan caramel cake with a rich cream cheese frosting!
Dive into the world of caramel with this recipe right here.
Southern caramel cake is one of the best that you will come across!
Smooth and moist, the caramel cake is topped with pecans and made from scratch.
If you are a beginner in cake making then the recipes will come to great use.
Thank us later for this outstanding idea of caramel pecan cake which is the perfect blend of flavor and softness!
Tender and moist, you will crave more and more after each bite until none is left.
Did you forget to order a cake for your kid's birthday? Well, that turns out to be a blessing in disguise with the southern caramel cake recipe that we have for you right here!
Containing the warm touch of love and affection, your child will truly appreciate your efforts.
We have brought you another gorgeous recipe for caramel cake which also combines chocolate to give it a personal gooey touch!
Make this one in the holidays devour as much as you want!
So if you like chocolate and caramel together then you must try out this recipe which has triple the joy and triple the flavor.
Tender and rich in every bite, this is a must-have one.
If you are looking for a caramel cake recipe that was brought right from the heavens then you have to try out this one!
The authentic southern flavor is well-pronounced in this dish!
If you like caramel cakes then never miss out on this recipe.
The fun of making caramel cake doubles when we add chocolate to it! It triples with the multi-layer chocolate caramel cake recipe that we have for you right here.
Creamy and rich, this is a great option for birthday parties and winter events like Christmas.
The classic and everyone's favorite salted caramel chocolate cake recipe waits for you right here!
Enjoying cakes is no longer tough with such an amazing recipe right here.
Surprise your partner with a tasty treat.
The name of die-for banana cake is rightly provided to this recipe which will make you crave so much for the smoothness of peanut butter combined with caramel in every bite.
Make a massive cake so you can enjoy it for a week.
Post dinner if you are craving a sweet treat then do not worry as we have brought you the exclusive caramel apple dream cake that tastes simply divine!
And with the dream apple caramel cake can drift into the world of caramel river and apple mountains in your sleep.
Turtle chocolate layer cake is one of a kind! There is nothing much to describe the brilliance of the dish except that competing with turtle caramel chocolate cake is simply impossible!
We have given a twist to the classic caramel cake and come up with the salted Italian buttercream to adorn the cake with a rich layer of frosting!
Take a bite of the cake and see how it melts in your mouth.
Here is another gorgeous caramel cake recipe that you will surely be thrilled to ravish!
The combination of bananas and Bischoff gives it a wonderful essence that anyone can hardly resist.
Salted caramel chocolate cake is a delicious one and simply so easy to create. If you find yourself idle in the holidays and craving sweets then surely opt for this giant salted caramel cake.
So what are you waiting for? Make it today!
We have the exotic twix cake that is one of a kind! Flooded with the richness of chocolate and gooey caramel, this cake will appeal to all age groups!
Whether a birthday party or a big anniversary gathering, the twix cake is the show stopper.
If you wish to have something light and sweet then the caramel sheet cake is the best option that you have got!
Flavored with a crumbly crust and a smooth layer of caramel icing, this is a brilliant recipe.
Let us help you to make the famous caramel buttercream cake with the recipe that we have brought here!
Luxurious and creamy, you are certainly going to love this cake topped with rich frosting.
Don't be surprised if your kids ask for more and more slices after finishing them in a second.
Here is another amazing recipe for the salted caramel cake that we are sure you will find simple to follow as a beginner.
Made in several layers, and stacked with frosting, the cake tastes divine.
The famous snicker cake recipe with the combination of caramel and chocolate is outstanding and you should give it a try!
Enriched with the goodness of creamy frosting, they are one of a kind.
The recipe lives up to the title which it bears! Delicious and rich, the layer of caramel sauce and buttercream frosting makes you want more!
Enjoy a slide or two of the caramel cake with tea in the evening.
Bottom Line- So that's all for today! Try out these amazing caramel cake recipes throughout the holidays and make it sweet and delightful each day! Keep yourself engaged and surrounded with frosting, ganache, and crumblings as the season calls for you to put on your baking gloves and get started.