We all love to eat taco soups in winter when the weather is freezing outside and all we can crave is something warm and flavourful! However, if you do not know the right way to make them then you may not enjoy the best of their flavors. Whether you are a vegetarian or a meat lover, these yummy taco soup recipes are exactly what you should be looking for! Let us learn to make them with perfection, shall we?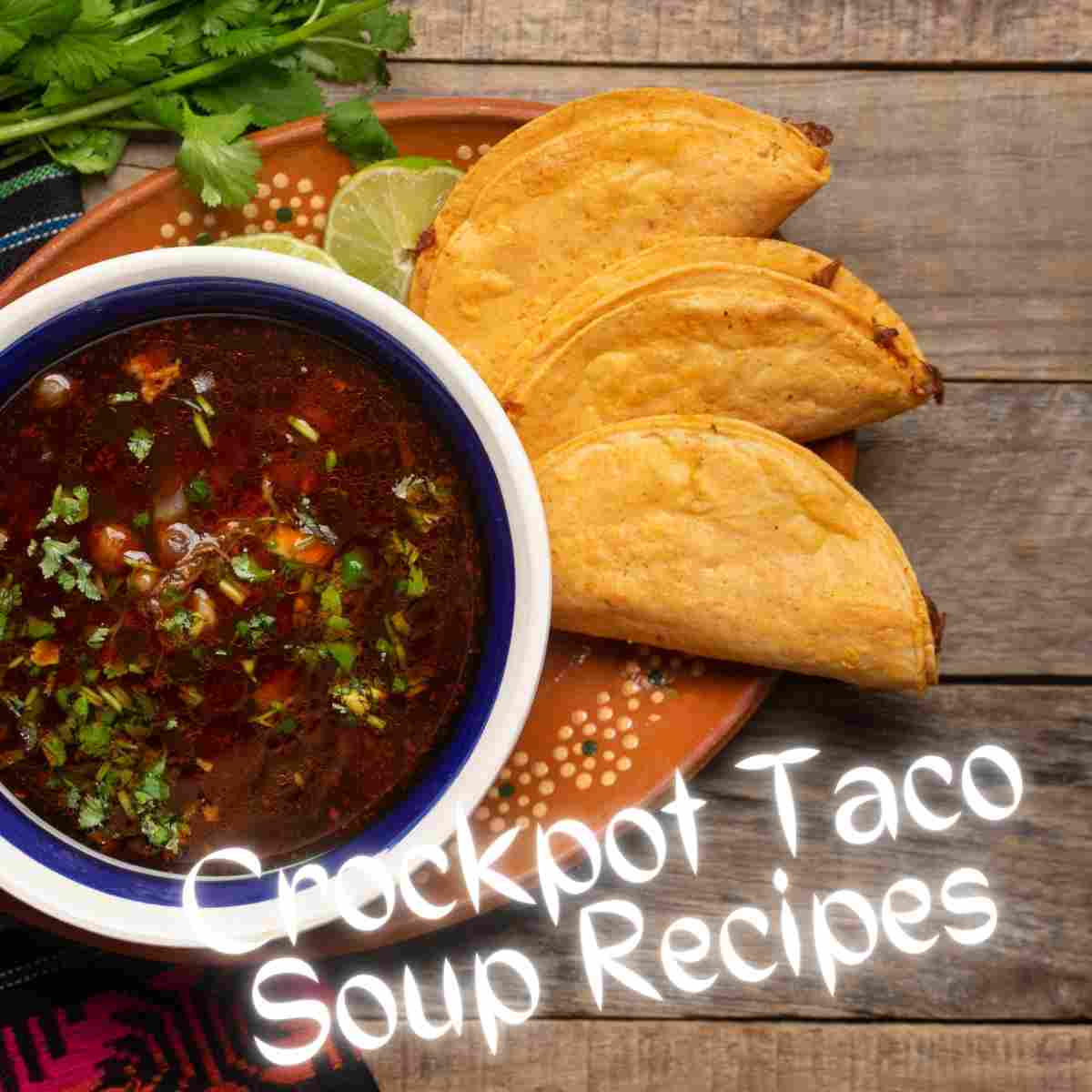 A simple process to making healthy taco soup
Firstly, you will need a couple of ingredients from the pantry, or if you do not have them in your home then head quickly to the stores to bring them! Tomatoes, kidney beans, corn, ranch dressing, taco seasoning, beef, or tofu are the main ingredients that you should collect before you begin.
What are the necessary steps in short-
Begin with scrambling the tofu in the hot skillet! If you are going for a vegan option then tofu is what you will need and blend it thoroughly to resemble ground meat.
Empty the bean cans and the ranch seasoning in another pan. Set it up on a medium flame.
Once the tofu is golden brown you can pour the taco seasoning into it.
Finally, all you need to do is pour the tofu into the mixture and allow the whole arrangement to simmer for a while once it is done serve it hot.
Adding some shredded cheese or cream is always great for garnishing.
If you are preparing a taco soup then instead of a pan you need to throw all the ingredients into a crockpot and pour enough water to cook the broth. Cover the lid and allow it to cook for about two to three hours and your taco soup is done.
Is there a special way to store taco soup?
If you have prepared a lot of taco soup and are worried that it will go bad then we can save you from that tension! Taco soup if stored properly can last about a whole week! Store in different air-tight containers or freeze them in portions! Take out one portion for each day and heat them to enjoy it warm!
Some useful tips and tricks to enjoying your taco soup-
The slow cooker is the right way of making taco soup. You can saute the veggies, and protein like tofu or beef in the pan but instead of compiling them all in another pan, you throw them all in a crock pot.
This shall take about two to three hours on high flame and six to seven hours on high fame.
The best part about taco soup is that you do not have to worry about storing them! Divide them into bowls and freeze them throughout the week! Bring a bowl out as and when you need to warm the broth and enjoy it hot!
What is the trick to thickening taco soup?
If the soup has excess water and it is too flowy then you can add two to three tablespoons of flour or cornstarch to the broth. You need to take one-fourth cup of soup and mix the cornstarch and then add it back to the crockpot where the main ingredients and the rest of the soup is brewing.
Delicious taco soup recipes to make this season
There is a reason why this recipe is called the best! You can get the soup ready within thirty minutes and enjoy it warm with a couple of pieces of bread toast.
2. Stove-top taco soup
Thank us later for this extremely fine and delicious taco soup created with beef meat and loads of veggies and beans! Perfect meal for dinner or brunch to indulge in!
3. Classic taco soup
Cooked with avocado, beef, and veggies, we have brought you the perfect classic taco soup for the winter! Savoury and smooth, a bowl of soup is enough to satiate your hunger. So shall we try making it then?
Are you ready to enjoy the paradise of soup with the creamy taco soup we have brought exclusively for this season? Being low on carbs and keto-friendly you can ravish as much as you want without a hint of guilt.
You should give a try to the smooth and juicy chicken tortilla soup created with the best of flavors. Whether you wish to engage in healthy delight during brunch or dinner, the veggie-filled tortilla soup with ground chicken is the best idea!
6. Homemade taco soup
How delicious and mouth-watering is this dish created with beans, beef, and avocado? Flavorful and rich, you will surely grow fond of this dish that perfectly expresses the tangy flavor of the broth. Use chicken stock to enhance the taste of the soup even more.
Test your spicy tolerance level with the spicy taco soup with chicken! And the best part is even after being loaded with spices, the recipe is completely gluten-free and flooded with nutrients that will enrich you at the end of a tiring day!
8. Creamy beef taco soup
Hearty and wholesome, you are certain to fall in love with the creamy beef taco soup after the first spoonful! Thank us later if it turns out to be the next family comfort recipe! Extra creamy to convey extra warmth!
If you were wondering why soups are too boring then here is a chicken taco soup that will change your ideas about soup completely! Flavored with tomato, cream, and cheese marinating the meat, it is a lovely choice for a weeknight dinner.
10. Easy taco soup
Making taco soup was never so easy! But right here is the most awesome taco soup recipe that is flooded with good beans, beef, avocado, and veggies! Creamy and smooth, what a tasty treat it is after a long day at work!
If you feel that you lack all the essential ingredients to make soup then worry not, we have the most basic taco soup prepared for you! Enjoy this dish over a hearty meal shared with your family during the weekend.
If you are having a lazy Saturday then gain energy for a sprightly Sunday with taco soup for Saturday dinner! Rejuvenate your taste buds and get energized with the yummy taco soup prepared with beans, beef, and greens.
13. Homemade taco soup
Here is another homemade taco soup recipe which is named so for the ease you shall experience while making it! Ask your partner to join you over the cooking session as you prepare the warm and wholesome soup for dinner.
14. Enjoy the perfect taco soup
The perfect taco soup is gorgeous and flooded with the richness of cream and spices! Juicy and warm, end your winter nights on a good note with the lovely taco soup! So what are you waiting for?
If you are tired of engaging in meat and beef all the time then you can try out the all-special vegetarian taco soup which is such an exotic recipe packed with veggies, and hot sauce! Served with a dash of lime, what a tempting choice it is!
We have come up with the extraordinarily creamy tortilla soup which you just can't satiate the heart with a single serving. Prepared in a crock pot, the dish is lovely to relish all over the year. So shall we make it then?
The soup with the combination of ground meat and veggies soaked in gravy is right here for you to indulge in! Rich and healthy, you can consume taco soup at any time of the day.
18. Slow cooker keto taco soup
There is nothing as smooth and savory as the keto taco soup created with beans, veggies, and beef! Relish your meal with a bowl full of soup and a couple of bread by the side. Shall we try it then?
Are you worried about skipping your diet too many times this week? But how to stop the unending cravings? We have keto-friendly and low-carb taco soup which you can relish for the season! What a brilliant dish to finish the day with!
20. Best taco soup recipe
It is understandable if you are busy throughout the day and yet wish to enjoy something delicious for a meal! Try out the super easy taco soup cooked with beans and avocado and loads of ground meat floating in the broth.
There is a little twist that we have come up with! The presence of spiral pasta in the taco soup gives it a distinguished taste! The flavor of tangy tomato and Picante sauce renders it to be utterly delicious in every bite.
22. Taco soup with ground beef
Looking for a soup recipe to try this season? Explore and indulge in the flavor of taco soup with ground beef! Juicy and flavorful, there are loads of veggies and spices to keep you hooked till the last bite.
23. Crockpot taco soup
If you are busy the whole day and do not have time to fix a proper meal plan then go ahead and toss all the ingredients in the crockpot and wait for the taco soup to get prepared. And the best part is you do not have to monitor the recipe and yet enjoy a relaxing soup at the end of the day!
A complete paleo-friendly dish that is flooded with the flavors of paprika, oregano, and veggies is right here to your rescue! Enjoy a bowlful of creamy taco soup any time of the day when you are craving something soupy and meaty at the same time.
Invest in something healthy and natural with the low-carb taco soup that you can enjoy throughout the week. Flavored with ranch dressing, the recipe is too good to miss out on!
26. Easy chicken taco
Filling and juicy, the flavourful chicken taco is cooked with ground meat and served with loads and loads of veggies! Garnished with avocado and lime, you should try it out!
Do not miss out on this wonderful recipe of taco soup created with ground hamburger and Rotel tomatoes and kidney beans! Extremely healthy and filling, so are you preparing it for tonight's dinner then? We guarantee that you will love the recipe!
Yes, you heard that right! We can make the taco soup in literally thirty minutes! Loaded with veggies and ground chicken, kids, as well as adults in the house, are assured to ask you for another serving of the soup and then more!
29. The classic taco soup
Let us help you to enjoy the creamy and succulent taco soup for the season with this amazing recipe right here! Packed with ground meat and nourished with the flavor of chicken stalk you will be highly impressed by the taste of it!
30. The easy taco soup
Trust us on this you are about to experience the most amazing taco soup of all time! And all you need is a crock pot, a few veggies, beef, and beans to enjoy this wonderful meal!
What a fabulous idea it is to indulge in the creamy beef taco soup which has got it all! Beef for meat lovers, veggies, and creamy delight, all in one!
If you are making taco soup for the first time then indulge in this recipe which is so easy and yet so delicious at the same time! Enjoy your brunch with the comforting taco soup to keep you company throughout.
Try out the chicken taco soup which shall top your list of comfort dishes after the first time! Smooth and savory, all you need is a crockpot and that is all to get it done with perfection.
34. Creamy chicken taco soup
How wonderful to dive into the world of a bowl full of taco soup! Enriching and spicy, the creamy chicken taco soup is perfect to call for dinner when you have a hectic day! Try it out for sure!
35. Easy taco soup healthy and gluten-free
How healthy and delicious is a bowl of taco soup when you had quite an exhausting day? Do not find the energy to make dinner, go ahead and enjoy this soup which you can freeze and repeat on busy nights!
Here is another recipe for a stovetop creamy chicken taco soup which gets ready in a jiffy! Delectable and smooth, everyone finds this so relaxing and warm on chilly winter nights. So shall we make it then?
Bottom Line
With so many recipes of taco soup to explore, we understand you need time to settle down and choose your favorite! So we leave you on that note to choose the dishes of your choice and go ahead and prepare the sumptuous dinner for tonight.