With autumn around the corner, you must be flooding your kitchen with pumpkins! Halloween and fall are incomplete without the sumptuous presence of creamy pumpkin soup! However, you might not always be successful in making the best soup in the world! You must have observed that sometimes they either run too pale or tasteless or too thin to call a creamy soup! Ever wondered how to solve this problem? Well, we have all the solutions to your worries! Read on to learn more.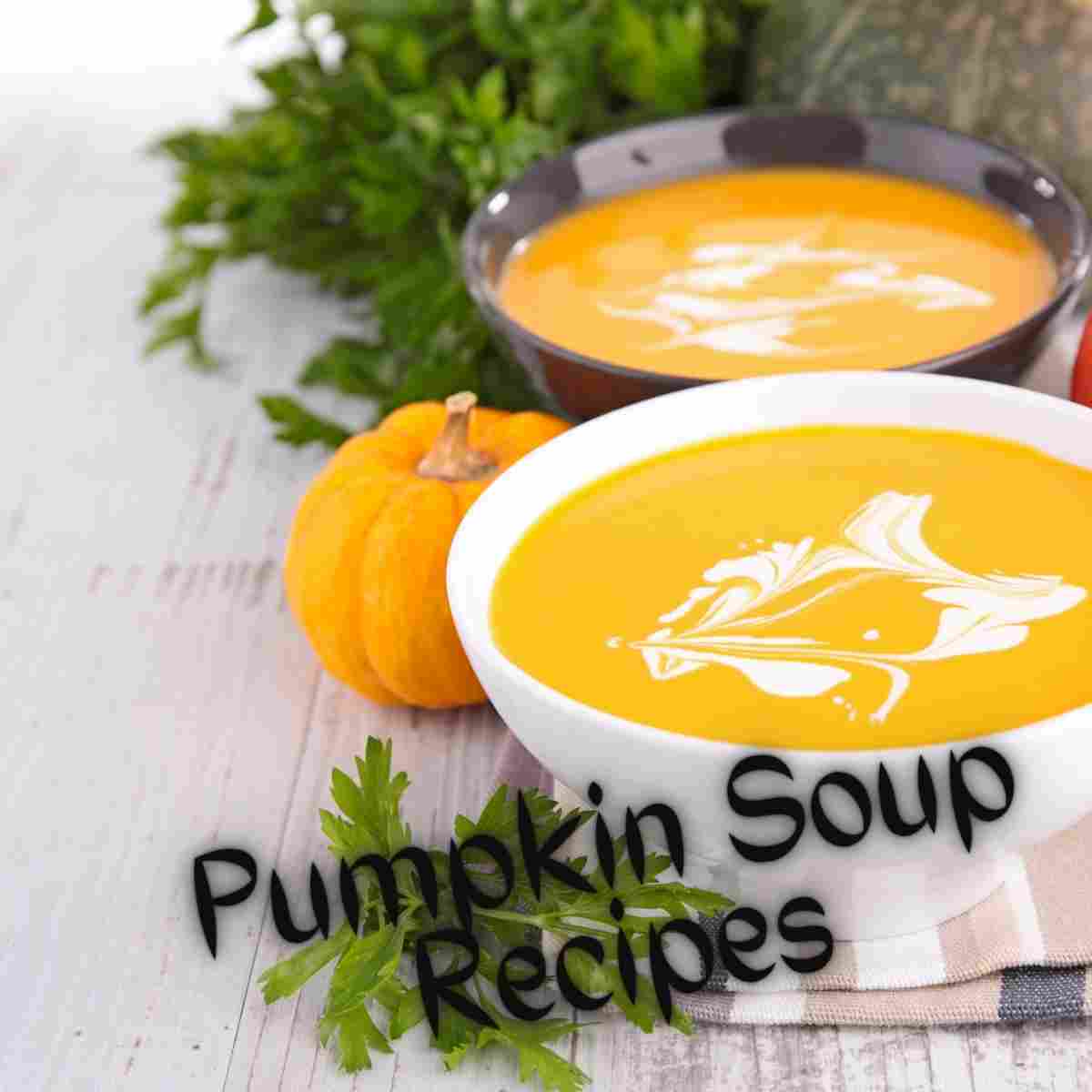 Some hacks to thicken your pumpkin soup
If you wish to enjoy a pumpkin soup during the fall which is not only delicious but thick and rich then you must try out these easy hacks-
Addition of cream and yogurt- if you can add some spoonful of cream or yogurt to your soup then it is possible to thicken the consistency of the broth! Yogurt is even more effective than cream! However, after the addition of cream or yogurt do not put it to boil again or it shall split.
Blend thoroughly- Sometimes it may happen that some of the ingredients in the soup may not blend properly and form lumps! As a result, the rest of the soup might remain thin and watery due to a lack of proper blending! When you are making soup, all the ingredients in the recipe must blend thoroughly!
Add some flour or cornflour- If you have followed the steps properly and even then it seems that the watery portion is a tad bit extra then we have a solution for you! Take a small bowl and mix two to three tablespoons of cornflour or corn in water and blend it well! Add this mixture to the boiling soup and soon your broth will have a thicker consistency. Simmer for a while so the flour mixes well with the soup to avoid any floury flavor.
You can make butter and flour paste- flour and butter paste is highly effective in thickening the soup. All you need to do is blend two teaspoons of butter with an equal amount of flour and add to the soup while it is on a simmer. Butter effectively spreads the flour molecules all over the broth and gives it a thicker consistency.
Pour some lentils or rice- you should cook lentils or rice in a different container and when it is cooked completely you may add it to the soup to thicken its consistency! This is an effective solution if you wish to enhance the taste and consistency of the broth! Plus a soup with lentils or rice is quite wholesome and filling!
Thick soup must be fine but how to make it creamier? After all, that is what we are more concerned about! Let's see!
How can you make your pumpkin soup creamier?
1. Pour cream- this is the most common option that we have on the list so it comes first! To make your soup silky and smooth, add some cream to it! Pour a few spoons or a cup full depending on how much you are willing to make it creamier! However, remember that the more the cream the harder it is to digest it. So be careful when you choose the quantity of cream to add.
2. Add some bread crumbs- soak some pieces of bread into the soup and keep it in a separate cup! Puree this and add it to the main pot containing the rest of the soup and mix it well!
3. Pour some yogurt- it is to be noted that a yogurt is a great option when you are making the soup creamier and smooth! It is light but at the same time gives a silky touch to the broth! So it does not matter if you add more and more because yogurt will always be light on your tummy!
4. Adding some ground nuts- nuts like cashews are a great option when you wish to give a smooth consistency and thickness to the soup! In fact, they were the first ingredient in the history of soup used as a natural thickening agent.
Oops, amidst all these discussions, we almost forgot to explore the recipes! So shall we?
Enriching and smooth, the easy seven-ingredient soup recipes are delicious and flooded with the goodness of fresh pumpkin pulp. Get it done within thirty minutes.
Delectable and smooth, you are surely going to fall in love with this dish that shall be your perfect companion during the fall season! Make it every day and enjoy the goodness of pumpkins for sure!
3. Twenty-minute creamy pumpkin soup
Here is a completely vegan dish that you can enjoy at any time of the day! Savory and rich, the creamy pumpkin soup is ready in just twenty minutes. Here is a complete gluten-free dish made with a hint of maple syrup and thyme!
Relish the silky and gorgeous pumpkin soup prepared with flavourful ingredients for the season! Whether you are coming home after a tiring day, the pumpkin soup is such a comfort at the end of the hustle.
The gorgeous creamy roasted pumpkin soup is right here to sway you off your feet! Thick and sprinkled with warm spices, the dish is simply so outstanding that you will not be satiated with a single bowl full. 
Garnished with peanuts and herbs, the roasted vegan pumpkin soup is exotic and such a great recipe for you to indulge in! The combination of smooth cream and herbs makes it the ultimate comfort of the fall season.
Savory and bursting with flavors, the recipe for creamy pumpkin soup is the ultimate delight for the season! If you are in the mood for something refreshing and healthy then surely give it a try for sure!
Savour the goodness of the traditional pumpkin soup which is also a gluten-free recipe so you do not have to bother about your diet! The smooth and velvety texture of the broth will compel you to reach out for more and more of the same!
9. Creamy potato and pumpkin soup
The autumnal soup will leave you with a sense of warmth and fulfillment! Here we have the perfect recipe which is loaded with bread crumbs and small cubes of potatoes which are sheer treats to the taste buds.
If you are looking for a filling vegan soup then the roasted pumpkin soup recipe is ideal for you to relish! Gorgeous and delightful, you will surely grow fond of this recipe that warms you up right up to your core.
Try out this amazing pumpkin soup recipe to celebrate the arrival of the falls! Gorgeous to serve as starters to the meal, the guests will praise your efforts to make the best soup in the whole world.
12. Keto creamy pumpkin soup
Try out the outstanding flavors of the creamy pumpkin soup recipe that we have exclusively here for you! But if you are worried about your diet then let us tell you that this one here is low on carbs and a keto-friendly dish as well.
It is alright if you couldn't find fresh pumpkins from the store or made jack-o-lanterns out of them all! We have the creamy pumpkin soup here which is prepared with canned pumpkins and warm spices that taste so divine indeed!
Thank us later for this recipe of gorgeous pumpkin soup that you can try out on any weeknight! Exhausted after hustling the whole day? Go ahead and make the pumpkin soup to refresh your mind and tummy!
Do not bother about the cream because after all, we have the low-carb soup recipe right here for you! What a fantastic idea to begin your day with! A warm bowl of pumpkin soup right in the morning to refresh your soul!
We have a completely vegan recipe with loads of pumpkin and the flavor of warm spices to make your day a comforting one! Need some energy in the middle of a busy day? Warm up a little soup and drink it!
17. Extremely yummy fall soup
With the autumn season knocking at our doors, how can we miss out on the extremely yummy fall soup with fresh pumpkin pulp, nuts, cream, and spices?
The spicy smoky paprika is what you need to give a warm touch to ordinary pumpkin soup. Flavourful and rich, thank us later for a hearty meal that you are about to enjoy this season. Shall we make it then?
We have this absolutely healthy vegan recipe for pumpkin soup right here for you! Gorgeous to serve on the table with garnishing on ground nuts, this is a unique recipe prepared with loads of veggies! So you can imagine how healthy and juicy it's gonna get!
20. Spicy Thai pumpkin soup
Spicy Thai pumpkin soup is an assorted broth that everyone should prepare with the advent of the autumnal season. Flavored with rich spices, garlic, and chili, you are about to get a mouth-watering experience.
Pumpkin soup with butternut squash is thick and savory in every bite! Cooked with veggies like carrots, celery, and onions, the flavor of the soup is manifold-enhanced. So we guess you know what to prepare for tonight?
22. Curry pumpkin soup recipe
The exotic curry pumpkin soup is right here to sway you off your feet! The dash of coconut milk gives a thick consistency to the broth and the presence of sweet potatoes and apples renders it with a divine taste!
Enjoy the creamy pumpkin soup recipe that is so easy to emulate even for beginners! Flavored with warm spices and garnished with rosemary, the pumpkin broth is ideal to celebrate the beginning and arrival of the joyous fall season.
24. Creamy pumpkin soup with mushroom and chestnut
We are in love with this exotic creamy pumpkin soup topped with chopped and tender mushrooms! Sprinkled with some chestnut to give a thicker consistency, you must try out this recipe to enjoy the fall season thoroughly!
Are you ready to experience the wonders of the creamy keto pumpkin soup flooded with the richness of pumpkin and warm spices? The perfect way to cool yourself down after a tiring day at work! So dig in!
26. Creamy spiced pumpkin soup recipe
Ready in just twenty minutes, the creamy spiced pumpkin soup recipe is the best of the lot! Smooth and savory, you are absolutely going to be smitten by the look of this velvety yellow broth! Next comes the taste to sway you off your feet.
27. Slow cooker curried pumpkin soup
Do not have to worry about the calorific content that you are going to ingest anymore with the curried pumpkin soup which we have right here for you! Made in a slow cooker, the soup is ready in a jiffy!
28. Coconut curry pumpkin soup
The combination of coconut curry and pumpkin is what is going to render you a fresh experience! Mild and savory, the smooth broth is outstanding in a word. Enjoy the subtle essence of cilantro as well!
The creamy pumpkin soup is an all-time classic with the arrival of autumn! Every household is busy making bowls and bowls of pumpkin soup to relish the flavors of the season. You should try out this recipe too!
30. Skinny pumpkin soup
Let us try out the skinny pumpkin soup which is a completely gluten-free dish and low on calories! And yet you can enjoy the creamy consistency and flavor of your heart's content. Shall we then?
Do not forget these tips while making pumpkin soup
1. Pick your pumpkin right -
It is the quality of the pumpkin which determines how well your soup will turn out to be! Always go for fresh pumpkins from the store instead of canned ones if you wish to experience the seasonal essence.
2. The more veggies the better-
We are looking for a soup that is not only yummy but also enriching to our bodies! So it is a must to have more veggies in it! Needless to say, potatoes, leek, and onions are some of the common veggies which go into a classic pumpkin soup!
3. Swap water for the stock-
Make use of chicken or vegetable stock to give a thicker consistency and richness of flavor to the soup! Water is alright but if you are aiming for the best pumpkin soups in the world make sure you have some chicken or vegetable broth to add to the recipe.
Bottom line- these are some of the essential tips which will enable you to cook your pumpkin soup with perfection. So get ready with the pots and pans and prepare the best pumpkin soup for this autumnal season.