Craving seafood? Try these easy shrimp and lobster recipes! Whether it's a special dinner or an easy weeknight meal, we have delicious and easy recipes perfect for any occasion. Spice up your meal with these easy recipes and tantalize your taste buds with the perfect seafood dish!
More collections: Grilled Shrimp Recipes, Salmon Recipes, Shrimp And Rice Recipes, Smoked Haddock Recipes, Whole30 Salmon Recipes, Whole30 Shrimp Recipes For Dinner, Black Cod Recipes, Arctic Char Recipes, Corvina Recipes, Blue Crab Recipes, Shrimp And Crab Recipes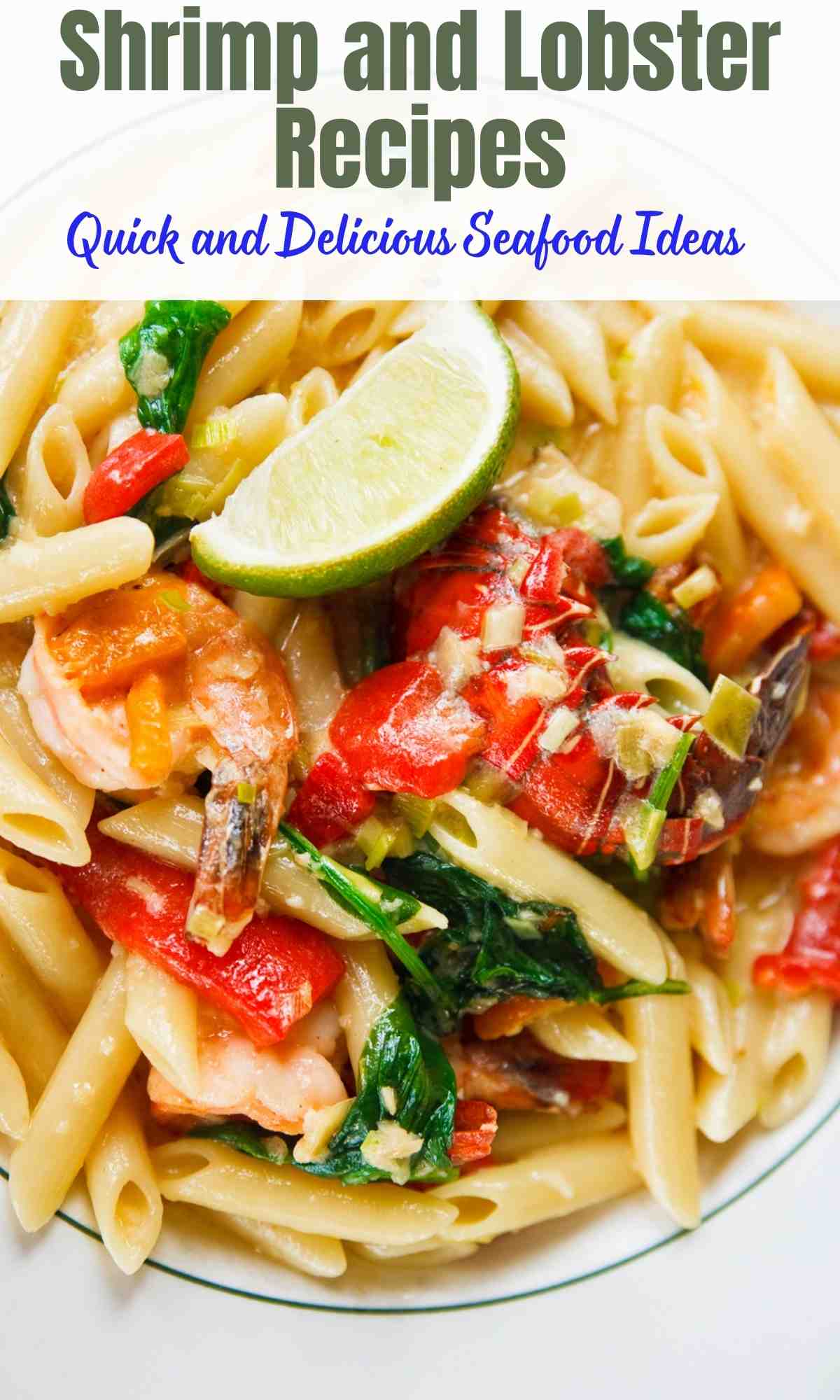 Lobsters are usually bought during occasions and special events! It is rather tempting to observe that big fat lobster seated on the table. When you are making lobster, however, there are a couple of steps that you need to follow and keep in mind! With your preparation right, there is nothing that can go wrong with your shrimps! Ah, that's right! We are going to discuss shrimp and lobster all at once so you can combine them both in a dish. We can hardly wait to share with you the gorgeous shrimp and lobster recipes, so hold tight and join us on this ride.
Table of Contents
Technique to storing live lobster
In the case of seafood, the fresh version always yields the best result. Storing live lobsters is often a situation you will encounter while making them! Nobody probably wants a dead one, so you have to learn this technique. It is always better for you to buy the lobster and then make it then and there. Until you cook them, store them inside the crisper drawer of the refrigerator. You can line the drawer with wet newspaper and store the lobsters ideally before you get them done.
How to determine that your lobster is fresh
When you are buying in the supermarket, there are ways to tell whether your lobsters are fresh or not. The only way to determine so is to let them be kicking and alive. The legs and claws should move and the tails should curl and uncurl.
This is to be noted that lobsters can remain alive outside water for several days. However, you need to handle them well so that the flesh remains moist and succulent.
If you observe that the lobsters are sluggish and lethargic then the probable reasons will be that it is probably on the verge of death! You should cook such lobsters right away. Dead lobsters decay and disintegrate very quickly and the meat does not remain fresh and tasteful either. A frozen lobster tail is still fine but a whole frozen lobster is something that you should avoid at all costs.
What is the way to kill lobster?
Again if you are making lobster at home, these are some basic steps that you need to keep in mind! A lobster needs to be killed in a particular way! The head is first immersed in a pot of boiling water. This is done after freezing is done for fifty to sixty minutes. A short spell in the freezer will not kill it outright but you need a different approach towards it. Freezing will turn it sluggish so it will not hop around in the pot as well as prevent overcooking.
You are not supposed to hit the lobster on its head as it can kill the lobster and lead to brain hemorrhage called hemolymph which will drain the blood into the fluid and deprive it of its flavors.
What is the size of the pot in which you should make lobster
The size of the pot must be large so that the entire lobster can be dipped into the pan and the water does not spill out. For three to four lobsters you need 16-quart pans.
Boiling is the most common technique which is used for making lobsters. This way the flavors will remain intact. You need a pot of salted water and fifteen minutes to accomplish the job. Screaming, grilling, broiling, and so on, are methods that are used for making lobsters.
Here are some shrimp and lobster recipes to try out this season.
Delicious Shrimp and Lobster Recipes - Easy Recipes for Any Occasion
The combination of lobster and shrimp in the bowl of soup gravy is indeed the best thing that you will come across. Succulent and rich in flavors, you must give it a try!
The fleshy lobster meat is soaked in gravy and served with herb gravy! Gorgeous and gooey, you can enjoy this one with rice on the side! Perfect to relish for brunch this week. So what are you waiting for? Make it today!
This combination of shrimp, lobster, and steak is lovely and perfect for the seafood lover! Delicious and cozy, you shall be smitten with every bite. This is an incredible idea and leaves you tempted for more. Shall we then?
If your pasta is not tempting enough then the lobster pasta is the best thing! The sumptuous creamy garlic sauce renders you simply speechless. Savory and rich, you ought to indulge in its blissful taste. Go for it already! 
The combination of shrimp and lobster is marvelous and always does wonders when you add them to your pasta! Delicious and succulent, you will definitely come back thanking us for the idea later on. So let's get started with the preps, shall we?
If you are looking for something unique to make then the blackened shrimp and lobster pasta is perfect! So you know what to make for dinner tonight! What a gorgeous treat for the weekend we must admit!
If you are fond of shrimp and lobster then you should go ahead with this shrimp and lobster sauce which can be literally consumed with anything that you want! There is no need to thank us for the idea! Your pleasure, our delight.
The idea for shrimp scampi with lobster is wonderful and packed with great taste! The subtle influence of seasoning over shrimp and lobster makes them taste simply divine. If you are looking for a unique scampi recipe, this is it!
Ah, to make your mac and cheese even more irresistible then you should go ahead with the detectable mac and cheese with lobster recipe that we have for you right here. So what are you waiting for? Make it today!
The red lobster shrimp scampi copycat dish makes it easier for you to enjoy your favorite dish at home! Succulent and cozy, you ought to indulge in this recipe. This is a budget-friendly recipe, with parmesan shaving drizzled on top.
The combination of steak and lobster tastes so exclusive indeed! Cozy and creamy, the Italian cream sauce is right here and makes you drool for it in every bite. So what are you waiting for? Make it right away!
The classic shrimp and lobster ravioli is the most spectacular recipe that you should indulge in this season! Packed with cajun cream sauce, the dish is awesome and perfect to relish for a meal!
Did you try lobster rolls before? If you haven't then you have to make this recipe at home and experience its divine flavors! Perfect to serve as an appetizer, you should give it a try! So what are you waiting for? Make this one right away!
Well, for a seafood lover, this will become impossible for you to resist your temptations from including the red lobster shrimp scampi in your meal! Gorgeous and gooey, you should give it a try. So shall we then?
The best of the three is all brought together in this one recipe making it such a huge success! If you do not believe in our words then perhaps you have to try out this shrimp, lobster, and crab-baked macaroni all by yourself.
If you assumed that shells are all useless then this recipe will prove you absolutely wrong. Here is the creamy lobster shrimp shell recipe with succulent stuffing that makes them so extraordinary and savory in every bite.
There is no way you can miss out on the lobster casserole especially if you are a seafood lover. Perfect if you are feeling lazy and still wish to try out something nice without involving much effort.
Well, if you were looking for something unique then we will help you to make it with the chicken breast stuffing platter right here! Filled with lobster and shrimp meat, you should give it a try!
What a marvelous creation we must admit. The Lobster cake is lovely and loaded with a rich lemony essence! Drizzled with dill yogurt sauce, you ought to indulge in this right away! Then what are you waiting for?
Making this dish is so easy that you will not be able to believe it in your own eyes! Perfect after a busy day, make your dinner special with shrimp and lobster served with gravy on warm steamed rice. Shall we?
Other recipes you should check out: Halloween Mini Pie Recipes, Finger Food Recipes, Last-Minute Halloween Snacks, Halloween Dessert Recipes, Halloween Smoothie Recipes, Halloween Bark Recipes, Sushi Balls Recipes, Halloween Bento Box Recipes