From grilled to baked, try top kingfish recipes and learn how to prepare kingfish in delicious, easy-to-follow ways. Our best kingfish recipes will have you mastering this seafood dish in no time!
More collections: Shrimp And Crab Recipes, Shrimp And Lobster Recipes, Shrimp & Scallop Recipes, Christmas Seafood Recipes, Redfish Recipes, Yellowfin Tuna Recipes, Spicy Shrimp Recipes, Bluefish Recipes, Salmon And Rice Recipes, Spinach And Scallop Recipes, Fish And Rice Recipes, Dipping Sauces For Shrimp, Lingcod Recipes, Classic Fish Sauces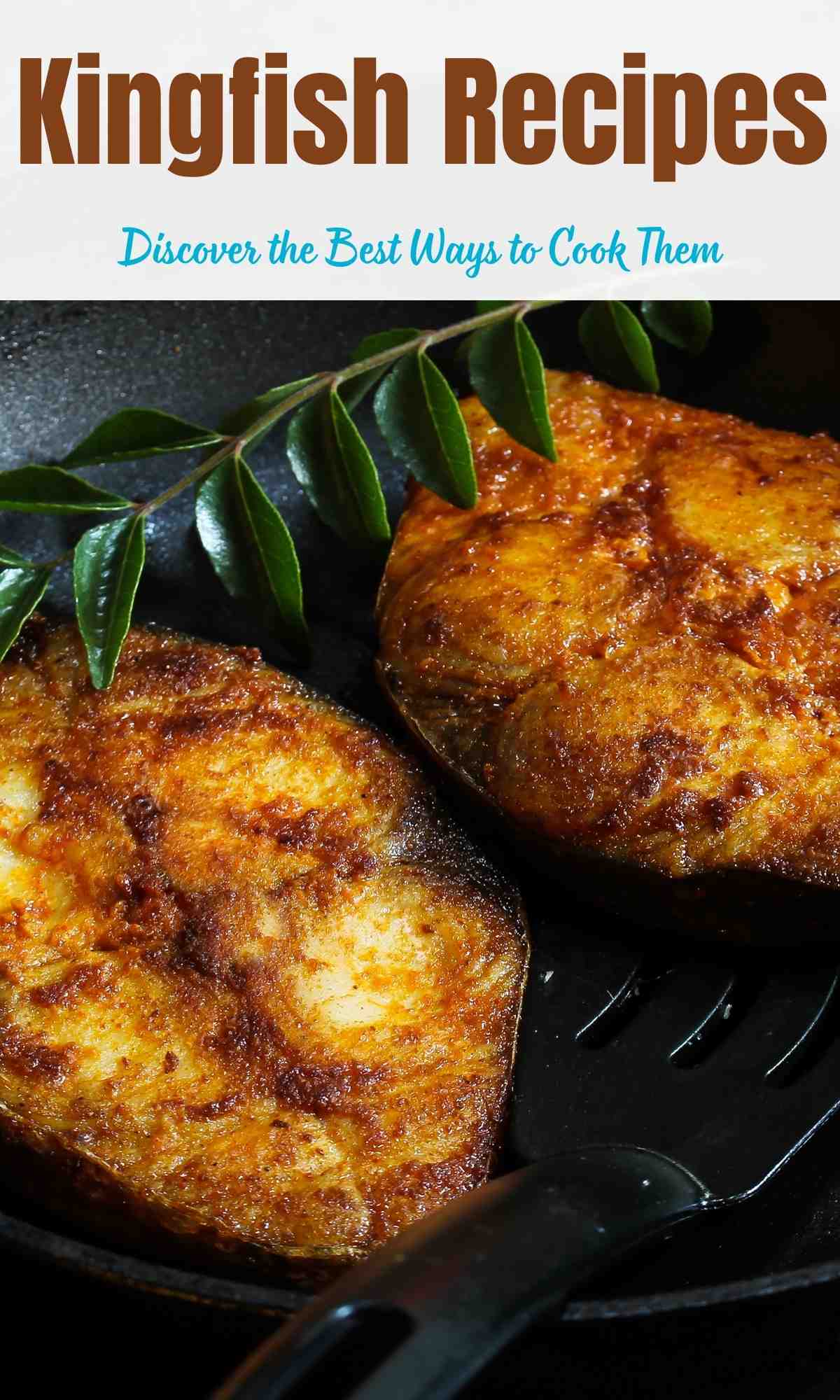 Well if you are a seafood lover then you must be wondering what options you have got! Whenever you are in the fish market, we understand if you get this irresistible urge to buy all sorts of fish! Have you ever come across kingfish? Did you think about purchasing it but didn't have a clue about how to go about the process of cooking? Well, then this article is meant for you exclusively. Cooking kingfish is super easy and if you do not know much about it then we have this article which will share some insights about this topic!
Table of Contents
What is a kingfish?
This is to be noted that kingfish is a king of mackerel which is found on the coast of Florida! They are also common in the southern states. The length of the fish can go up to six feet and the weight of these fish is as high as 100 pounds. These are called the game fishes which are an exciting catch for the anglers.
Do people eat kingfish?
Here is a good question for you! If you have never tried cooking them at home, this can be a very informative column for you! So are kingfish edible? From steaks to baked and pan-searing, there are several ways in which you can serve the kingfish and they taste simply the best. However, smoking kingfish is the most effective way of cooking them!
This technique brings out the taste in such a way that no other recipe ever can! However, grilling, baking, and frying are other methods that you can try with kingfish! This is an oily and fat-filled fish and hence cooking such fish requires some different approaches as well. Hence we would like to admit that deep frying the fish can make it slightly greasy and hard to consume because of how oily the plates can become.
So what does a kingfish look like
Bearing razor-sharp teeth, the kingfish is a wonderful sight to encounter in water as well as while you pose and flaunt your catch! In fact, even in the stores, these are laid so beautifully on the counter that they are bound to catch your attention.
You will be delighted to know that, unlike other game fish, the taste of kingfish is n
not very fishy, and hence they are much more subtle and light on the taste buds. This has a rich and sweet taste which can be quite appealing to many. Being firm and flaky, the texture of the fish is admirable as well. These fishes are often served in chowder, salads, and dips too.
Is it possible to eat kingfish raw?
This is to be noted that having kingfish raw is a very common way of consuming this fish! They are often served in sushi and sashimi, and the firm texture of the fish makes it nice to eat raw! The absence of a fishy smell makes it taste so good. Only the cheeks of the fish are cooked while the flesh is served raw in restaurants and so on. However, this is to be noted that the kingfish is high in mercuric content and hence you are always precautioned against eating it all the time.
So that is more or less you need to learn about cooking kingfish! Now that brings us to the end of the first segment! Let's now discuss the kingfish recipes that we have listed below for you. Let's get started then?
Delicious Kingfish Recipes: Quick and Easy Meals for Any Occasion
The tender and flaky kingfish is seasoned in herbs and served with sauces over creamy mashed potatoes!
Flavorful and rich, you ought to give it a try right away. If you are trying out kingfish for the first time then you are about to get smitten completely.
This is an authentic New England fish chowder recipe flooded with great taste! Rich and creamy, this fish tastes so divine!
If you are planning to have chowder then you must go ahead with this idea right away.
If you want to experience the best, then the kingfish roasted in butter is a smooth and savory dish for one to indulge in!
Served with Provencal sauce, this is an incredible treat that you should not miss out on.
Savory and flooded with the rich essence of lemon and garlic butter sauce, you ought to give it a try! So shall we try it then?
Ah, what a delightful idea to relish during the holidays! Savory and rich, this authentic Pescado en Escabeche is lovely and loaded with great taste!
Served with veggies and sauces, you ought to indulge in its blissful essence! Let's make it then?
Are you looking for a seafood dip? Then you should go ahead and prepare this recipe right away!
Ah, smooth and luxurious, this idea is fascinating and drizzled with herbs to provide a subtle essence.
So what are you waiting for? Let's try it then?
The combination of kingfish with cabbages and bacon is the ultimate treat of the season.
Packed with greens and meaty delight, you must give it a try! Easy to cook, the pan-seared kingfish is ready in no time.
Try out making the grilled kingfish steak recipe! Gorgeous and gooey, the flaky and tender texture will melt in your mouth to leave you craving for more.
Scrumptious and packed with great flavors, to be honest. Shall we then?
Rich in proteins, and packed with great taste, this surmai or kingfish fry can be served with lentils on the side.
A light and comforting meal, this one turns out to be an incredible and savory dish to make in a jiffy.
The authentic Norwegian fish soup recipe is such a gorgeous treat for the season!
Served with a soupy gravy seasoned with herbs, you ought to make this one right away.
There is no doubt you will come back later thanking us for the idea!
Now you can make the fish cake with kingfish and when you grab a bite, trust us that you can hardly resist yourself!
Crunchy outside and tender inside, make this one right away. So what are you waiting for?
Well, for all seafood lovers, here is some good news for you! Now you can make yourself the most amazing seafood kingfish ceviche with the recipe that is right here.
Savory and succulent, this one is the best to opt for.
Making the grilled kingfish steak is the easiest thing to do! Packed with great taste, the grilled kingfish recipe is lovely and loaded with smokey essence in every bite.
Drizzled with some lemon juice, you can munch on them as a side dish with rice.
Making the slow-cooked kingfish salad is super easy but it requires some patience!
Guess what, the outcomes are very simple. Savory and rich, this idea is brilliant and served with greens and rich dressing! So what are you waiting for?
Marinated with the right dose of seasoning and herbs, this crispy shallow-fried kingfish is one of a kind.
Savory and luxurious, this dish is such an exclusive treat to go with fish. Let's not waste a single second more and get started already!
The combination of onions, fish, bell peppers, and tomato in this hearty soup makes up for a gorgeous stew in the night.
This classic Brazilian fish stew is one of the most amazing ways to summarize your meal during the winter.
If you have some kingfish fillet in the refrigerator and are wondering how exactly to cook it, then here is a curry recipe that you ought to try out.
Packed with great flavors, this one turns out to be simply the best.
Smokey and rubbed with herbs, this chili-grilled kingfish is the best thing to indulge in this season.
Tender, flaky, and light, you will regret not making it before! So what are you waiting for? Cook this one and find out.
Marinated in rich spices, the Goan kingfish vindaloo recipe is loaded with great taste!
Delectable and spicy, you shall feel like you have been teleported right to the beaches with this authentic coastal seafood recipe. Shall we get started then?
This kingfish with tausi sauce is flooded with great taste and served with black bean sauce!
Rich and saucy, this kingfish recipe is unique and you ought to give it a try! Drizzled with herbs, this is one of a kind.
Other recipes you should check out: Kohlrabi Recipes, Chowder Recipes, Traditional Mexican Soup Recipes, Greek Lemon Chicken Soup, Pumpkin Soup Recipes, Tasty Crockpot Taco Soup Recipes, Creamy Corn Casserole Recipes