Enjoy delicious blue crab recipes from the comfort of your own home! We have a variety of easy-to-follow blue crab recipes using fresh ingredients, perfect for any occasion. Try one today and create something special with blue crab.
More collections: Grilled Salmon Recipes, Delicious Shrimp Recipes, Grilled Shrimp Recipes, Salmon Recipes, Shrimp And Rice Recipes, Smoked Haddock Recipes, Whole30 Salmon Recipes, Whole30 Shrimp Recipes For Dinner, Black Cod Recipes, Arctic Char Recipes, Corvina Recipes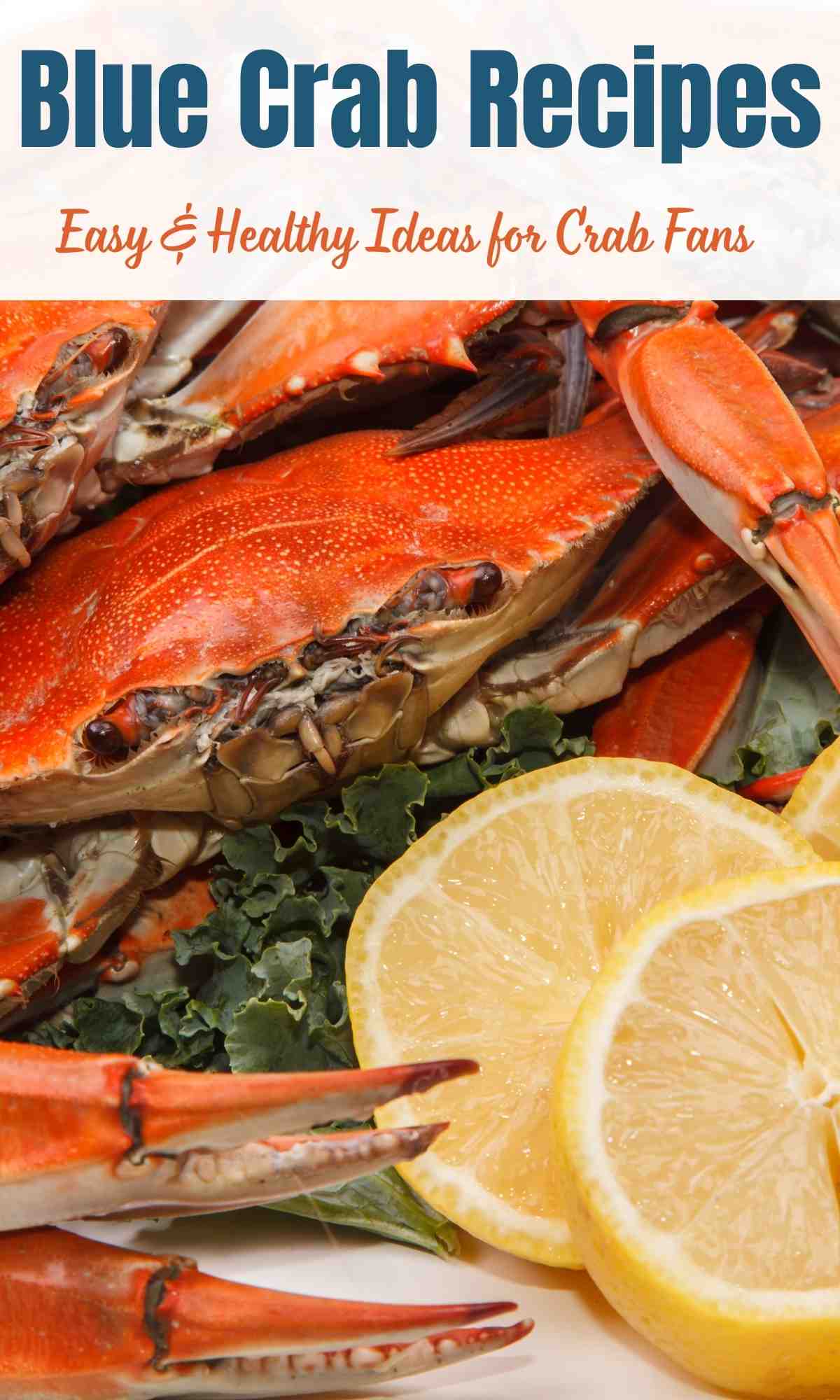 If you are fond of Blue Crab and wish to make it at home then you are looking at exactly the right place! As long as you are aware of how to cook them and the techniques of marination, preparing them at home is no big deal!
This article is exclusively penned down for seafood lovers and you will definitely fall in love with its extraordinary flavors! Why do you need to head to the restaurant when you can make this gorgeous seafood at home? So let's get started, shall we?
Table of Contents
Technique to pick and consume Blue crab
Picking, removing the shell, extracting the meat, and consuming crab is a technique! You need to learn it so you make no mistakes. Here is a gist of how to do so.
First of all, you need to remove the claws and the legs with the aid of twisting them at the base. Now you need to peel back the apron which is found on the undersurface of the body. You need a knife to accomplish the job. Then the gills are removed by peeling them away from the surface of the shell. The crab mallet or cow cracker is used to gain access by cracking the claws and then extracting the meat!
Briefly discussing the technique of making blue crab at home
Either steaming or boiling, these are the two important techniques that one needs to use as they prepare crab at home. These are the primary methods of processing the crab meat so it turns out to taste good. While boiling, you can season the water with salt and bay seasoning so that the meat tastes wonderful. It takes about eight to ten minutes for the crab to get cooked completely! The bright orangish red color is the indicator that your crab meat is ready.
Tips you need to follow while purchasing crabs
You cannot pick up random crabs from the supermarket assuming they all taste good! The quality of the crab and its freshness is determined by a couple of deciding factors! So when you are buying crabs, these are a few things that you need to keep in mind.
1. Buy fresh and living crabs
You should never buy crabs from the market which are dead! Live crabs guarantee that the taste will be strong and the meat shall be fresh. Dead crabs are toxic because the bacteria from their digestive tract become active and attack the meat under the shell. Sluggish crabs can be sick or nearing death so you should never purchase them! Coastal areas offer the most fresh crabs although you will get them in the nearby supermarket as well if the supplier is trustworthy and offers good ones.
Do not go for broken crabs either! You should always opt for crabs that are whole and motile.
2. Buy crabs with more meat
So how to find out that the crabs have enough meat? If the shell is thick and the crab weighs more then rest assured there is a lot of meat inside the shells. Brittle shells with light weighted crabs have less meat inside as they are probably young and immature. Meat makes up for ¼ th of the total weight of the crab body.
You are expected to freeze the crabs as soon as you buy them and before it is time to cook them! An open container with salt water keeps the crabs partially alive and fresh. You are expected to keep them chilled until it is time to prepare them.
Delicious Blue Crab Recipes to Try at Home
If you wish to enjoy something succulent and luxurious for appetizers then the Blue Crab beignet is the best idea!
Delicious and meaty, you ought to try out this one. Shall we?
Making blue crab curry at home with rice is the best Sunday brunch idea! The spicy flavor is ideal for everyone who wishes to enjoy their blue crab hot, spicy, and sizzling.
Make sure you do not miss out on this delectable treat, especially for seafood lovers.
If you enjoy crabs then this recipe is perfect for you! The crispy claws with succulent meat inside taste so gorgeous!
Delicious and crunchy, you can try it out next time you spot crabs in the fish market.
Now there's no way you should miss out on this recipe which tastes divine!
In fact, it is the sight of the dish which is making us drool, so will you once you make it at home.
The crunchy Blue crab is delicious and cooked with rich pepper and succulent onion and gravy!
Rich and cozy, the recipe is fascinating and loaded with the seasoning of your choice!
What a tempting side dish to relish if you have a weakness for seafood.
The combination of blue crab with spaghetti tastes so amazing! This duo is indeed a match made in heaven!
Delicious and succulent, you must give it a try! There is no doubt you will come back later thanking us for the idea!
If you wish to try out something nice and cosy with blue crab then we have found you just the right dish!
The crab panini is amazing and leaves you craving more. Shall we then?
Well, when we came across the deviled crabs, we knew this is a unique recipe and we have to try it out!
Gorgeous and rich in flavor, you can serve this one as an appetizer to the main course. Try it out already!
What a game-changer dish it is! If you wish to impress your guests coming over this weekend and win their hearts then here is the key to that.
The gorgeous blue crab claw served with white wine sauce is simply the best.
The steamed blue crab is another exotic treat that we are sure will fall in love with the very first bite.
The best part is that it is so easy to make and ready in a jiffy.
The creamy and gooey fresh corn with blue crab bisque provides you with a sense of ultimate delight and contentment for your taste buds!
Rich and smooth, you ought to indulge in its blissful taste!
If you have never tried crab cake then all we can say is that you are truly missing out on something extraordinary!
So let's not waste a single moment more and get started with the preparations! shall we then?
The steamed blue crab with Old Bay is a classic choice of dish! If you like to eat Blue crab then you must have tried this recipe before!
Old is gold as we know, do make it again if you bought fresh crabs from the market.
Asian cuisine tale blue crab recipes to the next level! If you wish to find out how then the Garlic butter crab recipe is a must-have! So what are you waiting for?
The marinated blue crab claws are another wonderful recipe that we are sure you will definitely be fascinated by!
Crunchy and succulent, you will definitely get the craving to make it again again.
So if you wish to experience the coastal aura, you know what to make this afternoon.
What an incredible idea if you wish to indulge in something nice and enriching!
The spicy flavors of the cajun crab are something that we are sure you will find very hard to resist! So why resist at all? Dive in quickly.
How can you miss out on deep-fried crab? This is the king of all recipes! Crabs are better experienced crunchy and succulent at the same time.
So make the crispy deep-fried crab today!
Ah, what an incredible idea! Juicy, smooth, and succulent, this recipe is lovely and leaves you tempted for more.
Perfect to begin your meal with, the soupy treat is something you shouldn't miss out on. Go for it today!
Did you try out crab pasta before? What, you didn't? If you haven't, then all we can say is that you are truly missing out on something exclusive!
Make the delicious plate of pasta with crab today and enjoy it to your heart's content.
We are talking about the all-time special Crab marinara!
Fabulous and flooded with great taste, the crab marinara is the best thing we have come across, and had to add it to the list.
Other recipes you should check out: 
Meatball Recipes, Salisbury Steak Recipes, Mississippi Chicken Recipes, Broccoli And Chicken Stir-Fry Recipes, Keto Chicken Parmesan Recipes, Lemon Butter Chicken Thighs Recipes