Yes! Today we are going to learn to make peanut butter smoothies at home! That is right! Smoothies are super easy to make! What is so special to learn and unlearn then? Of course, you need to know which are the ingredients that work best for you while steering away from the unhealthy ones! Whether as a source of indulgence or something to keep you fit and healthy, peanut butter smoothies are very useful! For breakfast or sudden cravings during the day, here are some things that you must know. So read on!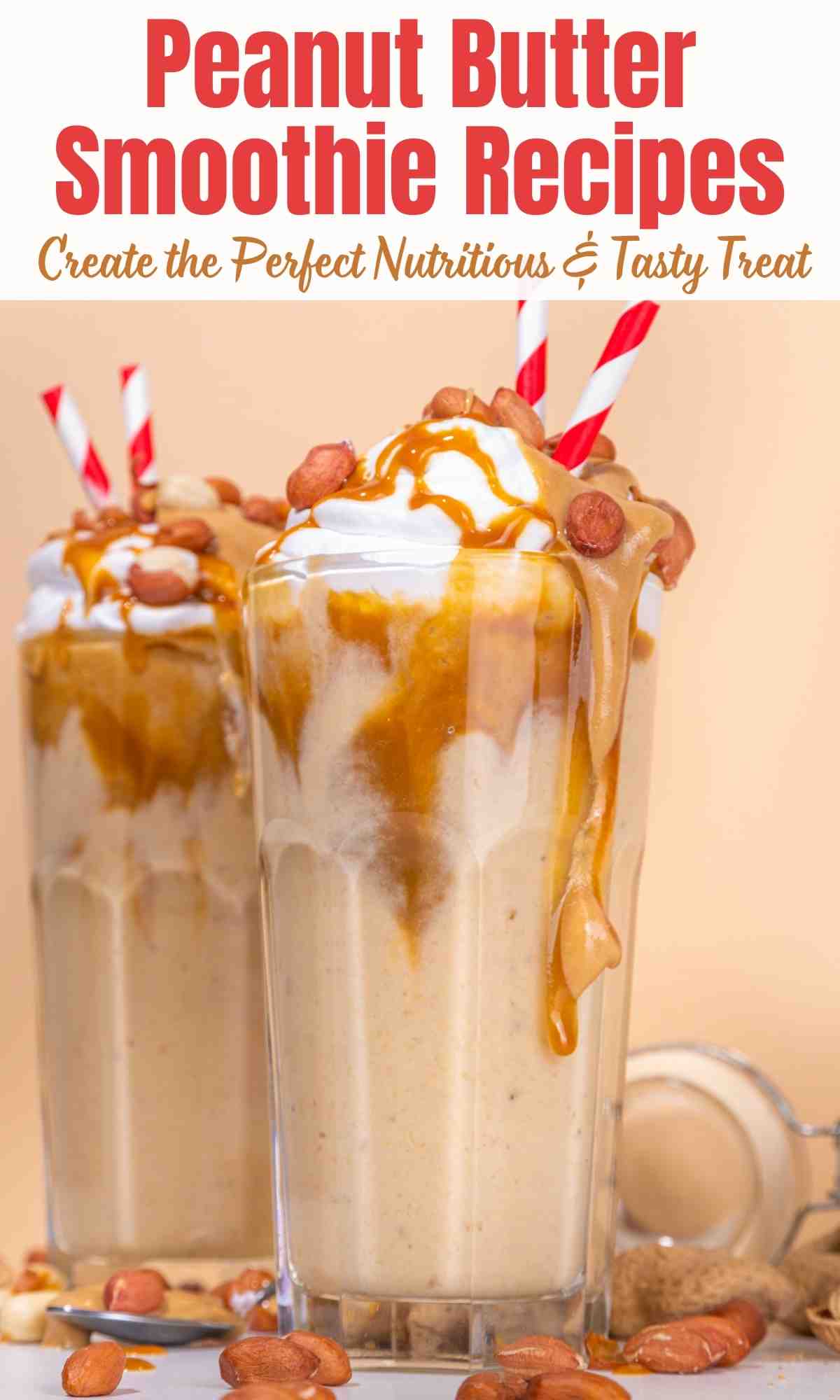 Table of Contents
What are the benefits of having a peanut butter smoothie?
You will be delighted to find out that no matter what sort of smoothie you have, these are always healthy and nutritious. For example, if you are having a peanut butter smoothie then rest assured you are going to be blessed with loads of proteins and fats in your diet. Natural peanut butter with less amount of added sugar and artificial ingredients is the best.
If you are aiming for weight-loss then the peanut butter smoothie is the ideal choice! Keep your calorie consumption under check with the aid of some peanut butter in your smoothie. With some fruits, nuts, yogurt, and so on, you can make your smoothie taste even better.
More collections: Smoothie Recipes Using Yogurt, Spinach Smoothie Recipes, Blueberry Smoothie Recipes, Orange Smoothie Recipes, Detox Smoothie Recipes, Carrot Smoothie Recipes, Strawberry Smoothie Recipes, Papaya Smoothie Recipes, Raspberry Smoothie Recipes, Kiwi Smoothie Recipes, Tropical Smoothie Recipes, Pineapple Smoothie Recipes
What are some of the common ingredients that are used in a peanut butter smoothie?
Now come to a couple of common ingredients that can be added to your smoothie! This is pretty much the basic although you can customise depending on the way you wish to make the same.
Peanut butter - of course, a peanut butter smoothie is incomplete without some peanut butter in it! Just make sure it remains as healthy as possible by minimizing the content of added sugar.
Bananas- of course, frozen bananas are great! These are ideal to be mixed with peanut butter to give a rich and thick consistency to your drink! Plus, as we are all aware, bananas are rich in vitamin B6, fiber, potassium, and so on.
Some almond milk- to make your smoothie thick and rich, you may use some almond milk for the drink. Unsweetened almond milk is the best if you are looking for a healthy alternative.
Greek yogurt and cinnamon- as add-ons, you can include some Greek yogurt in your drink! It acts as the base and makes your drink super thick, creamy, and frothy! Plus, you can always add some cinnamon to give it a subtle hint of magnificence too.
What are some of the variations to peanut butter smoothies?
Of course, you do not have to consume your smoothie every time the same way! There are so many variations that you can try out! From adding some chocolate to enhancing its nutritional value with some protein powder, the options are simply endless. As we all know, chocolate goes great with peanut butter! You will not even be able to tell whether this one turns out to be a smoothie or a milkshake.
You can also serve your smoothie in the bowl style instead of making a drink! This is far thicker and has a rich consistency. If you are looking for some omega in your smoothie bowl then you can go ahead and drizzle it with some chia seeds or flax and so on. Non-dairy milk products like almond, soy, and coconut milk can be used in case you are looking for a vegan option.
Here are some wonderful peanut butter smoothie recipes for you!
Delicious Peanut Butter Smoothie Recipes: Easy & Healthy Ideas
An all-time classic, the peanut butter smoothie is blissful! Rich, sweet, and creamy, you are definitely going to love it!
The gooey texture is what makes them so good and gorgeous. Thank us later for the idea.
Have you tried this peanut butter smoothie before? Well if not then we must say you are surely missing out on something good!
Healthy and tasty at the same time, this one is too gorgeous to miss out on.
The duo of chocolate and peanut butter is a match made in heaven!
From kids to adults, you will find it hard to keep the supplies going with the high demand for the smoothie every time you make it. So shall we too?
Here is something unique and delicious for you to relish! The gorgeous apple peanut butter smoothie is simply stunning with a sweet and creamy essence.
No wonder the fan following of this version of smoothie is so high.
Here is to another gorgeous drink on the table waiting to greet you as you wake up!
Rich, healthy, and yummy, this is perfect to replace your regular drink! Trust us, you will observe the positive impact almost instantaneously.
Packed with all that is good, you can energize yourself right in the morning with a glass of peanut butter smoothie!
Enriched with proteins, there is no way you should miss out on this one. So what are you waiting for?
If you want something nice and creamy then we have to ask you to make the peanut butter frosty smoothie right away!
Flooded with great taste, the idea is simply so easy to emulate! Creamy and rich, this one is a must-have!
Here is another lovely recipe that you can try out if you want to enjoy a smoothie on a Sunday morning!
Without indulging in something unhealthy while also satiating your taste buds, this smoothie is absolutely blissful.
Enriched with oats, Apple, cinnamon, and peanut butter, you are surely going to love it!
Rich and flavorful, this idea is easy and healthy at the same time. Thick and luxurious, you are surely going to love it! Let's get started then?
The combination of peanut butter with maple is the right thing to do when you are craving something buttery, smoothie, and gooey in the form of a drink.
Delicious and ready in just a few minutes, you are definitely going to love it.
Sweet, flavorful, and cozy, the mango peanut butter smoothie is very easy to make!
Delightful, cozy, and satisfying in every sip, this one is simply the best for you to try out! Shall we try it then?
Well, all we can say is that sipping on a glass of this smoothie is equivalent to experiencing your life in paradise!
If you assume we are exaggerating at all, then it is high time you make it at home and find out.
Ready in less than five minutes, the healthy peanut butter smoothie is very easy to make even for beginners.
Being low on fat and packed with great flavors, this one is a must-have! So shall we?
Here is the ultimate duo of all times! The chocolate peanut butter smoothie is ideal for breakfast in case you are short of time and will rush to work immediately after you gulp down the smoothie.
Refreshing and rich in taste, the apple peanut butter smoothie is soon going to be your comfort drink and we can absolutely guarantee that!
Juicy and packed with fibres the idea is splendid and you must try it out! So let's go!
Why have oats in the boring way when you can make them in the form of a delicious smoothie?
The moment we came across this recipe, we knew this one would be highly useful! Don't forget to share your feedback with us.
Yup, we are talking about the absolutely delicious and creamy Greek yogurt smoothie!
Served with a combination of peanut butter, the smoothie is very easy to make!
Ready in a few moments, you can always have this along with breakfast.
Peanut butter with banana is the best duo in the world! If you haven't experienced its sheer bliss yet then you should with the idea that is right here!
As a beginner, you are going to find this highly useful.
The idea for peanut butter and banana is lovely! Ideal for kids as well as adults, be prepared to witness the tug-of-war in the house.
Enriched with vitamins and fibers, don't forget to drizzle some chocolate chips on the top!
If you are planning to avoid bananas then the creamy peanut butter smoothie is ideal for one to relish.
Still thick and cozy, you shall be smitten with every sip. You will be thrilled we can guarantee you that!