Why do we need to have a smoothie? Is it only because they taste good? Well, definitely not! A smoothie is much more than a tasty drink! If you pick the proper ingredients, this can benefit our body in so many ways, you wouldn't have even imagined before.
Being a liquid food, it is easier to digest for the patients and the little ones! Maybe you are really busy and cannot arrange for a proper breakfast or evening snacks! A glass of smoothie is more than enough to make you feel energized and confer you with strength. In today's article, we will discuss with you a few advantages of having a papaya smoothie and coming right after twenty exclusive recipes as well.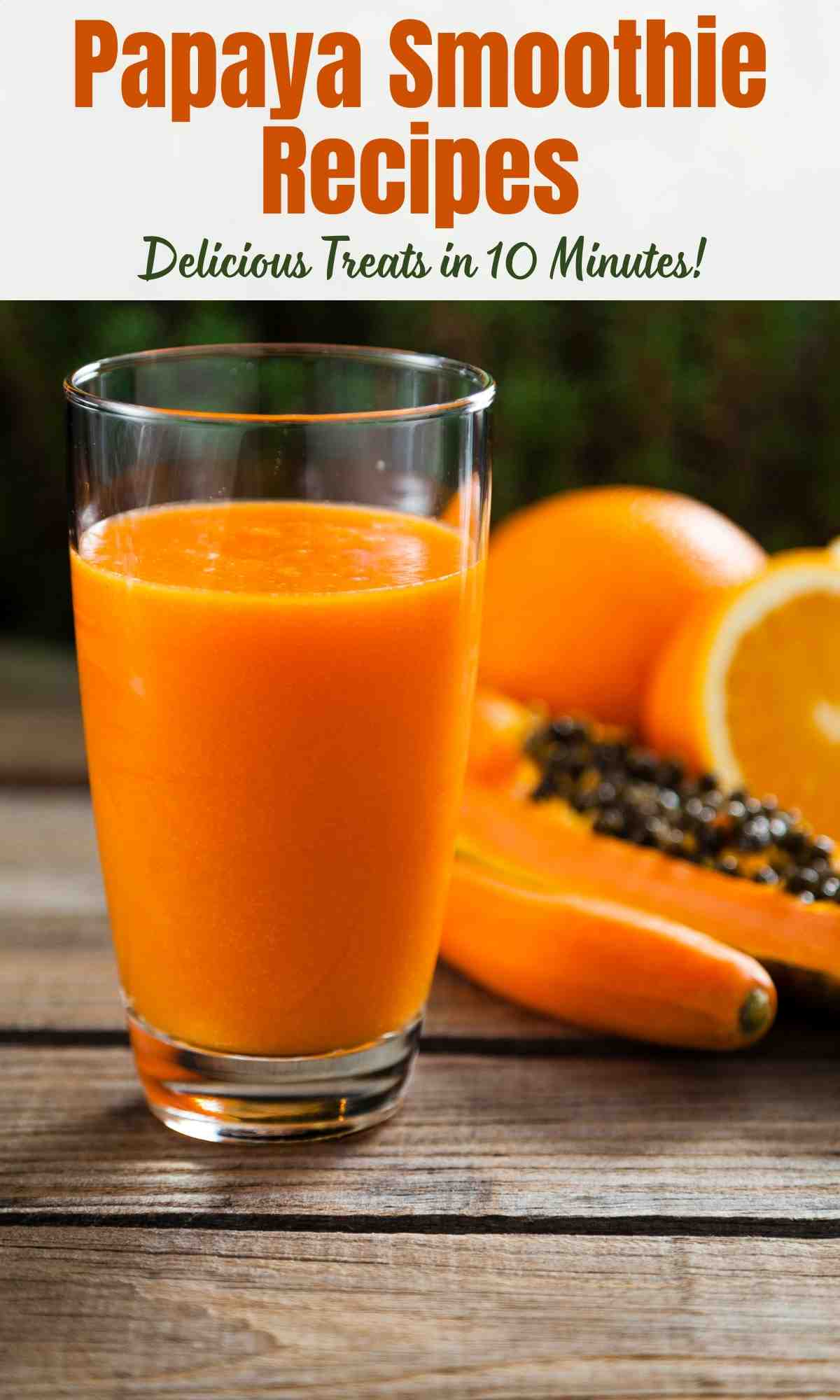 Table of Contents
Can papaya help you with bloating?
Do you find yourself bloated most of the time? Are you looking for a faster and easier relief from the situation? Well, then you have to try out the papaya smoothie! Here is what you need to know. Bloating can be seriously painful and a lot of discomfort as well! So how can one deal with it without having to indulge in too many chemical medicines?
Yup, you guessed it right! A glass of papaya smoothie every day. Papain is an enzyme that helps to deal with bloating! It is also called the de-bloating enzyme which can provide you instant relief and life-long benefits. It helps to break down the fibres and proteins making them much easier for the body to digest it well.
How does papaya help in maintaining a proper immune system?
If you weren't aware, here is a piece of information that can certainly help you out in this aspect! How can papaya be useful in strengthening your body's defense mechanism? Let's find out! Being a rich source of vitamin C, this fruit is highly recommended for someone who seems to have vitamin deficiency problems like scurvy and so on.
Vitamin C also stimulates the rapid formation of antibodies in the system that give us immunity and the strength to avert and combat infection. Natural collagen production is also aided by the presence of vitamin C in our body along with the effective removal of free radicals as well.
More collections: Low-Sugar Smoothie Recipes, High-Fiber Smoothie Recipes, Healthy Superfood Smoothies, Chia Seed Smoothies, Apple Smoothie Recipes, Smoothie Recipes Using Yogurt, Spinach Smoothie Recipes, Blueberry Smoothie Recipes, Orange Smoothie Recipes, Detox Smoothie Recipes, Carrot Smoothie Recipes, Strawberry Smoothie Recipes
How is papaya effective for constipation?
If you are someone who is having trouble with regular bowel movements leading to constipation then here is the perfect solution we have found for you. Being a natural remedy for constipation you do not even have to depend on complex medicines. As we all know, our body is unable to digest fibres but we do need them to feed the good bacteria in the gut to maintain a proper and adequate microbiome inside us.
For healthy elimination of toxins and smoothie bowel movement, it is a must that you include papaya in your diet. However, if you are bored with the same old salads, you can opt for different kinds of papaya smoothies which we are about to share with you.
How have skin and eye health benefited from the aid of papaya consumption?
Now come to what is most important! Yup, proper skin and a radiant glow! Did you know that with the consumption of papaya, you can actually gain better vision and also aid in great and glowing skin?
Well, that is true and you will soon see the results with the regular consumption of papaya in your meal. Being high in beta-carotene, this is fascinating to know that with just having a few papaya you can benefit so much.
Delicious Papaya Smoothie Recipes to Enjoy This Summer
Delicious, creamy, and yummy, if you have to indulge in the banana papaya smoothie that is right here!
Tempting and gooey, every sip will make you crave more and more. So what are you waiting for?
If you are fond of both then we have found you the most amazing smoothie of all time!
The mango papaya breakfast smoothie is awesome and tastes brilliant. Smooth, juicy, and flooded with a creamy texture, this is simply the best.
Here is an all-time classic, the papaya smoothie is super easy to make! Rich, creamy, and luxurious, this is splendid and you ought to try it out for sure.
Well, knowing how much it is good for you, make sure you have a glass of it every day.
The combination of papaya and ginger is lovely and you ought to give it a try!
Easy to make and ready in less than a few seconds this is a great choice. Shall we then?
The papaya shake is lovely and loaded with great taste! Juicy and refreshing, this papaya shake is one of a kind.
Creamy, milky, and rich, you ought to try it out for sure. So what are you waiting for? Make this one already.
Wish to gain some energy? Well, then the papaya power green smoothie is exactly what you need to make!
Healthy and loaded with nutrients, have a glass in the morning and you are ready to face the day. So shall we?
When combined with avocado, the papaya smoothie tastes simply divine! Loaded with essential nutrients and so yummy, you are definitely going to love it even at the very first sip.
Don't forget to serve one in the morning and start your day on a fresh note.
Delicious, juicy, and packed with great flavors, here is something that we are sure you will find fascinating!
The combination of mango with strawberry topped with papaya is the ultimate treat in the form of a glass of smoothie.
One smoothie and three different solutions to your problem! If you are diabetic and hoping to lose a couple of pounds then do not forget to make this one.
Oh, did we mention that it is good for our gut as well?
We will not let you compromise with one when you can have so many options right at your fingertips!
Delectable, juicy, and creamy, this one is splendid and simply a must-have! Thank us later for the idea.
All you need are simply ingredients from your pantry to make the smoothies! So many options that you can explore the whole week!
Don't forget to share with us which one is the best for you and add it to your list of favorites.
The combination of turmeric with papaya makes it the best smoothie in the whole world!
Delicious and healing, you will be amazed to find out how many healing properties it has. So what are you waiting for?
Here we have the tropical mango smoothie for you! Combined with papaya, the trio tastes simply divine!
If you are wondering what to make this weekend for Sunday brunch on the sides, maybe you should include this too.
If you are looking for a vegan option with papaya in your smoothie then we can certainly help you out!
Delicious, creamy, and cozy, you will surely be compelled to make it again and again. So what are you waiting for? Prepare it today.
Now you can enjoy your papaya banana smoothie in the all-new vegan version!
Delicious and rich in taste, you ought to give it a try for sure. Enjoy the tropical feel with some coconut in it as well.
If you are hoping to get into that gorgeous dress during the festive season and wish to lose a couple of pounds then here is the perfect thing for you!
The papaya oat smoothie is ideal for weight loss.
This one has got it all! From papaya to banana, pineapple and mangoes! And oh, how can we miss out on oranges as well?
The tropical fruit smoothie is splendid and you ought to try it out for sure.
Are you looking for something creamy and rich? Well, then you have to go ahead with the tropical mango smoothie right away!
Delicious and rich, this is a must-have! Thank us later for the idea but don't forget to share your feedback with us.
All you need are five minutes to go ahead with this sweet and refreshing glass of smoothie!
Packed with bananas and papaya in loads, you must make this one right away. So what are you waiting for?
Well, the healthy papaya smoothie is amazing given how useful and yet yummy this gets!
It is time for you to discover bliss by yourself. And guess what? This is effective when you are looking forward to shedding a few pounds.