Couscous is a great choice to add nutrients like vitamins, proteins, and many more to your diet! It is a healthy option that is also so easy to prepare by coupling a handful of ingredients together! Wondering how to make couscous simply within a couple of minutes without any hassle? Well, follow these tips and everyone is going to grow a fan of your skills. Find it difficult to feed greens to the little ones? Check out these easy-peasy tricks to cook healthily!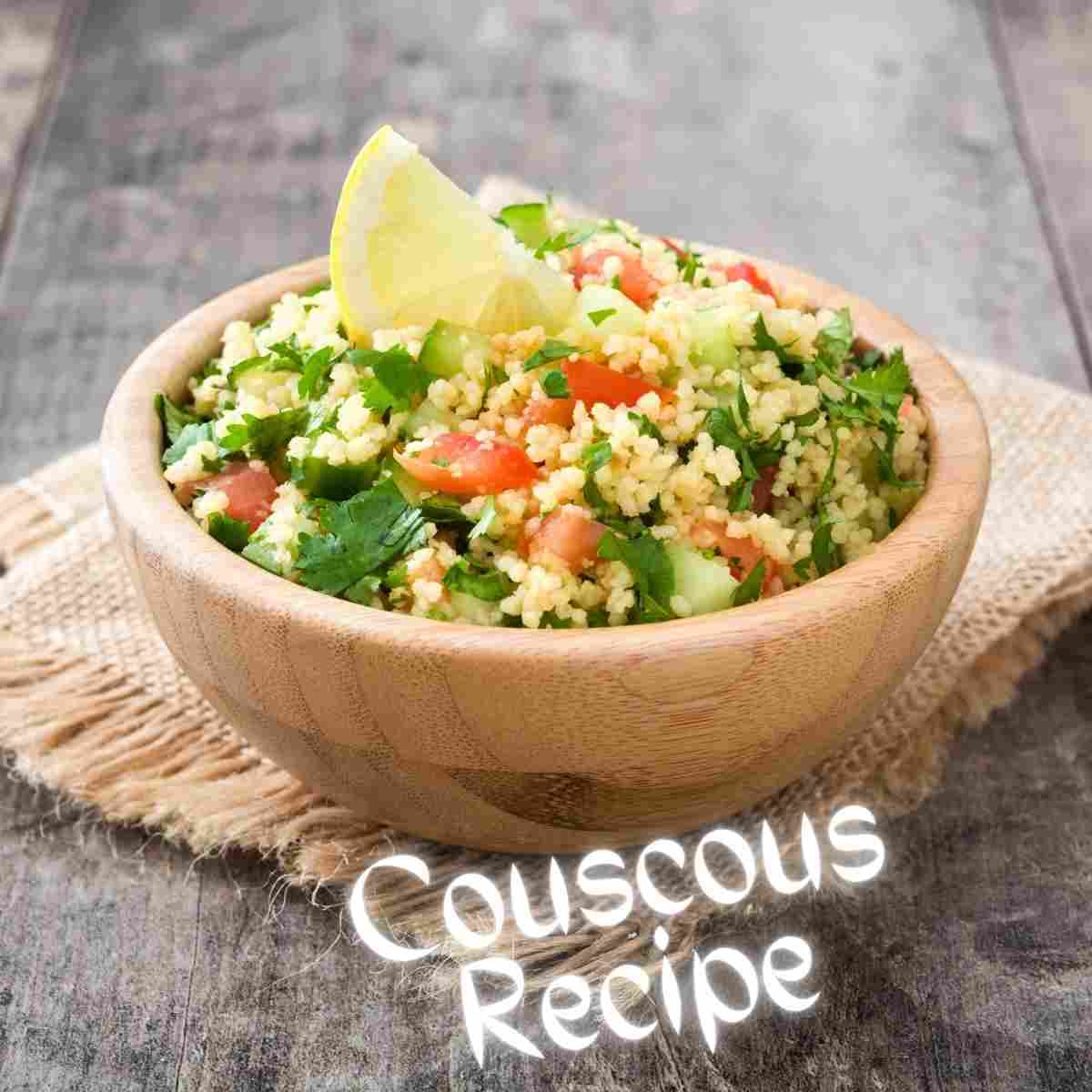 Useful tips to cook the best couscous in the world
You must be wondering, what exactly is couscous? Well, it is a Mediterranean staple that is full of flavors as well as essential nutrients. Although many might confuse couscous as a grain it is instead pasta which is made with semolina flour.
There are different types of couscous that are used for making salads like pearl couscous. Whether you are making vegetarian or meat recipes, couscous is great to go with everything that you can think of.
Follow these tips to cook the right couscous for brunch-
Keep a 1:1 ratio for the liquid to couscous- If you are using two cups of couscous then add two cups of water as well! This will ensure that you are maintaining a 1:1 ratio for preparing the mixture. If you add more water then the couscous will become sticky and difficult to cook while less water will render them dry and undercooked. If you are adding couscous to the salad then keep it on the drier side while preparing the salad dressing, you need to keep it a little wet.
Make use of broth for cooking the liquid- as you are adding liquid to the couscous, instead of pouring normal water you should use broth like vegetable or chicken broth to enhance the flavors of the dish. The proportion remains the same as we mentioned.
Do not start working with raw couscous- if you wish to acquire the best outcome then do not start off with raw couscous but go ahead with toasting it a little bit in the pan. This gives a smoky and crispy flavor to the pasta. You may use virgin olive oil for toasting the couscous but make sure you do not pour much or it shall become too soggy. Preheat the skillet first and then toss the couscous to acquire a light golden brown hue! Do not turn it dark brown in color or else it can get burnt and the flavor ruined.
As it is absorbing the liquid do not disturb the couscous- if you are adding chicken or vegetable broth to the couscous then make sure you do not disturb the container for a while. Heat the pan with couscous and pour the liquid! Immediately take it away from the flame and cover the pan with a lid! Allow the liquid to settle down into the couscous for about ten minutes without disturbing the mixture at all.
Fluff the couscous- once the couscous is ready and tender, fluff it with a fork and add all the necessary spices, veggies, meat, and sauces to flavor your dish.
How much does a cup of couscous yield -
If you have initially taken a cup of couscous then after cooking it shall yield two to two and a half cups of couscous after the recipe is done. You can accordingly determine the quantity you wish to cook for your family. This is enough to feed four people.
Is it possible to cook couscous in the microwave-
If you wish to experiment with cooking couscous in the microwave then it is a great idea! Heat the broth or the water for about five minutes in the microwave. To the Moroccan instant couscous, you can add the broth, olive oil, and other ingredients and set it aside for ten minutes.
Healthy and wonderful couscous recipes to cook this season
1. Mediterranean couscous salad
Cooked with English cucumber, basil, Garbanzo beans, and pepper, the recipe for Mediterranean couscous salad is refreshing to relish during any part of the day.
2. Lemon couscous recipe
The yummy and delightful couscous recipe is cooked with lemony essence and is delicious to relish for a meal! If you are on a diet and feel hungry in the middle of the day give a try to the lemon couscous recipe a.
3. Mushroom couscous
The mushroom couscous is prepared with lemon and herbs to enhance the taste of the dish! If you are fond of mushrooms then cook them with couscous and experience their wonders. What an absolutely mouth-watering recipe to indulge in during the sultry summer.
4. Classic couscous salad
Feeling hungry in the middle of the day? Try out the classic couscous salad prepared with an infusion of herbs like parsley, olives, and a dash of lime juice. We have also made use of pepper, chickpeas, and onions to make this dish even more tasteful.
5. Vegetable couscous
Served with veggies and herbs, the traditional couscous recipe is outstanding and so easy for you to prepare in a jiffy! Didn't prepare anything for brunch today? Try out the vegetable couscous parsley, oregano, zucchini, and onions. Do not forget to add tomatoes, eggplant, and peas as well.
6. Moroccan couscous with chickpeas and sweet potatoes
The flavor of juicy sweet potatoes served with crispy chickpeas is awesome! We have come up with flavourful Moroccan couscous with an infusion of herbs like parsley and cayenne pepper.
7. One pot of creamy sausage couscous
How wonderful is this recipe of couscous prepared with sausage sliced and added to the dish! The creamy flavor contrasted with the tangy tomato essence, this recipe is so easy for one to make! Topped with spinach and onions, we love this dish.
8. Garlic parmesan couscous
Cooked with chicken broth, garlic butter, and parsley, this couscous parmesan recipe is so delectable that you will not be satiated with just a single bowl! You can serve this breakfast to the kids or after they come back home from school.
9. Lemon herb couscous
Try out the delicious and light lemon herb couscous which is prepared with smooth lemon zest and flavored with an infusion of herbs! There is Dijon mustard, English cucumber, and raisin to enhance the nutritive value as well as the taste of the dish.
10. Turkish spiced lamb minced
A recipe prepared with couscous, red onions, minced meat, and cumin, you are surely going to grow a fan of this dish after the first attempt! Flavored with paprika, apricot, and coriander, we have served it with lemon wedges.
11. Harissa chicken with saffron couscous
Try out the saffron-infused couscous which is so delightful and yummy for you to indulge in! Harissa chicken couscous is a wholesome dish that you can make for dinner tonight and see vanish from the table in a jiffy.
12. One pan of creamy Thai peanut chicken couscous
We have made use of chicken breast pieces, broccoli florets, and carrots to create this dish of creamy couscous! Tossed with peanut, pepper, and coconut milk, the dish is yummy to indulge in.
13. Moroccan couscous with roasted vegetables
We have made the complete vegan recipe for dieters to relish any time of the day! Served with chickpeas, almonds, and tomatoes, the dish is wholesome and flooded with nutritive values. Here is a classic Moroccan couscous for you!
14. Couscous chicken and mixed vegetables
Let us help you to make the couscous chicken with mixed vegetables for brunch today! All you need are garlic, onions, sprouts, and meat to complete this dish within fifteen minutes. Add paprika and pepper to give a hint of spicy essence.
15. Moroccan vegetables with couscous cake
Diced vegetables and spices make this dish your next comfort food on the list! The couscous cake is so easy to make with Moroccan veggies in just thirty minutes. Thank us later for this unique suggestion with couscous.
16. Skillet shrimp with couscous recipe
Today we have tried making couscous with shrimp and the idea turned out to be extraordinary! Flavored with garlic, carrots, leeks, and peas, this recipe is one of the best to indulge in. Do not forget to add some mustard seeds as well.
17. Skillet chicken with couscous
The meaty recipe of skillet couscous is wholesome and replaces the regular rice and curry! Prepared with garlic, lemon, and rosemary, the taste is simply so divine! Do not forget to try out this dish of chicken and couscous.
18. Pesto chicken with corn and bean salsa
Here is a combination of pesto, avocado, and corn salsa with couscous that is so vibrant and tempting when prepared! Live within your diet plans and yet enjoy something good with the corn and bean salsa served with couscous.
19. Garlic butter and mushroom couscous
It is so easy to make flavourful, garlic butter mushroom couscous for dinner. Cooked with bare minimum ingredients, you do not even have to rush to the stores to get fancy items.
20. Mushroom couscous
Simple and savory, the mushroom couscous recipe is so delightful that you will not be able to resist yourself to make it again and again. You may even serve this herbed and lemony couscous to the kids and they will eat it without any complaint! That's how delicious this recipe turns out to be!
21. Moroccan lamb meatballs with couscous recipe
Have you heard of meatballs with spaghetti? Well, we are giving it a twist with meatballs served over couscous! And guess what? The recipe of herby couscous with juicy meatballs of lamb turns out to be a fantastic choice.
22. One pan Israeli couscous with chicken
Here is another authentic recipe that you will find super delicious indeed! Cooked with paprika, pomegranate, and parsley, the three Ps do their wonders. We have used Israeli pearl couscous for this dish!
23. Pearl couscous with saffron broth
Here is a vegetarian dish with couscous that will leave you craving more and more. Prepared with Aleppo pepper flakes, beech mushrooms, and navy beans, serve the dish fresh with parsley and watercress leaves.
24. Summer couscous salad
Tired of cooking in the scorching summer heat? Wish, there was a refreshing dish to satiate your hunger? Well, we have brought you the ultimate summer couscous salad prepared with lemon, cherry tomatoes, bell pepper, and mint. Do not forget to serve it with English cucumber and red onions.
25. One pan of Thai peanut chicken couscous
A highly vibrant recipe packed with the goodness of proteins, the recipe of one pan Thai peanut chicken couscous is truly divine. There is soy sauce and creamy peanut butter for flavoring the dish!
26. Easy creamy couscous
Do not have many ingredients in the house? Well, that is not a worry as long as you have the easy creamy couscous recipe at your disposal! Prepared in the style of risotto, the dish is outstanding and will top as your next comfort dish!
27. Moroccan chicken couscous bowl
Flavored with tomato sauce, parsley, broth, and ginger, the recipe is so gorgeous for you to relish. Cooked with cucumbers and flavored with yummy cherry tomatoes, we are truly fond of this dish. So shall we make it then?
28. Shrimp scampi with Israeli couscous
Cooked with white wine, butter, and lemon, the recipe for the shrimp scampi and Israeli couscous is so delicious. The garlicky essence of the dish makes it even more extraordinary to ravish this season. Anything that has shrimp gotta taste heavenly.
29. Curried couscous salad
Let us help you to make the curried couscous salad with carrot, celery, Garbanzo beans, and green onions! This recipe is completely vegetarian and served with parsley garnish on top. Raisins and lemon are added to enhance their taste!
30. Easy tomato basil pearled couscous
We have to add the tomato basil pearled couscous which is prepared with Cremini mushroom, cherry tomatoes, basil, and arugula!  We have also added thyme, shallot, and garlic to the dish, and guess what? You should try out the wonders by yourself.
What is the difference between pearl couscous and traditional couscous?
Often we have heard in recipes that some use park couscous while many opt for traditional ones! But have you ever wondered what is the difference between the two? Here is the answer to your question!
Israeli couscous is called pearl couscous and traditional couscous is prepared from semolina flour. Being larger in size and having a chewy texture, Israeli couscous is also known as pearl couscous. The pearl couscous is larger in size and they require more water to get soaked.
Is it possible to make a sweet dish out of couscous?
Yes, it is true that we do not much use couscous to prepare sweet dishes and it is rather cooked as savory dishes, but you can also try making trifles with couscous as one of the ingredients. You can even add it to pudding and breakfast bowls.
What are the standard ways to flavor couscous?
There are so many recipes that we have already shared with you and observing the trend you must have noticed that a couple of ingredients like lemon, parsley, and onions have always remained constant. Warm spices like coriander and cumin do their wonders too. Moreover, other herbs, nuts, and pomegranates are also used for flavoring couscous.
Bottom line- So that is all about couscous! Now you can go ahead and try some of the recipes that we have mentioned above! Easy to make and fill, couscous is the best!