Did we hear smoothies? Ah, that is what it is! Considering today, no one hasn't tried a smoothie! Whether you like a papaya smoothie, a mango-flavoured one or drinking it for the sake of diet, these have quite revolutionised the world. When your health is concerned you also do not wish to compromise with your taste buds, a smoothie is your perfect friend. In today's article, we will briefly discuss the reasons why you should be having a smoothie. And following right after that is a list of twenty raspberry smoothie recipes!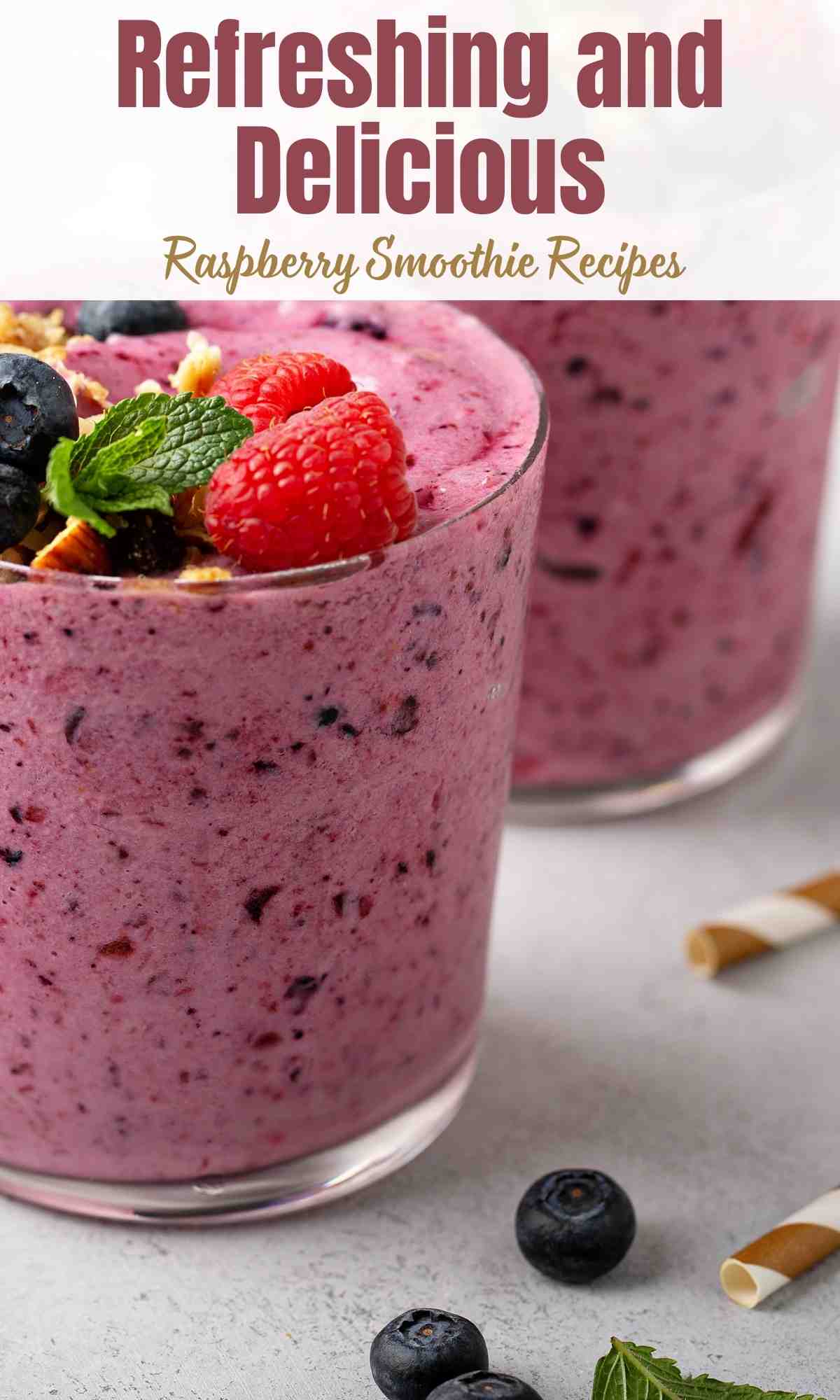 Table of Contents
How can a glass of smoothie save you time?
If you want something nutritious but without having to spend too much time while getting it done then a smoothie is the best thing for you to relish. Maybe you are having a really quick day and do not know how to make breakfast in a minute! Probably the solution is to skip one but that is not what we will let you do!
Toss all your favourite fruits and greens into the blender, and a base to quickly make yourself the most amazing glass of smoothie ever. With minimal effort and preparation involved, you can enjoy the wonderful drink which can be prepared in bulk as well. A few basic and quite simple ingredients to make yourself the loveliest and the most nutritional drink ever.
Are there nutrients present in your smoothie?
Well, that is the whole point of having a smoothie! This one turns out to be an extremely healthy and nutritious drink that you simply can not miss out on. You can prepare the smoothie with various fruits, greens and veggies depending on the recipe that you are following. Hence a glass of this drink becomes a rich source of vitamins and minerals as well.
As we all know, there will be enough antioxidants in your drink as well. Moreover, a dieter will be delighted to find out that a glass of smoothie can be extremely rich in healthy fats, proteins and fibres.
More collections: High-Fiber Smoothie Recipes, Healthy Superfood Smoothies, Chia Seed Smoothies, Apple Smoothie Recipes, Smoothie Recipes Using Yogurt, Spinach Smoothie Recipes, Blueberry Smoothie Recipes, Orange Smoothie Recipes, Detox Smoothie Recipes, Carrot Smoothie Recipes, Strawberry Smoothie Recipes, Papaya Smoothie Recipes
Can a glass of smoothie aid in brain development and good memory?
If you thought smoothies were only for adults then here is something you did not know. To give a boost to your memory and encourage brain functionality and development, a glass of smoothie can really go a long way. Leafy greens, berries and nuts when added to your smoothie aid in memory. Both kids and adults can binge on such a drink every day. Being rich in antioxidants, they reduce the chances of cognitive decline too.
Can smoothies be customised?
One of the biggest benefits of having a smoothie is that it can easily be customised and totally versatile too. No matter which fruit you like or which veggie, you just can't tolerate, everything can be well taken care of. A combination of a variety of veggies, fruits and so on is even better when it comes to enjoying the best smoothie in the world.
Is it possible to lose weight with a glass of smoothie?
Now if you are wondering whether losing weight is possible with a glass of smoothie then here is what you need to know! Yes, indeed! With particular ingredients that are rich in fat and low in cholesterol, you can reduce your weight over a given period. For example, if the festive period is around and you wish to shed a couple of pounds then it is best you regularly grab a glass of smoothie! The outcomes will be evident.
Quick & Delicious Raspberry Smoothie Recipes
If you wish to have the perfect smoothie in the world then you have to go ahead with the gorgeous and tempting raspberry banana smoothie!
The sweet and tart flavours complement each other so well, to be honest.
Hoping to lose a couple of pounds before D-day? Well, then the glass of raspberry oatmeal smoothie is the only option you have!
Delicious and juicy, this one is a must-have. Prepare it today and indulge to your heart's content.
Yup, that is right! Four ingredients it is! Can you imagine a breakfast ready in less than two minutes?
That is possible now with the delicious and creamy raspberry smoothie recipe right here. So what are you waiting for?
The combination of raspberry with strawberry turns out to be simply incredible!
Rich and gooey, every sip will simply make you drool for more and more. So slice the berries and drop them into the blender for a nice sip. Let's go!
If you want something sweet and zesty at the same time then you should perhaps go ahead with the delicious and gooey smoothie idea that we have for you right here!
Creamy and cosy, this one is a must-have for sure.
Delicious, creamy and fascinating, you are definitely going to enjoy this one so much!
Perfectly fine if you are on a diet, do not forget to give it a try! The unique combination of mango with raspberry is simply out of the world.
Here is another wonderful raspberry smoothie recipe that you will definitely like if you are on a diet and looking for something nice, healthy and refreshing!
Delectable and juicy, this one is a must-have! Shall we then?
Yummy! There is nothing more tempting and cosy than a glass of chocolate raspberry smoothie!
Flavorful and juicy, this is also perfect to fill you up for a while. We can hardly wait for you to indulge in its blissful taste! Go for it already.
Packed with vitamins and antioxidants, the raspberry cheesecake is lovely and loaded with great taste!
Give it a try once and you will be compelled to make it again and again. Topped with herbs, this is a must-have for sure.
Fibres, proteins and rich essence, this is ready in less than a few minutes.
Creamy and sweet, this one is simply blissful and ready in a jiffy! Kids love it and so will you!
So what are you waiting for?
Bananas, raspberries and chocolate, everything is so yummy and packed with great flavours!
We can hardly wait for you to try out this one!
Packed with proteins this is super easy to make and perfect for the holidays! Do give it a try for sure.
Packed with berries, carrots and apples, the smoothie tastes so brilliant! If you do not know how to have carrots, this is the best way to do so!
Healthy and rich, this one is simply so gorgeous!
Well, the combination of strawberry and banana always works wonders for us! Delectable and juicy, this one needs only a few minutes, we swear!
And the results are simply outstanding! Go for it already. Don't forget to top it with berries as well.
If you are in the mood for health without compromising with your taste buds, then we know what you need exactly!
The peach and raspberry smoothie is absolutely divine and something that you cannot miss out on at all!
If you are avoiding bananas but want some berries then the creamy raspberry smoothie is the best to indulge in!
Delicious and creamy, you ought to make this one for sure. So what are you waiting for?
Berries with yoghurt give a thick consistency to your drink! Savoury and creamy, the idea is simply splendid!
Healthy and luxurious, this one is super easy to make! So what are you waiting for? Prepare it today.
Well if you wish to experience the true flavours of smoothie then this raspberry smoothie is exactly what you need for a treat!
Cosy and delightful, this one is simply awesome to indulge in. Make it in a jiffy and enjoy it to your heart's content.
If you are fond of berries then this blackberry smoothie is exactly what you need for a treat!
Creamy, luxurious and rich, this one is perfect for breakfast. Beautiful and rich in purplish hue, you ought to give it a try!
Yup, five minutes is all that you need to make the gorgeous raspberry smoothie come true.
Yes, that is true! And if you do not believe us then perhaps it is time for you to make it at home and find out! Let's prepare the raspberry smoothie today!
Are you fond of berries? Well, then you simply cannot miss out on the healthy smoothie recipe that is right here.
Juicy and luxurious, this is super easy to make! So shall we then?