We often hear about so many kinds of smoothies in the market and recipes across the internet! Some are useful for weight loss, some for cramps and aches, and some for detoxing.
However, how much of that is true? Can smoothies really help you out? Well, that is what we are here to find out! Making a smoothie is super easy but what is the purpose of having one? Today's article focuses on detox smoothies and how it is beneficial to our body. So let's get started, shall we?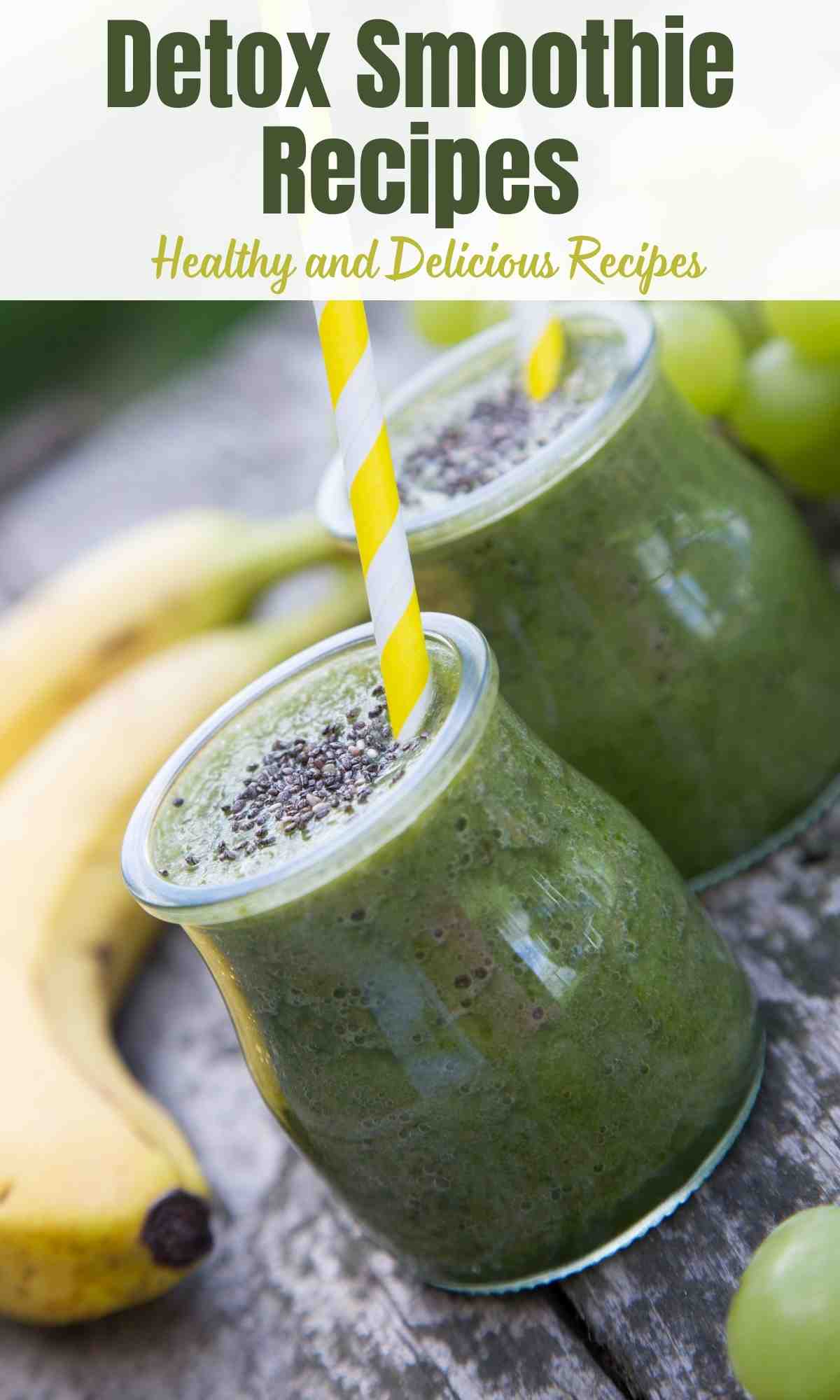 Table of Contents
What are the benefits of having a detox smoothie?
Well here is what you need to know. A detox smoothie is certainly helpful in so many ways to our body getting rid of all the toxins for better health. A detox smoothie is rich in nutrients so that our body can receive all the essentials. Being high in fiber, fruits, and vegetables, there is nothing as good as the detox smoothie! It is alright if you are skipping meals as long as you have a creamy and dense detox smoothie by your side.
It also contains grains and seeds so there is more roughage in your diet instead of cholesterol. This supports digestion and aids in better gut health. In case you are bored with the same old salads on the table then this smoothie is exactly what you need.
Is it hard to digest a detox smoothie?
When you turn fruits and veggies into a drink it becomes so much easier to digest them! As we all know liquid food is easier to digest than its solid counterpart! If you find it hard to digest a particular veggie or fruit, you can turn it into a smoothie and see how simple it gets for your body to digest this one. Mechanical digestion can be skipped this way so you can begin with the chemical breakdown of food directly.
A blender in the kitchen does the work for you. It also increases the absorption of nutrients by your body. You must know that smoothies contain a lot of natural antioxidants which are present in fruits and greens. These are in turn good for your health. Free radicals are removed and cellular functionality is maintained due to the incorporation of antioxidants through smoothies in your diet.
More collections: Flaxseed Smoothie Recipes, Smoothie Recipes For Kids, Vegetable Smoothie Recipes, Low-Sugar Smoothie Recipes, High-Fiber Smoothie Recipes, Healthy Superfood Smoothies, Chia Seed Smoothies, Apple Smoothie Recipes, Smoothie Recipes Using Yogurt, Spinach Smoothie Recipes, Blueberry Smoothie Recipes, Orange Smoothie Recipes
What are some of the toxins that detox smoothie can remove from your body?
A detox smoothie helps to remove so many toxins from our body! These include urea! A by-product of protein breakdown which is usually found in the urine and eliminated this way. Even uric acid which can damage the liver otherwise is removed with the help of a detox smoothie which prevents toxin accumulation.
High levels of ammonia and creatinine are also eliminated rapidly from the body with the help of proper detox smoothies. Sometimes industrial wastes like heavy metals may be found in traces in the body that can be removed with the aid of such a smoothie.
Can a detox smoothie help in weight loss?
Apart from the obvious which is to remove toxins from our body, there are several other benefits of consuming a detox smoothie. It can help to lower the calorie intake and consequently aid in weight loss.
There are several vitamins, minerals, and micronutrients that are present in the drink that strengthen your immunity. Plus your digestion is greatly benefited from this smoothie along with helping the skin to rejuvenate itself. No wonder it is such a preferred choice among everyone.
Here are some detox smoothie ideas for you!
Healthy and Delicious Detox Smoothie Recipes
If you are worried about how you will look in the upcoming festive season and trying really hard to get rid of that unwanted belly fat, here is what you need! Try out this detox smoothie.
Bloating is a real problem and you do not want that happening! Do you? Well, then you have to use this one as your quick solution.
The anti-bloat detox smoothie is absolutely the best, to be honest.
While some of you are looking for a colon cleansing option we have already found you five!
Refreshing and satisfying, you ought to give it a try for sure. So what are you waiting for? Make it today.
If you want something nice and comforting then you have to go ahead with the healthy green smoothie option that is right here.
Perfect to include in your diet every day, you ought to make this one for sure.
Getting into shape right before the holidays can be a hard job! But now no more! With the slimming smoothie recipe, everything becomes so easy!
Healthy and packed with greens, you will surely be grateful that you came across this one! The outcomes will be instant.
Do you want something nice and tasty at once? Well, then the cucumber pineapple drink is the best to go ahead it!
It is the perfect solution for reducing a couple of pounds in case you feel like doing so.
Flaunt your flat tummy in a few days with this wonderful smoothie recipe that is right here!
Delicious, smooth, and light, you ought to make it every day! So what are you waiting for? Prepare it today.
To get rid of all the toxins in your body, here is something you need! The liver detox smoothie is gorgeous and packed with great flavors.
Enjoy a healthy body and refreshing mind with something as simple as a glass of smoothie every day.
Begin your mornings with a kale and pineapple smoothie and soon the results will be right in front of you!
The green smoothie is wonderful and you ought to make this one for sure. So when will you?
Of course, it is a great idea to focus on your skin and tummy! A happy and radiant skin is possible if you remember to enjoy the smoothie that is so wonderful.
Let's make it then?
11. Detox smoothie recipe
You ought to try out the detox smoothie for sure! Delicious and packed with great taste, the idea is simply splendid!
The detox smoothie is very easy to prepare and when consumed regularly, you will definitely see the results in your favor.
Making the green detox smoothie is easy especially if you are a beginner this one will be super easy for you to emulate.
Don't assume that since it is green it will be horrible to taste! Do give it a try and find out.
Here is another quick weight loss solution with the smoothie that is right here!
Packed with great flavors and beneficial ingredients, you are definitely going to get compelled to make it again and again.
Shall we begin then?
With the fat-burning smoothie, you are definitely going to see the results soon!
Delicious and healthy at the same time, as we promised, do not forget to share your feedback with us.
And guess what, it is super easy to emulate too!
Of course, you need to try out the detox smoothie! This one here is made with chia seeds!
Thick and creamy, don't worry if this is the only thing you have for breakfast.
This will keep you full till the afternoon.
We all are aware of the benefits of lemon and ginger! Now it is time to make a detox smoothie combining the goodness of both!
The recipe is right here for you. Do give it a try for sure.
If you are having health issues associated with liver or colon then we have found you the perfect remedy!
You should try out the healing smoothie recipe that is right here. Packed with great flavors, this is a must-have.
You can make and have this smoothie anytime you want! Make sure you add it to your daily diet and the results will be pretty evident.
Get ready for any festive season with this one right here. Let's give it a try soon.
Here is another delightful and delicious idea for you to relish! Smooth, juicy, and rich, this one is a must-have!
The fat-burning smoothie is highly effective and gets you into shape in no time and with minimal effort.
If you want to make your detox smoothie taste good then you have to go ahead with the idea that is right here!
Rich and smooth, every sip is delightful and will bring water to your mouth. What a comforting way to lose weight!