The sound of smoothie blending in the mixer is what we usually begin our day with! The creamy and comforting drink never fails you if you are about to begin to struggle with a long and busy day!
Making smoothies is super easy as long as you are aware of the right things to do! Packed with proteins, nutrients and so much more, kiwi is the ideal thing to use as you make smoothies at home.
Here are twenty exclusive recipes with smoothies that you must indulge in!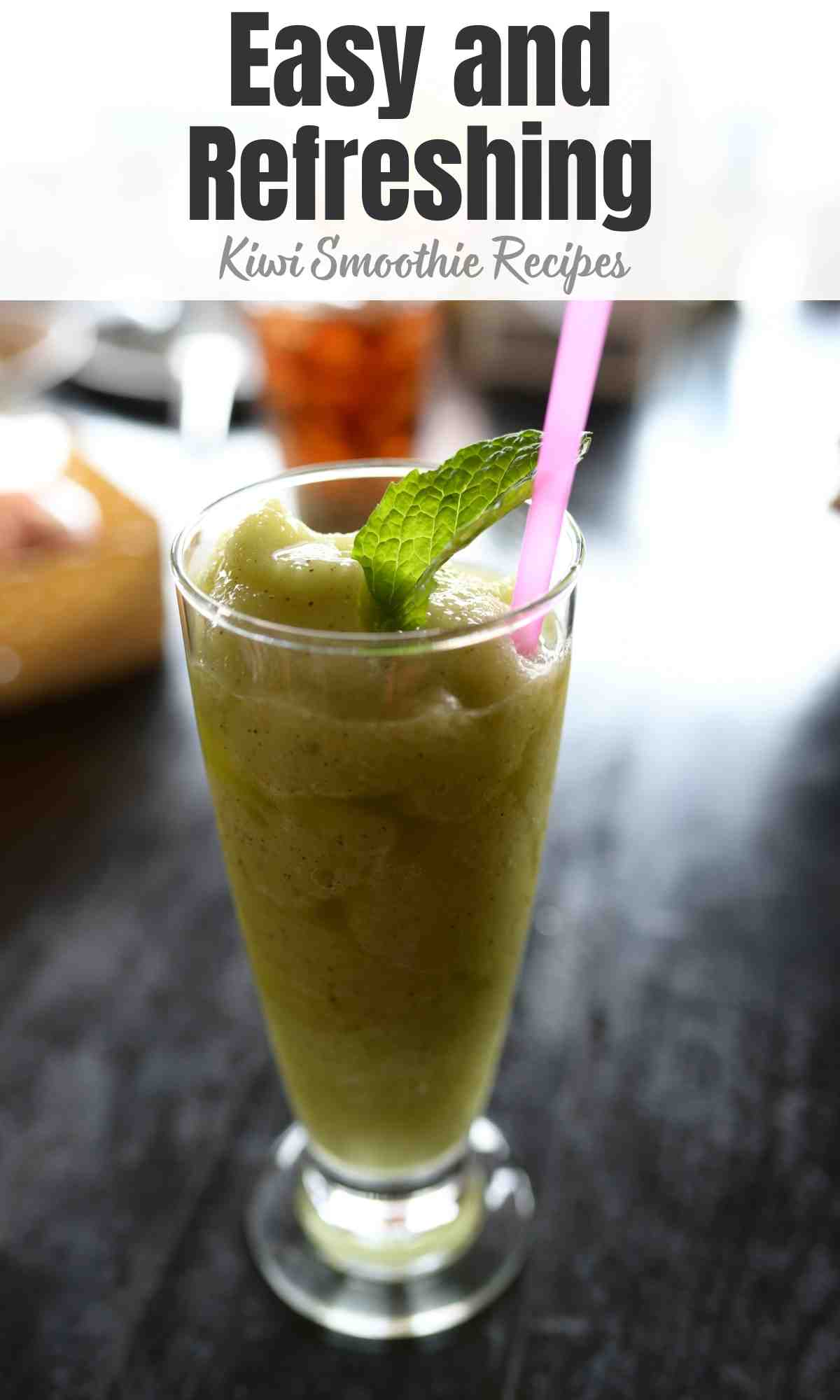 How to make a Kiwi smoothie at home?
There are some basic steps that you must indulge in while making the Kiwi smoothie! Let's get started, shall we?
Add all the ingredients to your blender and then mix them well, except for honey which you need to add later.
Until thoroughly blended, you mix it well! Then top with some garnishing of kiwi slices and so on!
What are some of the ingredients used for making kiwi smoothies?
Both fresh and frozen ingredients can be used for the preparation of kiwi smoothie! Depending on what is available in the market, you can buy a Kiwi smoothie accordingly.
Kiwi- being abundant in vitamin C, the kiwi fruit is perfect for giving a boost to the immune system! Sometimes kiwi can taste both tart and sweet depending on the season you buy them! In case you wish to make your smoothie extra sweet and flavorful, you need to add some bananas or berries as well.
Other fruits- if you want you can add bananas to your drink! Creamy and rich, it will give a thick texture to your drink! Some frozen fruits like bananas are great to add to your drink. Plus, you can add some pineapples to your drink as well! These are rich in vitamins, minerals and several other important enzymes like bromelain and so on.
Some greens as well- in a Kiwi smoothie, you can certainly add some greens as well! These include spinach which is packed with healthy nutrients and then some yoghurt as well! It enhances the probiotic content in your body! If you are making a vegan smoothie then go ahead with a dairy-free yoghurt.
Some honey and fluid- in the case of a Kiwi drink you can simply add some honey to reduce the tart essence of the drink. Agave or maple syrup can be used as well, whichever you prefer to enjoy. If you wish to make your drink even more tasteful, then you have to go ahead with hemp heart! Did you know that it is rich in omega-3 fatty acids and proteins?
What is the taste of a Kiwi smoothie and can you prepare it ahead of time?
Now if you are expecting your Kiwi smoothie to be extremely sweet then we have to burst your bubble here! For a kiwi smoothie, you need to make sure that the fruit is combined with others so that the tarty flavour can be masked somewhat. Bananas and pineapple can act as the natural sweetening agent along with some honey if you want.
More collections: Healthy Superfood Smoothies, Chia Seed Smoothies, Apple Smoothie Recipes, Smoothie Recipes Using Yogurt, Spinach Smoothie Recipes, Blueberry Smoothie Recipes, Orange Smoothie Recipes, Detox Smoothie Recipes, Carrot Smoothie Recipes, Strawberry Smoothie Recipes, Papaya Smoothie Recipes, Raspberry Smoothie Recipes
It is best to make your Kiwi smoothie on the spot! And that hardly consumes much time. After all, it hardly takes you a few minutes or so to prepare the Kiwi smoothie. You can drink it for two hours when kept at room temperature.
If you have some extra kiwi that you wish to use later for your smoothie then you even freeze the surplus for up to three months.
Refreshingly Delicious Kiwi Smoothie Recipes | Quick & Easy
If you want something nice and refreshing then you must go ahead with this wonderful kiwi smoothie recipe that is right here!
Delicious and delightful, this is a splendid choice so go for it already.
Yup, only five ingredients and the brilliant kiwi smoothie will be ready on the table.
Delectable, smoothie and creamy, this is super easy to prepare, so don't forget to prepare it today. Also, not to forget the high dose of nutrients it carries.
The combination of blueberry with kiwi is simply splendid and you ought to try it out!
Rich and fruity, the idea is splendid and you ought to make this one for sure. Let's get started then?
Well to mask the tartness of kiwi, we have found you the perfect solution!
Delicious and sweet, the idea is awesome and a refreshing glass of your favourite drink will be prepared in a minute.
So what are you waiting for?
Ah, why slog with the same old breakfast when you can enjoy something nice and juicy?
Yup, we are talking about the gorgeous strawberry kiwi smoothie which tastes so gorgeous and yummy! Do make this one for sure.
If you want something nice and creamy with the tart essence of kiwi then this smoothie idea is only for you!
Packed with great taste, the recipe is super simple and you ought to try it out! Don't forget to share your feedback with us.
Making the strawberry kiwi smoothie is very easy as long as you are aware of the right steps to follow!
Delectable, rich and creamy, the idea is fascinating and leaves you smitten for more. Shall we try it then?
Fruity, rich and packed with great taste, the Kiwi smoothie is the best to indulge in!
Whether you want to begin your day with fruits or suddenly feel starved in the middle of it, a smoothie is always good to go ahead with! 
The combination of pear with kiwi, banana and so on gives it a wonderful taste that you should not miss out on!
Rich and creamy, the idea is splendid if you are looking for something to satiate your taste buds as well as enrich you with fibres.
Here is something gorgeous that you must try out for sure!
Whether you are looking for something sweet or tarty, this one here will provide you with the best of both worlds.
Ah, so your migraine is tormenting you for a while and the pills are simply no good?
Of course, we have a solution for you! Here we have the gorgeous mango smoothie which can relieve you from the pain in a jiffy.
Here is something extremely healthy if you are looking for a quick breakfast!
Delectable, juicy and flavorful, this one is extremely good to miss out on. So what are you waiting for? Prepare this one right away. Shall we?
The duo of peach and kiwi is splendid and you ought to try it out for sure. Sweet and creamy, the idea is gorgeous and one of its kind.
If you have kiwi in the house then don't miss out on the opportunity to prepare this already.
Ah, here is another one to tempt you right up to your core! One sip and you will be compelled to finish it in a minute! We are not even exaggerating a bit.
The refreshing dose of cucumber with kiwi turns out to be a brilliant smoothie choice!
Packed with so many benefits, the smoothie tastes brilliant! Flavorful and rich, you ought to give it a try! So what are you waiting for?
Refreshing and juicy, here is something lovely for you to relish! Rich and ready in a few minutes, the Kiwi smoothie recipe is fascinating and you ought to make this one for sure.
Pineapple, banana and kiwi to make it go!
Rich, decadent and unforgettable, the strawberry and banana smoothie is lovely and you ought to make this one for sure.
Don't forget milk to give it a rich and creamy texture. Topped with a slice of strawberry, this is one of a kind.
The idea for mango and kiwi is brilliant and you will agree with us after the first sip!
Topped with frozen fruit slices, this one is super easy to make for beginners. Shall we give it a try then?
The idea for banana and kiwi is extremely good and rich in taste! All you need are a few minutes and some basic ingredients, this all you need!
Green and healthy, you ought to make this one for sure.
Kiwi Quencher smoothie copycat recipe is so easy for one to make. Delicious and refreshing, the combination of kiwi with milk gives it a divine taste!
Strawberries and kiwi, this is one of its kind. Shall we make it then, let's go.