Well, getting on a diet can be quite daunting at first with having to give up on your favourite things! Here is what can add a fresh touch to your boring plans! Yup, we are talking about smoothie recipes!
If you have made one before then you will know how important it is to add yogurt to your smoothie! Making smoothies is fun and healthy to incorporate into your regular diet! Depending on the ingredients that you use, this can be the ultimate nutrition giver. So let's go!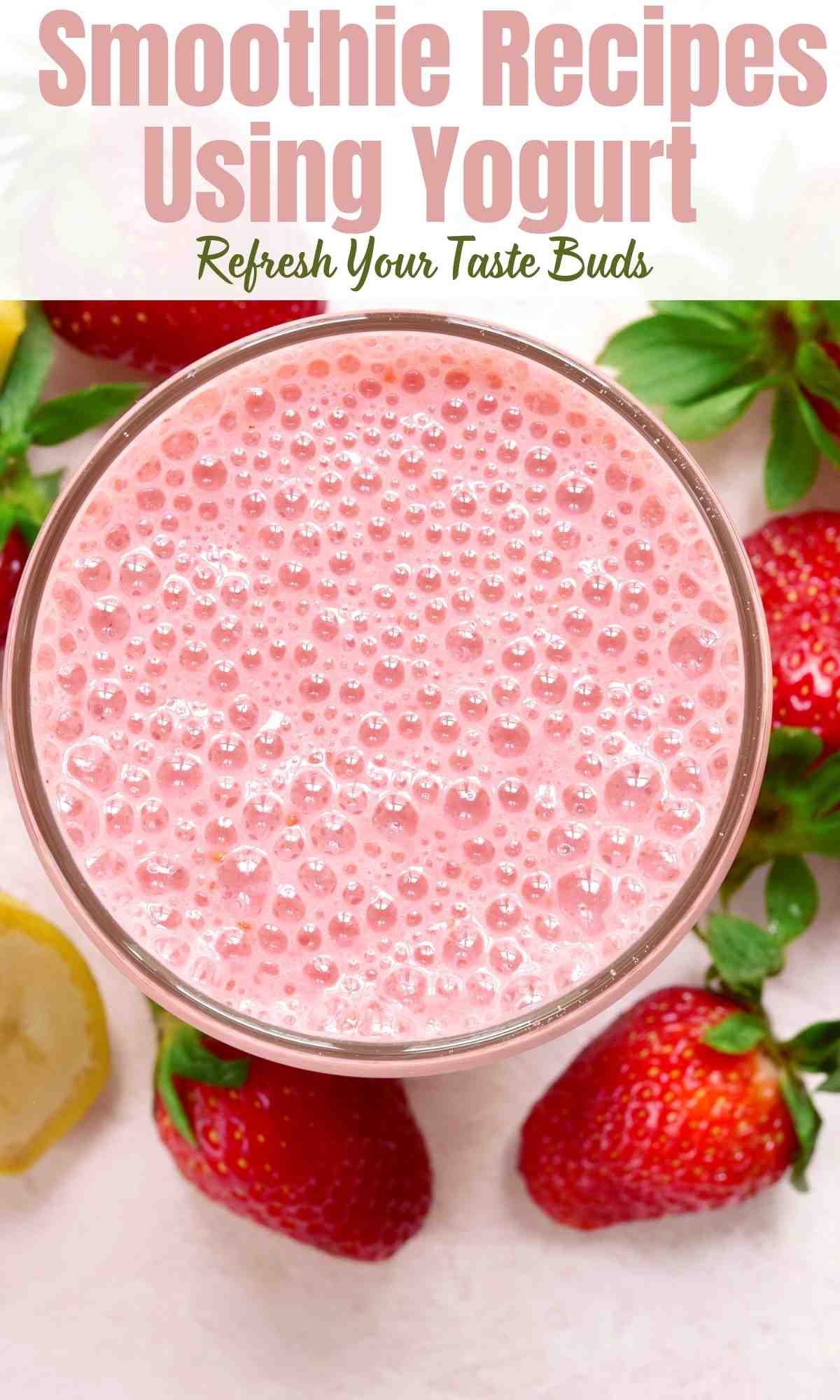 Table of Contents
What are some of the healthiest things to add to your smoothie?
When you are making smoothies, the options are simply endless! Whether you are adding yogurt or any other ingredients, there are so many things that you can experiment with when it comes to smoothies.
But the criteria remain the same! You must make your smoothie nutrient-dense and hence the ingredients should be packed with enough nutrients as well. Choose your products based on that of course! In the case of fruits, you can pick from bananas, mangoes, pears, peaches, and so on! More or less all fruits are rich sources of antioxidants. Moreover, you can use spinach, kale, parsley, carrots, and so on when it comes to adding some greens to your smoothie. Plus, you should not miss out on nut butter options like natural, peanut butter, unsalted, or almond butter, and so on.
If you are planning to add some nuts then toss a few chia, hemp, flax, walnut, and so on into the blender. Almond or oat milk are non-dairy options for your smoothie. Some spices like cinnamon and turmeric are included in a homemade smoothie as well.
More collections: Snapper Recipes, Vitamix Smoothie Recipes, Anti-Inflammatory Smoothies, Flaxseed Smoothie Recipes, Smoothie Recipes For Kids, Vegetable Smoothie Recipes, Low-Sugar Smoothie Recipes, High-Fiber Smoothie Recipes, Healthy Superfood Smoothies, Chia Seed Smoothies, Apple Smoothie Recipes
Which is better for your smoothie, milk or butter?
Now that really depends on the kind of smoothie that you are pursuing to make! Let's find out more about it. Both have their own set of advantages and cons as you add them to your smoothie to form the base. Suppose you are vegan, allergic to lactose, or looking for a dairy-free alternative then almond or soy milk can be considered. You will also be delighted to find out that almond milk is apparently low in calories. If you are using soy milk then you can expect a texture to be milky and creamy for your smoothie packed with protein.
Should you add yogurt to your smoothie and what shall happen?
Well by adding yogurt to your smoothie, we can only say that you are enhancing the nutritional benefits of your smoothie even more. The texture of the drink also turns creamy, thick, and rich. You should also know that yogurt is a rich source of probiotics and some of the good types of bacteria are present in it which are required for better gut health.
Essential vitamins, minerals, and nutrients such as calcium, phosphorus, magnesium, and some amount of protein are ingested as you consume yogurt in your smoothie. This is to be noted that yogurts have a naturally sweet taste which also makes your smoothie taste sweet and gorgeous. There are yogurt alternatives in the market as well in case you are looking for one. These include almond or cashew milk.
Here is a pro tip for you! To prevent your drink from becoming too thick, you can add some ice cubes to the smoothie whose base is made with yogurt.
If you are wondering whether yoghurt smoothie is good for weight loss then we must admit that it is true!
List of amazing yoghurt smoothie recipes
With curd as the base, the rich and creamy apple oat smoothie tastes simply brilliant! Packed with a dense consistency, you are definitely going to enjoy this one so much.
Well if you are looking for something yummy and creamy, the apple oat smoothie is the best.
Well, why deprive yourself of one when you can enjoy so many wonderful varieties of yogurt smoothies?
Delicious, creamy, and rich, this idea is simply splendid and you ought to give it a try!
Are you wondering how to make the most amazing smoothie in the world? Well, we can help you out!
The chia seed smoothie is extraordinary and packed with great taste! Delicious and creamy, this idea is perfect for a morning indulgence.
The combination of blueberry with apple is splendid and you ought to give it a try!
Chunky, thick, and rich, one sip is enough to make you a die-heart fan of this drink. So do not waste a minute more and get started already!
Of course, if you are getting late to work then there is no time for an elaborate breakfast but at least you can spare a minute or two to fill yourself with a glass of smoothie before you leave.
The banana breakfast smoothie is a drink that you can make at such times.
The rich and creamy purple flax smoothie is the ultimate treat of the season!
Packed with flax, berries, and so on, you are definitely going to enjoy this one so much.
Are you hoping to make a smoothie lately but confused about which one to try out? Then there is an option for you!
The giant glass of Green Monster smoothie is exactly what you need! Enriched with the goodness of chia, this is one of its kind.
Here is another one for you if you are looking for something good and creamy!
The Mixed berry smoothie is a dream come true for any berry lover! Nice and thick, you ought to try it out at home.
The combination of banana with strawberry is pretty unique and if you are bored with the same old variety, we can certainly help you out!
So don't waste time thinking when you grab a glass of it.
Are you making a yogurt smoothie for the first time? Then you have to go ahead with the yogurt smoothie ideas that we have for you right here.
Creamy and enriching, these are quite healthy indeed.
Here is another one for you! The classic carrot and apple smoothie is delicious and tastes so divine!
If you are looking for something healthy and yummy we have the perfect one. So what are you waiting for? Make it today.
Making strawberry smoothies is super easy as long as you have this wonderful recipe to keep you company!
Delicious, juicy, and sweet, there is no one who will say no to this one! Go for it already! Will you?
Come on! A smoothie with chia, berries, and bananas is something that should rule the smoothie world!
Creamy and cozy, if you wish to have something healthy in the middle of the day, go ahead with this! Shall we then?
Ah, you probably can not miss out on the creamy and rich Greek Yoghurt recipe!
This smoothie is simply splendid and renders one almost speechless.
Cozy and rich, you are going to fall in love with the treat already.
That is right! It is super easy to come up with this banana smoothie! Simple, light, and yet filling, you can have it any time you are feeling hungry!
Rich and gooey, you will definitely thank us later for the idea.
Have you tried the cucumber pineapple smoothie before? Because if not you are certainly going to regret missing out on this gorgeous smoothie on the table!
Refreshing and flavorful, this idea is simply splendid and a must-have at all times!
Well, this is something we love! An all-time classic, the creamy and thick texture of the smoothie will make you drool with every sip.
Do not blame us that we did not warn you about its addictive flavors. Let's give it a try!
Here is another wonderful surprise to leave delighted! Charming and cozy, you ought to make this one for sure.
Rich and creamy, the idea is super easy to emulate and topped with raw cherries to finish the look.
Ah, the lovely banana smoothie is waiting for you just here! Cozy, comforting, and flavorful, the idea is marvelous and leaves you smitten for more.
So what are you waiting for? The recipe is right here to make it for tomorrow's breakfast.
Well, we have to end the list with the almond smoothie! Served with Greek yogurt, the idea is splendid, and topped with cherries, this one tastes the best.
Thank us later for the idea! Wish you luck!