Hamburgers! The name of the recipe makes our mouths water! And why not! There is cheese, patties, and crumbly bread to make the dish so awesome. From kids to adults, hamburgers are a source of indulgence for all age groups! But often we order them from outside which does not turn out to be the most healthy option! We have got you covered with some of the greatest air fryer hamburgers recipes in the world that are so amazing indeed! Follow these tips which are so useful for you. Let's waste no more time and get started.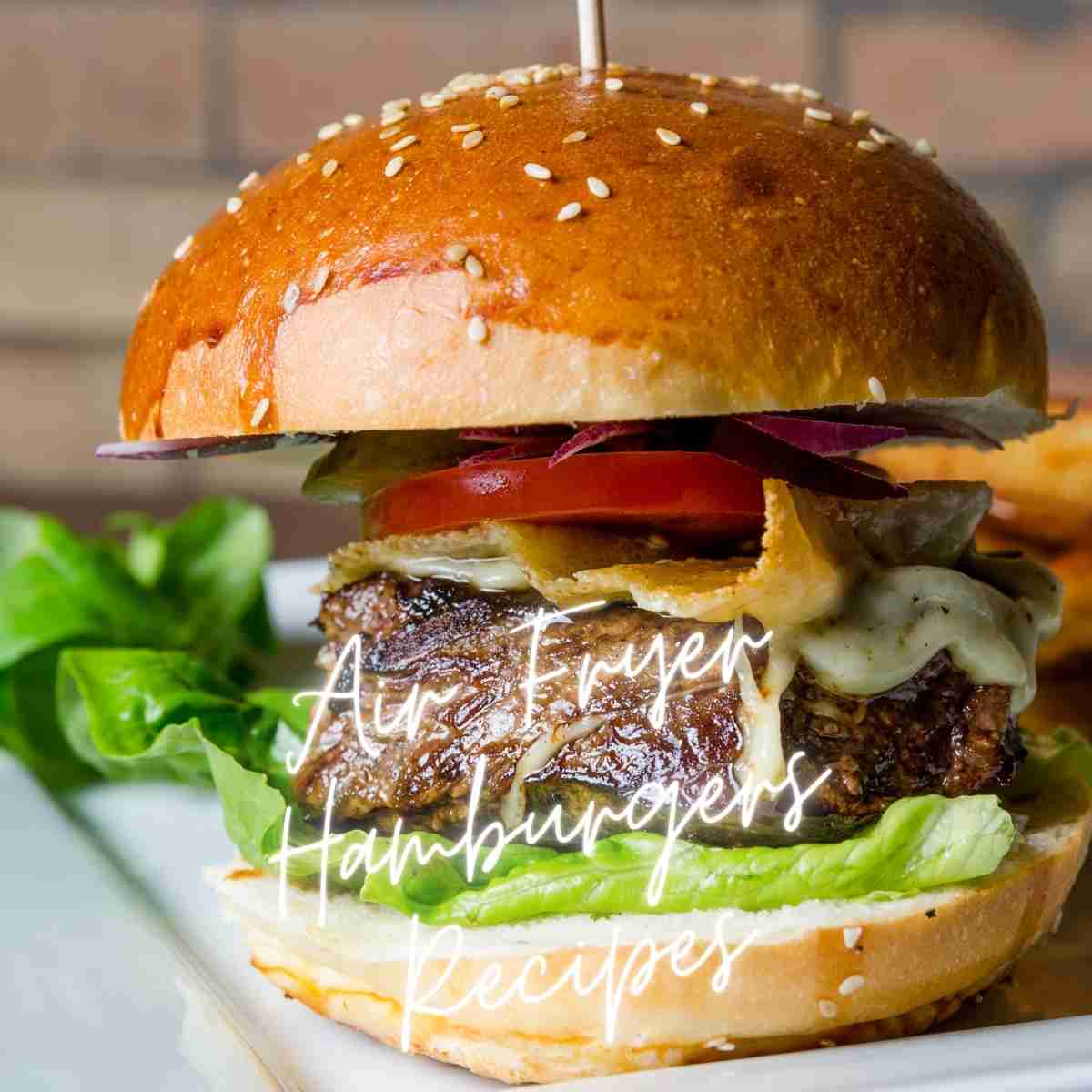 Secrets to making the best hamburger patties in the world
Making hamburger patties in an air fryer turns out to be an easy idea that you should indulge in! Craving for a burger but do not wish to eat from outside! There is a homemade remedy for you as well.
Using ground beef for making the hamburger pattie is the ideal option. The flesh-to-fat ratio should be 80:20 so that the patties are neither too chewy nor greasy but at the same time juicy and flavorful!
Salt, pepper, onion, and garlic are used as seasoning majorly although other spices are incorporated as well. Ground turkey is another great idea when you are looking for extra juicy and meaty patties to prepare the burger. Depending on what recipe you are making BBQ sauce is optional.
Olive oil is an essential part of cooking hamburgers. It lightens up oily food which ensures that you can indulge in junk and still be healthy. The presence of olive oil makes the recipe even more moist and flavorful.
The use of Dijon mustard sauce is optional depending on the recipe that you are cooking. Brioche is ideal for making good burgers or white-bread burgers are the ordinary standard options as well. Try out pretzel buns if you wish to infuse flavors. You can go gluten-free with a lettuce wrap! This is a low-carb idea that you should indulge in.
How to air fry the hamburger
This is the easiest bit of all! All you need to do is combine the ingredients first! Up to four medium-sized patties can fit in a standard air fryer. Place them in a single layer and press from the center with your thumb so that they do not swell up in the middle.
You shall be needing nine to twelve minutes for the patties to get cooked in the air fryer. Then place a layer of cheese and cook for another minute.
What about fries? If you are serving fries with hamburgers then cook them before you make the patties and set them aside. After the patties are done you reheat them at 400°F for about 3-4 minutes.
Follow these tips for the best hamburger patties in the world
Ensure that the meat-to-fat ratio is maintained at 80:20 so that they do not turn very chewy but at the same time not very greasy.
When you are cooking in an air fryer you may check the temperature of the patties which should be around 160°F. This is the ideal temperature at which the meat is prepared.
You may use parchment paper to store the hamburger patties so that the oil is soaked in and none of the patties stick to each other. This way you can store them for about a month in the freezer and eat them whenever you want.
What are the advantages of making hamburgers in air fryers
It is a great way to convert junk food as burgers into something healthy like this one.
The cooking time is quick and you do not even need a long time to preheat the device.
Cleaning the appliance is way easier than cooking in an oven.
The food turns out to be juicy and crispy at the same time without having to deep fry them in the oil.
The proteins and the nutrients are maintained intact in the hamburger patties as you cook them in this healthy style.
Let us learn about some of the delectable air fryer hamburger recipes that you can make this season!
Fantastic air fryer hamburger recipes to indulge in
Succulent and meaty, the flavorful hamburger is delicious and takes only about a couple of minutes.
If you haven't prepared anything for dinner then the easy hamburger recipe is perfect with just patties and buns.
Juicy and rich, you will be amazed to know how easy it is for you to make cheeseburgers! Flooded with flavors, make today's dinner a treat for everyone with this simple air fryer cheeseburger.
Try out this dish for sure!
Cooked with loads of veggies like carrots, potatoes, and onions, the succulent hamburger recipe is perfect to indulge in during camping trips!
Enjoy your comfort food surrounded by the wilderness of forests and hills.
Isn't it adventurous?
Just a look at the air fryer meatloaf will make your mouth water! Don't blame us if they are over the moment they are served on the table.
Perfect to make when you have the guests coming over, try out this recipe for sure!
The delectable air fryer burgers are what you should indulge in! Flavorful and creamy, the layer of cheese at the top rightly melts to give a delectable flavor to the recipe.
Shall we try it then?
The juicy air fryer meatloaf is fascinating and we are sure you would be highly tempted to try out this recipe which is the perfect combination of an exotic look and tender taste. Shall we make it then?
You probably would not have thought about this dish but here it is! The popular Salisbury steak with meat, eggs, Barbecue sauce, and ketchup.
Are you ready to indulge in its great presence during the holidays?
Seasoned with the right amount of sauces and spices, this is a source of temptation for kids as well as adults.
Rich and flavorful, you will surely fall in love with the meatloaf marinated in gravy.
Are the kids fretting about the boring snacks every day?
Well then surprise them with the air fryer hamburger which gets ready in a jiffy and is healthier than the store-bought ones.
Loaded with veggies and creams, the recipe is one of a kind.
Make your Sunday dinners special as you indulge in the hamburger recipes which are so yummy and juicy in every bite.
Gooey and topped with mayonnaise, you must explore this recipe served with mac sauce and pickles!
See how delighted your family will be to find this dinner.
All you need are twenty minutes to create these hamburgers that you can pack for lunch at work!
Give your boring day a boost of enthusiasm with the juicy air fryer hamburger.
Do you not have many ingredients at home? All you need are umami seasoning and BBQ sauce to flavor the succulent meat!
A layer of cheese and you are good to go! So what are you waiting for?
Make it today!
13. Air fryer hamburger
Explore the all-new flavors of the air fryer hamburger that are absolutely the juiciest of the lot!
Cooked within twenty-five minutes without a fuss, we are absolutely in love with the dish!
You should try it too!
14. Air fryer hamburger in minutes
We can't wait to try out this recipe for the flavorful hamburger and so will you when you find out how easy it is to make them!
Ready in just minutes, treat yourself tonight at dinner.
Try out this method of making the funniest hamburger in foils! And guess what?
If you can not go out due to work at least make yourself these foil hamburgers and set up a camp in the backyard to get the real feeling.
Quick, tender, and juicy, all in just one bite! You will find it hard to stop yourself after you indulge in them.
Make more and more, and freeze them so you can have one for snacks every day.
How simple it becomes to enjoy junk at home and in a healthy way! Explore the taste of the easy air fryer hamburgers that are simply awesome!
So let's waste no more time and make them, shall we?
Is your heart calling out for hamburgers? Then you have to try out this recipe which enables you to cook them quickly in an air fryer.
Enjoy this dish which is perfect to leave you to impress your kids.
There is nothing as delightful as munching on a burger and enjoying your comfort movie during the weekend!
So what if you had a busy Sunday and didn't manage to go out?
End your day on a good note with a cheesy hamburger in hand.
Do not feel sad if you had to walk past a burger shop and you couldn't eat them because you have given up on junk!
We have the healthy air fryer hamburger recipe for your relief.
Try it out today!
Your day just gets better with a lovely and succulent burger on the table and guess what, they are not even junk?
Wait, a burger that isn't junk!
Yes, you heard it right! We have the lip-smacking burger recipe here that you should try out.
The pickled and creamy burger sliders are exotic and saucy in every bite! Get it ready in an air fryer and enjoy your healthy snacks post-workout.
We have the ultimate hamburger for you right here! Delectable and creamy, the meat and cheese create a heavenly combination in your mouth!
Whether you wish to indulge in a juicy snack or a delicious dinner, a cheese-stuffed hamburger is the best.
Making hamburgers at home is no longer an issue with the air fryer that we have at home.
Seasoned with veggies and spices, the recipe is outstanding and you should give it a try!
Shall we try it out then?
How wonderful is this recipe of all-new cheeseburger biscuits that resemble small sliders?
Creamy and meat filled, the recipe is easy to emulate even for beginners!
Serve it as an appetizer for the parties during the next one.
26. Air fryer sliders
If you do not have an appetite for something big like a burger then the sliders are small treats that you should try out!
Perfect for potlucks and casual gatherings, the ingredients needed are minimal but you can come up with a marvelous outcome.
The recipe tries to explore the flavors of mushrooms and meat at the same time! Delicious and creamy, the kids, as well as the adults, will be delighted to be presented with burgers for dinner!
After all, who doesn't like burgers these days?
Can you believe it? A burger is ready in just fifteen minutes! Succulent and flavorful, the tender meat and creamy cheese are healthy and can be such a wholesome dish to prepare for dinner on a weeknight.
The amazing air fryer burgers are delicious and you should give them a try! Packed with veggies and greens, the air fryer burgers are delectable and such an exotic dish for you to make!
The double-layer burger is saucy and perfect as a source of indulgence.
Air fryer burgers are fabulous and quick to make! Are you looking for an easy burger recipe that is also very healthy?
Then give a try to the air fever burgers which are out of the world.
Frequently asked questions about making hamburgers in the air fryers
1. Which is the best way to make hamburgers in the air fryer?
You should preheat the air fryer at 375°F and then cook for five to six minutes! Observe when the temperature of the patties reaches 165°F rest assured that the meat is cooked. Serve it hot with buns.
2. How long will it take to cook a hamburger in the air fryer?
You can expect a juicy and flavorful hamburger to be ready in about six to seven minutes if you have properly preheated the appliance and followed the steps of cooking.
3. Can you cook raw burgers in the air fryer?
All you need to do is marinate the ground meat in spices and then shape it into circular forms and place it on the basket in a single layer! Soon the smoky patties will be ready in a jiffy.
4. Do you need to add oil while making hamburgers in an air fryer?
The air fryer allows you to cook with minimal or no oil under the high-speed fan.
Bottom Line- So are you ready to make hamburgers in the air fryer tonight?