Do you know what is the best thing about smoothies? You can customize it the way you want! From different flavors to consistency and so on, you can make it the way you want it to be!
In today's article, we are going to talk about orange smoothies! Twenty exclusive recipes just for you! But before that, let us find out about how to make the right smoothie at home. Why buy it from the store when you can simply make it at home? Plus, we will help you to make it nutrient-dense. So join us and read on!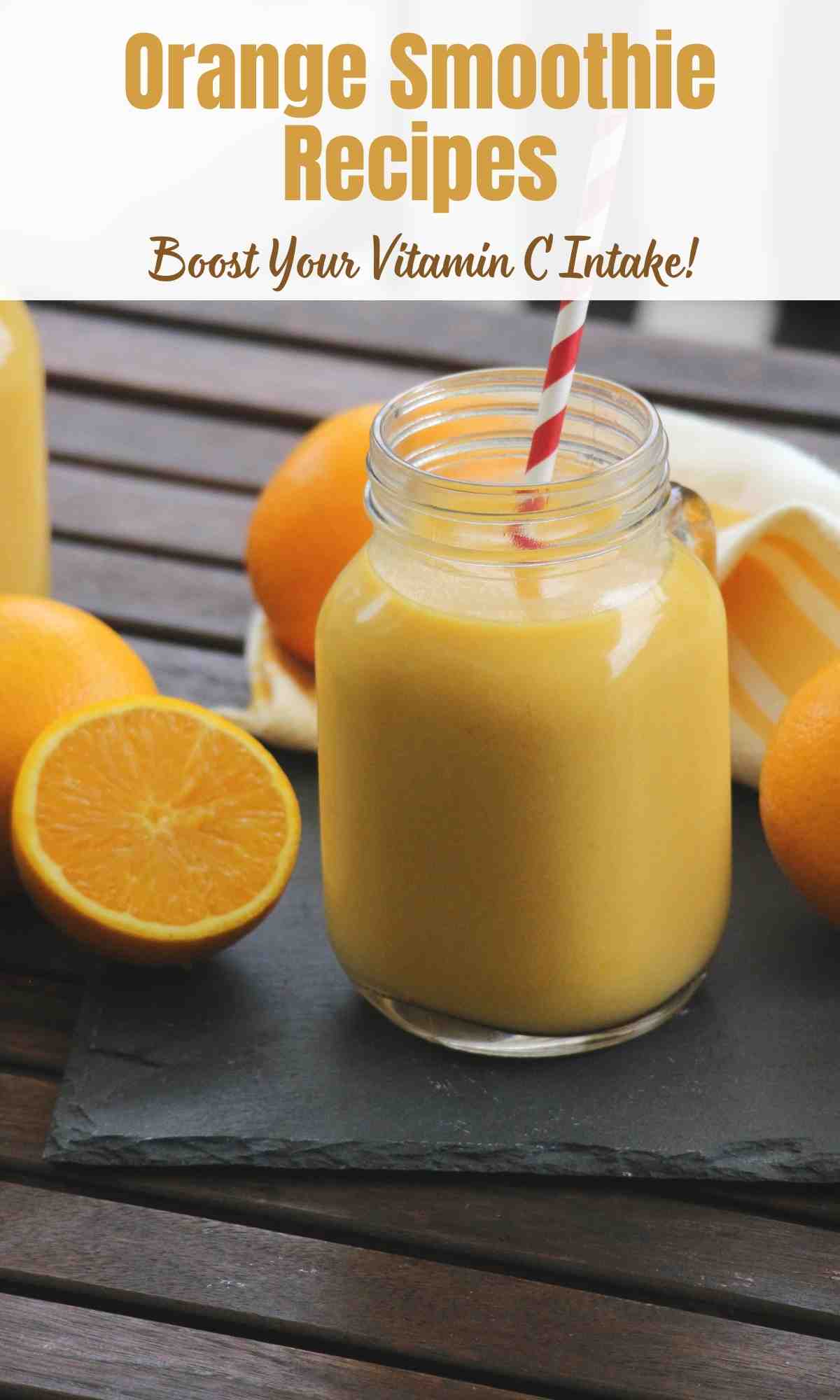 Table of Contents
When can you have a smoothie?
There is no particular time for having smoothies! From breakfast to brunch, you can always have it on the side! Feeling hungry suddenly in the middle of the day? Well, why hog on snacks when you can binge on a glass of smoothie? Whether you choose to have them for desserts or savor them as an entire meal, the options are endless! Well, what? Did it sound like an "entire meal"? Yup, that is true! A smoothie with the right dose of nutrients is good enough to be an entire meal when the day is too hectic.
When you are on a particular diet, no matter what, it is always best that you include a smoothie in your regular diet. For example, if you add anti-inflammatory ingredients to your smoothie then it can help you in managing chronic pain and aches.
What kind of fruits should you choose for your smoothie?
Now coming to the ingredients that are generally used in the smoothie! These include fruits and veggies which form the primary flavouring agent. While making a glass of smoothie you choose the kind of fruit you want, whether frozen or fresh although we will always recommend the former.
The nutrients present in the fruits are maintained intact when it comes to frozen and the shelf life is also comparatively higher. Commonly smoothies are made with berries which include strawberries, raspberries, blackberries, and so on. Mango, papaya, and pineapple are used as well. Then we also have kiwi slices, oranges and so many other options as well.
Sometimes you can choose to freeze the fruits in case you are planning to make them into a smoothie during the off-season! Peel, chop, and place inside the airtight ziplock bag. This way you can freeze the fruits for up to a year and they will remain as fresh as you packed them on the first day. Or, if you wish to skip the hassle, simply head to the market and get a bag of frozen food as well.
More collections: Anti-Inflammatory Smoothies, Flaxseed Smoothie Recipes, Smoothie Recipes For Kids, Vegetable Smoothie Recipes, Low-Sugar Smoothie Recipes, High-Fiber Smoothie Recipes, Healthy Superfood Smoothies, Chia Seed Smoothies, Apple Smoothie Recipes, Smoothie Recipes Using Yogurt, Spinach Smoothie Recipes, Blueberry Smoothie Recipes
What sort of dairy or liquid is used for making smoothies?
Well, you can simply use water to make a smoothie but the consistency of the juice will be thin and you may not like it so much! Instead, if you wanna, add some milk or yogurt to ensure it is thick and filling for a meal, in case that is the only thing you are having. Coconut water and dairy-free substitutes can also be used if you are looking for something creamier and wish to avoid dairy due to lactose intolerance.
Some protein powder can help you to make the smoothie thick in case you want to prepare a glass of thick smoothie enough to keep you full for a long time. Flax seed, tofu, and other alternatives are good enough as well. Here are some wonderful smoothie recipes that we have listed below for you!
Delicious Orange Smoothie Recipes To Satisfy Your Cravings
Creamy, smoothie, and rich, you are definitely going to enjoy the delicious taste and gorgeous flavor of the tangy drink to keep you company in the morning!
Even the kids will be delighted. Shall we then?
Well if you wish to make the taste of orange, mild, then add some bananas and you are good to go! 
Healthy, juicy, and flavorful, this one is a must-have! Do give it a try for sure. Thank us later for the idea.
Creamy and luxurious, you are definitely going to enjoy this wonderful orange banana smoothie!
Trust us that this recipe is a must-have when it comes to relishing the wonders of the fruity world. So dig and enjoy to your heart's content.
Why not combine pineapple with orange? In fact, you should find out how brilliant it tastes!
Delicious, juicy, and packed with fibers, this will keep you full for the longer hours of the day. Let's give it a try.
If you want something nice and creamy then the Green Julius smoothie is fascinating!
Delectable and packed with nutrients, you ought to make this one. This is splendid if you are in the mood for something nice and rich! Do give it a try!
Are you craving something good? Well then the orange smoothie is not only delicious but also healthy at the same time!
This being an immune-boosting drink, you shall observe the results soon. So what are you waiting for? Go for it already!
Dreamy indeed! If you are hoping for something good and gorgeous then there is nothing better than the orange smoothie right here!
Flavorful and rich, every sip is simply divine! Go for it already. Thank us later for the idea.
Well if you want to make your drink healthy then you have to go ahead with this carrot and orange smoothie!
This is a great way to tempt the kids and they won't even know there are carrots in it.
Healthy and packed with vitamin C, the fresh orange smoothie is flavorful and packed with great taste!
Creamy, smoothie and ready in a few minutes, you ought to give it a try for sure. Don't forget to share your feedback with us.
Sweet, luxurious, and creamy, the taste of the drink is amazing and you will be smitten to try out this one.
Served for breakfast, the idea is brilliant, and at every sip, you will be compelled to have more.
Well, we cannot stay away from smoothies and every time we catch a glimpse of the drink, we know this is exactly what we need!
Here the orange berry smoothie is simply the best! You must try it out at home to find out about its blissful taste.
Did you ever try making a smoothie with mandarin oranges? Well if not this is your scope to do so!
Delectable, juicy, and rich, even if you are on a diet, this is absolutely healthy! Plus, it is replenished with vitamin C too.
If you want to make it healthy but do not wish to munch on carrots then here is a solution for you!
Delectable, juicy, and creamy, every sip will make you crave more.
Here is an all-time classic, the apple carrot smoothie is the best! Well, nothing is as splendid as this smoothie which gives you the joy of the summer with the goodness of all the essential nutrients. So what are you waiting for?
Here is a slush cum creamsicle which is honestly the best that you will ever come across! Ready in a few minutes, the idea is wonderful and loaded with oranges and milk!
If you are craving something citrusy and tangy for winter mornings, this is what you need.
Ah! The combination of banana with orange is splendid and you must try it out!
Ready in a few minutes, the frothy and luxurious smoothie is healthy and tasty at the same time.
There is nothing much to describe about the orange pushup smoothie except that it is totally divine!
Packed with rich flavors and perfect to energize you after a workout session, this is a must-have!
Thank us later for the idea and don't forget to share your feedback with us too.
Mix strawberry with orange and see the magic unfold. We will not reveal much to you because that is what you need to find out!
Gorgeous and light, you ought to make this one for sure.
Are you looking for something cozy and comforting for the mornings? Well, then the orange juice smoothie is what you need!
Smooth and healthy, begin your day on a great note! So what are you waiting for? Begin the preps already.
The flavour of tangerine orange is simply divine and you ought to try it out for sure.
Delightful and juicy, this one is the best choice for the season! Let's not waste a second more! Good luck!