Does it sound weird to you? Spinach smoothie? Well, it might! We don't blame you for that certainly but what if we say that after finishing this article you will be compelled to head to the market and get yourself spinach to try a smoothie at home? Yup, that is how good and beneficial spinach smoothies can be!
To find out more, you definitely need to give it a good read first. And right at the end of the article waits for you twenty wonderful surprises.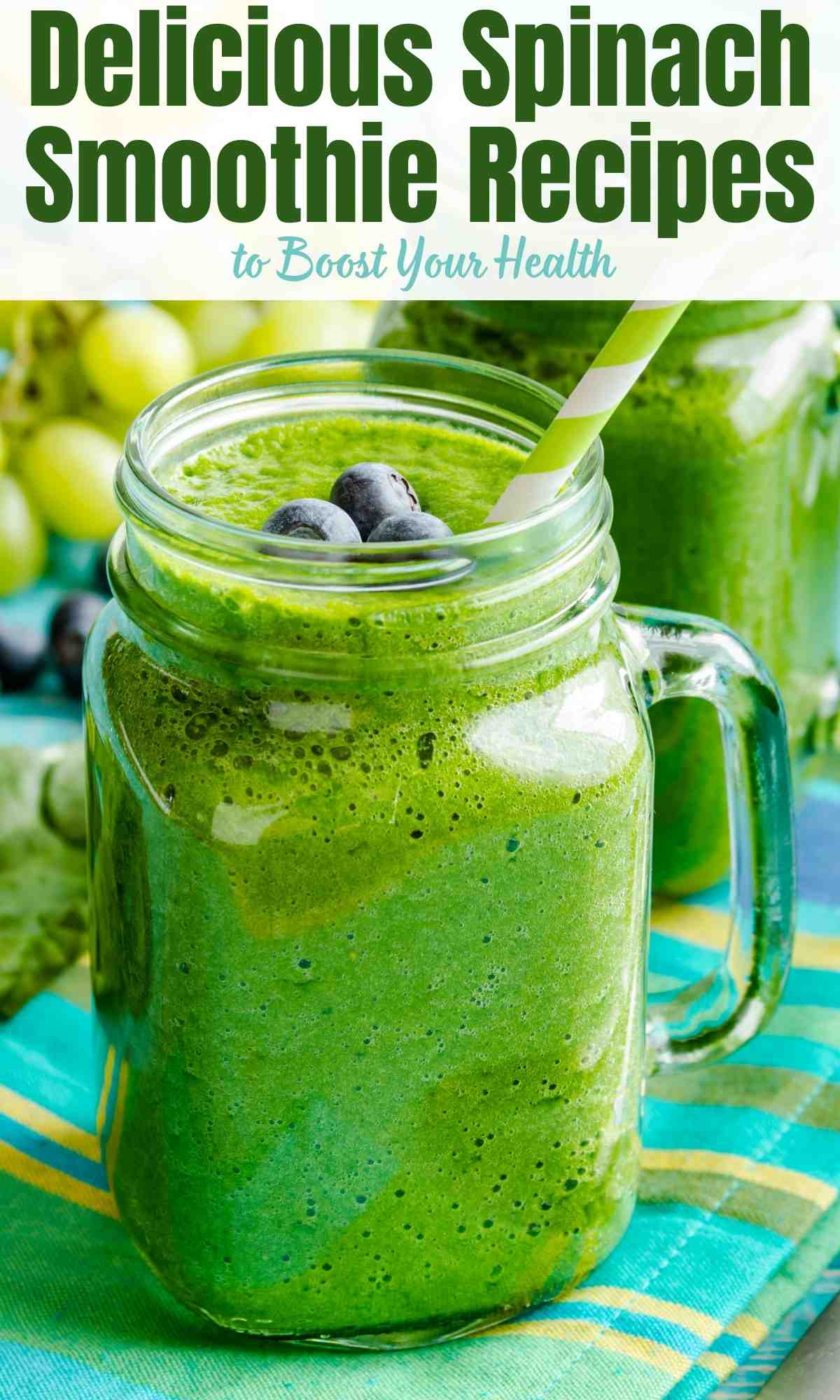 Is spinach smoothie good for you?
Well, that is the first thing you will ask yourself! First of all, it is spinach and adding it to your glass of smoothie requires great courage! So it is natural if you must be wondering whether having a smoothie with spinach will aid your health benefits or not.
This is to be noted that spinach smoothie enhances your overall consumption of fibres in your daily intake! A glass of spinach smoothie in the morning is exactly what you should be looking forward to. Even your vitamin C level is taken care of by just a glass of green smoothie every day in the morning.
One glass daily can keep you energized for a long day and did we mention it is also beneficial to keep your blood pressure under control?
But is it right to drink a spinach smoothie?
Once we have discussed the benefits of spinach smoothie, the question arises whether it is fine to drink a glass of smoothie! When combined with the right ingredients, it becomes edible and highly nutritious at the same time. A glass of such a smoothie will contain 70% veggies and greens combined with some fruits, almond milk, butter, chia seeds and so on. One can use yoghurt for the base which is also rich in protein. We would like you to know that spinach smoothie is enriched with folate, vitamin B, zinc, calcium and so much more. Studies have also revealed that spinach aids in better brain functionality and memory retention strength.
More collections: Vitamix Smoothie Recipes, Anti-Inflammatory Smoothies, Flaxseed Smoothie Recipes, Smoothie Recipes For Kids, Vegetable Smoothie Recipes, Low-Sugar Smoothie Recipes, High-Fiber Smoothie Recipes, Healthy Superfood Smoothies, Chia Seed Smoothies, Apple Smoothie Recipes, Smoothie Recipes Using Yogurt
What are the ingredients that go well with spinach?
If you aren't aware, then here is something that can help you to make the best smoothie with spinach in the world. All you need to do is pick the right ingredients and you are good to go. Alternatively to water like milk, fruit juices and great to enhance the flavour of the drink. Frozen fruits, chia seeds, veggies, nut butter, protein powder and so much more when it comes to spinach and smoothie.
Can spinach smoothie help you to lose weight?
Smoothies in general can help you lose weight! When included as a part of your diet, it is great to aid you in coming back in shape in a really short time. As you will remain full after a glass of smoothie every time, hunger will consequently be kept at bay and hence your cravings too! Thanks to all the proteins and fibres that take time to get digested, you will not feel like nibbling on snacks every other minute.
Hence we can conclude that with a systematic approach, it is possible to keep your hunger controlled and frequent urge to eat.
Can you use frozen spinach for making a smoothie?
Frozen spinach is perfect when you are making a smoothie at home! The nutrients are present intact and unlike fresh spinach, it has a longer shelf life too.
Here are some spinach smoothie recipes exclusively for you.
Spinach Smoothie Recipes - Easy & Healthy Ideas
If you want something green, nice and juicy then you ought to go ahead with the classic spinach green apple smoothie recipe that is right here for you.
So what are you waiting for? Give it a try today.
If you find it hard to sip on a glass of spinach smoothie alone then perhaps you should go ahead with this idea!
Packed with rich chocolatey essence, this is a must-have! Shall we begin with the preps then?
The combination of apples with spinach is absolutely lovely and an all-time favourite!
So if you want something good and gorgeous, do not hesitate to make this one! Smooth and creamy, this is a wonderful choice indeed. Let's go.
Yup, this recipe is pretty easy to emulate! If you want something creamy and smoothie then you should make this one today!
Healthy and ready with just four basic ingredients, this is a must-have. Let's make it tomorrow morning.
When combined with blueberry, you won't even be able to realize the presence of spinach in the drink!
Delectable, juicy and rich, this is simply the most gorgeous and healthy choice you will come across.
Are you looking for a source of indulgence? Well, then the healthy berry and spinach smoothie is the best to indulge in.
Rich and gooey, you ought to give it a try for sure! You will surely enjoy the refreshing flavours of spinach smoothie packed with the rich essence of berries.
Ah, the lovely trio of all times! Strawberry with banana and spinach ends up creating this blissful drink that you can serve everyone in the morning!
Ready in less than a few minutes, you will definitely enjoy this one for sure.
The idea for a blueberry spinach smoothie is simply lovely and you ought to give it a try!
Served with a dose of seasoning, this one is such a tempting delight! There is no way you should miss out on it.
There is nothing better than spinach with berries! Delicious, creamy and smooth, you won't be able to tell whether this is spinach even!
Gorgeous and gooey, you ought to try out this one for sure. Let's go.
There is nothing better than the classic spinach smoothie! Creamy, comforting and healthy, the spinach smoothie is fascinating and tastes brilliant.
Topped with some seasoning and herbs, the idea turns out to be the best.
Have you tried the cucumber spinach smoothie before?
It is highly refreshing in the morning and benefits you in so many ways such that if we begin to cite, the list will go on endlessly.
Of course, you need to try out the chocolate green smoothie for sure! Delicious, delightful and juicy, this one is super rich in taste and leaves you with a craving for more and more.
Even the kids will be tricked into drinking a glass of this smoothie. Don't worry, this is fine for all age groups.
Cosy, rich and creamy, you shall be smitten in every bite! The wonderful spinach smoothie recipe is waiting for you just here.
Gorgeous and lovely, the idea is incredible and if you wanna emulate this one rest assured it is super easy for beginners.
You ought to try out the amazing apple smoothie! Creamy, cosy and comforting, all at once, this one is simply splendid and packed with great flavours.
Chunky and rich, you shall be smitten with every sip! Go for it already!
The gorgeous berry spinach smoothie is a tempting option for those who prefer to begin their day with a glass of smoothie in hand.
Cosy and creamy, this one is super easy to make. Thank us later for the idea!
Add a dose of excellence to your glass of spinach smoothie with some pineapple added to it as well!
Pulpy, rich and juicy, this idea is wonderful and leaves you with a temptation for more and more. Go for it already.
Ah, here is another one that you can not miss out on! The blueberry banana spinach is lovely and you ought to make it if you are looking for post-workout indulgence.
Adorned with berries, your drink is ready in no time.
Well, well, well! The predominant flavours of blueberry make it hard for you to figure out the taste of spinach but if you are not quite fond of the greens then this is the best way to have it. Shall we then?
If you want something green and healthy then the detox spinach smoothie is exactly what you need!
Savoury, juicy and rich, you are going to highly benefit from this one.
So what is the delay all about? Enjoy your detox smoothie today.
Ah, we have to end the list with the raspberry spinach smoothie! Creamy, smooth and refreshing, this is a must-have.
Healthy and powerful to give you a boost of energy in the morning, prepare it quickly and sip into yours.