Did someone just mention hamburger steaks? Of course, we did! Whether you are in the mood for a celebration with friends, a party, and a gathering on the weekends, or simply enjoy a wholesome meal with your family, hamburger steaks are a unique idea to bring to the table. And guess what you can make it at home in the skillet so you also have money and energy at the same time. These tender beef patties will be a sheer treat to the foodies and it has also got loads and loads of gravy so you can enjoy a great time.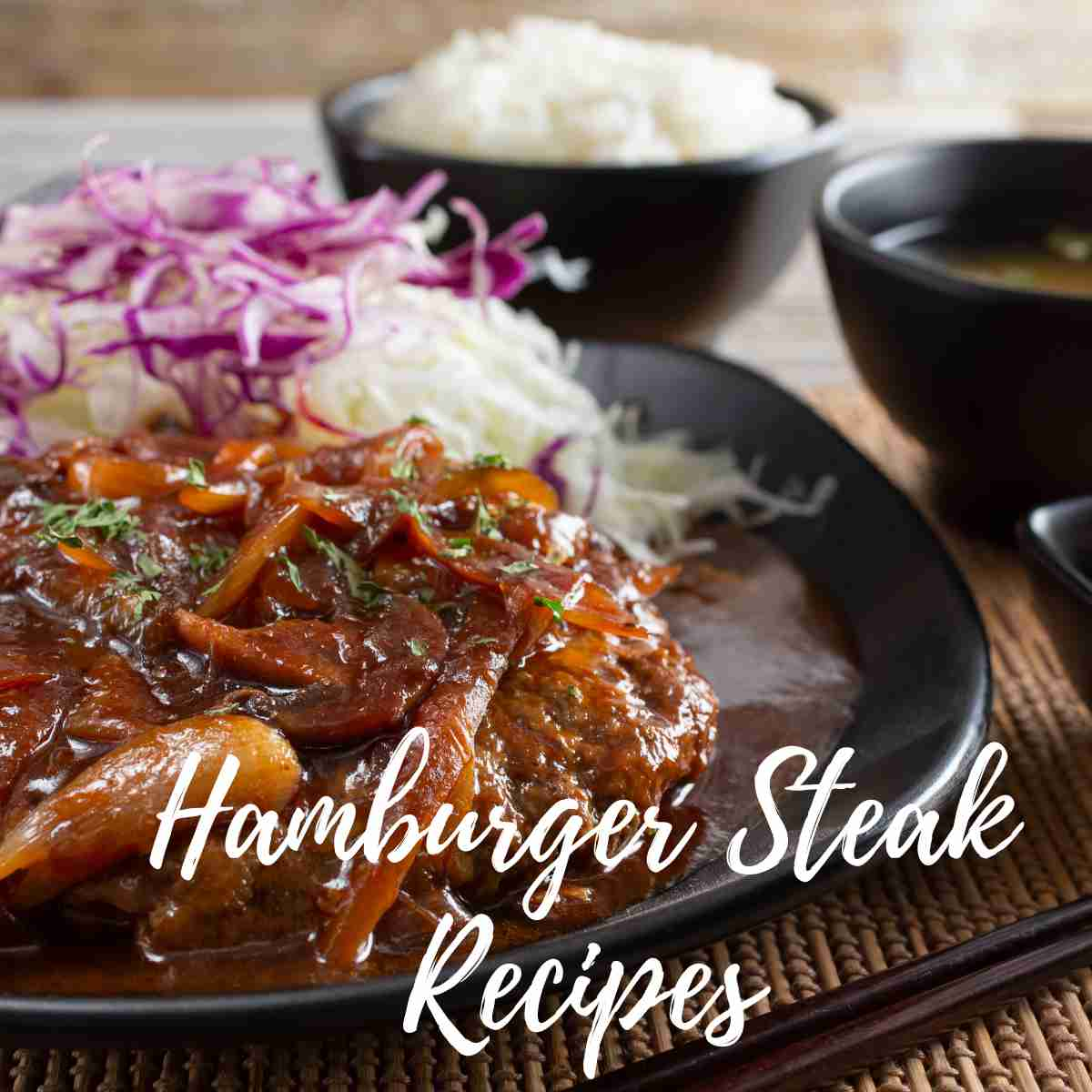 Such a comfortable recipe that you can make every day. And guess what if you have a long day and do not wish to cook then this is what will come to your rescue instantly. A hearty old-fashioned meal to keep you happy throughout the day!
Here are some basic ingredients that you will need for making hamburger steak-
Lean ground beef
Worcestershire sauce
Eggs
Milk
Breadcrumbs
Onion powder
Seasoned salt
Butter
Flour
Garlic powder
Beef broth
These are some of the basic items that you will need for making the standard hamburger dish.
General instructions-
Mix all the ingredients to make the beef pattie.
Now shape them in circles, depending on the quantity you take the number of patties will vary.
Then take a hot skillet and sear in the pan.
After a while turn it over and sear on the opposite side.
Chopped onions are added to the pan and sauteed until they turn brown.
Then in another pan add some butter and melt it! Some flour should be added and whisked to make a smooth and consistent mixture.
Now add the beef stock and then stir well.
The pattie is added to the gravy and allowed to simmer for twenty minutes.
Make sure you have a couple of large bowls, a skillet, and a whisker by your side as you go ahead to make this dish.
How to store the leftover hamburger steaks
You need an airtight container to store the leftover hamburger steak! If properly stored then they can last up to three to four days.
Reheat in the skillet when you wish to enjoy it over medium heat but first, remember to bring it to room temperature otherwise the heating may not be uniform. If you are putting it in the microwave then you will need about two to three minutes.
Here are some variations that can be made to the hamburger steak
If you are bored with onion gravy to top the hamburger steak then you can use a smooth and sumptuous garlic butter gravy as well. Soy sauce goes well with the steak too.
You can even add some chopped-up bacon mixture to the hamburger steak to enhance its taste and flavor.
If you like a bit of heat and spice to your dish then Cayenne pepper is what you can engage in.
Mushrooms confer an umami taste to the steak and we are sure you will prefer it too.
Salt and black pepper are mostly needed for seasoning.
Shredded cheddar cheese just does wonders! Engage in its cheesy and gooey essence with this modification that you can bring to your recipe.
You can even get some slices of white bread to enjoy with the steak. They turn out to go great with hamburger steak and make it a wholesome meal.
In case the steak mixture is too watery then you can add more breadcrumbs to thicken the consistency.
Tips for making the best hamburger steak
The internal temperature of the steak should reach 160°F for you to understand that the steak is cooked.
Browning the patties is the goal of searing them in the skillet instead of cooking them the entire way through.
You keep them at the browning level and make the gravy later when you wish to consume the dish! This way by making the dish ahead of time, you will save some energy before the meal and converse with your guests.
Here are some exotic recipes for hamburger steak that you should try out.
Tasty hamburger steaks for you to try out
If you are making hamburger steak gravy for the first time at home then this recipe will help you out through thick and thin.
Get into the kitchen and prepare this awesome dish right away!
Topped with chopped mushroom gravy, this is outstanding.
The classic hamburger steak with onion gravy is gorgeous and you will surely find this to be an amazing option.
Flavorful and rich, you will definitely grow fond of this dish!
Simple and hearty, the hamburger steak is gorgeous and flavored with smooth gravy!
The combination of mushrooms and onions renders the hamburger steak a sense of comfort and a treat to the taste buds.
Sprinkled with herbs, this is one of a kind.
How exquisite is this Japanese hamburger steak? The authentic flavors with broccoli, onion, and carrots make this hamburger such a brilliant option to relish!
Topped with Worcester sauce, you will not be able to resist indulging in this wonderful dish.
With the succulent ground beef tossed in gravy and flavored with Cayenne pepper, the steaks are the best thing that you can look for!
A combination of little heat from the pepper and Italian seasoning makes it taste so fantastic on every bite.
Sprinkled with herbs, the smothered hamburger steak tossed in gravy tastes so divine!
You don't have to trust us by our words, try on your own and find out.
Sprinkled with herbs on top, the steak simply tastes outstanding.
Hamburger steak with country gravy gives you the experience of diving into the old-fashioned dish that you have been looking for a while.
What else do you need for a cozy dinner at the end of the day?
Shall we make it then?
If you are in the mood for something sumptuous and rich then let us tell you that you do not have to venture to the restaurants and spend a fortune!
Simply indulge in making this recipe which is the perfect way to enjoy steaks.
There is ground beef and mushroom! What else do you need for a luxurious meal on a busy weeknight?
Try out the Salisbury steak with mushroom gravy and tell us if your kids don't ask you to make it again and again.
As you can see, onions, pepper, and mushrooms are all clubbed together with ground meat!
This gives a wonderful essence to the meat which is tossed in sticky gravy!
So if you are looking for an appetizer this works best for you.
The hamburger steak with onion creamy gravy is delicious and you should give it a try!
Served over rice, the summer brunches are sorted with meat and rice on the table.
If you are having the same old boring dish every day for dinner then the hamburger steak is the right way to fight the boredom!
Here are loads of mushrooms and onion sauce to make sure your tummy and heart both are content.
If it is the end of the month then the hamburger steak is an easy and affordable way to support your luxurious meal!
Served with mashed potatoes and veggies, what an excellent choice it is!
If you want an appetizer then avoid the gravy with the aid of the quick hamburger steak recipe!
It is devoid of gravy and hence such a crispy option to relish with the main course on the sides.
Shall we then?
Here we have the beef pattie marinated with marinara sauce and flavored with soupy gravy, this is a magnificent choice of the dish when the kids are coming over!
Give your steak a modern twist to the classic dish and see how it turns out.
Amazing French onions Salisbury steak is another easy-peasy recipe that you can eat when you are running out of time!
Smeared with parmesan cheese, the yummy Salisbury steak makes you feel so content with your meal after a tiring day!
The rich mushroom and the onion sauce spread over the hamburger steak give it a smooth and wonderful essence.
Perfect for a weeknight meal, you will surely fall in love with the taste of the dish!
Don't be surprised if you are compelled to make more and more every day.
You will be thrilled to know that the Salisbury steak is absolutely gluten-free so you can enjoy it when you are on a strict diet as well. Shall we try it out then?
If you are looking for the taste of authenticity then the Japanese hamburger steak is what you need.
You are up for a surprise in every bite! Filled with cheese and drizzled with sizzling sauces you are surely going to find this dish so tempting.
The Salisbury steak is all that you will crave once you give it a try!
Sprinkled with herbs, the steak is topped with beef stock and Panko bread crumbs!
The flavor is chives and parsley is best experienced through this Salisbury steak.
If you wish to avoid beef to reduce the fat content in your dish the chicken fried hamburger steak with gravy is ideal.
The breaded crust gives a crispy edge to the steak as you also bite into the tender meat within.
There is some variation to the hamburger steaks that you will experience through this recipe!
If you are up for something innovative as well as easy to cook then don't forget to try this one out.
The cozy hamburger steaks are marinated in tangy and sweet tomato gravy that renders this dish an extraordinary taste.
The richness of smooth gravy followed by the goodness of cream drizzled from the top gives this dish an outstanding taste indeed.
The smothered hamburger steak is another innovative recipe flooded with the presence of cheddar cheese!
All it takes is thirty minutes to create this dish, perfect for small gatherings and family dinners.
There are baby Portobello mushrooms used in this dish.
Made from items already available in the pantry, the hamburger steaks are gorgeous and you should indulge in its flavor if you are craving something gooey or healthy at the same time.
Tender and juicy, hamburger steaks are lovely topped with mushrooms and sauce!
If you are in love with meaty curries with your rice then the hamburger steaks are perfect for a hearty brunch.
Let's not waste a minute and make it for tonight, shall we?
Cozy and rich, the hamburger steak and gravy are amazing and you should give it a try!
Juicy tossed with mushrooms, the hamburger steak is ideal when you have nothing on your mind and wish to explore something easy-peasy and yummy.
Ready in less than thirty minutes, the hamburger steak with mushrooms is the right choice of dish that you can explore for a quick and cozy meal this season.
The rich and creamy mushroom sauce is out of this world.
Prepared in a jiffy, the Poor man's Salisbury steak is the sheer source of jubilance and fulfillment.
If it is the end of the month and you have not shopped grocery yet then this Salisbury steak is all that you need.
The hamburger patties saucy style recipe is exotic and enriched with the presence of mustard and Worcester sauce!
There are enough breadcrumbs to accentuate the taste of the recipe.
The gooey flavor makes you crave more and more.
Frequently asked questions associated with hamburger patties
1. What is a hamburger steak?
Prepared with ground beef, these are radically succulent patties that are soaked in gravy! Tossed in a mixture of breadcrumbs and eggs, you can even create gravy with them!
2. What is the difference between Salisbury steak and hamburger steak?
The Salisbury steak is flavored with onions, bread crumb, and ground beef while the hamburger steak lacks onions in its content although there is onion gravy added as well.
3. Is chopped and hamburger steak the same thing?
In chopped steaks, the meat is cut into small pieces and added to the patties while hamburger steak makes use of ground meat.
4. What type of ground beef should you use?
Lean ground beef is the best option when you are making ground beef steaks. These are hence more juicy and succulent as well.
Bottom Line- We guess you are already excited about indulging in these succulent meaty steaks, aren't you? Then do waste a minute and get started with these exotic recipes that are perfect to bring water to your mouth. Preparing them on a body weeknight is the best way to deal with a tiring day!