If you are in Colorado then you must be knowing the love of the locals for bison! Whether small or big, bison meat is a must! In fact, you will be intrigued to find out that Colorado is the top bison consumer in the whole world. One of the healthiest meat in the world, bison is low in fat, cholesterol, and calories. Ideal for low-carb diets, these are also recommended for heart and high blood pressure patients to keep things under control! But those are some medical discussions for later. Let's learn to make ground bison meat now!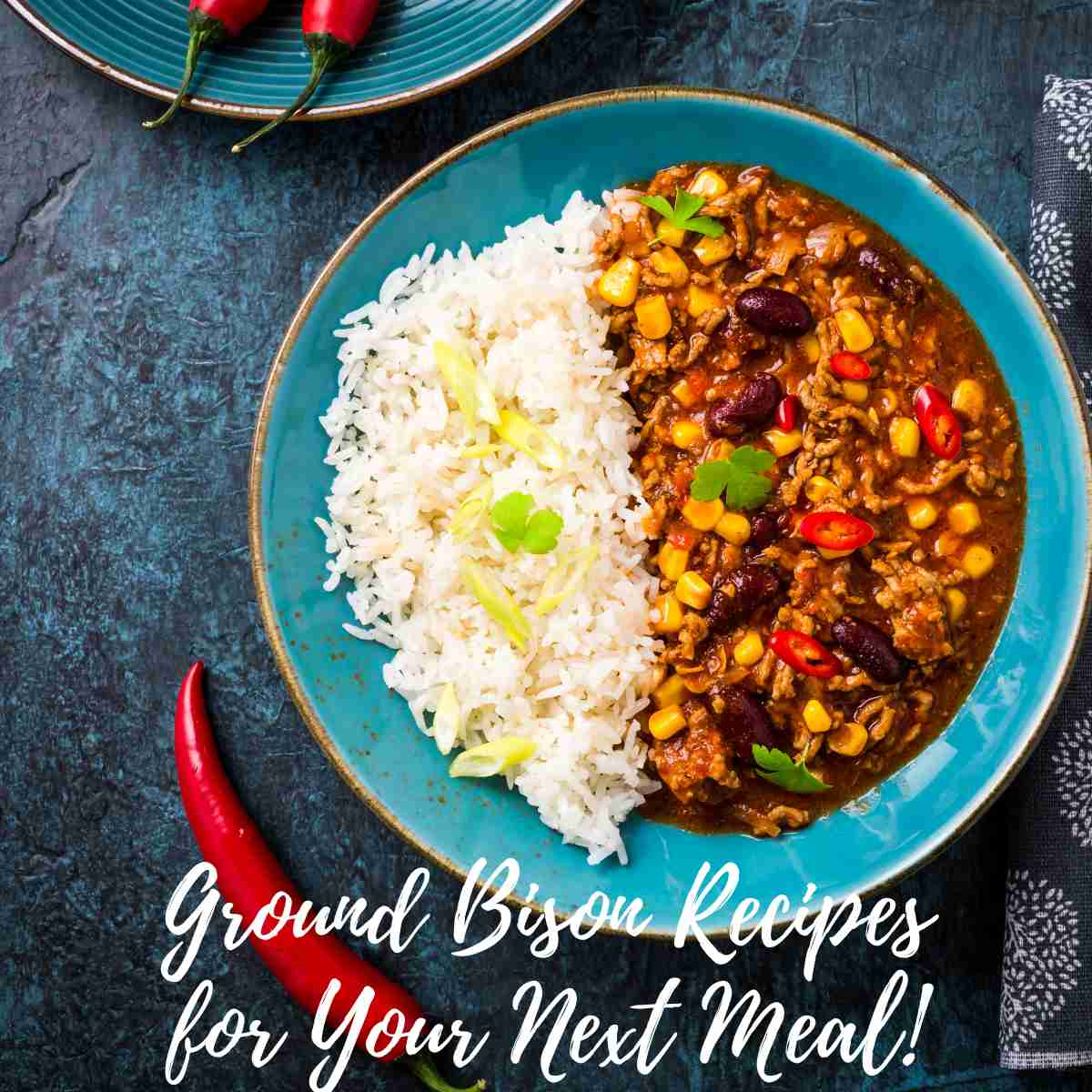 What are the benefits of consuming bison meat-
There are several benefits of consuming bison and here are some which will help you to choose bison meat for your next meal!
1. Take care of your heart health- given the low-fat content in the body, bison meat is extremely healthy and one of the most popular of all in America. The cholesterol and calorie content of the meat is also very less, being a complete low-carb diet! Every 3.5 grams serving of bison contains 108 calories and 1.8 grams of fat only!
Here is a list of nutrient content given below which will help you to determine whether you wish to make this dish for dinner. Let's go!
34% proteins- the high content of protein in the bison meat makes it even more healthy and consumption of such meat is good for your muscle growth as well.
42% selenium- selenium helps oxidative function at the cell level.
Apart from that, there are several other nutrients in bison meat like Niacin, zinc, iron, and so on!
How do you raise a bison-
The tenderness of beef and bison is comparable. Hence if you are fond of meat like beef, then bison is a great option for you! A bison lives up to forty years and they are harvested from eighteen months of age. These have a diet mainly based on grass, hay, and so on.
What are some of the cooking tips for eating bison
The cooking tips for bison are more or less the same as when you make beef. However, you have to be careful about the timing for which you cook meat! This is because if you cook lean meat for a longer time then it can get chewy and hard. Medium heat is required for making the meat so that you do not tend to overcook it.
1. How to season your bison meat- the seasoning of the bison meat is essential making the steak taste even better. Try to use olive or garlic for seasoning as this can enhance the taste of the bison meat even further. You can allow the meat to remain marinated for about sixty to ninety minutes while this relaxes at a cool temperature. Red wine with garlic is a great option when you are thinking about a strong marinade.
2. Let's talk about ground meat- ground beef can be easily replaced by ground bison! Everything remains the same, from spices to seasoning, only the meat changes. Ground bison is very easy to make! Grill, saute, or roast, the options are simply endless. Remove the meat from heat and allow the meat to cool down within five to ten minutes. You need plenty of oil so that the meat does not stick to each other which is likely in the case of lean meat.
3. Bison steaks- if you have frequented the market recently and bought bison meat in the form of steak then here is a way to make them well. There are two different techniques for making it, long and low, high and fast! This enables you to create a crispy crust on the surface of the meat. You shall need about one to twenty-four hours for marinating the meat in the required seasoning. The ideal temperature should be maintained around 115-135°F. Then cover it with parchment paper or foil and a towel and let it rest for 10-15 mins at least.
4. Bison roast- just like how you would roast beef, in a similar way you work on a bison roast, grill, or smoke in a crockpot.
Dry oven roast- roast for about fifteen minutes so the internal temperature of the meat reaches 135°F. Then you need to remove it from the oven and then allow it to rest on the parchment paper for a while. You shall need about ten to twenty minutes to rest before you slice it up!
Bison pot roast- if you are preparing the meat in a stock or broth then it shall take some time for the bison meat to get ready. Ideally, it shall take about four to six hours.
Making bison in a stew- if you want something in a broth or a gravy then you should opt for a handsome stew. Cubes of meat can be used for making a stew or you can even opt for ground meat!
Making serving sauce- red wine works wonders with bison! Mushrooms are also a great idea when you are working with bison meat! Plenty of berries like blackberry, raspberry, and currant are some of the options that one can opt for. If you do not wish to get into complications then simple red berry sauce is good enough as well.
Some quick tips for making bison meat-
Here is a gist of how you should process the bison meat before you serve it on the table.
You should at least remove the meat from the refrigerator for about thirty to forty-five minutes before you begin to marinade and cook it! This allows the meat to reach room temperature so that cooking is even and the meat does not remain undercooked in some portions.
Remove the meat from the heat about five to ten degrees less than the required temperature because when you allow the meat to rest, the temperature gradually increases.
Bison meat cooks about three times faster than beef! So you need to be precise about the temperature and duration for which you cook.
However, bison meat is lean and much more dense than beef so it cooks faster.
Allow the meat to rest for at least ten minutes before you slice and serve it at the table.
Now that you are well versed in bison meat, grab yourself some and prepare it today! Here are some wonderful recipes for ground bison which you can try out during the weekends.
Delicious Ground Bison Recipes - Try These Delicious Dishes Today!
Do you have thirty minutes to spare before your dinner? Then you must bring about the bison meat out of the refrigerator and make it today. Infused with parsley, Worcestershire sauce, and chicken broth, the gnocchi tastes so good. Do give it a try for sure!
Here is an ultimate treat for meat lovers! Sprinkled with cheese and delicious meat sauce, the recipe for bolognese tastes so good! This is an amazing idea that leaves you craving for more at the very first bite.
Tossed with veggies like cubes of potatoes and flavored with herbs, the recipe for Bison Picadillo is a wonderful recipe that is flooded with the wonders of authentic spices. You can enjoy the dish with rice or tacos, whichever way you prefer!
The ground bison pasta is ready in just thirty minutes! Delectable and juicy, the presence of onions, tomato sauce, and Italian seasonings renders a sense of comfort and coziness to the taste buds. This is an excellent idea for a wonderful meal!
Made with ground beef, the tender bison meatloaf is smooth and saucy! Succulent and enriching, the meat loaves are the best way to end your meal with! Enjoy with fresh greens on the sides. So what are you waiting for?
With tortillas, roasted chile, and cheese, the Bison burrito casserole is absolutely the best that you can think of! The presence of tomato sauce makes the casserole taste even better with the tangy hint we must admit. Shall we try it then?
If you are in the mood to try out something cozy and spicy at the same time then try out this ground bison recipe right away! The bold flavors of the dish are its specialty and we are sure you will love it too!
If you can't have beef then bison is a great substitute! Here is a recipe for a bison burger that tastes so sumptuous and lovely! Soft and flavorful, the kids will be quite excited by its extraordinary flavors and succulent essence!
The idea of a ground beef bowl is simply amazing and there are no words that can do justice to describe its taste! Packed with broccoli and other greens, the recipe is simply lovely and a must-have! So what are you waiting for? Make it today!
The bison sweet potato chili is a wonderful creation that can enable you to introduce yourself to the true flavors of bison meat! If you are trying bison for the first time, this is perfect!
If you are craving burgers for a long time but wish to try out something new and distinguished from the same old chicken and pork then the delicious burger is the right option for you to relish. Highly satisfying and succulent in every bite!
Here is a modern twist to the old classic recipe! You must have tried stuffed pepper before but did you try bison stuffed pepper? Well, then you definitely have to, with this recipe at your fingertip. Shall we?
The taste of the sweet potato bison shepherd's pie is outstanding, filled with meaty treats, sweet potato chunks, and peas. This is a great idea if you are willing to give a new twist to the old version of shepherd's pie!
Packed with kidney beans and tomatoes, the healthy bison chili is an extraordinary idea that leaves you tempted and craving for more! You can enjoy the soupy curry with rice on the sides on a warm summer afternoon to fill yourself up!
Here is a recipe that will enable you to make the bison meatballs so easily before the meal! Lovely and flavorful, this is a brilliant idea sprinkled with herbs like parsley, basil, and so on. Do not forget shallots and marinara sauce.
Spicy orange bison balls are served with sticky gravy and are often consumed with rice. With the combination of soy sauce, Worcestershire sauce, and orange marmalade, the spicy bison balls are a wonderful creation indeed!
This is an Italian classic made with ground bison and chopped bacon! What a lovely creation with ragu on the sides! Packed with loads of parmesan cheese and tagliatelle noodles, the dish is simply out of the world! So are you ready to make it for dinner tonight?
Made with yum yum sauce and teriyaki seasoning, cauliflower rice stir, ground bison is lovely and flooded with the goodness of veggies, rice, and meat! The delicious and creamy dish is amazing and you should give it a try for sure!
This is a wholesome one-pot meal that you can prepare in a jiffy! There are even greens and other nutritive items which makes it a great sort of meal for dinner or lunch! Give it a try and find out.
This is definitely much more than what we describe as ordinary ground bison! Adorned with rich cream, the meatballs are soaked in gravy and drizzled with herbs! So are you ready to enjoy its blissful taste?
Frequently asked questions associated with making ground bison
1. What is the best way to cook bison meat?
A dry roast is the ideal way to make bison meat! The internal temperature of the steak is 135°F when the bison is ideally cooked. Allow it to get prepared for about fifteen minutes and then serve it fresh!
2. How can you tenderize bison meat?
Acidic items like lime, lemon, and pineapple are great in that you can soak the bison meat and allow it to slowly tenderize. You can also soak it in olive oil or canola so the meat tastes succulent and soft!
3. Does bison meat taste good?
The taste and flavor of the bison meat are mild and thus it is great to have as a great substitute to beef as well. When it picks up the flavor of the spices, the meat tastes sweeter.
4. Is bison a healthy meat to consume?
Bison is definitely a healthy meat that one can use to replace beef! It is rich in proteins and less in fats so you can enjoy it even if you are on a diet.
5. Is bison hard to cook?
Bison is cooked similarly to beef! The techniques are more or less the same. It is much leaner and requires less time than the latter.
6. Is bison meat expensive?
It is to be noted that bison meat is expensive. But this is due to the reason that bison are raised in a particular style.
7. Does bison meat taste bad?
The presence of iron in bison meat gives a metallic taste to the meat. The color is also rich red for a similar cause.
Bottom Line- Well, that is all about bison meat! If you have ground bison meat in the refrigerator then prepare it today!