For most of us, snacking is all about hogging down something unhealthy or junk while binge-watching Netflix! But with time as we are growing more concerned about our diet, it has become important for us to shift our focus from ordinary only junk to something more amazing and healthy! So if you are planning to make something for the occasion of Halloween as light and healthy snacks for the kids and the visitors to the party, then you have absolutely come to the right place. But before that let us gather some insights about snacks, shall we?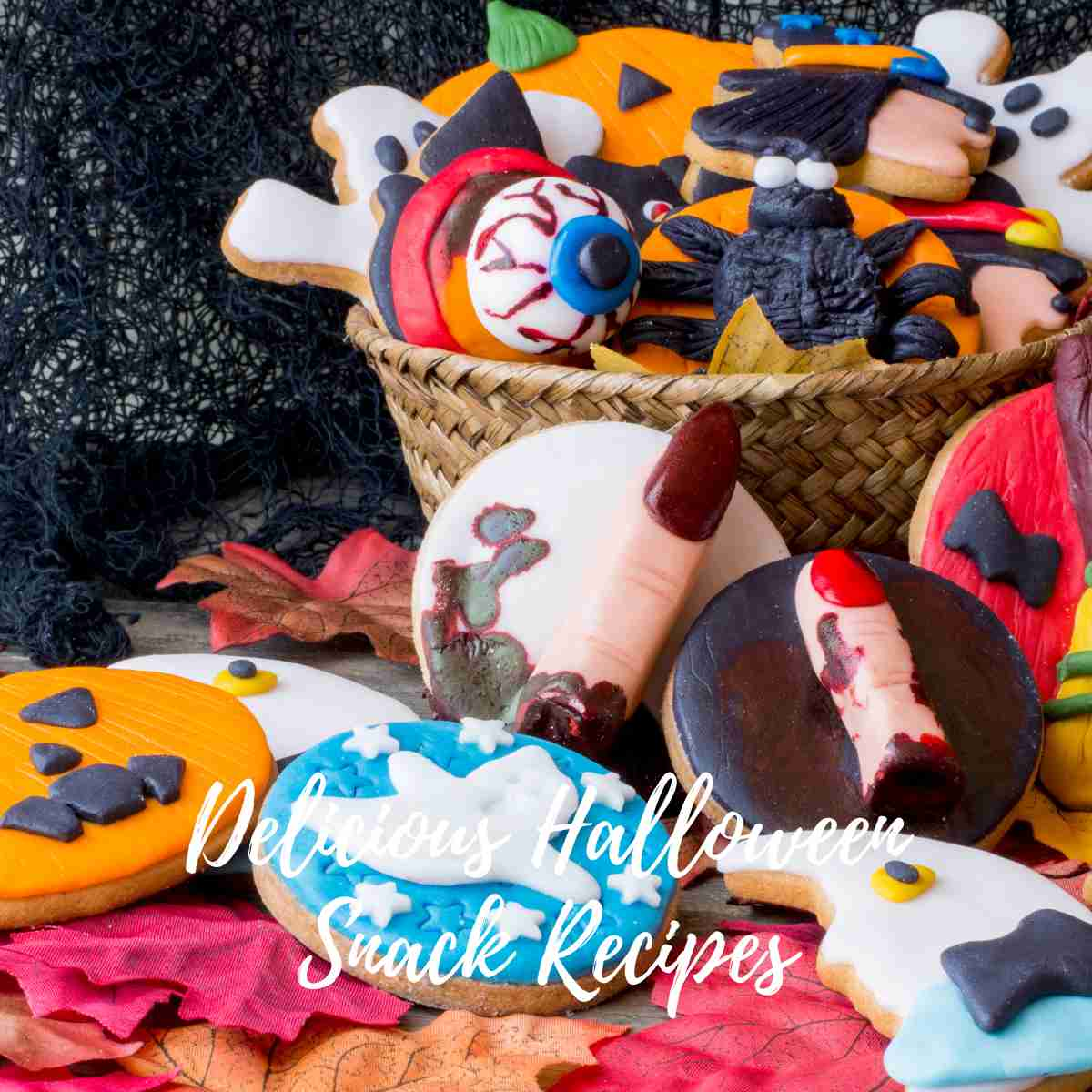 Is it possible for you to fit snacks into your healthy routine
Most of us will be worried that it is not possible at all but we have to contradict! Experts are now making it clear that there are no restrictions on a healthy dieter as long as he maintains the boundaries! So yes, healthy snacking options are definitely available!
You no longer have to treat snacks as an indulgence for the cheat day. Yes, that is true! Isn't it the most amazing thing that you can probably think of? You must include more fibres in your snacks this way you can get the best of both worlds. And you also have to substitute healthy fats in place of any fat which can harm your health! Speak to an expert and he will assist you to categorize between the two! And how can we ever forget about proteins? These are harder to digest and consequently, you stay full for a longer duration of the day! The blood sugar level is also maintained by protein in your diet! So instead of just getting rid of snacks altogether from your diet, you should opt for a healthier version instead.
It is to be noted that snacks are indeed a part of standard diet plans! An average individual consumes three meals and two snacks every day to keep themselves full and energized. Anything light and easy can be called a snack! It is true! You simply cannot cut on two snack meals every day despite being on a diet or else you shall feel hungry and weak.
So, now how do we choose a healthy snack?
That is a good question to ask yourself and also to us! Here is your solution. Sometimes when we are hungry in the middle of the day, it is our instinct to grab the first food that we come across which is in most cases processed items! That is why you need to plan your meal first! For a couple of days, you need to consider the plans and stay within the limits of the same! This way you know what exactly you have for the day and prevent yourself from getting carried away!
What are some of the dos and don'ts of consuming healthy snacks- it is good that whenever you are craving something, grab a couple of almonds or binge eat on boiled eggs! But that is something which comes to our mind later! It is the packet of chips on the table that tempts us first. And honestly, we cannot blame anyone! The junks are made that way so we can hog more and more and get even more tempted in the process!
1. Always ask yourself what you are snacking on.
This is the most important thing that you need to ensure! You can't keep consuming anything that you desire to have! There should be a certain sense of thoughtfulness that should go behind everything that you consume. Consider the nutrient content of the recipe and how much fat you are consuming in each serving! If you are on a no-carb diet then make sure nothing contains carbohydrates.
Are you eating because you are bored and have nothing to do? Then that is the biggest mistake one can make! Or, if you have a work-from-home and usually binge on snacks while you work on your laptop, then we think you need to change the habits which are not healthy for you! Substitute snacks with something healthy if you find it tough not to nibble on anything in the middle of the day!
2. Don't wait till you are fully hungry- do not wait until a point where you simply cannot control your hunger anymore and since there is no time you now have to binge on something like instant noodles or ice cream! Experts believe that hunger makes us take impulsive decisions like bingeing on unhealthy chips and french fries. So make sure you plan your meal ahead of time! This way you can satiate your hunger the moment you feel ravenous! Planning ahead of time is indeed a great idea if you are on a diet!
3. Learn to slow down- sometimes when we eat fast, we tend to consume a lot at a single time! If you are hogging down snacks this way then this can be absolutely harmful for you. Binge eating on snacks is the worst thing that you can do and we can never allow you that. It takes some time for the body to realize fullness so in the meantime if you continue to eat more then that can be a great issue every time you are hogging down snacks. You should go for fruits which take some effort to peel so in the meantime you can slowly!
4. Never stock up on junk in the house- if you have junk in the pantry then you will always be compelled to consume them! Empty your house of all the junk that you can possibly think of. These include chips, cold drinks, soda, ice cream, and so on. Instant food items should also be removed as you embark on this journey to eat healthy and nice.
5. Do not opt for sugar-free and fat-free readymade items- often these labels are utterly misleading we must say! Often sugar-free and fat-free items are substituted with artificial preservatives which are not good for your health at all! When you are selecting healthy snacks, make sure most of them are made at home. This way you can monitor what goes into the dish and the ingredients that are used.
6. Pay attention to the portion- even the healthiest snacks can be harmful to your health if you do not control the portion. Nothing extra is good so always make these snacks in small portions as you stick to your diet. Large portions of any dish can sabotage your health routine so you have to be careful.
Delicious Halloween Snack Recipes - Spook Up Your Party with Fun Ideas!
The Halloween dirt pudding cups are simply lovely! Delicious, crumbly, and creamy, this is a brilliant recipe that hardly takes any time to gather! And there is a RIP candy on top too! Shall we try it?
The mummy meatball brownies are delicious and topped with a crunchy coating! Creamy and succulent inside, this is an excellent creation for one to try out. The spooky-eyed meatballs will stare back at you as you go to pick one.
These snacks are more adorable than scary! This is an excellent creation with crunchiness in every bite. As the venomous tongue sticks out, beware of the fangs! Are you ready to give it a try then? Well, then what are you waiting for?
How can you celebrate Halloween without inviting the witches to your home? And this is something that witches carry as presents for the host! We can't say for sure which spell the soup might cast upon you but it is definitely a must-have.
You can definitely serve something like the raw meat rice crispers to the kids at the party and they will be delighted with such a wonderful treat too! There is no doubt even adults will find it confusing at first glance as the rice crisper meat is so hard to distinguish from the real one.
The delicious and cheesy Halloween pizza skulls are always at the top of the chart when you are making snacks for the evening! Healthy and bursting with flavors, this is an excellent idea for one to indulge in.
The coffin-shaped pop tarts are another excellent creation that will certainly take you in awe! You have to try it out at your home as the season of Halloween is knocking at the doors.
The Jalapeno popper mummies are another classic choice of dish if you are looking for Halloween customized snacks! Filled with cheese and topped with crumbly coating, you are absolutely going to love this dish!
It is alright if you had to discard all the chips and junk as you decided to go healthy! Don't be sad as we brought you the spooky ghost-shaped Halloween chips which are light and baked with magnificence till golden and crisp!
Let's try and make the mummy hotdogs that are simply the best! You do not even need the buns for the hotdogs, just get them ready in a jiffy and enjoy them to your heart's content. Let's not waste time and start already!
Have you seen snack breadsticks before? Well, we have brought you a recipe for Halloween that you will definitely find interesting to make! Don't be afraid of the fangs and the tongue, these snakes are pretty harmless! So what are you waiting for? Make it today!
There is nothing as delicious and tempting as the healthy baked sweet potato rounds! These are super easy to make! All you need is a cutter with wonderful shapes and your oven to bake them crispy and yummy!
The comforting taste of the shrunken potato heads will surely leave you craving more. You can design a face on it and see how horrifying this looks! Perfectly suited to the theme of the occasion, isn't it? Try it then!
The rats look so realistic that at first, you might find it tough to convince yourself to eat them! But soon the taste of the strawberry chocolate fudges will make it so tough for you to resist them. Shall we try it out?
The delicious and spicy jalapeno popper mummies are exactly what you need to keep yourself satiated during the evenings or at the beginning of the meal! Easy to create, you can even serve them at the Halloween parties this weekend.
These broomsticks are super easy to make and do not be surprised if the witches come asking for their brooms!
Of course, they would! Look how flawless these turn out to be! Pretzels and cheese are all that you need. Check it out!
How can you even complete the celebration of Halloween without the rotten deviled eggs? These are exactly what you need to treat yourself with on the occasion of Halloween! Creamy and seasoned with spices, what an extraordinary creation indeed!
The Halloween taco stuffed bell peppers are exactly what you need when you are looking for creating the aura of the holidays. These are exactly shaped like mini lanterns with sinister smiles on their face! You should give it a try when organizing a party.
The classic meatball mummies are very easy and perfect when you need a quick and meaty appetizer for parties! Perfect to snack on during the middle of the day, what are you waiting for? Make it today!
The shrunken apple skulls floating in the hot apple cider are wonderful and you are definitely going to love this idea as everyone praises your skills of creativity during the event. It seems like a scary broth with skulls floating in it!
Frequently asked questions associated with making snacks for Halloween
1. What are some of the benefits of eating snacks?
A long gap between two meals can be detrimental to your digestive system and stomach! Snacks fill you up in the middle of the two large meals so you do not overeat later.
2. What are some of the necessary features of snacks?
Snacks should be easy to make and portable in case you are heading out to the park or catching up with a friend over a long walk. These should also be enriched with nutrients so you do not intake anything unhealthy.
3. What do you understand about the concept of snacks?
Snacks are small portions of meals that are eaten between any two large meals! These are consumed in the evening and are often a great side with beverages.
4. How can you make your snacks healthy?
You can turn your snacks into something healthy by adding more fiber and proteins to the dish! This way you can also avoid any unwanted fat and carbs in your meal. Snacks help you to do portion control and stay fit.
5. Why are they called snacks?
The word snacks come from the Scandinavian word and mean small dishes or portions of a meal!
6. Which are the oldest snacks?
Pretzels are the oldest snacks that you can think of! They are even massively popular to date! America and Germany simply cannot get over pretzels is all we can say!
Bottom Line- So making snacks is not as hard as it seems compelling you to switch to instant food items and processed snacks from outside! All you need is a little understanding of how to make them right and you are good to go! So get started!