Are you planning to make something healthy and begin your day with something wonderful then these Halloween smoothies and shakes are right here for you. If you are making it for the first time in the house and wondering whether there are some particular steps to making the smoothies then here are some tips which you should keep in mind. A glass of smoothie and shake can keep you filled for long durations of the day and these spooky Halloween smoothies, make your celebration even more exciting and fun-filled.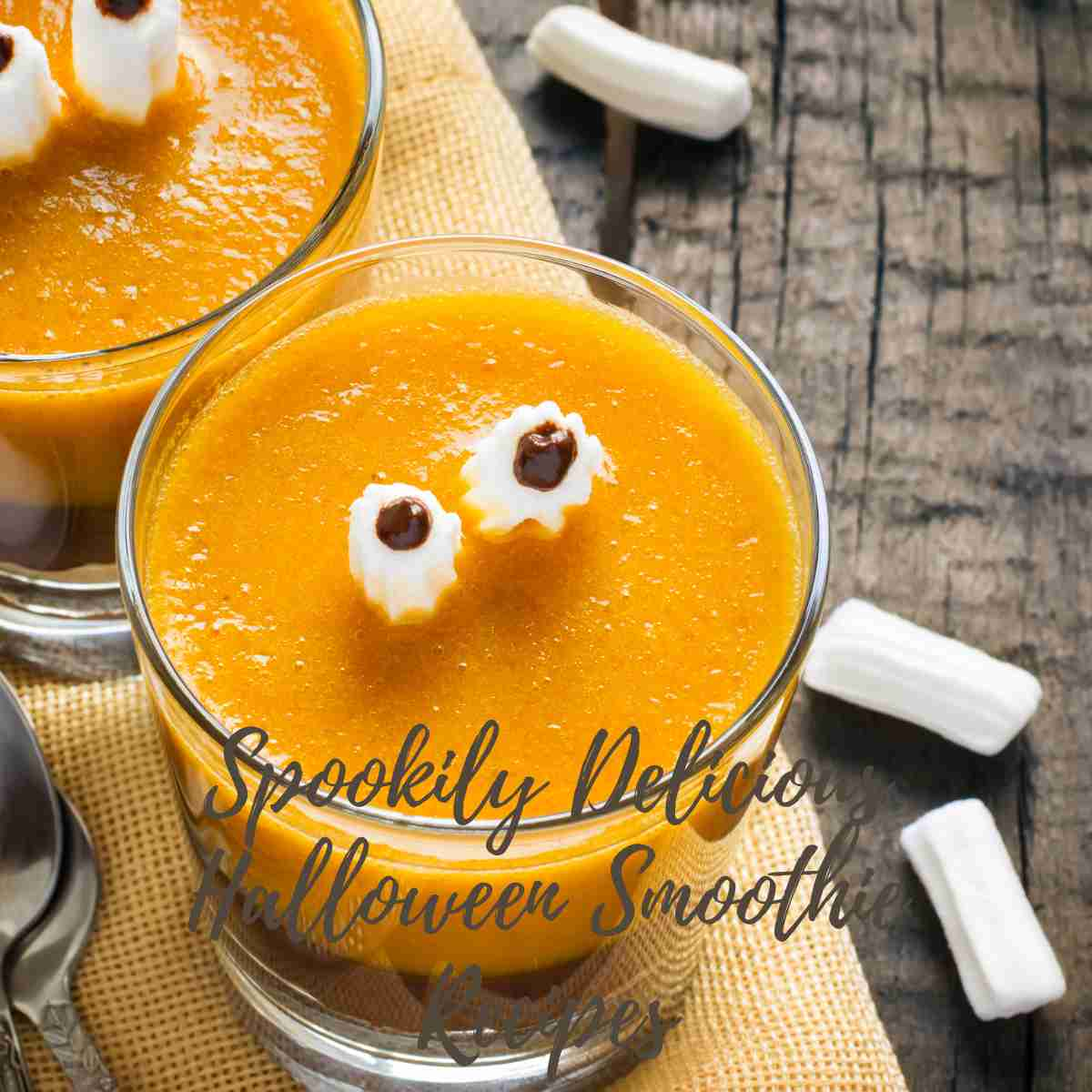 Tips and hacks to keep in mind when you are making Halloween smoothies and shakes for Halloween
1. Whole fruits are the best when you are making a smoothie -
Whole fruits are a source of fiber and when you are making shakes we recommend you to go for whole fruits instead of fruit juices which have concentrated sugar and are a source of calories. Synthetic drinks should be avoided because of the artificial preservatives that shall be present. Instead, any whole fruit is ideal to make sure your smoothie turns out to be good and enriching!
2. It is essential for you to clean the fruits first- you need to unpeel the fruit first! If there is a wax layer on the surface then use warm water to rinse it thoroughly! There can be dirt and several germs clinging onto the surface and you must make sure that the fruits are properly washed before you begin to make them.
3. Protein-rich liquid should be used as the base- while making a smoothie you should also include a protein-based fluid along with water so the smoothie acquires a thick consistency and keeps you satiated and full for longer hours of the day! Usually, dairy milk is used but you can go ahead with other vegan options as well! Soy milk or yogurt is also a great idea as a substitute for dairy products. Walnut, tofu, and butter are some other vegan options that one can indulge in. Protein will enable you to stay full for a longer duration so you do not feel hungry in the middle of the day before lunch is served!
4. Add some veggies too- some veggies are good for a smoothie that you can add to enhance its taste and flavor! Plus, veggies contain fewer calories than fruits and you can strike a proper balance of nutrients and flavor by adding some greens to the juice! Start with baby spinach which bears a very mild flavor and blends well with other ingredients! You can even use kale but remember that it is slightly bitter so add in small amounts to the drink. Carrots and tomatoes are often used while one is making a smoothie.
5. Use fruits that are originally sweet- you should opt for fruits that are sweet on their own! This way you do not have to add much sugar to the smoothie! Apples and cherries are quite sweet and they will enable you to work with such fantastic recipes without indulging in anything unhealthy!
6. Make use of a high-power blender- if you want the drink to be smooth and rich then you need a high-power blender that will pulverize the materials in the drink well! These power blenders are easily available in the market at affordable prices and if you want to make a smoothie this season then make sure you have one at your disposal!
7. Don't make the same one again and again- it might be possible that you are fond of a particular type of drink but that does not mean you make them every time you are planning to enjoy a shake or smoothie! Experiment with different recipes and flavors! Altering the ingredients will allow you to consume more nutrients and different varieties of the same.
8. Be careful about the portions- smoothies are indeed very healthy but nothing too much is good for your health! Remember that smoothies contain a lot of calories acquired from fruits and if you wish to avoid the former then smoothies are something that you can't have every day! Limit yourself to once a week so you can enjoy something nice and healthy but at the same time stick to your diet. Holidays are meant for indulgence but only up to a limit that is safe for you! If you are in a hurry or busy during the week then smoothies are best for Halloween breakfast.
So these are some of the basic tips that you can keep in mind while you prepare breakfast for Halloween! Make sure you have a couple of glasses of smoothie for the guests at the party as well! Now let's study shakes some more!
What are some of the dos and don'ts of making smoothies and shakes for Halloween
Avoid artificial fruit juices at all costs- a smoothie is a form of healthy fruity drink and if you do not have whole fruits in the house then better visit the supermarket to buy some! Do not substitute fruits with artificial fruit juices as these have a lot of sugar content.
Never toss unwashed fruits into the blender- you probably do not wish to end up with an upset stomach, do you? Then you have to make sure that the fruits are thoroughly washed before they are peeled and sliced.
Do not miss out on proteins - this is to be noted that proteins are the main consistency of a smoothie or shake and you should not skip it at any cost. If you are a vegan and can't have dairy products then look for non-dairy items like soy and tofu milk and so on.
Never forget to add some veggies too- you might wonder if that is necessary at all or not! But to increase the nutritive value of the smoothie you should toss in some spinach and greens too! This will only end up benefiting you!
Skip artificial sweetening agents- artificial sweetening agents like sugar crystals and cubes should be avoided if you are planning to make it a healthy treat! Instead, you can opt for honey in case you are making a lemon smoothie and it turns out to be tangy and sour.
Nobody prefers to consume a lumpy smoothie- if you are having a smoothie then it is implied that the

drink should be smooth

! Nobody prefers to drink something lumpy and hence a proper blender is needed.
Here are some Halloween smoothie recipes that you can try out!
Delicious Halloween Smoothie Recipes to Celebrate the Holiday
Halloween is all about a spooky and macabre aura, isn't it? Here is a recipe that you can follow to make these colorful smoothies that are perfectly suited to the theme of the occasion.
The scary jack-o-lantern smoothie is another fantastic idea with the richness of fruits and milk! Delicious and creamy, you will definitely fall in love with the shake at the first sip! Shall we try and make it? We can guarantee that you will surely find this one nice and cozy!
The combination of avocado, bananas, and almond milk ends up creating this drink which is so easy to make! Smooth and rich, the idea is fantastic to give a fresh start to the day! Drizzled with nuts, your shake is ready!
The Halloween milkshake is ready in less than half an hour! Spooky and thrilling, the sight of this drink will make everyone crave the same irrespective of age! You should make it for the entire family during breakfast and see how delighted they shall be!
The Greek yogurt, protein powder, and frozen fruits are combined into this orange Halloween smoothie, and guess what? The outcomes are simply magical! What an exciting idea which leaves you completely swayed!
These adorable Halloween smoothie cups are enriched with nutrients and served with a sulky monster face! Nobody has given them attention for a long time and hence they are very angry. This is a wonderful idea which you should indulge in!
Casper the Friendly Ghost Halloween smoothie is such an exotic option that you should not miss out on it! Adorable, this is a wonderful idea to treat the little ones. This is an extraordinary idea that leaves the little ones filled and content!
The Halloween monster smoothie face is delicious and flooded with enriching flavor! Delicious and delightful, this is an exotic idea that leaves you craving for more! Are you ready for such an exotic treat during the holidays?
Topped with rich icing and delicious sprinkles, the kid-friendly Halloween bat milkshake is ready in no time. Perfect for the parties, everyone will feel inclined to grab a glass for themselves. So without delay, let's make some for the visitors.
The delectable and smooth Halloween party witch shake resembles a spooky and scary potion created by the evil witches! The potion shake is made in bicolor to increase the beauty and fun of the occasion. This is a completely vegan drink and gluten-free!
The green Frankenstein smoothie is not only rich in flavor but also looks so well suited to the theme of Halloween. This is a kid's friendly drink that one can indulge in during the middle of the day! Are you ready to make them then?
If you are fond of candy corn then you must give a try to the candy corn milkshake which is enriched with delicious cream in every layer. Ideal to make your morning special, do not miss out on a glass of milkshake for breakfast!
The green Monster milkshake is exactly what you need at the party! If some kids are coming over or your little ones have invited their friends from school then the monster milkshake with rich frosting is the best!
You might not freak out at the sight of the drink but the flavors of the milkshake might render you completely speechless! Try out this amazing milkshake recipe which is indeed the best that we can think of. Are you ready for it?
The Witch's Brew Halloween punch is perfect as an adult treats for the guests at the party! Let us get a little boozy and free-spirited with this wonderful idea! If the kids insist, make them the non-alcoholic version as well.
The combination of three brilliant ingredients ends up creating this extraordinary drink! Splendid and flavorful, this is an extraordinary idea leaving you with a craving for more! One glass is simply not enough for each guest when it comes to the luxurious chocolate and peanut butter drink.
The Halloween orange peach smoothie is the most extraordinary drink of all time! Delicious and rich, you will definitely love the tangy orange essence associated with yogurt to provide you with loads of protein in every sip.
The delectable and rich milkshake with loads of frothy layers on top resembles an experimental broth of the mad scientist! If you are ready to indulge in the season of macabre and horror then do give a try to this one.
From candies to so many other exotic treats, you will simply not run out of options when we are describing the recipe for the Crazy Halloween shake! This is an excellent creation that will leave you completely swayed off your feet!
The smoothie recipe for Halloween is exactly what you need to keep yourself satiated and full in the morning! Rich and luxurious, this is a brilliant creation that you should not miss out on! Shall we try it then?
Nothing is as good and divine as the pumpkin pie shake! Creamy and rich, this is perfect as a healthy dose in the morning as you begin your day! Such an excellent creation to mark the advent of the season of fall.
Frequently asked questions associated with making shakes and smoothies on Halloween
1. Is it better to prepare a shake with water or with milk?
One should use milk during the preparation of the shake instead of water. This not only gives consistency to the shakes and makes them thick but also renders them with loads of proteins that one needs to keep themselves energized.
2. How can you make your shake thin?
If your shake turns out too thick and you cannot consume something so heavy in the morning then it is better for you to add some more liquid, either more milk or water to thin out the fruity pulp.
3. Which is the best shake that you can consume during the holidays for weight loss?
If you are planning to consume a drink for weight loss then quickly combine banana with chia, almond milk, and almond butter. There is nothing as healthy as this one.
4. How long should you blend your shake?
If you are using a regular blender then take about two to three minutes while in a fast blender, it will hardly cost you a minute.
5. Do you need to boil milk before adding it to the shake?
In the case of raw milk, you should boil it to remove any harmful bacteria while in the case of pasteurized milk, these are safe enough to add directly.