If you haven't heard of deep-fried Oreos and are shocked that such a recipe exists then let us tell you that deep-fried oreos do exist! They are, in fact, glorious carnival dishes where the oreo biscuits are soaked in pancake batter and prepared! And surprisingly you do not even need a deep-fryer to do the job! If this little piece of information has intrigued you enough, here is more to your delight! Read on to find out more about this quirky yet fun recipe for fried Oreos.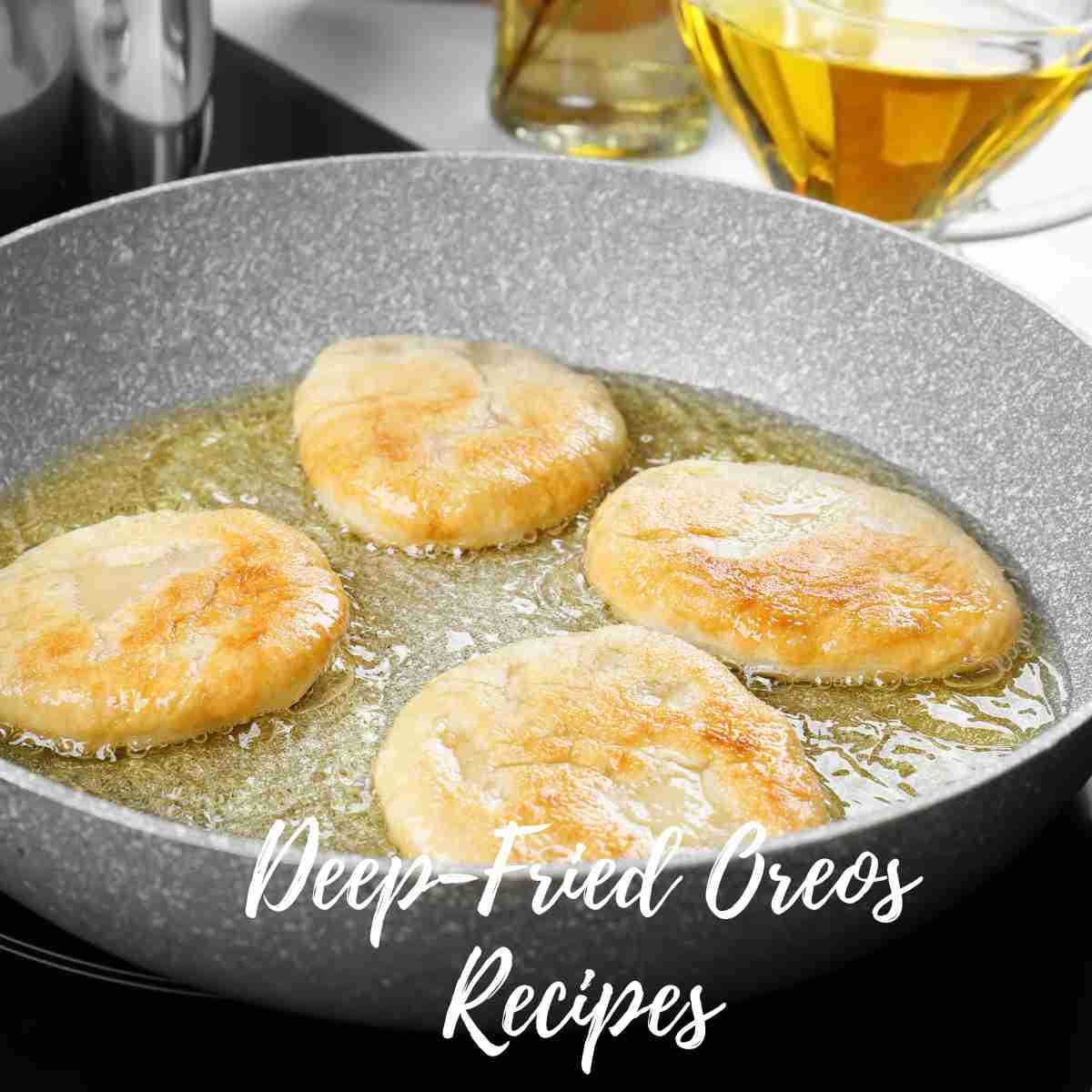 What are some of the basic ingredients that you require for making fried Oreos?
All you will need are indeed just five ingredients to make the fried Oreos. This includes vegetable oil, milk, eggs, and loads of Oreos. And do not forget to buy pancake mix.
How to make fried Oreos- there is nothing as easy as making fried Oreos! All you need to do is make the pancake mix and dip the Oreos in them! Marinate it well and then deep fry it! When the Oreos turn golden brown, they are ready to be served fresh! You can even add powdered sugar to enhance the taste of the dish!
Is there a particular way in which you can store the fried Oreos-
We would suggest you consume the fried Oreos the day they are made! However, if you have some leftovers then all you need to do is collect them in an airtight bag and store it for up to three days in the refrigerator.
Simple steps to making fried Oreos
1. Heat the oil-the oil is heated in a pan at 375°F. This gives enough heat to the pan so that the Oreos can be fried properly.
2. Whisking in a bowl- you need to use a bowl to mix all the ingredients! Milk, eggs, and two tablespoons of vegetable oils are added to the bowl and allowed to smooth! Stir the pancake mix so that there are no lumps created in the mixture. It should be absolutely smooth and silky.
3. Dip and fry- now place a couple of Oreos in the batter and coat them with the liquid mixture. Once done you can drop them slowly in the oil and allow them to turn golden brown. Make sure you put three to four Oreos in the pan at a time or else if the pan is overcrowded it becomes difficult to cook them evenly.
The short tale behind the origination of deep-fried Oreos
The deep-fried Oreos are sweet and crispy snacks where chocolate sandwich cookies are used! Mostly Oreo branded biscuits are used so they are named so! Discovered by Charlie Boghosian for the first time in 2001, this gained popularity over the years. He drizzled these deep-fried treats with chocolate syrup and sugar dust to enhance their taste.
What are some of the common variations that are observed in Oreo deep-fried sandwiches?
Did you hear about bacon deep-fried Oreos? Yes, they exist too! Similarly, the deep-fried Oreo ice creams are quite famous compared to the rest. There is an egg mixture and crushed Oreos in the dish. You will not believe it but there are deep-fried Oreo burgers as well! The pattie is made with Oreos and then there are bacon slices too!
The recipe for deep-fried Oreos received the Annual Big Tex Choice at the State Fair of Texas. Now you will find that deep-fried Oreos have gained popularity all over the world! It is true! Ever since its debut in 2001, the recipe has become popular in places like Canada, Australia, Dubai, and so on.
Now, let us focus on some of the popular fried Oreos recipes that are present in the market around us.
Make Delicious Deep-Fried Oreos with These Easy Recipes
Explore the wonderful taste and unique flavors of the tender Oreo sandwiches with crumbly crusts inside to render you with a sense of contentment!
If you haven't tried Oreo sandwiches before, this one will leave you smitten.
Here is what is truly amazing! The deep-fried oreos are the best when it comes to enjoying something nice and yummy for snacks!
You may even serve it to the guests with tea.
Learn the steps from this simple recipe provided here.
Nothing tempting as the recipe for the deep-fried Oreos that we have for you here.
Simple to make, you will hardly need a handful of ingredients to prepare this dish.
Thank us later for this brilliant snack that you are about this experience.
If the name of a new snack almost gave you a heart attack, don't worry because it is not tough to make at all!
The fried Oreos are just the right thing you need after coming back home from a tiring day at work.
See how amazing this treatment works out to be!
Making deep-fried Oreos is not tough at all! Here is what you need to do!
Follow this recipe and you will have the secrets to making the most detectable treat for the evening.
If you are in the mood for something easy and yummy then you have to give a try to the simple deep-fried Oreos!
Delicious and crumbly, it is an exciting treat for kids as well as adults.
If your kids like to have fried Oreos at the fair then you should make them at home too!
The little ones will be truly surprised and delighted to find their favorite food on the table.
It is true! If someone told you that you have to have Pancake mix in the house to make Oreo deep-fried sandwiches then this recipe just proves them wrong.
Here we have the most delicious and creamy deep-fried oreos topped with icing that you should try making at home too.
You have to indulge in the gorgeous taste and flavor of the deep-fried Oreos which are truly mind-blowing!
But we will not ask you to simply believe our words!
Experience it on your own and tell us how much you loved it!
You will surely love the taste of the Deep-fried Oreos which are delicious and will leave their impression the first time you make it!
Make and see how they taste.
Don't be surprised when everyone finishes the dish in a jiffy!
Serve as a treat at a birthday party or during the time of Halloween and see how delighted the kids will be.
Make it this weekend.
You can follow this recipe to determine which is the best for you! This recipe allows you to try out both and find out which works better for you.
What an excellent idea to indulge in a world of chocolate and sweetness.
Here is a slightly modified version of the air-fried Oreos! These are sprinkled with sugar dust and are such an extraordinary idea for you to indulge in this season!
So let's not waste any more time and prepare them right away!
We have prepared this recipe as deep-fried Oreos enriched with chocolate dipping sauce!
Gorgeous and flavored with loads of sugar dust!
What an excellent idea that will leave you completely smitten at first bite.
The deep-fried Oreos are what you can call a perfect snack made at home!
Forget about kids even the adults will not be able to resist their temptation as they lay eyes upon a plate full of Oreos.
Deep-fried Oreo sandwiches are the perfect treat that you should look for to make these holidays special!
If you are a beginner with deep-fried Oreos then this is a wonderful recipe that you should indulge in!
Try it out now!
What a lovely idea when you are seeking a treat for the winter! The delectable deep-fried Oreos are perfect if you do not have many ingredients in the house.
Prepare in a couple of minutes, you can surprise your kids with this one.
There is nothing as easy as deep-fried Oreos! Gorgeous and exotic, the chocolate and cream-filled Oreos oze out with flavor in every bite.
What a brilliant choice of appetizer to serve to the guests without much hassle.
Here is the best recipe that you should try out when it comes to making the most awesome deep-fried Oreos in the world.
So you can make fair-like Oreos at home with this easy recipe here at your disposal.
Oreos are the first thing that will come to your mind as you prepare something yummy for your kid's birthday party!
The little visitors will be overjoyed to indulge in these deep-fried Oreos which are topped with cookie dough filled with loads of chocolate chips.
Here is what you should try out! The gorgeous state fair Oreo cookies with pancake mix can now be made at home with such an easy recipe in your hands.
The crispy deep-fried layer outside and the crumbly chocolate inside make you crave more. And did we mention it is air fried so super healthy too!
We have the deep-fried Oreos right here which you should check out!
Delectable and cozy, they are drizzled with syrup making them an extraordinary option to relish this season.
Wrapped in Pillsbury roll dough, this is a wonderful modification to the air fryer Oreos!
Gorgeous and melting in your mouth at every bite, you simply can't stop yourself from eating more and more.
Topped with sugar dust and drizzled with the syrup of your choice, the flaky Oreos are something that kids as well as adults will find hard to resist!
While we talk about the dish, we are already drooling on this side.
Here is what you will be tempted to try out at first sight!
The soft and delicious deep-fried Oreos are perfect as you can indulge in lots and lots of cream and dark chocolate to your heart's content.
Yes, you heard it right! This recipe makes it possible for you to make the Oreo wontons too!
This is more or less like the deep-fried Oreos but with a unique twist.
So what are you waiting for? Make it today!
Here is what you should try out! The easy homemade fried Oreos will make it impossible for you to dream about street food!
You can surprise your little ones with this dish as they come home from the playground in the evening.
There is something so extraordinary about the deep-fried brownies which are indeed a modified version of the deep-fried Oreos.
Delicious and juicy, you can serve this as dessert to the guests and see how delighted they will be!
Here comes another exotic recipe that you will not be able to resist if you have got a sweet tooth!
Flavored with marshmallows and crispy crackers, this is a brilliant idea that will completely sway you off the chair in the first bite.
30. Simple air fryer cookies that everyone will love
Instead of serving cookies in the bowl the simple way for Halloween, you can give a twist to them with this recipe we have here!
The air fryer cookies are perfect as you cook them with pancake mix!
How did deep-fried Oreos receive widespread popularity?
Several television shows have contributed to the popularization of Oreos around the globe. For example, this Taiwanese show named Kangsi in 2012 was the first to showcase deep-fried Oreos on the table. Later in 2013, Kim Kadarshian prepared deep-fried Oreos in the Jay Leno show! There are several other instances where television and online videos have talked about deep-fried Oreos.
Frequently asked questions about making deep-fried Oreos
1. How many calories are there in deep-fried Oreos?
You will be surprised to find out that there are 900 calories and 51 grams of sugar with 48 grams of fat in only five deep-fried Oreos.
2. What do deep-fried Oreos taste like? The
It has a rich chocolate flavor with vanilla essence in every bite! Hot and crunchy outside and gooey inside!
3. What are deep-fried Oreos made of?
Deep-fried Oreos are made of vegetable oil, milk, and pancake mixed with Oreo biscuits.
4. How long can deep-fried Oreos last?
Deep-fried Oreos can last up to two to three days in the refrigerator if you store them properly in air-tight containers.
5. Do deep-fried Oreos get soggy?
The deep-fried Oreos can get soggy if the oil is not hot enough and you start cooking.
Bottom Line- Deep-fried Oreos are an all-time treat at the fairs and with these cool recipes now you know how to make them at home. Let's waste no more time and get started cooking these exotic sweet treats. Shall we?