If you are on a ketogenic diet or just getting into one then you might be confused about what to make and what not! Beef is one such thing that might intrigue you! Beef meat is full of fats and it needs processing. There might be questions that have come to your mind regarding the food value of beef! We are here to be your constant mentor on this journey of the keto diet! Let us begin to read so you can systematically construct your ketogenic diet! Learn how to make delicious low-carb Keto ground beef recipes with ease! Explore our wide array of recipes using ground beef that follows the keto diet guidelines.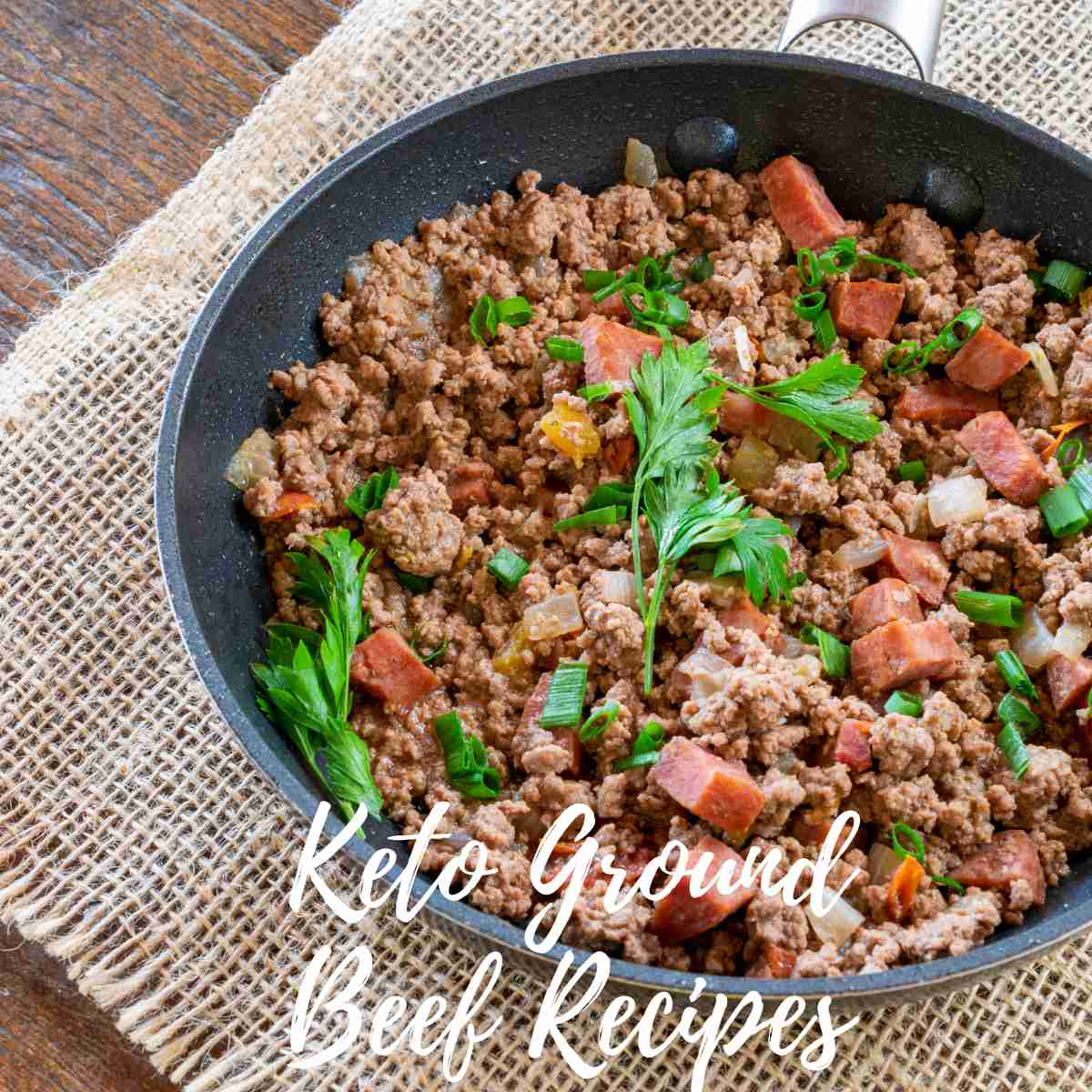 Why is ground beef keto-friendly?
Being carb-free and rich in fat, ground beef is completely keto-friendly! If you have a low net carb allowance for the day then ground beef is the best idea to consume for lunch and dinner. Generally, when you are on your diet and have your body set on the plan of ketosis, the net carb consumption content is around 20-30g! Hence you can cook ground beef which is low in carbs and will not affect the scale.
The fat content of ground beef is high! This is permissible while on a keto diet! However, it is prescribed that the fat should come from a healthy source like virgin olive oil, and so on! In ground beef, the general fat content is removed from the flesh and only a little fat and skin is allowed to be ground with the meat to maintain the succulent and soft touch! This amount is generally not harmful to the body. Ground beef is also minimally processed and is devoid of harmful ingredients like non-keto sweeteners, highly refined oils, food additives, and so on!
Things to monitor while you are on a ketogenic diet
1. Always monitor the kind of food that you are planning to consume- there are several options in the market! Some may even slip a little carb in the content and you will be completely unaware! Here is a small tip for you! Always monitor the kind of dish that you are planning to consume! Monitor every ingredient so that nothing goes wrong.
2. Incorporate fat in your diet- being on a keto diet includes having a lot of fats! Many people are confused and rather scared to consume fats because they have been made to believe that the consumption of fat leads to heart ailments! Here is something for you to know that will break the myth! For example, saturated fat is the one which you would avoid while unsaturated fat is good for your health( polyunsaturated fat). So while you are deciding on the dishes that you wish to indulge in, make sure that you are aware of the kind of fat consumption you are engaging in.
3. There should be more and more proteins- as easy as it sounds, you have to make a complete alteration to your regular meal to include the highest amount of protein in your diet. However, as we say, nothing too much is good for you! If there is excess protein in the body then much of it will get converted to glucose drawing your body out of the state of ketosis. Hence you also have to care about your protein consumption as well.
4. Convincing your family- another major part of dieting is a societal constraint. If your family isn't serious about your diet then they might ridicule the process or take it lightly! As a result, you might not gather the necessary motivation and encouragement to go on! Before you get into the diet make sure you speak to your family and friends and describe your goal! They need to also adjust to the new lifestyle that they are about to emulate. Your kind of meals will shift from the regular and many arrangements need to be made around the house to suit your needs, cooperation being the first criterion.
Delicious Keto Ground Beef Recipes for a Low-Carb Diet
Something filling and healthy, end your day on a good note with the creamy casserole with beef, taco seasoning, cheddar, tomatoes, and loads of cream. You will surely love its brilliant taste!
The seasoned ground beef with cream and cheese is perhaps the best thing to make your weeknights even more happening and special!
It can be a long and tiring day but you can end it on a great note with the keto lasagna on the table.
Replenished with the sumptuous essence of yum yum sauce, the keto Korean beef bowl is flooded with myriad and refreshing flavors of cucumber and avocado combined with fresh and smoky ground beef.
Are you ready to try out something divine with us?
The combination of beef and broccoli is not only a keto-friendly duo but also bursting with flavors!
The cheesy essence with the presence of greens and meat make this recipe ideal for a side dish to dinner!
Ready in just thirty minutes even the kids will not throw tantrums to consume broccoli!
Served in the gravy of coconut milk, the creamy keto Thwi meatballs are juicy and succulent with flavors so amazing!
Packed with onions and seasoning, you will absolutely fall in love with this beef curry.
Try out these luxurious keto meatloaf minis that you can even make when the guests are coming over!
A meatloaf low on carbs? Yes, you read that right! Well, go ahead and enjoy your meatloaf then!
The mushroom cheeseburger casserole is the right thing that you have been looking for!
Make your journey of ketosis exciting with the gooey recipe flooded with mushroom gravy!
The casserole is indeed too good to resist.
Easy-peasy and packed with flavors so divine, the classic ground beef casserole is the best idea if you are tired of eating the same boring dish every day!
Make your journey of low-carb dieting special with this recipe right at your fingertips.
Shall we try it out then?
How can we miss out on the classic recipe of the Salisbury steak?
Topped with mushroom gravy, a bite of the succulent beef steak will melt in your mouth to leave a gorgeous aftertaste.
Try this and find out for yourself.
Your dinner only gets lovely and tempting with the cheese steak recipe that we have brought for you!
If you had been to the market in the morning and bought ground beef then do not forget to make the cheesesteak with ground beef!
The combination of chicken, turkey, and beef does wonders in your mouth!
The crispy crust with tender meaty filling never fails to bring water to your mouth.
So what are you waiting for?
What an extraordinary idea we must say! The succulent and rich hamburger steak with green beans is the best way to convince the kids to eat something healthy and green.
So are you ready to make the yummy hamburger steak tonight?
The delicious low-carb sloppy joes are the best thing to begin your Sunday with!
Why always consume the same old breakfast and make it all boring when you can have something as delicious as sloppy joes?
Don't forget to try them out!
All you need are three minutes to make your dinner memorable today!
The cheese and cream-loaded beef stroganoff with mushroom gravy will make your taste buds enter into the state of food orgasm at the very first bite.
Shall we then?
You will be surprised to find out that the net carb content of this recipe is 3g only! So dig in guilt-free!
We guarantee the extraordinary flavors of this recipe will leave you completely smitten as they did for us! Let's make it!
How lovely it is to combine beef with ricotta! They have always been a great pal and now that you are on a diet, enjoy this casserole with tomato sauce glaze and balsam to your heart's content.
Don't forget to indulge in this dish!
Of course, it does not matter whether you are on a keto diet or not!
The cauliflower rice with creamy ground beef is an all-time favorite!
In fact, you will call yourself lucky to enter into the phase of ketosis because of this dish that you can consume now as much as you want.
If you have some ground beef leftover from last night's meal then you can pack them into these creamy enchiladas!
This way you will not even waste a bit and enjoy something healthy for breakfast too!
Thank us later for this brilliant idea but right now you have to make the feta burger with tomato and cream sauce!
What an excellent choice!
We have to admit that the idea of bacon with beef is indeed a unique one and you shall definitely find the flavor so succulent!
The spicy jalapeno popper mini meatloaf is perhaps the best thing that you will consume in a while after being on your diet!
The scrumptious cheeseburger stuffed pepper is the best recipe with the beef we can assure you!
This is a sheer source of bliss for meat lovers!
So do not waste a minute more and dig in!
The exciting flavors of ground beef cutlet soaked in gravy will simply leave you craving for more!
You can serve this scrumptious curry with spaghetti on the sides!
What a wonderful idea for dinner tonight! Don't miss out on it!
The exciting scrambled eggs with ground beef in a skillet are so easy for you to make!
Whether you are leaving early for work or hungry in the evening, the keto scrambled eggs are the best to indulge in.
The delicious and cheesy casserole with ground beef and broccoli is outstanding!
If you are looking for a comforting meal on a busy weeknight then there is nothing better than this casserole replenished with greens and meat!
This gooey and cheese-filled recipe of green bell peppers will make your kids ask you for more of the pepper which they would otherwise despise.
Being a keto-friendly recipe, there is no rice in it so even you can enjoy as much as you wish!
Filled with salsa, what an exciting creation.
Here is an exotic recipe for the stuffed pepper that will leave you content in the very first bite.
Packed with veggies and cheese but deliciously, you will surely find this idea useful as an appetizer.
The juicy hamburger mac and cheese are loaded with meat and the right thing that you deserve to consume at the end of the day!
Fill yourself with proteins and compensate for the exhaustion throughout.
The Keto zucchini beef recipe is flooded with the refreshing presence of zucchini and cream!
The meaty beef recipe is super exciting and such a great idea that you should not miss out on it!
So what are you waiting for?
All you need is thirty minutes to prepare the beef and mushroom casserole!
So if you had a really bad day at work and are feeling utterly dejected then treat yourself to this healthy idea of wholesome casserole.
The extraordinary beef taquitos are right here to leave you completely smitten!
Such a brilliant idea for an appetizer we have to admit!
Excellent and flooded with succulent meat, if you are having elite guests at your home then don't forget to make this one.
We are in love with the ground beef stroganoff casserole which is indeed flooded with cream and cauliflower rice!
If you are a fan of something spicy dishes then this is meant for you!
Thank us later for this idea!
Frequently asked questions associated with making ground beef
1. What is the concept of making a keto dish?
Keto dishes consist of more fats and lack carbs! So if you are making a keto-friendly dish make sure you include a sufficient amount of proteins.
2. What are some of the side effects of keto-dishes?
Some of the side effects of keto-dishes are low blood pressure and even frequent constipation.
3. Can you drink milk even while being on a keto diet?
Milk is high in carbs and hence you should avoid milk while you are in ketosis.
4. Is rice good for keto?
White rice is high in carbs and hence you should avoid eating it while you are following a diet especially which puts you up on low carbs!
5. Is beef good for the keto diet?
If you are on a keto diet then it is good for you to stick to meaty meals! Beef is rich in fat and lacks any sort of carbs.
Bottom Line- With so many ideas waiting for you, it is guaranteed that your keto diet is truly going to be an enriching experience! So let's begin, shall we?