Halloween is all about celebration, feast, food, and fun! Friends and family gather together to celebrate the meals and enjoy the parties! But amidst all these arrangements, there are times, when you as a host feel utterly drained or exhausted! You might fail with one or two dishes and amidst the hurry, they do not come out well! If this holiday season, you are planning to make pizzas for Halloween then we are here as your guide to help you make it a success! Follow these tips so you get the best Halloween pizza recipes at the end.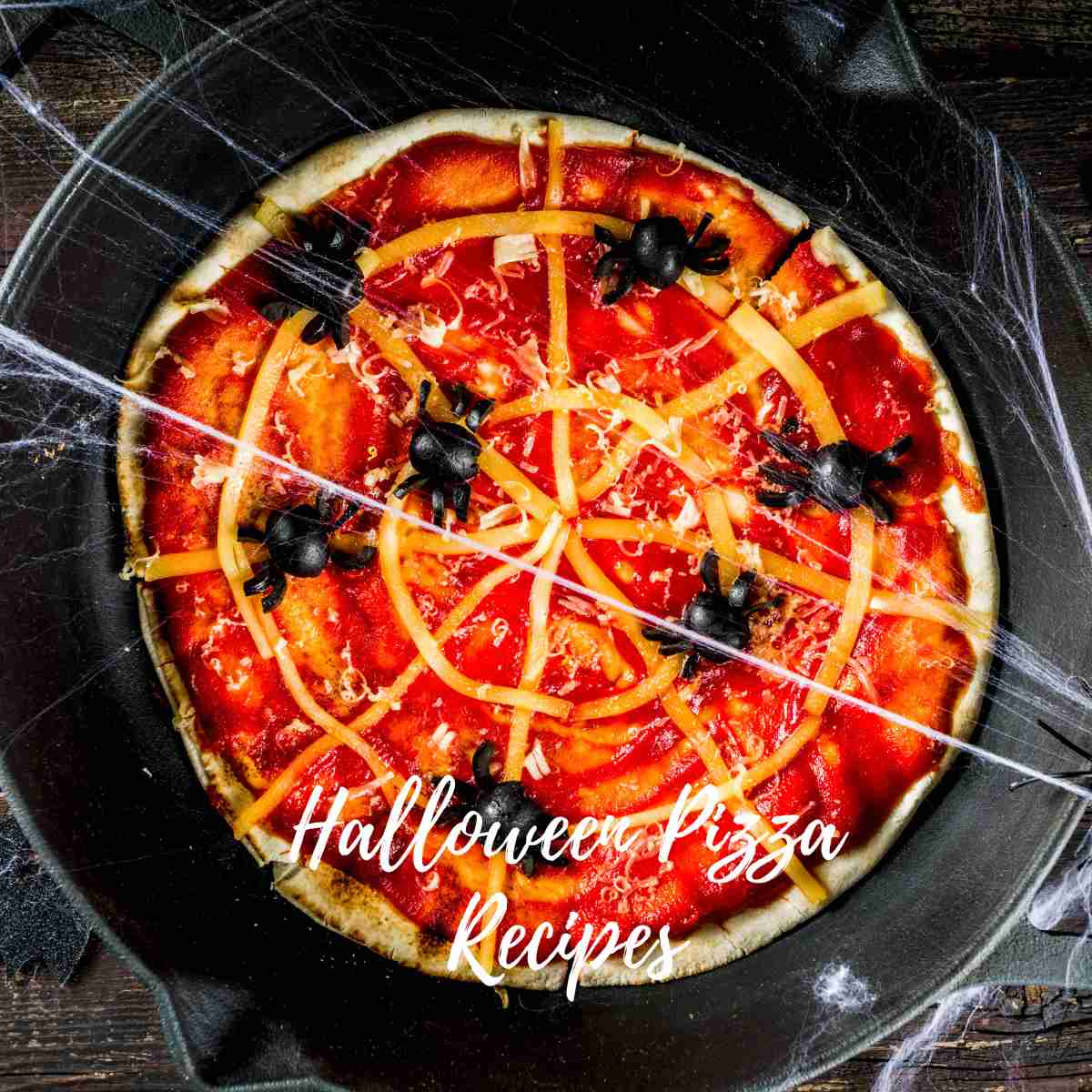 Tips to learn when you want to make the best pizza at home
Often things might not go as planned! Sometimes the dough may not work well or the toppings are left undercooked! Here are some hacks so you can ensure nothing goes wrong! Let's begin. Shall we?
1. Make sure that the oven is hot enough- ensure that the oven is already preheated at 550°F for about forty-five minutes! The first rule in baking pizza dough is that the surface on which the pizza will rest should be hot beforehand! Heavy-duty pizza sheet, pizza stone whichever is available in the house, you can heat the surface properly and allow the pizza flatbread to rest on top!
2. Cooking at a very high temperature- you need to note that the ovens used in restaurants are pretty hot and if you wish to create the same crispiness and taste in your pizza then you have to bake it at the ideal temperature. Preferably while you bake the pizzas, the temperature should be around 500°F. This will enable the dough to cook properly and turn tender and crisp at the same time.
3. Always place pizza on the parchment paper- if you wish to transfer your pizza flatbread efficiently from the surface of the pan or oven to the plate or vice versa, then the parchment paper is the best thing to be used here! They easily help the pizza to slide without any sense of stickiness!
4. Always experiment with the sauces- with pizza topping, there is always an option for you to indulge in wonderful ideas and think out of the box! In fact, you can always alter the flavor to surprise your taste buds by altering the kind of sauces that you use. Pesto, salsa, ranch, barbeque, and Alfredo sauce are some of the common options to indulge in.
5. Don't allow the proteins (meat) to overcook- over-cooking the meat is disastrous as it completely destroys the quality of the meat! They might turn out to be chewy and lack juice when you cook them till crispy! Hence you should leave the meat cooked only till it turns pinkish for beef or pork and whitish for chicken and then bring it out of the pan or else the next minute it can turn hard and chewy!
6. Toppings also allow you to get creative too- just like the sauces, you can also experiment with the toppings like veggies, herbs, meat, and so on! There is s always scope for you to indulge in new ideas and alter the traditional choice to see if the new combinations work out well or not.
7. Always brush the surface of the crust with olive oil and garlic blend- if you are wondering how to escalate the taste of the crust then we have the perfect solution for you! Use olive oil and garlic blend solution to brush on the surface of the crust! We can guarantee that the taste of the crust is enhanced after it is baked.
8. If you are desiring to make a crispy crust then make sure you pre-bake-
We have to be honest with you in the case of homemade pizza recipes, it can be a big task and rather a challenging one to get the crust to turn brownish and crispy! To aim for a crispy crust you may pre-bake the flatbread on the surface of the preheated oven for about five to eight minutes and then bring it out and add the toppings! Then bake it again like usual! You will surely notice the difference in texture with this technique.
9. Do not add too much topping- although there is a common myth that the more the topping the better the taste sometimes it can backfire! If you wish to avoid such a situation then you have to add toppings as necessary only!
10. You can use tortillas to make the crust crispy- flour tortillas are the best if you are in the mood for a crispy crust! These are also healthy options so you do not have to worry either.
Now, let us not keep you waiting anymore and explore some of the exotic Halloween pizza recipes!
Delicious Halloween Pizza Recipes to Enjoy This Spooky Season
This Halloween indulge in the gorgeous Halloween pizza bites that are loaded with sauces and cheese!
This is an excellent idea flooded with meat and shaped like tombstones and so on! What a brilliant idea that you make this holiday!
If giant pizza is a major commitment, try these bite-sized appetizers.
Packed with olives in different shapes and resembling spiders, the pizza looks so yummy indeed!
Everyone will be smitten by your creation loaded with cheese, sauces, veggies, and meat!
The mini Halloween pizza ideas are excellent and flooded with toppings!
This is created in a unique way!
Pepperoni and veggies are adorned in such a way that they resemble the spider! Use cheese to make the ghostly figures.
Halloween pizzas are super exciting and you can use them to display on the table!
The guests will be totally smitten by the beauty of the pizzas which are flooded with cheese and sauce!
What a wonderful idea to express your creativity!
The Halloween Mini mummy pizzas are so easy that you will have a great time enjoying these amazing pizzas for the appetizer session!
Perfect for the Halloween season, even as a beginner you will not find it tough to create this with perfection.
The adorable ghost and eyeball pizzas are best when you wish to theme the food on the table according to the occasion!
The olive eyes are perfect with cheesy ghosts staring back at you from the plate. Do give it a try!
The Halloween mummy pizza is not only loaded with cheese and topping from outside but there is a surprise for you inside the crust as well!
Enriched with sauces, your best treat for the season is ready.
If the season of Halloween is already here then you should make these creative pumpkin pizza decorations for the flatbread you are planning to make for the guests.
Delightful and cheesy, you will absolutely fall for this treat instantly on the first bite.
Here comes the most exotic Halloween pizza of all time. Flooded with cheese, as much as you want, these are the best to make your parties even more happening and delightful.
And guess what, the recipe is very easy to emulate too!
This is a brand new idea for designing a skull for the pizza treats! It is super easy and you should give it a try!
Learn how to shape the mushrooms in such a spooky style with this recipe right here.
The Halloween mini pizzas are delicious and light! Perfect to make for parties, these will satiate your cravings but will not fill you up too much so that you still have the urge for dinner after consuming one!
All you need are four ingredients to create the Halloween ghost pizzas!
The shapes resemble the ghouls and are such an exotic piece to indulge in.
Topped with olives and cheese, super easy ghost pizza is ready to adorn the plates.
Imagine a pizza that is shaped like a pumpkin! Yes, that's exactly what it is!
Packed with burrata and fillings, cut into the pumpkin and experience the treat!
Everyone will be surprised by this creation. Shall we make it then?
The spider pizzas are perfectly customized to the theme of the occasion!
Enriched with cream, olives, meat, and cheese, you will simply not be able to content yourself with a single bite.
And even as a beginner, you will not have any trouble making it!
These Halloween pizzas are the best to be used as an appetizer at the party loaded with cheese and veggies, this is a great vegan option in case some of your guests refuse meat!
Make loads and loads so there is enough for everyone.
The ghost Halloween pizza is an extraordinary creation that everyone will marvel at!
The Halloween pizzas need to be shaped and customized to the theme of the occasion and this recipe does justice to the event.
There is nothing as exciting as munching on pizzas while celebrating the occasion of Halloween with your family!
They will surely be delighted with your spider web pizza recipe and especially the kids who might offer their hand of assistance in the kitchen as you bake the pizza!
The Halloween pizza is loaded with cheesy ghost and spider olives! Isn't it an intriguing idea to indulge in?
Perfect to offer as a main course for dinner, everyone in your family will be eager to grab a bite.
Customize the appetizer table at the Halloween party with a bunch of these mini pumpkin pizzas on the table!
Loaded with shredded cheese and veggies, these pizzas are so easy to bake.
Don't be surprised if the plate goes empty in a minute.
There is nothing as flawless and elegant as the RIP veggie Halloween pizzas which are not only pretty but carry an air of macabre!
For vegan dieters, this is an excellent option to make for gatherings.
Although that might look spooky at first, you have to gather the courage and break into the skull!
There you will find amazing pizza filling and meat!
There is absolutely nothing as good as this one. Are you ready to try it out?
The Halloween lantern is an extraordinary creation in terms of pizza ideas! Plus it is so simple that even beginners can try their hands at it.
Yummy and loaded with pepperoni and cheese, there is no way you should miss out on this one!
The Halloween mini pizza bites are shaped in myriad forms from tombstones to skulls, spiders, and so on!
A plate full of such shapes which taste like pizzas are something that no one will be able to resist trying!
Halloween is simply incomplete without the presence of funny, haunted, and creative food dishes on the table!
The aesthetic and yet spooky Halloween pizza is one such example.
If you are in the mood for something saucy and cheesy then don't forget to give it a try.
If you wish to give a new twist to the classic pizza for the Halloween party then explore this recipe quesadilla which is shaped like none other than a Jack-o-lantern.
Once you munch on the dish, there is no way you can stop yourself.
Pepperoni pizza pockets are an amazing creation! You can enjoy them with tea on the sides as a light snack in the evening!
The kids will be delighted to be served pizza pockets during the holidays after they come home from playing in the yard.
The gorgeous Halloween pizza bites are all that you need this season!
Wrapped with a crispy crust outside, the saucy filling inside will simply leave you craving for more!
So make it today and enjoy!
It is not enough to have a jack-o-lantern in the yard! It is also essential for you to make a pizza shaped like a lantern!
Such an extraordinary idea if you wish to make this Halloween party stand out among the rest of the neighborhood.
A pizza flatbread shaped like a skull can scare the guests in the first instant!
Loaded with cheese, pepperoni, veggies, and olive, this is indeed a curious idea to explore this season.
Yes, you heard it right! A pizza shaped like a giant eyeball can be indeed super scary!
But it is Halloween and you have to match the theme of the occasion.
Yummy and loaded with cheese, do give it a try!
The Halloween Pennywise pizza is delicious and you should give it a try!
Themed like the character from the "IT" movie, this clown is sinister and so scary!
But that will not stop the kids from grabbing a slice or two!
Bottom Line- Pizzas are something which no matter which occasion you are celebrating matches well with the mood! In fact, you don't need any occasion to make pizza, every day is ideal to be called pizza day! So choose your favorite from these recipes and get it done for Halloween!