Meatballs are what all of us crave no matter if it is Halloween or any other season. However, you do not have to order them from the stores all the time! We have the perfect solution for you to save money but simultaneously engage in rather fun dishes at home! With the celebration of Halloween just around the corner here is what you will be thrilled about! These facts about meatballs will simply make the holiday season so much more exciting and sumptuous, are you ready to indulge in the joy of consuming them? Then quickly read on!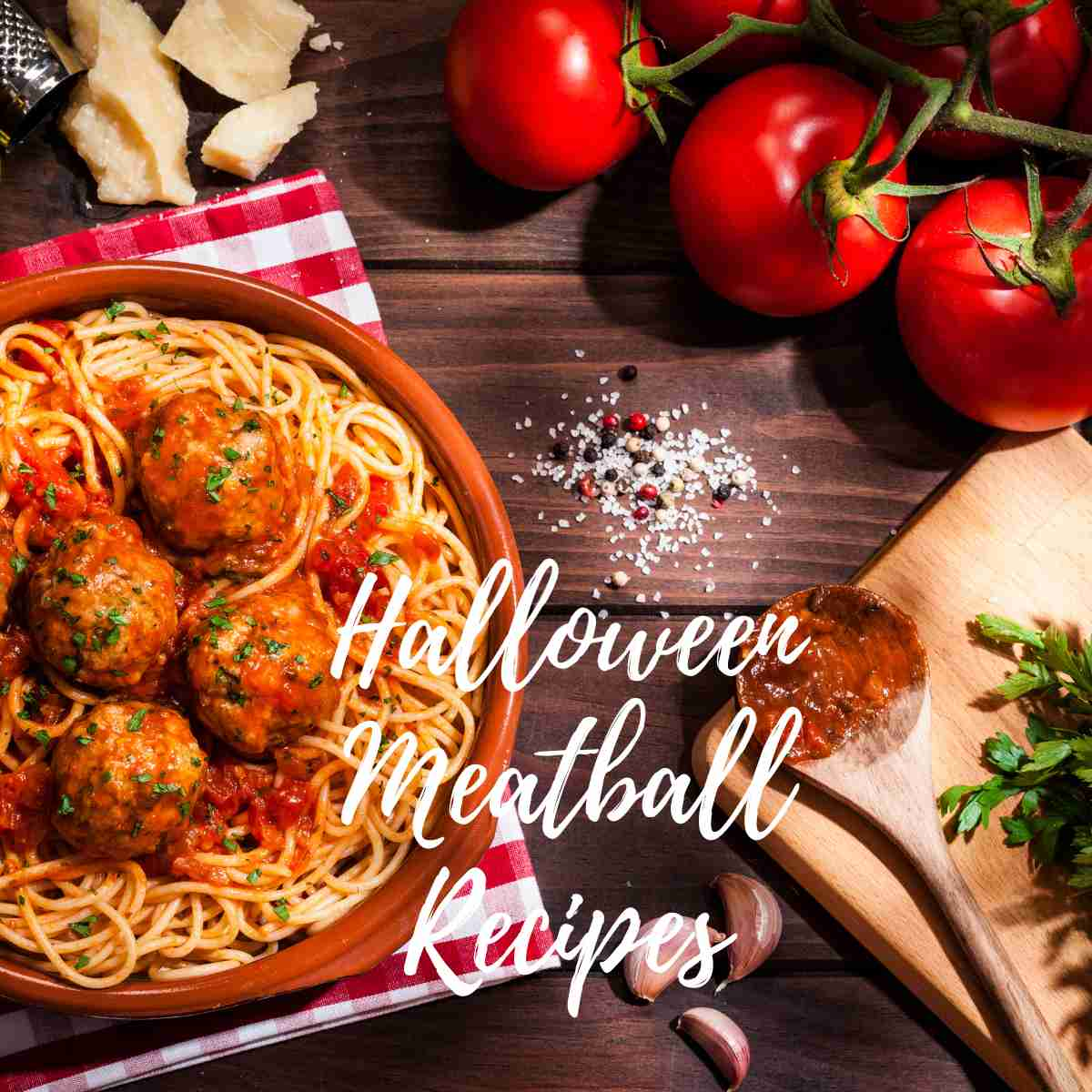 Interesting facts about making Halloween meatballs
1. It is intriguing to know that nobody is aware of the origin of meatballs- even though the first meatball recipes are found in a Roman book called Apius, experts are still not aware of the time when meatballs originated. A mixture of mint and other ingredients were combined together to create the recipe and the dish is comparable to the Persian version of kofta!
2. There is meatball in every culture and cuisine- whether Italy, America, or India, meatballs are literally available everywhere. Whether you are making it from lamb, pork, or chicken, the ideas are simply numerous. The basic ingredients remain the same while the other curry and the gravy are what vary.
3. The Italians have their unique version!
Although the generalized version of meatballs comprises ground meat and spices, the Italians like to do it differently. Here they are called the Polpettes! These certainly look different than their cousins in America! There is an equal part of bread and meat in the dish! It was known as the peasant dish as ground meatballs turned out to be an economic dish to prepare for big families. The meat content required is also a lot less so you can make a large dish for a big family with less meat!
This concept was highly useful for feeding more people in the past. The Polpette version was devoid of any rice or spaghetti so the popular dish of meatballs and spaghetti is not Italian but rather an American style of the dish! Although polpette was a main course dish, it was often combined with light broth too. However, when the Italian immigrants migrated to the United States they eventually emulated this into their culture.
4. It was a necessity that gave birth to Halloween meatballs.
As we would like to mention that meatballs aren't a luxurious dish! Ground meat was useful to mix with other ingredients and form these minced balls which are great for feeding a large crowd. On the other hand, original chunks of meat will require more quantity if the number of heads around the table is more.
5. You will be intrigued to know that the world's largest meatball was made in South Carolina
In 2017, the Italian-American Club of Hilton Head Island, SC, made the largest meatball in the world. The weight of the giant piece of the meatball was 1797 pounds! You can probably imagine how big this could turn out to be! It almost took a year to plan such a meatball! Unbelievable isn't it? Most of the meatballs were used to feed the hungry and went to noble jobs!
Secrets to making the best Halloween meatballs in the world
Always work with higher quality meat- no matter how much effort you put into making meatballs if the quality of the meat is not fine then the taste of the dish will be completely ruined. After spending so much time in the kitchen, you probably do not want that! Good quality meat will ensure that your meatballs turn out to be succulent and tasteful.
Consider combining more than one type of meat- pork, and beef work well with each other! If you are making meatballs recently at home then try to combine more than one type of meat like chicken and turkey to see how different it tastes from ordinary meatballs.
Make use of homemade breadcrumbs - Instead of buying breadcrumbs from the store, you should always go for the ones that you have freshly prepared at home! This gives greater consistency and texture to the meatballs rendering them to be succulent and juicy in every bite.
Seasoning plays a vital role- do you know what is the specialty of meatballs? It is the bold flavors of the meat which make it so good in fact! Cheese, herbs, and pepper are almost indispensable as you are seasoning the mixture in a bowl. And do not forget to add garlic, both ground and chopped.
Steer away from the traditional- most families will have their traditional Halloween meatball recipe! But the secret lies in exploring new ideas!
Delicious Halloween Meatball Recipes for Your Holiday Party
Infused with the flavor of grape jelly and parsley, the saucy and stick meatballs are prepared in a crockpot!
These are so tasteful that you will simply not be satisfied with a single piece.
Perfect to make at Halloween parties as small appetizers for the guests.
Try out the best meatballs in the world with the recipe that we have brought for you right here!
Gorgeous and enriching, the idea is simply brilliant and you can hardly miss out on this one.
Yes, it is true! You are going to need only three ingredients to make the crockpot meatballs!
They are so basic the meatballs are the easiest recipe that you can make!
Give it a try for sure.
If you are a fan of cheese and wish to surprise the guests at a Halloween party then try out the gooey and cheesy meatballs!
Delicious and irresistible in every bite, you should give it a try!
Let us know how it goes!
Here come the insanely delicious BBQ meatballs as we name it so! The root beer meatballs are right here so you can enjoy a wonderful time serving them to the guests and receiving praise in return.
Shall we try it then?
There is something certainly so special about the slow cooker honey bourbon meatballs!
The perfect combination of sweet and spicy, you are absolutely going to fall head over heels for this dish on your first try.
The BBQ sauce for meatballs is the most classic Halloween appetizer we must say! You have to agree with us!
This idea is brilliant and if you are a fan of slightly sweetish essence with meatballs then this recipe was meant for you.
Sprinkled with chopped spring onions, it is done!
The fascinating part about this recipe is that the olives and cheese are smeared from the top to resemble the spooky eyes!
The way of presenting spaghetti and meatballs for the season is truly unique.
The concept of cocktail meatballs is quite unique and if you are looking for something boozy then there is nothing as good as this one!
In fact, divine will be an understatement to describe its taste too!
Here is the most exotic recipe of all kinds! Rich and flavorful, the succulent meatballs will make you crave more!
The black bean pasta with the Mexican flavors and simply out of the world.
The boozy meatballs are the perfect treat that you need for the Halloween holidays!
Enriched with gravy and served with spaghetti which resembles the brain ridges clumped together, for a while everyone might think you have served eyeballs and brains for dinner.
Here is the perfect mood lifter, you are certainly going to find this dish to be an exotic option!
Enriched with gravy and spices, what a lovely idea it is!
The drunken moose party meatballs are exactly what you need at Halloween gatherings.
The purple potatoes are shaped into a skull and dipped in broth is perhaps the perfect treat that you have been looking for!
This is a completely vegan dish so do not worry we have got you covered.
Here comes the best Halloween meatballs that we are sure will ensure you have the best feel over the table!
This a comforting recipe for those who are in the mood for something traditional, tell us how it was!
The buffalo and blue cheese stuffed meatballs are simply exotic!
Flavored with meat outside and cheese inside, the meatballs are dipped in gravy and offer such a fantastic experience every time! Are you ready for it? Then dig in!
Dipped in homemade sauce, the teriyaki meatballs are the right source of comfort and coziness that you have been looking for!
Sweet, spicy, and cheesy, the meatballs are perfect!
Tossed with onions and red pepper, the recipe is super easy and you should give it a try!
Here come the exotic meatballs that are absolutely the best!
Instead of simply making meatballs and curry every time you can give a try to the crispy cups with juicy meatballs in them!
These are simply awesome and perfect to serve as appetizers.
Imagine a plate full of meatballs that look like eyes! Of course, that is something that truly gives the macabre and gory aura.
What is Halloween if not adorned with unique dishes on the appetizer table?
Try out the gory feast tray.
Bacon-wrapped meatballs are a unique creation and yet a ravenous and tempting dish for all!
The combination of succulent bacon outside and the juicy ground meat is sheer bliss for the taste buds.
Try out for yourself to find out!
Here comes the best meatball recipe that is fantastic and simply tastes so divine!
Served over the bed of mashed potatoes, the recipe is truly wholesome and delectable.
Ready in thirty minutes, serve this with the gravy and you are good to go!
We have spaghetti and eyeball meatballs which is an aged-old recipe that you should indulge in!
Flavorful and rich, these are perfect to serve with spaghetti or you can try them out with rice for brunch as well.
The roasted zombie meatballs are meant for the season! Smokey and tasteful, this is a wonderful choice of recipe that is sprinkled with herbs!
And guess what, the dish looks so bloody and haunting that you will think twice before taking the first scoop.
The smooth and rich garlicky essence of the subs with meatballs will make you crave more!
But it is quite a filling dish so make sure you leave space for the main course. Try out this one for sure.
Caribbean cuisine is at its best with the recipe for Jamaican jerk meatballs! Are you ready to indulge in the gorgeous recipe of meatballs which is perfect to escalate the joy of the festive season?
Try it out right away!
Imagine there are several skulls on the plate! The first encounter might turn out to be a gory one as the guests will wonder what exactly have you made!
One bite of the dish will make them change their idea completely.
Filled with cheese, this is the skull version of pizza! Yeah, you heard it right.
All it takes are three ingredients to prepare the BBQ meatballs! Such an exotic recipe that is filled with gravy and sprinkled with chopped spring onions.
The pretzel stems and parsley leaf-infused recipe is fantastic and you should give it a try!
The spicy buffalo sauce renders this dish with extraordinary flavor and so you should give it a try!
Tell us about your experience with the gorgeous one here.
The spooky eye olives are wonderful and pierced into the slider!
This gives a monster look to the burger and is perfect to be served as an appetizer!
The seven-layer dip is exotic and you should give it a try!
The slow-cooker buffalo Chicken meatballs are delicious and you must give them a try!
Rich and gorgeous, it is loaded with the taste of butter and cheese!
If you are in the mood for meatballs then quickly prepare them in a slow cooker.
Don't be surprised by the Halloween intestine because although it may look real, the stuffed crescent rolls taste so divine.
Delectable and tender, have as much as you want of the dish during the party!
The mini beef meatballs are exotic and flavored with hot spices and sauces! Savory and perfect for snacks, you should try making this dish and serve both as an appetizer or side dish whichever you prefer.
Your Halloween snack is sorted with this recipe.
Bottom Line-
Halloween is the perfect time to get creative in the kitchen! The recipes provided in this article show just how delicious and festive Halloween meatballs can be. From classic candy corn and marshmallow to unique and savory Frankenstein and mummy-inspired treats, there's something to please everyone this Halloween season.
With easy-to-follow Halloween meatball recipes, you can create a delicious and memorable spread for your guests. So get cooking and have fun this Halloween season with these spooktacular meatball recipes! Leave your guests empowered and inspired, while leaving the door open for future conversations and discussions. As Dr. Seuss said, "Sometimes the questions are complicated and the answers are simple."
This Halloween, let the creative fun begin with these festive and tasty Halloween meatball recipes!