If you are fond of meatballs then you should know where they came from and how they became so famous! Of course, the enriching flavors of the meatballs are what makes them so popular but you will simply be surprised to know that there are so many recipes that you can try making with just meatballs! Classically, what is known as an Italian delicacy, let us find t is it truly from Italy and if so what made them so amazing! Here are also some handful of metaball recipes that we are sure you would not like to miss out on.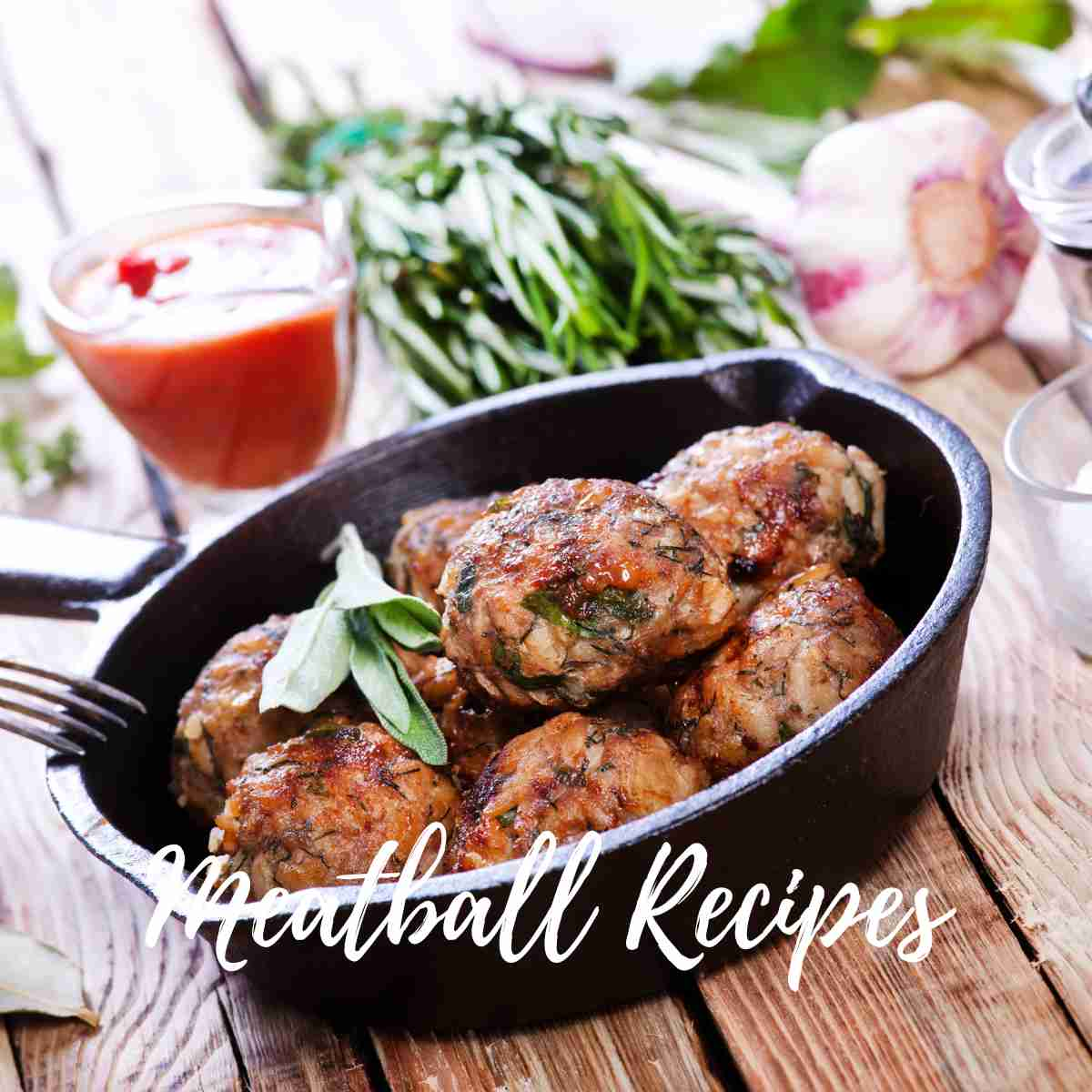 Some interesting facts about meatballs
1. Well, nobody knows where they came from- some might say that Romans were the creator of meatballs while many trace its history back to Persia! These are very similar to the version called kofta! So isn't it intriguing to find out that something so yummy as meatballs can also be versatile too! Well, now you know.
2. There is a meatball in every culture -
You will be totally surprised to find out that there are so many cousins of meatballs! They are as follows-
Swedish köttbullar, Spanish albondigas, Dutch bitterballen, Greek keftedes, South African skilpedjies, and from India through the Middle East, kofta. These meatballs are commonly made with veggies and meat!
3. Let's learn what the Italians do- known as Polpettes in Italy, they are smaller and simpler versions of meatballs from America! They are made with equal portions of meat and bread and are mostly a comfort staple dish for the Italians! Soaked in enriching spices, they are served with a light broth. The concept of pasta or spaghetti and noodles with meatballs is a completely American adaptation that has nothing to do with Italy! With the surge of Italian immigrants in America, you might find them emulating this culture these days.
4. Meatballs were in fact a necessity- combining ground meat with bread reduces the production cost of meatballs! Hence with little quantity of meat, you can produce a lot of meatballs and toss them in gravy. These were a great way to stretch the supplies in the past for a big family. So there is enough for everyone and yet it is affordable.
5. South Carolina produced the largest meatball in the world- 1757 pounds of the meatball was produced by South Carolina as estimated by the Italian-American Club of Hilton Head Island, SC. Surprising to know that it took a week to make this meatball with all the required supplies. Even special equipment had to be deployed in the process.
Some useful tricks about making meatballs at home
1. Does it matter in which way we are adding ingredients to the recipe?
Instead of dumping all the ingredients all at once into the bowl and mixing them together, we prefer to go one step at a time! This enables thorough mixing of the ingredients so that the desired texture can be acquired.
2. What is the ingredient we all miss adding to meatball recipes most of the time?
What looks simple but we often forget to add is some water or stock to the mixture of meatballs! This helps in flavoring and attaining the right texture of the balls. In case you do not wish to add some water then put eggs first in the bowl and it will give a similar effect.
3. Does breadcrumbs help in holding the meatball together?
This is a common misconception that we all have about breadcrumbs! They are not needed for holding the ground meat together and are added to the mixture to retain the fat of the meat since ground meat already lacks much fat.
4. What is the requirement for eggs in meatballs?
Eggs add moisture to the meatballs and egg yolk is needed for proteins. These eggs when combined with bread crumbs can attain a brown hue to the meatballs once they are fried. Some amount of fats and proteins are contributed by eggs and hence they are essential for meatball mixtures! They also show binding properties.
5. How to enhance the flavor of the meatballs?
Enough onion and garlic are needed to enhance the flavor of the meatballs once they are cooked. Sauteing them before you add them to the bowl is a great way to ensure that the taste of the mixture is further enhanced. Small and fine chopping of veggies is also essential to impact the necessary flavors to the meatballs. No one likes chinky veggies in anything but because they look unappealing because they taste ugly too! Finely chopped veggies release their original true flavors to any dish! Next time you use vegetables keep this in mind.
Amazing meatball recipes for you to try out
The flavor of ground meat, garlic, and chopped onions tossed into a ball and dropped in gravy looks so sumptuous and out of the world.
Infused with herbs, the dish looks so tempting that you can hardly resist it!
To bring a hint of sweetness, we have the meatball recipe, grape jelly is delectable and perfect for this season.
It is such a crowd-pleasing dish that you will surely fall in love with it!
Shall we try it then?
Juicy and simply irresistible, we have mouth-watering meatballs here to your delight.
This is such an excellent creation that you can make when the guests are coming over!
And guess what, all you need are just thirty minutes to prepare this dish!
The authentic Mongolian meatballs are the perfect treat for the season!
Whether you are preparing Sunday brunch or there are guests in the house, the Mongolian meatballs are wonderful to try out this season.
So do not waste a minute and get started.
Smothered with sauces, creamy Swedish meatballs are perfect to indulge in this season!
Mixed with flavorful spices, the recipe is ideal to go with a bowl of steamed rice on the sides.
Are you ready to enjoy something so amazing like this?
Big and juicy Italian meatballs are succulent and enriched with juicy meat!
Flavored with herbs and veggies, this is great to enjoy as a crispy snack or you can drop it inside the gravy to serve as a side dish as well.
Flavorful and versatile, we have brought you the recipe for homemade meatballs which taste so exotic indeed.
There is BBQ, marinara sauce, and Swedish cream which enhances the taste of the dish even further.
Shall we make it then?
Sweet and savory, the saucy meatballs in gravy are something that you can make for the weekends.
Infused with the essence of garlic, we are absolutely in love with the sweet honey flavor in every bite.
Shall we?
The bourbon meatballs are delicious and flooded with the essence of smooth broth and spices!
If you need a new twist to the classic then the slow cooker bourbon meatballs are the best!
So wait no more and dive into the world of meatballs!
We have brought you the juiciest turkey meatballs through this recipe!
So if you are a fan of turkey then you have tried out this dish!
They melt into your mouth to satiate the ultimate craving! Such a great idea!
Why just stay restricted to meatballs and gravy when you can engage in something so delicious indeed?
Filling and perfect to substitute junk from outside in a healthy manner, you should give it a try!
Tell us how much you liked this cheese-filled idea!
If you are into cheese and meatballs then you have to give a try to the sumptuous ricotta meatballs!
These are juicy and filled with creamy delight! You may even enjoy it with salads on the sides!
Shall we try it then?
You have to indulge in the sumptuous presence of the firecracker chicken meatballs which are certainly meant for brave hearts.
Enriched with sweet and savory sauce, this is a wonderful idea indeed!
Sprinkled with herbs, they are good to go as appetizers.
The freezer-friendly meatballs and gravy are a fantastic make-ahead recipe!
Served over smashed herbed potatoes, this is a stylish dish that you can serve on the sides on a date night.
And see how impressed your partner gets!
You have to indulge in the gooey and comforting flavors of the Italian parmesan meatball subs!
They are truly amazing and if you are a true fan of ground meat in gravy then enjoy it with a bowl of rice or spaghetti.
If you like to experiment with flavors then this Whiskey peach BBQ meatball recipe is for you.
The sweet and sour peach essence with the BBQ sauce does a commendable job of stealing everyone's attention to the table.
If you have tried teriyaki sauce with chicken steaks before then you will certainly find this recipe of meatballs mouth-watering too!
Here we have this recipe that is super easy and you can follow it for a tasty treat.
Serve with rice and it is good to go!
Combined with marinara sauce and spaghetti, Bobby Flay's meatballs should receive some standing ovation for such an incredible taste!
You will surely find this recipe incredible and super easy for you to emulate in a jiffy!
Here is an Asian-inspired recipe for the pineapple BBQ meatballs that you can enjoy when craving ground meat!
Perfect even for the kids, they will in fact ask you for more and more!
You may not always prefer hot and spicy, the sweet and savory pineapple BBQ meatballs come to your rescue then!
The exotic Greek meatballs are what you have got as a tempting treat this season! Enriched with the flavors of herbs, ground beef, and tzatziki sauce, this is a truly amazing idea as a snack to serve with tea!
We have fantastic French onion meatball recipes for you! The instructions are super easy to follow and get them done even as a beginner!
There are herbs and cheese to your delight too!
The bacon topped with creamy alfredo sauce makes it a heavenly dish that the guests will appreciate!
So if you have a gathering planned this weekend then the spinach-filled gravy of meatballs is a healthy option to indulge in.
The gooey baked meatballs are delicious and flooded with cream in every bite!
So if you are looking for something smooth and cheesy, then the baked meatballs are perfect for you.
The ultimate comfort food is right here! We have the succulent and saucy meatballs recipe which you can make in jiffy!
And guess what, you do not have to run to the stores to buy the ingredients as they are pretty basic and present in every pantry!
Let's try and make these meatball boats with the recipe that is right here! Flooded with cheese, the meatballs melt in your mouth at every bite.
Make a lot for a match day date with your partner and see how they finish it in minutes.
If you have the urge to eat meatballs this weekend then you should create this dish of tender meatballs and gravy.
Serve it over mashed potatoes or enjoy it with spaghetti!
This is a wonderful idea indeed to make for Sunday brunches.
If you like to always stick to the old-school versions then the Italian meatballs are the best!
You can try out this recipe which will introduce you to the authentic gravy served with meatballs for a side dish!
A quick solution to your cravings, the Tex-Mex meatballs are the best for you to try out! Ground beef with parsley and tomatoes, the chipotle sauce does its magic in every bite!
Your taste buds will be highly satisfied with the idea!
With the seasonal celebration just around the corner, we have the gorgeous Christmas meatballs recipe at your service!
Everyone in your family will be expecting something good and this is a way to satiate their cravings.
So are you ready to give it a try?
All you need are just three ingredients to prepare this easy-peasy Hawaiian meatball!
Prepared in a crockpot, they are super-easy for you to make without having to spend the whole day in your kitchen.
So what are you waiting for?
Thirty minutes is all that you need to cook the meatball recipe! Ideal for parties, the sizzling and gorgeous meatballs tossed in hot gravy calls for appreciation certainly.
Sprinkled with herbs and spring onions, your meatball recipe is ready right away!
Are you ready to tantalize your taste buds with a unique and flavorful culinary experience? Sicilian-style meatballs are a classic Italian dish steeped in tradition and bursting with flavor. Rich, juicy, and tender, these mouthwatering meatballs provide a delightful mix of herbs and spices that are sure to tantalize your taste buds.
Bottom Line- Meatballs are super easy for you to make and there is no need for you to go to the restaurants to enjoy a hearty meal on the weekends! Choose a meatball recipe and get started with making it today! Enjoy this week loaded with meatballs on the table.