We have the ultimate guide for you to learn to make the juiciest Philly steak sandwiches but have you ever wondered what could be the secret that makes them so juicy and flavorful indeed? So let's first understand what a Philly cheesesteak is and then we will move forward to learning the steps to make them!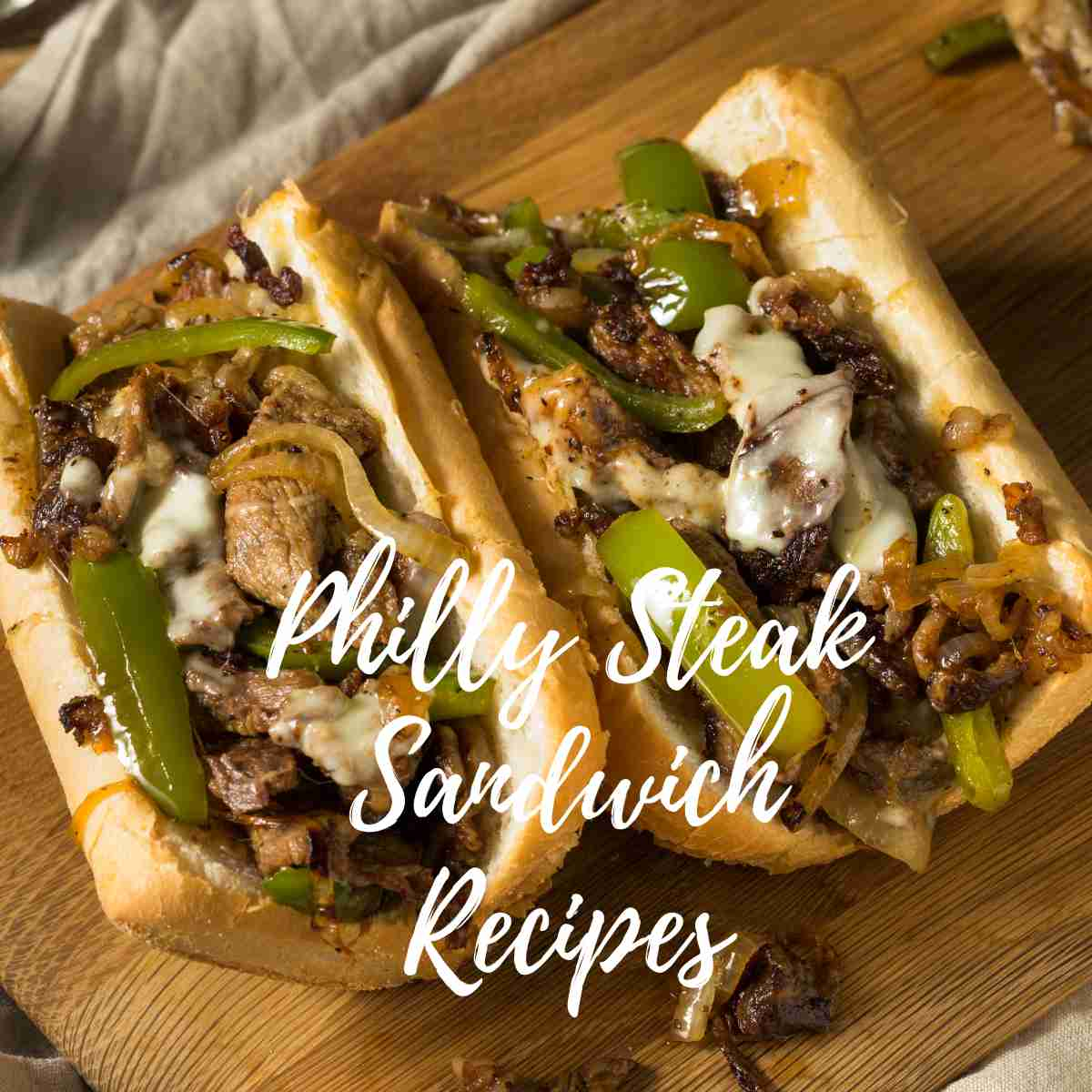 What is a Philly Cheesesteak?
To answer your question, a steak sandwich is thin slices of beef steak inside the bread. There is cheese and onions as other layers too! There are different varieties of cheese that you can put to use. However, the most common ones include American cheese, provolone, or melted Cheez Whiz.
The history behind the creation of the cheesesteak- the father of the Philly Cheesesteak includes Brothers Pat (1907-1974) and Harry Olivieri (1916-2006) of South Philadelphia. The birth of this recipe dates back to1930s.
How many calories are there in a standard Philly Cheesesteak sandwich
The calorie content in Philly Cheesesteak sandwiches varies from restaurant to restaurant depending on the type of ingredients they have decided to use. However, on average, it can be stated that the calorie content ranges from 900-1200 units.
What is the best beef cut that you can use for the sandwiches- Ribeye is the type of steak which is generally used for making Philly cheese steak sandwiches. Flank steak is lean and slender too! However, if you are making use of flank steak then the oil needed will be more to fry them.
The best cheese for making Philly cheesesteak sandwiches- provolone is the best option for cooking sandwiches! If you are looking for another alternative version then white American cheese!
What are some of the tips for thinly sliced beef- if you wish to slice the beef properly and thin then here is a tip for you! You have to freeze the meat for about thirty to forty minutes. The silver skin needs to be removed! This is a layer of fat that can be removed with the aid of a knife. If you find it hard to remove the skin on your own then go ahead and ask your butcher to remove it beforehand.
How can you make Philly cheesesteak sandwiches -
If you are looking for a thirty-minute meal then the Philly Cheesesteak sandwiches are the best to fulfill your hunger.
Dice onions and slice the beef.
Saute onions and then remove from the pan and then saute the beef. Then you can add the onions back so you can toss them together.
Apply cheese on the buns and then pour the filling into the buns and you are good to go!
General instruction-
Mix all the ingredients like paprika, onion powder, garlic powder, and thyme in one small bowl.
Use a large bowl to keep all the beef in it and sprinkle the seasoning thoroughly so they are mixed well.
Heat the pan with some oil and saute the onions and the bell pepper
Now, preheat the oven so you can start making the steak.
There is onion, green pepper, and cheese, in each layer to enhance the taste of the recipe! Your Philly cheesesteak sandwiches!
What are some of the side dishes with which you can serve Philly Cheese Steak sandwiches?
If you are looking for other alternative ways to serve Philly's Cheesesteak then here are some ideas that you can look for!
Over Cooked Pasta or stuffed into Shell Pasta
Philly Cheesesteak Sliders
(Low Carb) Philly Cheesesteak Stuffed Bell Peppers
(Low Carb) Stuffed into Portobello Mushrooms
Delicious Philly Steak Sandwich Recipes
The sweet caramelized onion with provolone cheese and the Philly cheese steak sandwiches are perfect to indulge in.
The Ribeye steak is succulent and tastes totally out of the world.
This is a wonderful dish that you should not miss out on.
Philly cheesesteak egg rolls are the most gorgeous recipe that you can think of!
Flavored with gooey cheese and the presence of meat, renders it with an excellent taste.
Are you ready to indulge in the bliss it brings?
We have brought a Philly cheesesteak-loaded fries recipe that you should try out!
There are onions and steak with French fries to satisfy your cravings! Flavorful and enriching, the dish is simply out of this world!
Try for yourself and find out!
Are you in the mood for something different than rice or noodles? Then probably a sandwich is what you are craving!
The super moist Philly cheesesteak is the ideal choice that you should explore if you wanna stick to homemade food.
Do you want to have burgers for snacks or while watching a match?
Well, why do you need to order from outside when you can prepare it at home with this amazing recipe for a Philly cheese steak slider?
All it takes are three simple ingredients to compile this dish.
Are you in the mood for something good and gorgeous then you should try out this Philly cheese steak for sure!
Sumptuous and creamy, loads of cheese and beef will tempt you in every bite.
If sandwiches are too mainstream and you wish to indulge in something better and juicier, then you have to try the Philly cheesesteak slider which is simply out of the world!
Perfect for weeknight dinner, all you quickly dig in.
Good and easy to make, the cheese steak recipes are always so delicious and out of the world.
The succulent meat with onions and gravy makes the bun such a delightful treat indeed.
So are you ready to dive into the world of cheese and beef with us?
The presence of caramelized onions, and provolone cheese renders the sandwich with an extraordinary taste for sure!
Try out this recipe that is flooded with the essence of cream and meat in every bite, and tell us later how much you liked it!
Here comes another extraordinary recipe that you will fall hard for! Replace beef with chicken and you can still enjoy a modified version of Philly cheesesteak.
It is always a pleasure to indulge in new recipes!
Here comes the most comforting dish of all time! The Philly cheese steak is perfect for a hearty snack or a filling dinner!
The succulent sandwich is all that you need at the end of a tiring day when you hardly wish to cook.
If you wish to try some variants of cheesesteak then we have the right idea for you!
The recipe for Philly cheesesteak egg rolls is a perfect treat in the evening with a warm cup of tea as a beverage.
Well, we understand that it is almost impossible for you to miss out on wholesome and creamy cheesesteak sloppy joes!
These are the perfect treat when your kids come back home from school.
No matter how the day went, the sloppy joes on their plates could elevate their mood instantly.
Let's try out this dish of Philly cheesesteak sandwiches which can be made in a crock pot!
Do you understand what that means?
That you don't have to monitor the meat all the time and it shall be prepared on its own.
Don't worry if you have restricted yourself from eating outside! You can still enjoy a sumptuous burger at home with this recipe right here!
There is a hint of spices to make it even more fantastic for brave hearts.
16. Philly cheesesteak stromboli
Are you bored with the same old sandwich concept of making Philly cheesesteak?
Then you have to try out this recipe for cheesesteak Stromboli which is in fact the best you will have in a while.
This is just the usual which is presented splendidly! It has meat, baked cheese, and sauces to ensure your taste buds encounter a brilliant experience!
Thank us later for this idea once you prepare this dish!
Philly cheese steak wrap is the right thing you need! Flavored with cream and cheese, the sauces melt in your mouth at every bite!
So if you are wondering what to get for lunch at work, pack some of these wraps to the office.
Don't be surprised if your colleagues envy your lunch.
It can get very tough for you to resist the temptation of Philly cheesesteak on the table! So why resist it at all?
If you are on a diet then the upcoming cheat day calls for you to indulge in one giant Philly cheesesteak sandwich.
Let us make authentic cheesesteak sandwiches inspired by this recipe!
If you have invited your friend during the weekend then make them something with your homely touch.
Philly cheesesteak sandwiches are always the best option when it comes to enjoying a wholesome breakfast with your family on a Sunday morning.
Let's not waste a second and start working on the sandwiches before the kids are up! Shall we then?
It is alright if you are running late for dinner after a busy and tiring day at work!
The wonderful Philly cheesesteak is right here to your rescue!
If there is some beef in the refrigerator and buns then go make this one right away!
This open sandwich concept is pretty new but so fascinating that we couldn't resist adding this recipe to the list!
You must indulge in the Philly cheesesteak cheese bread that is outstanding and out of the world!
Serve it as a side too!
This is an excellent idea with Philly cheesesteak with provolone cheese sauce that you must indulge in!
Flavored with saucy and succulent beef, you are sure to fall in love with the dish right away!
If you would like to introduce some modern taste to the dish then you should give a try to the Philly cheesesteak pinwheels!
Yummy and flavorful, we can assure you that the pinwheels will be the first to disappear from the table.
Are you craving something juicy and meaty on the sides?
Then you must give a try to the Philly cheese steak fries which are completely mind-blowing.
We can guarantee that everyone from kids to adults will fall in love with the dish!
Let us indulge in the flavorful Blackstone Philly cheesesteak sandwiches that are indeed the best option if you are in the mood for beef and cheese!
What an excellent idea that you shouldn't miss out on! Shall we try it then?
The Ultimately chopped cheese sandwiches are a perfect idea if the kids are nagging you to make something yummy!
This chopped cheese sandwich requires minimal effort and time.
So let's not waste a minute more and get started with the preparation, shall we?
If you are fond of cheesesteaks then there is no way you should miss out on this recipe!
Introducing you to the authentic taste of beef, sauce, and cheese in buns, healthily enjoy a loaded snack!
It is amazing to know how many different ways you can enjoy the Philly cheesesteak crescent braids!
Gorgeous and succulent, bake your favorite treat in crescent braids, and enjoy thoroughly.
Are you ready to dive into the paradise of cheese and beef with us?
What are some of the variations of the cheesesteak
If you are wondering if there are any new forms and variations of the traditional dish then here is what will leave you smitten! Find out about all those recipes that you can make with modified cheesesteaks!
A chicken cheesesteak or chicken Philly is made with chicken instead of beef.
A mushroom cheesesteak is a cheese steak topped with mushrooms.
A pepper cheesesteak is a cheese steak topped with green bell peppers, hot cherry peppers, long hot peppers, or sweet peppers.
A vegan cheesesteak is a sandwich that replaces steak and cheese with vegan ingredients, such as seitan or mushrooms for the steak, and soy-based cheese.
A steak Milano is a cheesesteak containing grilled or fried tomatoes and oregano.
Frequently asked questions associated with Philly Cheesesteak sandwiches
1. What is the specialty of Philly cheesesteak sandwiches?
The Philly cheesesteak sandwiches are something which is loaded with yummy beef, sauce, and provolone cheese! This comfort dish is perfect for any time of the day.
2. What is the secret to a delicious cheesesteak?
The crust of the cheesesteak should be crispy and tender at the same time! The pulled beef should also be succulent and juicy so the dish turns out to be perfect.
3. Why is it called Philly cheesesteak?
Originating in the south Philadelphia Italian market, the Philly cheesesteak acquired its name.
4. Which is the ideal sauce that works with Philly cheesesteak?
If you are questioning which sauce to put in Philly cheese steak then try out creamy, garlic horseradish sauce! It works wonders with cheesesteaks.
Bottom Line- Here are some wonderful recipes that will leave you completely smitten such that you will find it hard to choose! So good luck with making one for yourself!