Well, if you are looking for Super Bowl recipes then you must know what it is all about! Or maybe, you are asked to put up a super bowl gathering at your home with your friends and they obviously expect you to be prepared! Are you worried about what to make for a super bowl? It is an annual playoff game of the National Football League and even if you do not take much interest in the game, it is still a great idea to host one in the house to have a great time with friends and family!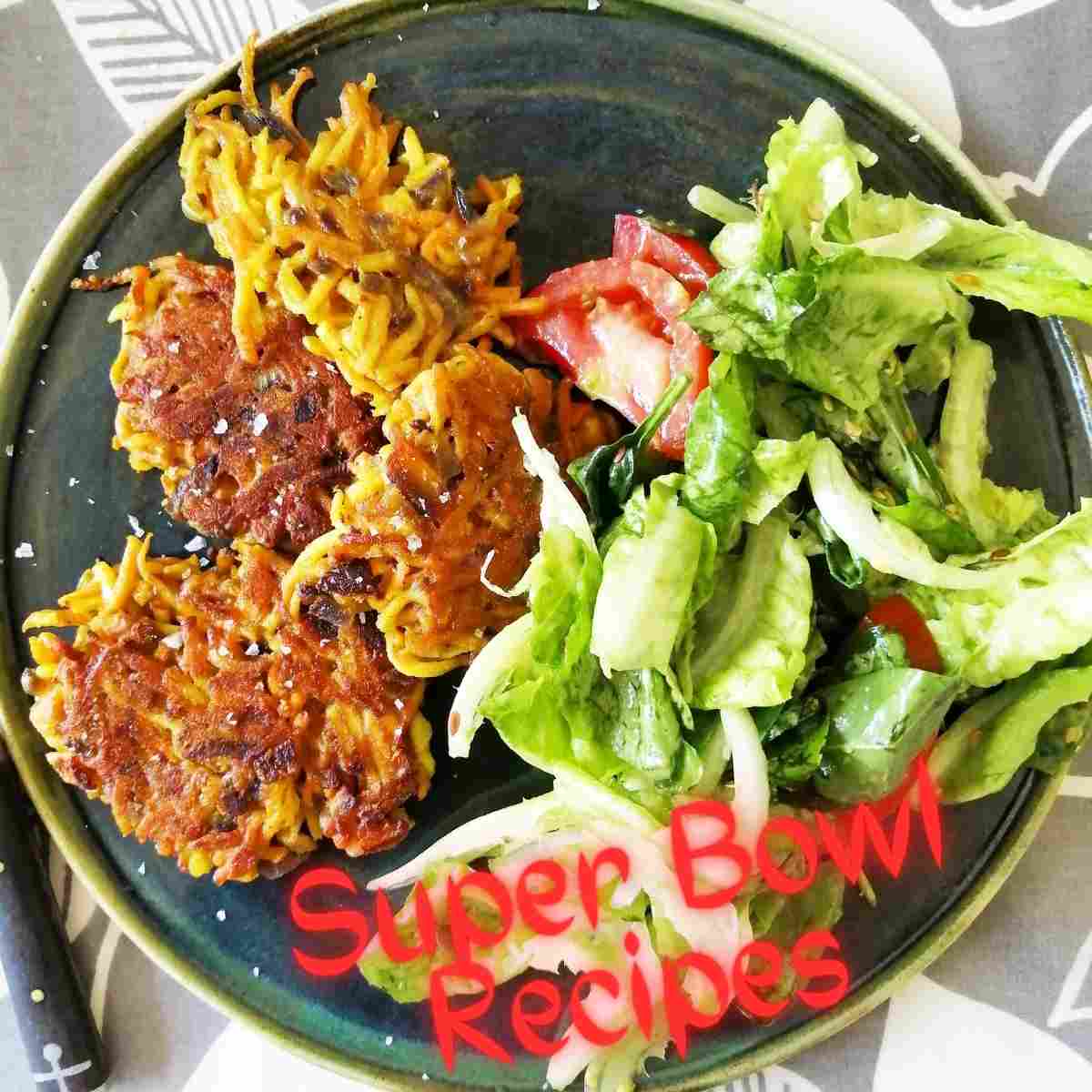 For those for whom it is an annual tradition we not only have some awesome recipes prepared but also wonderful facts that you can enjoy while these drool-worthy dishes!
Some interesting super bowl facts that will make the cooking sessions so exciting
1. Superbowl is the second highest eating day after Thanksgiving( do not be surprised)
That is right! The Super Bowl is not just about peacefully sitting to watch a match but all about the enthusiasm and the batches of chicken and fantastic dishes adorning the table. Fun fact for you, eight million pounds of guacamole is consumed in a single super bowl Sunday! Yes, quite shocking!
2. You of course know this! The Green Bay Packers were the first to win the Super Bowl match ever!
Back in 1967, the match was played in Los Angeles Memorial Coliseum and it was recorded that sixty million audiences and mad fans watched the television broadcast.
3. The players in super bowl games get fancy cars
Well, not forever but they are provided with loaner fancy cars to drive around the whole week! This is quite a chic feature of the Super Bowl which the players are so content about.
4. The University of California is renowned to produce the highest number of Super Bowl Quarterbacks
The University of California in Berkeley has produced the highest number of Super Bowl quarterbacks over the year with the most recent one being Jared Goff in 2019.
5. The Super Bowl does not pay the artists to perform in the halftime shows-
You shall be surprised to know that none of the artists are paid individually for performing at the Super Bowl halftime! Although the production cost is covered, they are not provided with expenses! However, since the Super Bowl provides wide-scale exposure, the artists are highly eager to perform here.
Now, that is a lot about Super Bowl facts that you already know! Let us get into the most awaited section of the article! Food!
Have you ever wondered how much chicken is consumed during Super Bowl week?
Americans set and break their records for having chicken wings during Super Bowl week! It is to be noted that 1.45 billion chicken wings are consumed during the week by entire America! Can you believe it? 1.45 billion we are talking about! This is the highest record noted by the National Chicken Council.
This is calculated to add up to 1.45 billion, each man, woman, and child should consume four wings each.
Although there was inflammation, the price of chicken wings in the wholesale market has dropped from last year so you can enjoy as many chicken wings during the Super Bowl as you want.
Ever wondered, how many pizzas are ordered during the Super Bowl Sundays?
Let us find out! 12.5 million pizzas were estimated to be sold during Super Bowl Sunday in 2022. That was the highest-recorded pizza sale so far. Let us see if pizza can break its record this year as well or not!
11 million pizzas were ordered from Domino in the US and 1.4 million from Pizza Hut!
So now you can understand why Super Bowl days are the busiest days for pizza sellers. It is recorded that pizza sales rose by 35% on this single day! These numbers are quite note-worthy when you consider the whole country is busy ordering pizzas right before the match.
Let us find out about some of the wonderful Super Bowl recipes that you can make at home instead of joining the rush of ordering!
Easy and fantastic Super Bowl recipes
1. Pierogi with potato and Sauerkraut
Savory and tangy, you should quickly make the Pierogi with potatoes for the game day so that you can begin watching your match with lip-smacking creamy potatoes in hand!
2. Pepperoni French Bread pizza
Oh no! You forgot to order pizzas and now there are high rush hour charges! Quickly make yourself tie Pepperoni French pizza with ingredients available at home. Enjoy the freshly baked crust and the juicy toppings with the match!
3. Firecracker meatballs
If you are craving something meaty for this Super Bowl season then the firecracker meatballs are the best companion you can have over the match! Spiced with hot sauce and paprika, it will surely test your spice-eating skills. Make it this Sunday for sure!
Minty and crunchy all combined together, the mini doughnut cheerio is another yummy snack that you can make for a Super Bowl! Buttery and rich, their rings are small and light to nibble on! The sweet vanilla flavor will make sure that the tubs are empty in a few minutes.
5. Cheesy spinach and artichoke pinwheel
Seasoned with herbs, cheesy spinach wheels are not only healthy but also so tender and warm to relish! You probably will not consider spinach and artichoke for Super Bowl but for vegans, it is a great choice.
Tossed in Sichuan sauce, the baked white pepper chicken wings are crispy and savory. With every bite, you will be compelled to eat more and more until the entire plate is empty! It shall be a great combo when clubbed with an interesting match.
7. Korean fried cauliflower
Saucy and juicy cauliflower is a great choice when you are tired of munching on chicken and wish to explore something different! This Korean vegan recipe tossed with Dijon mustard is simply the best choice.
8. Parmesan-crusted tortellini bites
Use the marinara sauce as dipping to cook the tortellini bites which you can offer as an appetizer during the super bowl. The ooey-gooey cheesy crust is perfect to keep you hooked throughout the match!
Crispy parmesan cauliflower bites can be a great side to all the chicken wings that you are planning to hog down during the match! Give a flavor of contrast with the cauliflower bites dipped in Parmesan cheese and sprinkled with herbs! Try it for yourself!
10. Fried mac and cheese balls
Enjoying a bowl of mac and cheese with over-enthusiastic fans of the super bowl can be messy because you never know when the plates can flip. You can still enjoy your mac and cheese in the form of fried balls.
11. Fantail shrimps
Have you tried the fantail shrimp before? We can guarantee that you will forget the chicken wings and enjoy the batter-fried shrimp if they are served on the table. What a delicious recipe to make at home during the match and serve with tangy dips!
The baby-blooming onions are no competition to the wings but when you need some light snacks in the middle of the match, these come to your rescue! It is alright if you can't stop yourself from munching throughout the game! Try out fried blooming onions to enjoy light and easy.
13. Chicken and waffle slider
Try out something new and yummy during this year's Super Bowl! Combine the waffles with the chicken and you shall have the chicken waffle slider in hand! Bite-size and light you can have more than two or three without feeling bloated during the game.
How about some ham and cheese sliders for the Sunday match? Not a bad idea, isn't it? Succulent meat with cheese, there is nothing as classic as this combination.
Fish sauce with chicken wings sounds contradicting, right? But this grand event calls for you to contrast and experiment with flavors and this recipe indeed turned out to be great. Munch on the wings and enjoy your match!
16. Brussels sprout bacon and blue cheese bites
All you need are three basic ingredients from the refrigerator to make the blue cheese bites with bacon and brussel! If you were careless about your diet throughout the Super Bowl season it is time to enjoy something like this on low carbs and absolutely gluten-free.
17. Philly cheesesteak slider
The classic recipe for a Philly cheesesteak slider never goes off the table! Try out this loaded cheesy delight which is a favorite one among kids as well as adults. So make it fast and dig in!
Let's prepare the soy garlic ginger chicken wings which are equally juicy and crispy at the same time. Garnished with a dash of herbs and served hot with ketchup or mayo, you will finish a tub of wings even before halfway through the match.
Are you running short of time? Well, the buttery pepperoni bread is the perfect choice when you have to come with something quick! Meaty and succulent with a crispy breadcrumb layer, this appeals to every fan watching a Super Bowl and nibbling on snacks.
Tell us if you need help finishing the sweet and spicy wings! The whole neighborhood will come rushing to your home as the fragrance of the wings tempts everyone around. Do not be surprised if you fall short of them in minutes.
It is not always necessary to enjoy the super bowl with meat! Choose your comfort dish like a bowl of light buffalo cauliflower wings which you can make in tonnes to enough throughout the match. Tossed in Buffalo sauce, beware as it shall be slightly spicy too!
22. Guacamole onion rings
We have to force you to make the guacamole onion rings on the day of the Super Bowl because if you don't you are likely to miss out on something fantastic and drooling-worthy!
23. Zucchini Parmesan crisps
We have the zucchini parmesan crisps recipe right here for you! Flooded with herbs and spices, the crispy treat is ideal to enjoy when you are in the middle of something as interesting as a Super Bowl match. So shall we make it then?
24. Vegetable egg rolls
This is a special takeaway on the Chinese egg rolls where we have included vegetables that make them more healthy and refreshing! Here is a perfect appetizer with mushrooms, scallion, and carrots cooked in sesame oil. What a great idea!
Creamy and savory, you have to try this luxurious Mexican spinach dip! Whether with nachos or tacos, chips, or crispy meatballs, everything is great to go with smooth spinach dips. And the best part is that it is a great crowd-pleaser so everyone will be eager to enjoy your creation.
26. Korean fried chicken
The combination of Dijon mustard and soy sauce creates this sticky Korean fried chicken that is delicious and perfect to create when you have a match day ahead! Don't be surprised if your kids and partner roam around the kitchen leaving the match behind!
We have the delicious Buddha bowl served with chicken, veggies, green leaves, and pepper for a wholesome game night! Instead of always munching on crispy fries soaked in oil, this is a healthy choice to indulge in.
28. Coconut firecracker shrimp recipe
The smooth and milky coconut firecracker shrimp is delightful and tempting in every bite. Juicy inside and crispy outside, you can relish the shrimp with a spicy dip during the match evening!
The ooey and succulent bacon cheeseburger slider bake is detectable to relish during a match day! Cooked with ground beef, the sliders will disappear the moment you serve them on the table. What a brilliant idea it is to indulge in!
Rich and luxurious hot wings are meant for brave hearts! Succulent and saucy, this shall be your best pal as you enjoy the highs and the lows of the match. Marinated in sriracha and soy sauce, the hot wings are one of a kind.
Are you gearing up for the Super Bowl season? Try out the pulled pork taquitos which are ideal for kids as well as adults! Savory and sweet, the presence of garlic gives it a distinguished sharp flavor too! So shall we make it then?
32. Gyudon ( Japanese beef and rice bowls)
Here is a beefy and wholesome meal that you can ravish while enjoying the match with your family! Instead of hogging down fried meat, cook something hearty to enjoy the game day! Prepared with scallion and eggs, you should give it a try!
This spicy ramen bowl with shrimp is surely going to test your skills in eating spices! Make the evening more eventful and exciting with a bowl of ramen as the family surrounds the television.
Bottom Line
You do not have to bother to buy from the shops or order so many recipes that you can prepare before the match begins. So get on the aprons and start with the preparation to enjoy some gorgeous and mouth-watering dishes for the exciting Super Bowl week.