Did we hear about desserts? Well, with the summers tormenting us, there needs to be a discussion on desserts. The traditional Japanese desserts are what you should learn about today! They are not just sweet treats mind us! The beauty and way of presenting them at the end of the meal are what gives them a sense of finesse and charm. The history of traditional Japanese desserts dates back a long time ago and the history buffs this article can be a treat to the eyes as well as your taste buds. Let's read on to find more!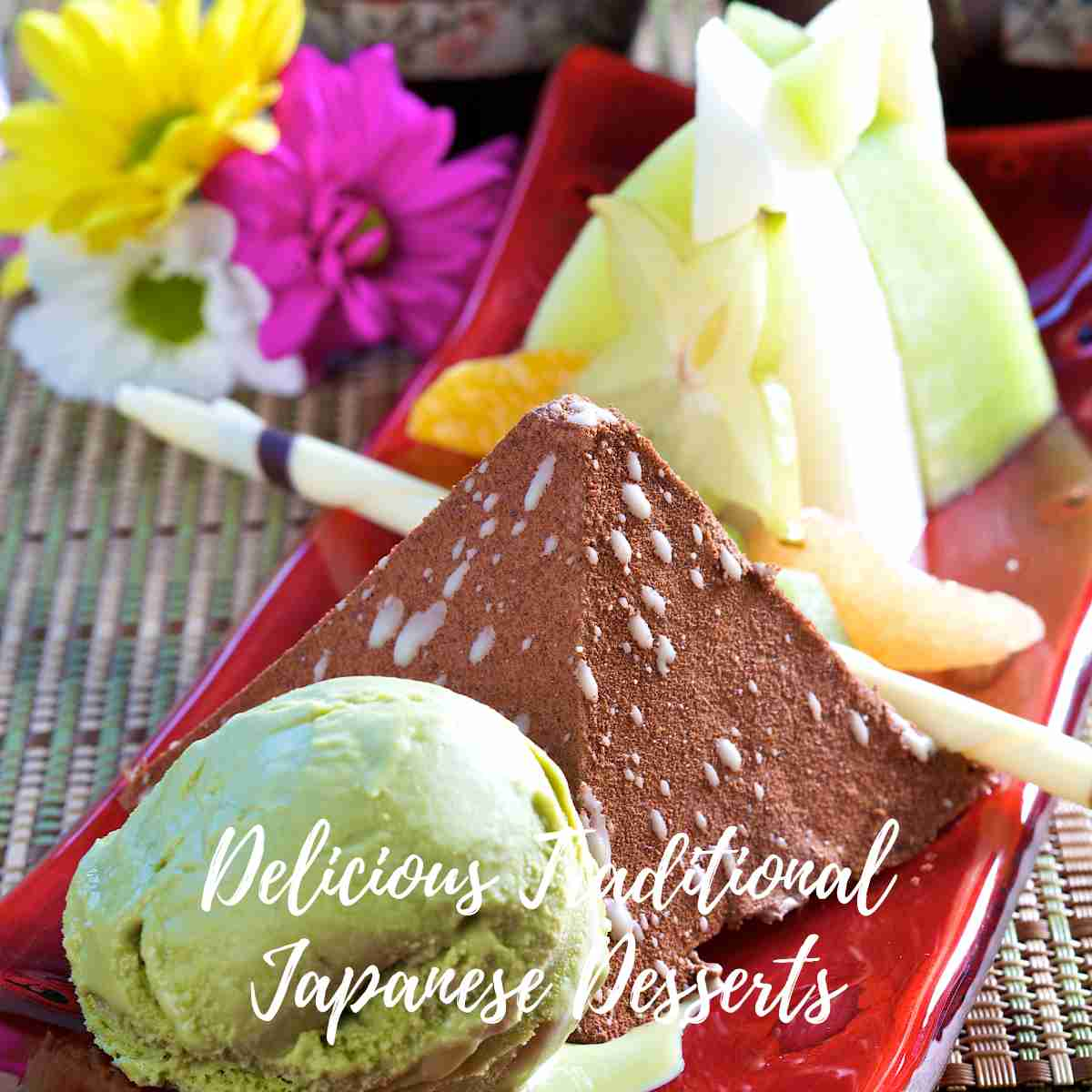 Japanese desserts were influenced by international standards in their early days
Perhaps the oldest sweet that the Japanese consumed was called mochi, a sweet rice cake. After the year 630, these sweets and their recipes were greatly influenced and modified by the Chinese recipe for karagashi! The recipe was first introduced in Japan by the kentoshis, who was the Japanese envoys sent to China at least nineteen times this particular year.
But that is not all about international influence because there is certainly more to it. The Portuguese sponge cakes and shear candies were also brought to Japan by the missionaries which influenced the recipe for candies in Japan. During the Edo Period, when there was no civil war and Japan was at rest, the Japanese worked hard on developing their sweets and came up with myriad ideas. Most of the Japanese sweets that we enjoy today were invented during this time. Then came the Europeans with their knowledge in baking and thus Japan began to work on baked sweets as well with the introduction of ovens.
Various types of Japanese sweets and their authentic taste
You must be aware of the traditional Japanese culture to enjoy tea ceremonies! The desserts that were introduced with the tea enhanced the flavor of the beverage even more, giving them an aromatic and sweet essence. They helped to accentuate the flavor of simple green tea and avoided all sorts of oil in their preparation. These were also symbolic of beauty and charm representing the seasons.
There are mainly three types of sweets in Japan, unbaked, semi-baked, and dry! However, these demarcations are not very strict depending on the way you wish to prepare the particular recipe! Yokan is a common sweet in Japan but it is available in all varieties, semi-baked or dry depending on the preference of the creator.
If you have ever been to Japan or have read about their desserts in detail then you must be knowing that among all, Manju, a sort of dumpling with red bean paste, is the most popular dessert in Japan. Wrapped in a layer of dough, it can be both steamed as well as baked, whichever you find preferable. The commonly used ingredients for the dough include rice flour, buckwheat flour, sticky rice, and so on. The paste is however made with green peas, chestnuts, and miso (fermented soybean paste. There are other varieties of dumplings as well which include Monaka and Daifuku. Both are wrapped in rice cake dough and modified versions of Manju! These dumplings are a specialty of Japan and everyone among the locals greatly savors these recipes.
Learn about the store where the first Anmitsu was created
Several sweet stores around Tokyo have come up with their specialty and contribute to the list of desserts that Japan flaunts about. One such store is the Ginza Wakamatsu which opened its doors to customers in 1894 and came up with Anmitsu in the year 1930. Anmitsu comprises a bowl with boiled red peas, cubes of gelatin, sweet rice cakes, fruit pieces in syrup, and red bean paste sprinkled with brown sugar syrup on top. This is a summer specialty and the red beans are the main highlights of the recipe. However, these beans are cooked for only a short time so that they bear their inherent flavors.
1. Fukushimaya store- you will be surprised to learn that this store dates back to the time of the Edo period. They are well known around Japan for their unbaked sweets called ue-nama-gashi. These are available in different shapes and colors denoting the arrival of a fresh season. The transition between colors resembles the change of season! The light pink is symbolic of spring which turns bright and then dark to resemble the transition between spring to fall. Isn't it the most unique concept that one can come across?
There is a book called Wagashi-hinagata-cho which contains such wonderful dessert recipes that the store follows dating back to the Edo period again. No matter how much we say about Japanese desserts, the praise, and words are simply not enough to do justice to the magnificence of the sweets.
Tips to keep in mind while making Japanese desserts
So if you are making desserts for the first time at home then here are some quick tips that you can keep in mind.
1. Seasoning is not just meant for savory recipes- If you think that seasoning is synonymous with savory recipes then here is something that you need to rectify! A pinch of salt in your dessert can simply do wonders. In fact, the salty hint goes great with chocolate. So if you are planning to make something with chocolate ganache make sure you drizzle a pinch of salt.
2. Add a scoop of vanilla ice cream- maybe you created a dessert but it did not turn out to be as good as it should have! There is always a way to save your effort from going down the drain. Use a dollop of vanilla ice to fix your problems. It always works, we can guarantee.
3. It is best to add some milk if you are opting for a moist bake- sometimes it might happen that due to baking, your dessert might turn out to be dry! Even if it is not mentioned in the recipe, sprinkling a dash of milk always helps.
4. Perfect the topping ahead of time- if you are planning to make an elaborate topping for the desserts you serve after the meal, the best way is to make them ahead of time and freeze them. This way you can save up sometimes especially if guests are coming over.
5. Brown butter is the magic ingredient- if you wish to make your recipe of dessert even more flawless then use brown butter in the content. All it takes is a couple of minutes to allow the butter to toast on the pan and acquire a brownish hint.
Traditional Japanese desserts recipe to try out this season
The delicious cheesecake with the rich essence of butter and cheese cream makes you fall in love at the first bite.
Topped with berries, the beauty of the cheesecake is simply unparalleled. And then comes the jiggly texture! Simply divine!
The strawberry cheesecake rolls are the right thing to serve when elite guests are coming over.
Drizzled with sumptuous strawberries, this is a lovely creation that you can make without any hassle.
If you are a fan of cheesecake then you must try out the Japanese version too!
Topped with heavy cream and berries, this is a lovely creation that you should not miss out on.
The slight lemon zest is palpable.
The delicious Japanese strawberry sando is a unique creation that you wouldn't have tried before.
Check out this recipe the tender and sweet strawberry sandwiches which are ready with just four ingredients on the table.
The Japanese sweet bread is another tender and gooey treat which we are sure you will definitely fall in love with!
Whether for breakfast or in the middle of the day, both the shape and flavor will fascinate one!
The name itself makes it such an interesting recipe to indulge in! Soft, gooey, and flavorful Japanese have truly mastered the art of making cheesecake!
If you are someone who can't keep their hands on ff cheesecake you should try this version too!
This is the ultimate fluffy treat!
This is an authentic Japanese sweet dish made in the form of a fish!
You shall need very basic ingredients for the preparation of the recipe.
It is baked and hence the crumbly texture makes it an even more divine treat for the taste buds.
If you are having some guests over brunch then make the overall meal even more elegant with the cake roll created in the Japanese style.
Flooded with frosting and a cherry on top, you should try out this one.
The cotton sponge cake is simply lovely and if you are looking for a traditional sweet dish then this recipe is ideal to emulate.
With tender texture and sweet essence, these melt in your mouth to leave a heavenly aftertaste.
Did you try out Japanese-style pancakes before? If not, then you are missing out on something so good we must say!
Drizzled with cream of tartar and syrup on the pancakes, the recipe is simply out of the world.
So shall we try it then?
Well, do not worry if you are trying out Japanese cheesecake for the first time!
All you need are three ingredients to come up with an after-dinner treat for the entire house.
Do give it a try with the season of summer in full bloom.
The delicious Chinese sponge egg cake is lovely and a modified version of the Japanese type!
So if you are someone who can't resist the mention of the name of deserts, this is the ideal time for you to indulge.
The wonderful Japanese souffle cheesecake is right here to sway you off your feet!
Loaded with berries, whipped cream, and zesty lime, the recipe stands out among all!
So now you know what exactly to make for breakfast tomorrow.
Perfect and refreshing for summer, the fruit smoothie is loaded with Tapioca pearls, coconut milk, and chunky mango pieces.
Loaded with cream, this is the best way to feel energized as the scorching summer heat bothers you. Shall we try it then?
The pink cloud bread is fluffy and flavorful, all you need are three ingredients for the preparation of the recipe!
Packed with strawberry essence, this is a brilliant choice to treat the kids during the holidays.
Look how delighted they shall be! There is a reason why this recipe went viral.
The cinnamon embers are truly so realistic we have to admit!
One bite into these tasteful Japanese creations will make you forget the world.
You should try out this recipe at home and tell us how it goes.
So it is the end of the month and you do not have all the stocks in the pantry to create something fancy!
We have brought you this cozy recipe for comforting sponge cake which is just ready with the bare minimum.
Celebrate the season of spring and blossoms with the Japanese strawberry cake that we have for you right here.
Topped with rich creamy frosting and the center full of chunky strawberry pieces, you will thank us for this idea later.
Smooth, sweet, and crumbly, you must indulge in the brilliant taste of these traditional Japanese desserts that are made at gatherings and occasions.
Tender and subtle, these are a source of sheer bliss. Shall we then?
Indulge in the festive mood with the Hokkaido chiffon cream cheese cupcakes which are simply beyond words description.
Tender and creamy, this is an outstanding idea that you must explore this season.
Get ready with your baking tools!
Frequently asked questions associated with making traditional Japanese desserts
1. Which is one of the most popular desserts in Japan?
There are several desserts in Japan that the locals flaunt about! However, you will find the name of Taiyaki mentioned in the list no matter who you are talking to! These are fish-shaped sweet treats.
2. What are the top three Japanese desserts?
In today's world, desserts from Japan like tiramisu, mocha, and pancakes or shortcakes are ruling the dessert market.
3. What are some of the tips that you must follow while making desserts?
There are some basic rules that you must keep in mind no matter which dessert you are baking! This includes seasoning, making the crust moist with milk, ensuring proper baking time, and so on. If the dessert includes the formation of a batter then steer away from the habit of over-mixing as well.
4. Mochi, Japanese or Korean?
Mochi is a sort of sweet rice cake which is inherent to Japan! The recipe was developed during the Edo period.
5. What are ice creams called in Japan?
Mochi is a sort of rice cake with a dollop of ice cream on top! This is a traditional dessert that has become a regular dessert in almost all Japanese households.
6. What is a typical Japanese dessert?
Wagashi is a typical Japanese dessert that is served with tea at the traditional tea ceremonies popular in Japanese culture. These also include dumplings like daifuku which are age-old recipes practiced in Japan.
Bottom Line- Making Japanese desserts is not as hard as seems! You should indulge in something new and increase your horizon of knowledge about sweet dishes. All you need to do is follow the steps properly and you will be able to come up with any authentic Japanese sweet delicacy.