Whether it is Thanksgiving, Halloween, or Christmas, every festival, small and big brings along with it a reason to indulge in wonderful treats like cookies! But if you are on a vegan diet then it is a must for you to learn about all the ways you can ensure that you do not end up with anything wrong in your diet! If you are allergic to dairy-product then here are some tips with which you can enjoy some delectable cookies without having to indulge in dairy items.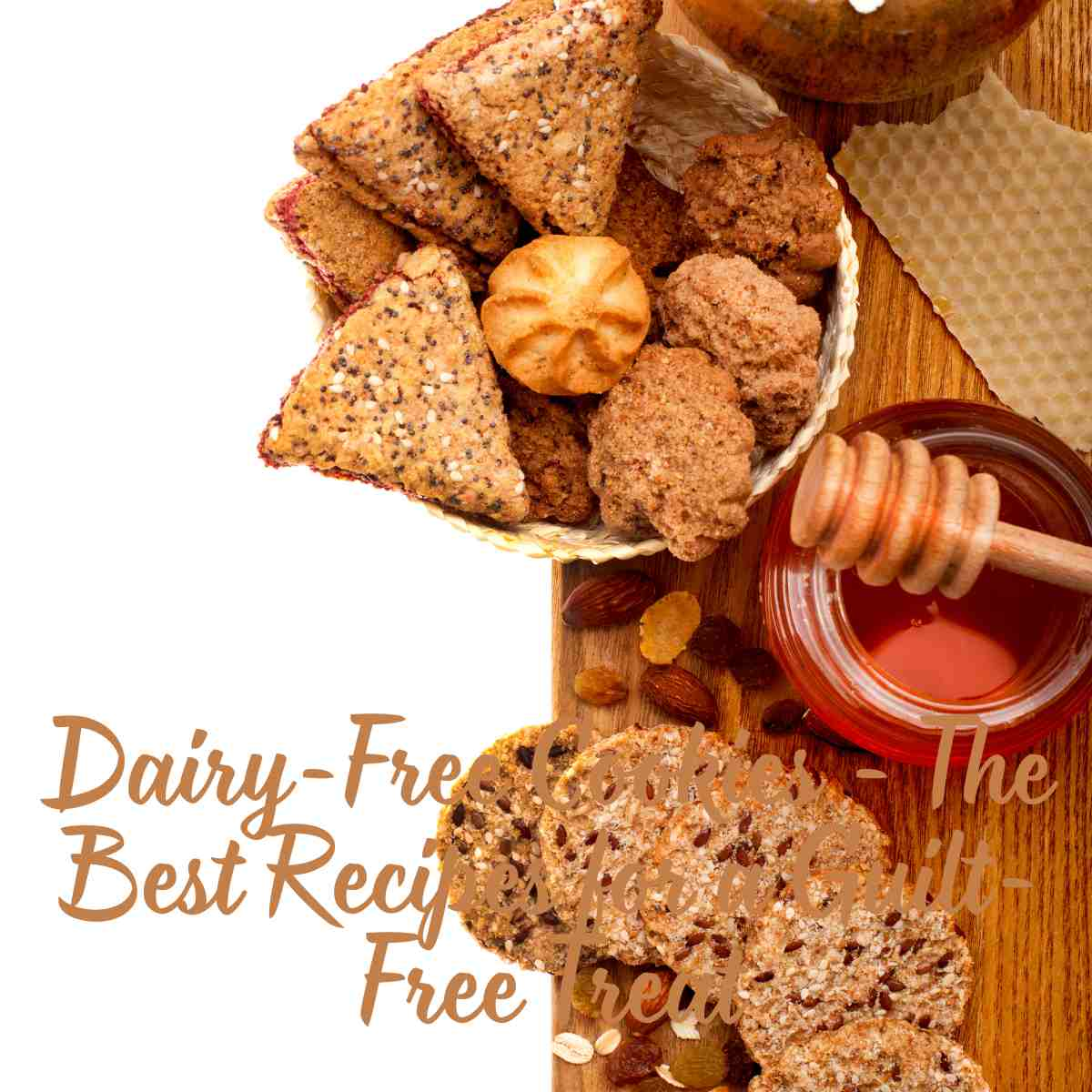 Everything you need to know about making dairy-free cookies
1. Swap the dairy ingredients with something non-dairy
With so many options in the market, there are many non-dairy substitutes that have come up! There needs to be butter, milk substitutes, and soy milk which can be used for making the cookies these days! Just because you had to discard the dairy milk does not mean your cookies will turn out to be dull and dry! There are so many other options like almond and coconut milk which you can also indulge in.
2. A couple of things to keep in mind-
If you are making waffles or biscuits, then these require a solid fat that remains solid even when present at room temperature. Hence you need to be careful about a couple of things as and when you substitute butter in the ingredient of the cookie mixture. So in conclusion, we can say that it is all about choosing the right kind of fat when making cookies! In fact, the base of the cookies is dependent on fats! You may opt for margarine and vegan butter to remove the dairy version from the cookie mix. However, at high temperatures, there is a phenomenon that can occur, it is called the hydrogenated vegetable shortening! This imparts a waxy flavor in your mouth which should be avoided at all costs.
3. What can you do to substitute the flavor of butter-
The flavor of butter, to be honest, cannot be substituted by any other substitute! Yet, you cannot consume the former, so what can be done? Add some extra vanilla essence into the mixture and that shall do the job well. Several non-dairy butter substitutes contain added salt and if you use them then it is better to skip seasoning at all to stay on the safer side.
4. Be aware of the allergens -
Several dairy substitutes contain nuts and if you are allergic to them then you have to be careful to read the labels well! Turn over the pack and read the ingredients which are mentioned before you purchase the product! If you have some guests coming over, make sure you ask them if they are okay with nuts or not! Bake and serve the cookies accordingly. Sometimes nuts are used as hidden products and not mentioned in the ingredients column! You have to be extra careful during those times.
5. Be creative and always be open to experimenting -
No matter which sort of cookies you are baking, dairy-free or not, the options are endless to be creative with your job. If you are truly a baking enthusiast then it is needless to say that the wide spectrum of playing with the ingredients and flavor of the freshly baked are in your hands. The more you experiment the better you will be able to handle cookies well! This gives you not only the scope to learn but also experience myriad tastes and flavors along with introducing nutrients to your snacks.
Tips for turning your cookies vegan
If you are avoiding dairy because you embarked on this journey to go vegan then here are some tips that you can keep in mind. You might feel monotonous and bored from time to time on this journey of strict diet but with these cookie-baking tips and recipes around the corner, we have got you covered!
1. First of all, you need to choose a butter substitute with enough fat-
Cookies are all based on fat and hence you need to be careful about which substitute you go for! Do you know what the function of butter is? It is used for giving a crispy edge to the cookies and then turning them fluffy and flaky at the same time. There are 11 grams of fat in every spoon of butter! So you need to go for a substitute which has enough fat content in it.
So next time you go ahead with baking cookies with a non-dairy option, weigh the amount of fat you will be substituting with! The ultra-flaky plant-based cookies are good enough to substitute the dairy ones and you will not even notice the difference. Go for it then!
2. Use coconut cream or coconut milk as a substitute for heavy cream or condensed milk-
We are all aware of the requirement to work to use heavy cream or condensed milk! This gives such an enriched flavor to the cookie which we are sure you will definitely like to enjoy. But as a non-dairy substitute, soy and almond milk have a consistency too thin to substitute heavy cream or condensed milk! Then what can be the better option? You need to opt for coconut milk or cream instead! These two are perfect to provide the same consistency to the mix and make your cookies taste great.
3. However, there is no need to cut out on soy milk completely-
If you are in the mood to replace regular milk which is a non-dairy product then soy milk still tops the chart. So like we always say, soy milk is always a great idea! The unsweetened plant-soy milk is the best substitute that you can take into account. Because of the complex protein texture, soy milk gives a wonderful crumbly, chewy consistency to the cookies. This kind of milk is also ideal for cookies and muffins as well.
4. Make use of flax eggs, and if you do so, then you need to add a little less water-
As a vegan cookie idea, you have to remove eggs from the ingredients bowl! Then how can you make your batch of cookies turn flaky and fluffy? Use some flax eggs instead. For plant-based baking, you need to use flax eggs instead of poultry-laid ones. The ratio of flax to water needs to be taken into consideration so that the cookie dough does not turn too dilute and runny.
Now let us waste no more time and get started with the preps already!
Delicious Dairy-Free Cookies - The Best Recipes for Allergy-Friendly Baking
Creamy, chewy, and delectable, the recipe is one of a kind! Flavorful and smooth, these cookies are drizzled with chocolate chips and end up tasting so good. So what are you waiting for?
All you need are fifteen minutes to create the smooth and rich peanut butter cookies! Prepared with only four ingredients, go for this recipe right away! Completely gluten-free, the cookies are simply a wonderful treat for the summer. Shall we go for it then?
If you are in the mood for something nice and light but wish to avoid dairy in it then you know which one to follow! The ultra-soft sugar cookies are simply the best and render one speechless.
A completely gluten-free and dairy-free option, the Snickerdoodle cookies are simply lovely. Flooded with great flavors, you will crave them more once they get over! So make sure you prepare them in big batches.
If you have to go all dairy free and are sad that you will miss out on chocolate cookies then here is some good news to elevate your mood. We have this awesome batch of chocolate cookies which are ready in no time! And guess what? They are also dairy-free. Shall we try them out then?
Well, not just a single layer but double chocolate chip cookies we are talking about! The vegan double chocolate chip cookies are exactly what you need to satiate your heart and soul this season. Shall we then?
The vegan s'mores cookies are indeed the best to try out this season! Packed with great flavors, the recipe is one of a kind. Loaded with s'mores, there is no way you should miss out on this gorgeous treat this season.
If you haven't tried out chocolate chip cookies ever since you went all vegan and dairy-free then well you should not waste any more time and get started with the preps already! You will surely love this one and never be disappointed.
How can you miss out on the soft and thick vegan Snickerdoodle cookies which indeed taste so tempting? There are not many words to describe the magnificence of the cookies! Try and find out on your own.
These cookies are ideal to make your spring celebrations even more outstanding and brilliant! Indulge in its magnificent flavor with white chocolate sprinkled on top. So let's not waste a minute more and get started with the preps already!
Delectable and rich, the crunchy oatmeal pies are one of a kind. Filled with rich gooey icing and crunchy biscuits on both sides, there is no way you should indulge in its blissful taste! So let's not waste a single minute more and get started already!
The zestful and enriching lemon pixie cookies are exactly what you need to keep yourself satiated in every bite. Delicious and healthy, these are perfect to make your holidays even more special. Shall we try it then?
The bite-sized thumbprint cookies are great to be called a lovely appetizer! Packed with great flavors, these almond cookies are exactly what you need. There is jelly in the center to make them even more awesome! Go for them right away!
The delectable thumbprint cookies are exactly what you need to keep yourself satiated with tea in the evening! If it is the season of Christmas, the guests will definitely appreciate your effort and even might end up asking for more.
Smooth and enriching, the cinnamon roll cookies are brought right from the kitchen of the heavens! No, we aren't exaggerating even a bit! The smooth and subtle essence of the cinnamon cookie will render you simply speechless. Shall we try it then?
If you are in the mood for something sumptuous and easy then the cowboy cookies are the best to indulge in. Packed with great flavors and super crunchy, they will instantly melt in your mouth and leave you content in every bite.
The zestful and gorgeous crinkle cookies can also be made in the absence of dairy products! If you do not believe us then try out this recipe right away! You will not be disappointed. So this season, let's explore the crinkle cookies.
The red velvet cookies are an all-time charmer! Drizzled with chocolate chips, here is the recipe to render you simply speechless. Delicious and gooey, you must give it a try for sure. Let's not waste a second and get it done quickly.
Cookies shaped like mini turtles! Yes, you heard that right! The wonderful turtle tahini matcha cookies are brilliant and such a delightful treat for one to relish this season. Let's get our baking globes ready and begin with the preps!
The crumbly walnut cookies are exactly what you need to keep you going during the holidays! Sumptuous and luxurious, there are no words to describe its blissful taste. So let's get started with them already. You will regret not trying them out before.
Frequently asked questions associated with making dairy-free cookies
1. Are Oreos dairy-free and can they be used for making cookies at home?
Oreos can be dairy-free and are a great option for baking your cookies with them in the insides! This way you can even end up with stuffed cookies.
2. Why are my cookies so hard and chewy?
If you ended up overworking the dough then it might happen that the cookies after they are baked will turn out to be dry and chewy! Do not fold and roll the dough so much that the gluten gets activated in the cookies. It is harmful to the texture once they are baked.
3. How can you keep your cookies soft and tender?
You can keep your cookies soft and tender by using the right amount of ingredients and precise measurements. Do not substitute any ingredient unless it is asked for.
4. Why are my cookies spreading so much?
If the fluid content of the mixture is high then your cookie dough can turn out to be too runny. To prevent the cookies from spreading on the baking plate you need to place it inside the refrigerator for another hour or so. This will turn the dough firm and tough.
5. Should you add seasoning to your cookies?
If you are making dairy-free cookies, then already some of the non-dairy substitutes will have a certain quantity of salt in them! So you need to be careful when you add some salt to the cookies because most of the ingredients will already have enough salt in them.
Bottom Line:
Making the switch to dairy-free cookies doesn't have to mean sacrificing deliciousness. With these easy and delicious recipes, your next batch of guilt-free cookies can rival all your favorite treats. Not to mention, each recipe is bursting with intense and creative flavors, from peanut butter and jelly swirls to coconut almond macaroons. So, forget about the butter, and enjoy the best dairy-free cookies today! As the old saying goes, "Life is short, so eat the cookie!" Leave your worries behind and indulge in a guilt-free treat.
In conclusion, dairy-free cookies are easy to make, delicious, and bursting with creative flavors. There's no need to sacrifice taste for health – you can have the best of both worlds. So, why not start baking delicious dairy-free cookies today? Your taste buds will thank you, and your body will too! Let's open the door to a whole new world of delicious and guilt-free treats.