Make Passover memorable with our top picks for delicious, festive Passover cookies! Find the perfect recipe to suit your family's taste and make the holiday a little sweeter.
More collections: Soft Cookie Recipes, Drop Cookie Recipes, Low Carb Coconut Flour Cookies, Small Batch Cookie Recipes, Muffin Mix Cookie Recipes, Protein Cookies, Norwegian Christmas Cookies, Air Fryer Cookie Recipes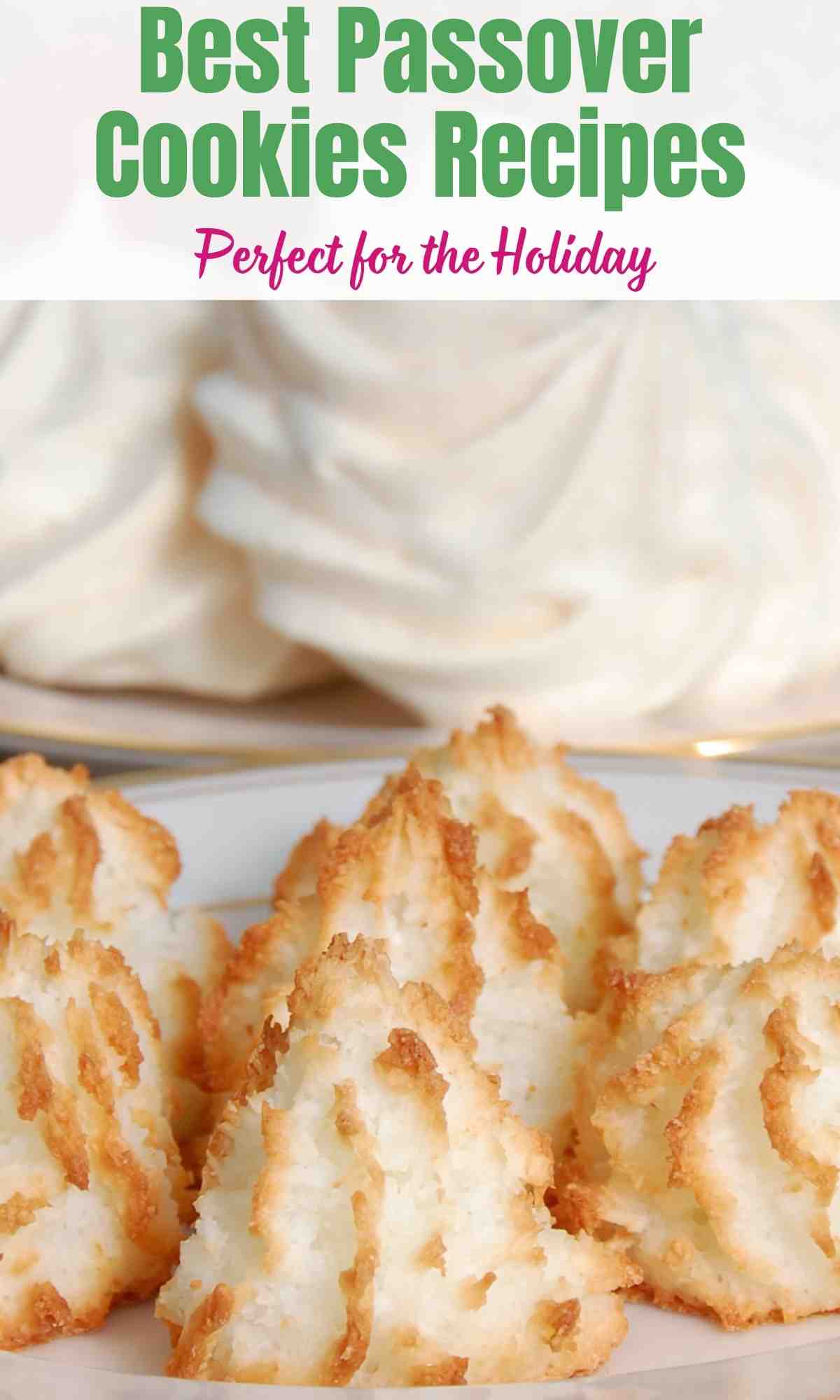 The word cookies is enough for our hearts to take a sprint! Yup, that's how impactful cookies are! Whether you are having a sad day, a boring day, or a simple regular work day, cookies suit all your moods! And not to forget the festive season and celebrations. Today, we are going to discuss with you twenty hand-picked and exclusive Passover cookie recipes and how to bake them right! So tighten your seatbelts as your journey is about to begin. Join us on this ride to the cookie world.
Table of Contents
Things you need to know about baking your cookies right
1. All of us need some space, and so do the cookies
As we say, space allows us to grow and develop, and so do the cookies. If you place the cookies too close to each other on the tray, then it might happen as they turn fluffy and begins to bake; one might stick to another or simply overlap due to spreading. So even if it is not mentioned in a particular recipe, you should provide a space or distance of about one to two inches between each cookie!
2. Manage the placements well
A lot depends on where you place the baking sheet inside the oven! The best arrangement for the cookies is to let them sit in the middle rack! The middle part of the oven is exposed to optimum heat and is ideal for the cookies to bake fine! If you wish to give some extra effort to ensure perfection, then you can opt for rotating the cookie trays once in a while during the process.
3. Allow the cookies to chill down before you adorn them with icing
When your cookies are baked, you should let them cool down for a while! One to two minutes is more than enough for the cookies to relax and cool down! You will also notice that cookies are hard to remove when they are hot, and to ease the job, you can make use of a fish spatula!
4. Do not rush through the process
There is one thing more that one needs to take into account. Sometimes if you do not allow the cookie sheets to cool down and then lay another cookie dough, then it might happen that either the bottom will stick or get over-baked or even, in the extreme state even, get burnt.
Allow the cookie sheet to cool down completely! Or, you should have more than one baking sheet so that you can alternatively use them.
5. How can you store the cookies
Always opt for using an airtight container as you store the cookies! This will keep your cookies fresh and prevent them from turning soggy! As an extra measure, you should place a layer of parchment paper between the cookies! To increase the shelf life of the cookies, you can even store them inside the refrigerator.
6. You must practice attaining expertise
As we know, practice makes a man perfect! That is right! Cookies are something that cannot be perfected in a single day! You need both practice and patience to make your cookies turn out right! You can opt to make small batches initially so that you do not end up making mistakes.
Depending on the recipe and also your preference, you can choose to adorn the cookies the way you want! Sprinkles, chocolate chips, icing, ganache, etc, the options are simply endless. Let's not waste a single minute more and get started to explore some wonderful Passover cookies!
Delicious Passover Cookies – The 20 Best Recipes for Your Seder Celebration
You will not believe how divine these cookies taste! Rich and chocolatey, these cookies are super rich in flavor and one of a kind.
So what are you waiting for? Bake them today!
The Passover chocolate chip cookies are simply the best! Whether it is the weekend or you are craving something to munch on during the afternoons, chocolate chip cookies are a total savior.
So what are you waiting for? Try it today!
Baking chocolate cookies is the best experience of all time! Interesting session of baking followed by the divine taste that floods upon your taste buds, do give it a try for sure.
And guess what? These are completely gluten-free.
The Passover rainbow cookies are simply lovely, and the fudgy texture melts in your mouth at every bite.
Savory and chewy, the recipe is very easy to emulate and turns your day into a vibrant delight. So what are you waiting for?
If you are wondering how to make easy-peasy Passover cookies, then you should opt for the gorgeous chocolate cookies that are right here for you!
Rich and crumbly, these cookies are simply the best to describe in a word or two.
Yup, that is right! All you need are three ingredients to come up with the gorgeous almond cookies!
Tempting and crispy, you ought to indulge in it if you are craving something healthy and crispy for a while.
The best thing about these cookies is that you can enjoy them any time of the day or on every occasion!
Crispy, chewy and delicious, these cookies turn out to be an incredible option to savor and serve to friends and visitors too!
The Passover chocolate chip cookies are simply the best thing in the world!
We are not even exaggerating a bit, and if you still do not find that believable, then we challenge you to try out this recipe on your own.
You will definitely agree with us as you relish the gorgeous taste of the Passover Mandelbrot cookies!
Savory and delectable, there is no way you should miss out on this treat! So what are you waiting for?
Indeed these cookies are full of magic, and you are about to find that out with the recipe that is right here!
Crispy and loaded with great flavors, you will definitely come back later thanking us for the idea. Shall we, then?
Soft and chewy almond macaroons are the most amazing thing that we came across during the holidays!
Rich and crumbly, cookies like these are what we live for! If you haven't tried them yet, then make them right away!
The more you have, the more you crave these yummy bites! From kids to adults, no one wouldn't like to give over the chocolate chip cookies!
An all-time classic, the Mandel cookies are one of a kind.
The combination of apricot and jam in the Passover cookies turns out to be an incredible creation! Flavorful and crunchy, these cookies are simple and even ideal for beginners.
Filled with sweet jam in the middle, give this one a try right away!
Yes, that is right! All you need are three ingredients to bake the almond cookies!
Crunchy and crispy, these cookies are ready in no time, and the results are always so fulfilling and delectable. So what are you waiting for?
This is a traditional Jewish recipe that you must try out if you are planning to opt for a Passover cookie recipe!
Rich and crispy, these are perfect to ravish with tea or enjoy with hot cocoa during the winter.
The gorgeous Passover cookies are perfect and enriched with the essence of chocolate chips!
Crispy and crunchy, these cookies are something that will create competition among the kids and the adults in the house on who can eat more.
Crispy and luxurious, these Passover cookies are perfect for Pistachio lovers. Elegant and drizzled with loads and loads of sugar dust, you ought to try it out! And guess what?
This is also a completely vegan recipe! Shall we try it, then?
The classic Persian walnut cookies are lovely and flooded with great taste! Crunchy and packed with walnuts, these are amazing and leave you asking for more.
What an authentic creation if you are in the mood for something nice and rich!
We can't wait for you to try out the brownie brittle. And well, you will soon find out why we say so! The crispy and crumbly bites of brownies are so satisfying indeed.
So what are you waiting for? Bake it right away!
We have another exclusive idea for you before we end the list for Passover cookies!
Crunchy and yummy, you ought to indulge in them during the weekends and then make a large batch that will last you for days.
Other recipes you should check out:  Flourless Cookies, Easy Small Batch Cookie Recipes, Halloween Mini Pie Recipes, Finger Food Recipes, Ninja Creami Recipes, Delicious Tequila Cocktails, Sheet Pan Shrimp Recipes For Dinner